Campus Closing Early Today, No Classes Tuesday, Jan. 31, due to Winter Storm
01/30/2023
JONESBORO – Arkansas State University is canceling all on-campus classes and closing all academic and business offices for Tuesday, Jan. 31, in response to the approaching winter storm.
On-campus night classes for Monday, Jan. 30, are canceled, and most on-campus facilities will close at 4 p.m. to allow employees to safely commute home ahead of the onset.
The Memphis office of the National Weather Service issued an Ice Storm Warning on Monday morning. The primary impact for the Jonesboro area was significant freezing rain and sleet, with an onset of Monday evening.
Essential personnel who maintain on-campus activities, including our University Housing and Facilities Management, will report to work on Tuesday, Jan. 31. If individual employees have questions regarding who is essential personnel, please check with your supervisor today.
For Tuesday, the following on-campus services will operate under their established abbreviated hours:
The Reng Student Union will open on Tuesday for on-campus student usage at 8 a.m., closing at 8 p.m.
A-State Dining Services will operate on brunch hours for Tuesday, Jan. 31.
For Tuesday, in addition to academic and business offices, the following will be closed:
The Dean B. Ellis Library (library staff reminds everyone that the online resources are available 24/7.)
Red W.O.L.F. Center
A decision related to classes and on-campus facilities for Wednesday, Feb. 1, will be made after the first wave of expected winter weather moves through on Monday evening into Tuesday morning.
As a reminder for on-campus residents and for parents of on-campus residents, while classes or offices close for winter weather, residence halls and dining services remain open as will other on-campus support services as practical.
For our A-State Online students and instructors, classes continue on as usual. Since power or connectivity issues may impact both students and instructors, the AOS team is asking everyone to prepare to give extra time as needed for online coursework.
Also for all students, please remember the Provost's Inclement Weather Policy as it relates to classes, especially for our commuter students and our AOS distant students who may have power issues. While Jonesboro's streets may clear and the campus may re-open, it may not be the same for commuters from around the region.
For ongoing updates, please check the university main website, AState.edu, and the university's official social media accounts Facebook.com/ArkansasState and Twitter.com/ArkansasState.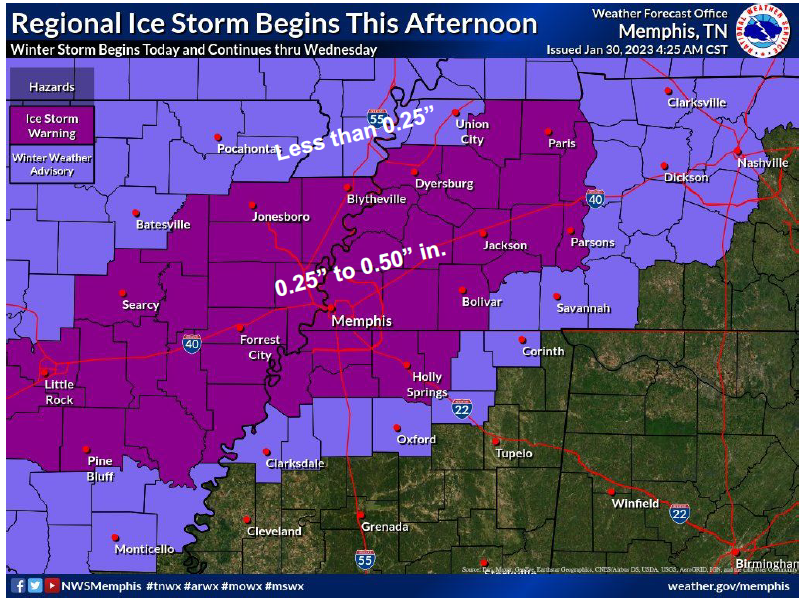 Storm prediction graphic from National Weather Service in Memphis.