Business & Professional Women Endow Centennial Scholarship
07/10/2019
JONESBORO – The Arkansas Federation of Business & Professional Women has endowed a scholarship at Arkansas State University with a gift of $25,000 to mark the centennial of the organization's founding.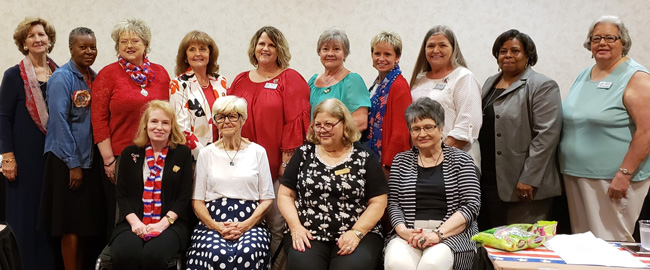 Past presidents of the Arkansas Federation of Business & Professional Women organization include (seated from left) Rita Ivie-Murray of Mountain Home, Mary Beth Sudduth of Fort Smith, Denise Tarter of North Little Rock and Bea Lewis of Mountain Home. (Standing from left) Sarah Akin of Jonesboro, Winifred Stamps of Benton, Tracy Evans of Conway, Carol Barnhill of Jonesboro, Sue Chaich of Greenbrier, Robin Powell of North Little Rock, Kristina Croslin of Conway, Diana Shelton of Walnut Ridge, Debbie Briscoe of Augusta and Nellie Murphy of Jonesboro.

The Arkansas Federation of Business & Professional Women (BPW) is composed of 13 local organizations with members who are active in their communities across the state. BPW's mission is "To achieve equity for all women in the workplace through advocacy, education and information."
The Wilson Memorial Scholarship funds, the source of the endowment funding, are managed by the past state presidents of the Arkansas Federation of Business and Professional Women.
Anita J. Marshall, a member of BPW for almost 20 years and treasurer in 2018-19, is founder of Business & Professional Women at Arkansas State University, a registered student organization.
After membership in other chapters, she transferred to Jonesboro BPW when she moved here to pursue a Master of Arts degree in sociology in 2015. As a graduate student, she founded the registered student organization at Arkansas State and worked closely with the group even after she graduated and became a staff member in the A-State Department of Criminology, Sociology, and Geography.
Jonesboro BPW, including Sarah Akin, a local member and 2018-19 state president, has guided the new organization in its growth on the A-State campus.
In celebrating the centennial, BPW is still championing the push for the passage of the Equal Rights Amendment, and the group often works with other organizations in support of equal pay.
BPW at A-State hosts an Equal Pay Day bake sale each year on Equal Pay Day to call attention to the continuing pay gap. Baked goods are sold to women for the current percentage pay gap while men pay $1.00. In 2019, that was 80 cents for women and $1.00 for men. The bake sale funds are designated for scholarships and are added to the endowment each year.
The Arkansas BPW leadership felt that endowing a scholarship would create a permanent marker in line with the mission of BPW as well as the intent of the Wilson Sisters in funding the Wilson Memorial scholarship. It was also a significant way to accent the importance of 100 years of achievement in the work of equality for women.
Three individuals who have served previously as BPW state presidents expressed support for the new scholarship program at A-State.
Robin Powell, who was state president in 2011-12 and member of Little Rock BPW, emphasized the important role of scholarship programs.
"The ARBPW scholarship programs have always been one of our top priorities, and we have always supported and encouraged women to further their education. I am so proud to be a part ARBPW as we celebrate this milestone of 100 years. However, we have so far to go, equal pay and the Equal Rights Amendment to guarantee rights for women in the Constitution. The endowment of the Centennial Scholarship will be here for a long time and will help young women further their education and become the person they want to become."
Winifred Stamps of Benton, a past state president and now current state president, also commented.
"I am extremely proud to be a part of the founding of the ARBPW Centennial Scholarship at Arkansas State. As with the national federation, ARBPW was founded in Little Rock in 1919, with the purpose to have an organization for working women so that all women would have equal pay for equal work, and equality under the law.
"While we have not yet completely reached that goal, we continue to work for the cause by empowering women politically, professionally and personally. And we do that by funding women determined to continue their education and increase their quality of life. As we celebrate our 100th year, we have created a legacy that will continue that objective into the future and hopefully for the next 100 years."
Past State President Diana Shelton of Walnut Ridge noted the long-term significance of the endowed scholarship.
"The Federation of Arkansas Business and Professional Women voted in November 2018 to endow a perpetual scholarship for women. This scholarship will become a part of the celebration of 100 years for Business and Professional Women's Federation to help provide education and equity for women in the workplace. The Arkansas Federation is proud to have the honor of providing a perpetual legacy such as the Centennial Scholarship.
"The 100-year anniversary marks an historic milestone for women who have continued to band together for the important work to support working women, to bring about awareness, education and inclusion professionally, politically and personally. Their sacrifices, dedication and steadfastness continue to be a proud legacy which will, in part, be continued through the Centennial Scholarship."