Bradbury Gift to Establish Free Enterprise Scholars Certificate Program Based in College of Business
03/15/2017
JONESBORO – Arkansas State University announced today the Bradbury Family Foundation of Little Rock has made a major gift to establish the Bradbury Free Enterprise Scholars Program.
At $300,000, this is the largest gift designated to scholarships in the history of A-State's College of Business. It comes following a series of increasingly significant gifts to business education.
Through the new program, six individuals each year will be selected as Bradbury Scholars. Each one will receive a $2,000 scholarship, amounting to a $12,000 annual commitment to outstanding students, based on merit.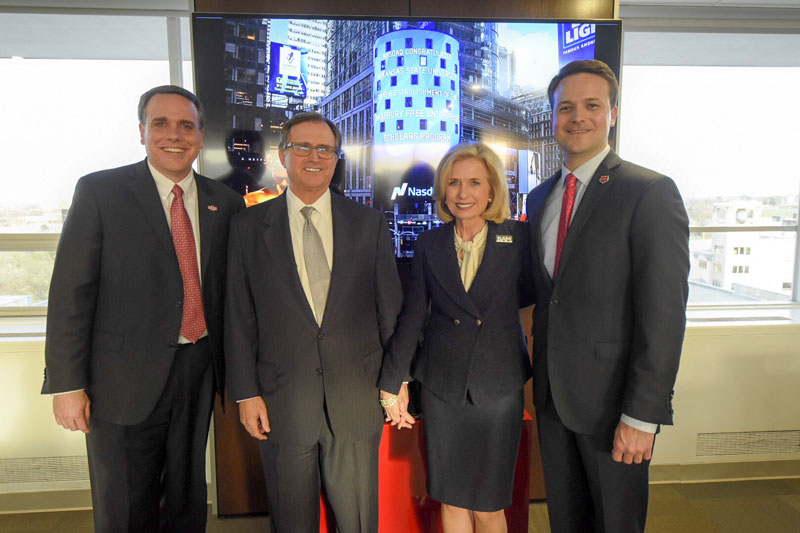 Pictured above from left to right: Dr. Shane Hunt, Curt and Chucki Bradbury and Dr. Jason Penry
"My family and I are very pleased to be able to support Arkansas State's initiative in creating the Bradbury Free Enterprise Scholars Program," Curt Bradbury said. "We have been impressed with enthusiasm with which the faculty, staff and administration have displayed in responding to our offer of support and the creativity they have brought to bear on the design of the program."
"We started down this path with Arkansas State because our country seems to be very divided at this point in its history with its citizens having extremely divergent views on whether our economic system has served us well or not."
To be eligible for selection as a Bradbury Scholar, students must have declared themselves candidates for the Certificate of Free Enterprise program and completed two of the five core courses for the certificate. Although the program is based in the College of Business, eligibility extends to all A-State students regardless of major.
The five courses that comprise the core of the certificate program are "Legal Environment of Business," "Entrepreneurship," "International Trade," "Government Regulation of Business," and "Capitalism and Free Enterprise," a new course.
"Students in the new class will be introduced to a wide range of readings on the origins of capitalism," according to Dr. Shane Hunt, dean of the College of Business. "They will be pushed to deepen their understanding of the role that commerce plays in modern society."
Bradbury further explained his motivation for supporting the program.
"My wife, Chucki, and I have lived the American dream, and we are grateful every day for the freedom that we have enjoyed and that has enabled us to work and achieve," Bradbury said. "We do fervently believe that the historically unique American combination of democracy and free enterprise optimizes freedom and prosperity and provides every individual with the opportunity to flourish in his or her own way."
As another enrichment opportunity for free enterprise students, additional funding from a private foundation is expected to support a guest lecture series in free enterprise.
"With the College of Business' creation of the Certificate for Free Enterprise and the addition of guest lectures, we have great confidence that this program will create a fair academic discourse on the successes and imperfections of our economic system," Bradbury added. "We are thrilled that through Bradbury Scholars we can assist in supporting a fairly and reasonably evaluated academic debate."
Dr. Jason Penry, vice chancellor for University Advancement, said "Arkansas State is extremely grateful to Curt Bradbury for his longtime friendship and for allowing A-State to be home to the new Bradbury Free Enterprise Scholars Program. His leadership and generosity have meant so much to us."
Hunt added A-State plans to work with Economics Arkansas, an advocacy group for economics education based in Little Rock, on additional opportunities for extending the new program's impact.
Plans include a Free Enterprise Conference, a summertime session at A-State for high school economics teachers from throughout Arkansas, to further advance the public's understanding of the importance of free enterprise.
"We believe this summer event will have a big impact on a broad group of teachers, and ultimately students across the state, to increase their knowledge of free enterprise," Hunt said.
The Free Enterprise program will begin this fall, with A-State students declaring for the certificate and enrolling in one or more of the core courses. Sophomore students from all majors, not just business, could start the certificate program with one course, adding another as a junior, and the last three courses as a senior.
Hunt also emphasized the new certificate program would provide another avenue through which Arkansas State University can carry out its mission of educating leaders, enhancing intellectual growth, and enriching lives.
# # #