Board Names Overstreet Logan Mathematics Facility
12/10/2018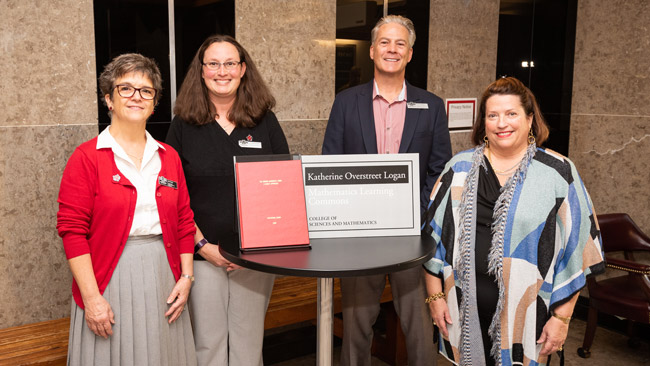 Helen Overstreet (right) meets with (from left) Dr. Anne Grippo, interim dean of the College of Sciences and Mathematics; Dr. Amanda Lambertus, chair of the Department of Mathematics and Statistics; and Pat Edwards, director of scholarships and endowments.
JONESBORO – Students who study mathematics at Arkansas State University now have a new educational space and a new scholarship opportunity.
A tutoring lab in the Computer Science and Mathematics Building will be known as the "Katherine Overstreet Logan Mathematics Learning Commons."
The new name was approved by resolution of the Board of Trustees during its meeting Friday at the Arkansas State University System office in Little Rock.
The naming was made possible by a generous bequest from Helen Overstreet of Oxford, Miss.
She made the gift in memory of her stepdaughter, Katherine Overstreet Logan, in recognition of her contributions to higher education and her students.
Also, a portion of the gift will support a new scholarship for upper level students, with first preference given to female mathematics majors. Second preference will be females majoring in one of the other STEM disciplines (science, technology or engineering).
Logan earned her bachelor's and master's degrees from the Department of Mathematics, and also served as an instructor at A-State. She was working on a doctoral degree at the time of her death.
For more information about dedicating a gift to Arkansas State University, in support of its mission to educate leaders, enhance intellectual growth and enrich lives, one may contact University Advancement, (870) 972-3940.
# # #