Biological Sciences Major is 2023 Recipient of Ricardo Gonzalez Award
05/23/2023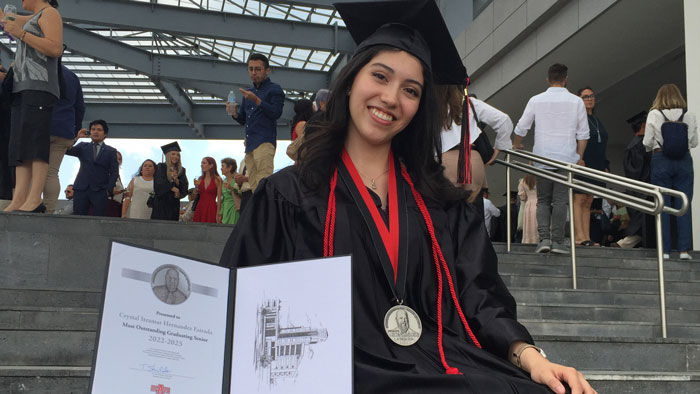 Crystal Itzamar Hernandez Estrada


JONESBORO – The 2023 recipient of the highest award to a graduating student at Arkansas State University Campus Querétaro (CQ) is Crystal Itzamar Hernandez Estrada. She received the Ricardo Gonzalez Award, designated for the most outstanding graduating student at CQ, during the recent A-State CQ commencement ceremony. "This award is a remarkable collaborative effort," said Estrada. "I express my gratitude to my classmates for fostering an environment conducive to growth, my professors for their invaluable guidance, and above all, my family, who have been the root of my achievements." Estrada earned a bachelor's degree in biological sciences with a concentration in pre-professional studies. She now plans to pursue a degree in dental surgery. "I am determined to advance my research and further excel in the field of dentistry. With commitment, I aspire to pursue a doctor of dental surgery (DDS) or doctor of dental medicine degree (DMD)," said Estrada.

While an undergraduate, she participated in several activities that contributed to her success.

"My ultimate goal is to not only serve others, but also to inspire them, fostering a sense of fearlessness in pursuing their own vocations and dreams," she continued.

While at CQ, she served as director of the International Pre-Dental Alliance, a global community for pre-dental students. "The quality of classes combined with the personalized connection I established with professors played a key role in my extensive growth and laid a solid foundation for my future endeavors in dental school," she said. Estrada interned at Elara Dental Clinic in Cadereyta and at Lykins Family Dentistry in Ellijay, Ga. During her time at CQ, she co-founded two student organizations. Eco-Science, which focused on recycling and Thrive, focused on guiding students to pursue graduate studies. In addition to conducting research with various professors, she also volunteered as a tutor. "The invaluable education I received through these means will shape my path towards continued development and success."

Other nominees for the award were: biotechnology major Edna Lucero Arciga Conteras, biological sciences major Diego Emilio Aznar Cruz, strategic communication major Carlos Iván Blas Macías, mechanical systems engineering major Andres Lopez Aguirre, international business major Dante López Villegas, electrical systems engineering major Alexandra Melo Gómez, international business major Tania Monserrat Cano Flores, electrical engineering major David Fernando Miranda Lopez, international business major Denise Pejic, and biotechnology major Miren Maitane Ugarte Maldonado.

Ricardo Gonzalez, a businessman and entrepreneur, was among those with a vision for the first American-style university in Mexico. He provided leadership for the campus development in its most crucial early stages. Like R.E.L. Wilson and his 1930s-era contributions to the blossoming Arkansas State College in Jonesboro, Gonzalez provided extraordinary support to make the campus in Querétaro a reality.

Prospective students can learn more about Campus Queretaro online, at AState.mx.