Bicycle Sharing Coming to A-State with LimeBike
10/06/2017
JONESBORO – One of the nation's fastest growing bicycle sharing companies is coming to Arkansas State University in October, student government and university officials announced today.
Arkansas State becomes the first university in the Mid-South to welcome LimeBike onto its campus. As the first Bicycle Friendly University in Arkansas, A-State enhances its position with the addition of the commuter bicycles to its current recreational bike share at the Red WOLF Center.
"The students are excited about having a convenient bike share program on-campus," Student Government Association President Haley Stotts said. "Something I've heard from students for some time is they wanted a way to have more bikes, and bikes that were for just getting around town. The SGA has looked into several different systems. LimeBike's cost and ease of use were the reasons we went with them."
The distinctive lime green and yellow commuter-style bicycles begin service in October. The bicycles are equipped with three-speed gearing, lights and a front basket to carry items.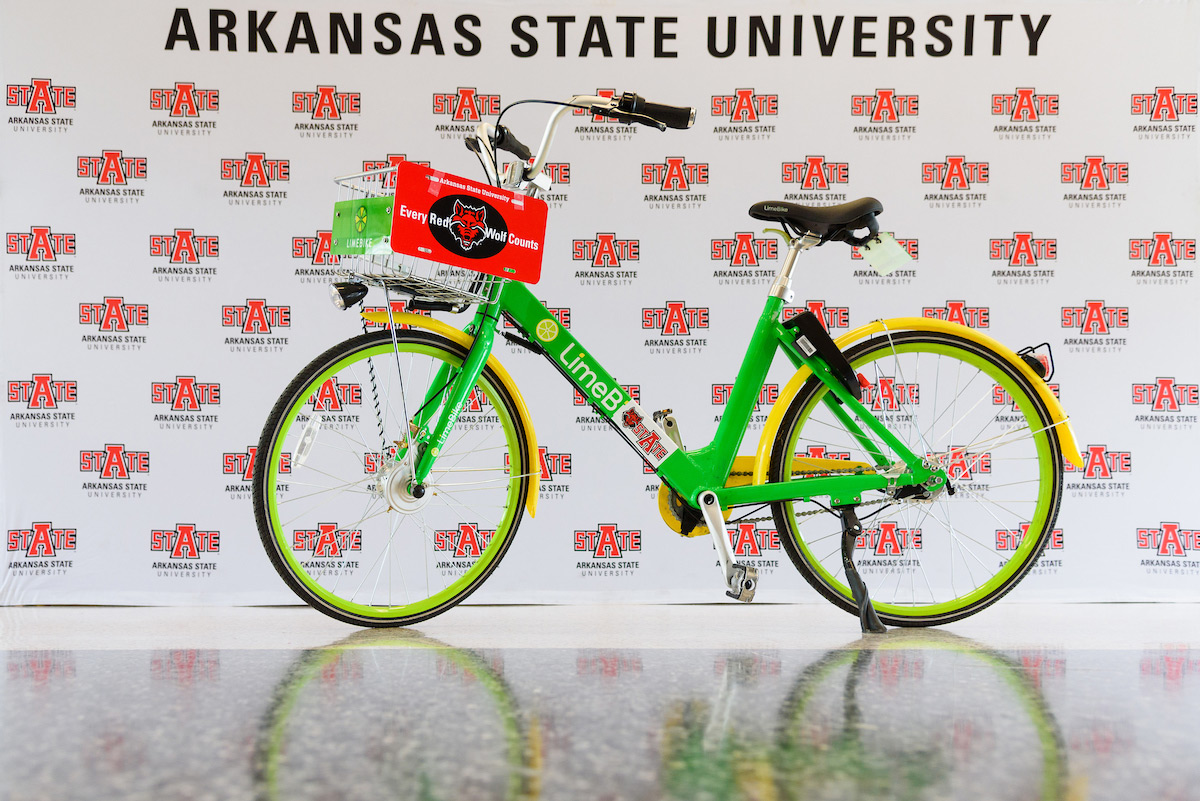 "We've investigated bike share programs for a couple of years, but all of them had an up-front cost of five-figures and higher," Vice Chancellor for Student Affairs Rick Stripling said. "To be able to provide a service with no up-front cost that actually has more flexibility for our students is a huge win-win for A-State and our students."
The cost for usage of the bicycles is minimal for Arkansas State students. Use of a LimeBike is only 50 cents per 30-minute time block for individuals with AState.edu email addresses. For all other residents of Jonesboro, use of a LimeBike ride is just $1.00.
"The key difference between LimeBike and other bike share programs available in this region is the freedom from having to locate a specific, pre-defined docking station to end your ride," Bill Smith, co-chair of the campus bicycle planning committee said. "Along with a dramatic reduction in the up-front cost to a community or in our case university, our students, faculty, staff and local residents can ride to any destination."
The U.S.-based company has launched its dockless bicycle sharing program in major cities like Seattle, Dallas and most recently Washington, D.C. LimeBike is also on several university campuses, such as Notre Dame, North Carolina State and UNC-Wilmington.
Bikes are GPS and 3G-enabled, making it simple for riders to find, unlock and pick up a nearby bike using the iOS or Android smartphone app. When the ride is finished, riders simply lock the bike's back wheel and responsibly park between the pedestrian-designated sidewalk and the street curb, or at a bike rack.
"We are asking that students utilize the on-campus bike racking locations and other designated bike corral locations as responsible places to park LimeBikes," Bill Hall, also co-chair of the campus' ad-hoc bicycle planning committee. "While we are locating new bike parking locations, we want everyone to remember not to block doors, traditional sidewalks and especially handicapped access ramp areas when parking. One of the benefits of the GPS system is we can monitor the patterns of usage and determine where new or additional parking corrals need to be located."
After downloading the smartphone app, users may employ different methods for payment. LimeBike is the first dockless bike share to offer a cash program, which allows riders to unlock their rides in their preferred method of payment.
The security of the LimeBike system derives from the connectivity of the bicycles. If a locked LimeBike is moved beyond a predefined radius, it will set off the alarm within the bike. Also, if an unrented LimeBike detects motion above a certain speed, the assumption is it is in an unauthorized vehicle which will set off the alarm as well as a location detection beacon system.
In addition to the service, LimeBike will employ a local operations manager and part-time fleet management assistants.
About LimeBike
LimeBike aims to revolutionize mobility in cities and campuses by empowering residents with a greener, more efficient, and affordable transportation option that also improves urban sustainability. By partnering with local key stakeholders and systematically deploying a fleet of smart-bikes that are enabled with GPS, wireless technology, and self-activating locks, LimeBike will dramatically improve urban mobility by making the first and last mile faster, cheaper, and healthier for riders. Funded by Silicon Valley's leading VC firm Andreessen Horowitz, LimeBike is based in San Mateo, CA. Learn more at limebike.com.
# # #