Baine Commits Endowment Honoring MPA Program Founder
10/24/2019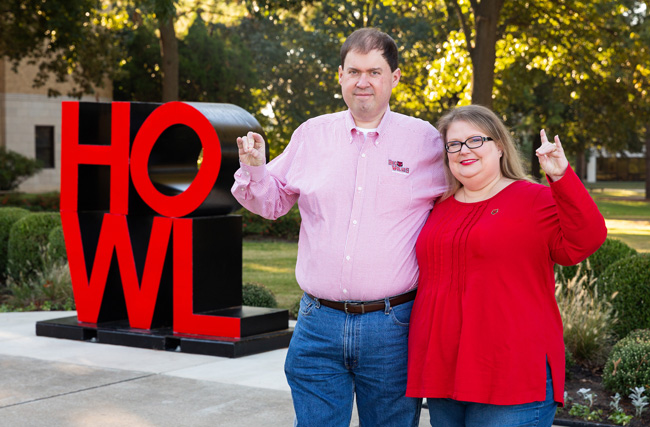 John and Jennifer Baine have their Wolves Up at the new Howl feature near Wilson Hall, where Baine attended classes in the MPA program under Dr. Stanley Vanagunas.

JONESBORO – Recalling his positive experience and the quality education that prepared him for his career and public service, John Baine of El Dorado is endowing a new scholarship at Arkansas State University.
Baine, who completed his Master of Public Administration (MPA) degree in 1995, has committed to give $50,000 to fund a scholarship program to benefit future MPA students.
At Baine's request, it will be named the Dr. Stanley Vanagunas Public Administration Scholarship Endowment, in honor of the first director of A-State's MPA program.
Vanagunas, emeritus professor of public administration, is now living in Arizona. He retired in the spring of 2001 after 18 years as a faculty member at Arkansas State University.
Dr. William P. McLean, department chair and associate professor of political science, expressed the university appreciation for the gift.
"We are so pleased that one of our distinguished graduates, Mr. John Baine, has chosen to honor Dr. Vanagunas' legacy by creating an endowment that will have an impact on our MPA students for decades to come," he stated. "As the founding director of Arkansas State's MPA program, Stan had a unique vision to establish a nationally accredited program that would increase professionalization in public management in Arkansas and the Delta region and also have global reach.
Baine, a former state representative in the Arkansas General Assembly, also earned a bachelor's degree in accounting at Arkansas State. He and his wife Jennifer are dedicated Red Wolves fans. He is employed as an accountant at Murphy USA in El Dorado.
"Dr. Stanley Vanagunas was a major influence on how I looked at the role and function of government," Baine recalled. "I used what he taught me in my years in county government and later in the Arkansas House of Representatives."
The Vanagunas Scholarship, the first private endowment for a public administration scholarship at A‑State, will be awarded to outstanding students in the graduate-level program.
This is the second endowment gift that Baine has committed at Arkansas State. The John Baine Scholarship Endowment, fully funded in the summer of 2018, is now generating a scholarship each year for an A-State student from El Dorado (Union County), who is not receiving a Murphy Promise Scholarship to attend college.
Active in the Arkansas State University Alumni Association, Baine currently serves as secretary/treasurer for the organization's board of directors.
"Stan Vanagunas' students have gone on to serve as distinguished public servants in Arkansas and around the world. John is a shining example of Stan's mentorship," McLean added. "John knows as well as anyone the continued need for qualified and dedicated public administrators, and thus we are thankful for his generous gift. The student scholarships funded by this endowment will help us attract the best and brightest students to public service."
# # #