Aulos Ensemble to Perform in Lecture-Concert Series
02/13/2019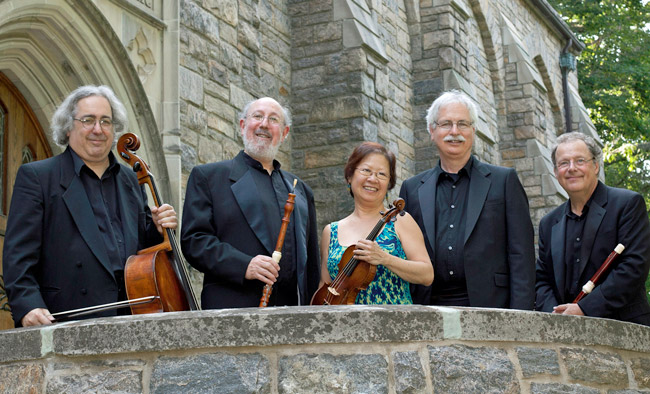 The Aulos Ensemble consists of (from left) Myron Lutzke (Baroque cello), Marc Schachman (Baroque oboe), Linda Quan (Baroque violin), Arthur Haas (harpsichord), and Christopher Krueger (flauto traverso).
JONESBORO – The Aulos Ensemble will perform for Arkansas State University's Lecture-Concert Series Tuesday, Feb. 19.
The concert begins at 7:30 p.m. in the Recital Hall of the Fine Arts Center (GPS 2412 Quapaw Way). Admission is free.
In its A-State performance, "A Tale of Two Cities," the ensemble's program will include works by Henry Purcell, George Frideric Handel, François Couperin and Jean-Philippe Rameau.
"The Baroque repertoire is as rich and fascinating as any. To hear it on period instruments such as the Baroque oboe, the harpsichord, and the viola da gamba, will be a rare and wonderful treat for our university and surrounding communities," stated Dr. Tim Crist, Lecture-Concert Committee chair. "The Aulos Ensemble is now in its 44th year and continues to stun audiences worldwide with their extraordinary virtuosity and imaginative interpretations."
The Aulos Ensemble was formed in 1973 by five Juilliard School graduates and quickly rose to the forefront of a movement that was to capture the imagination of the American listening public.
Now in its fifth decade, Aulos continues to explore new projects and develop outlets for its music-making. The group's name, Aulos, refers to an ancient Greek wind instrument.
The concert is presented with additional funding support from the College of Liberal Arts and Communication and Department of Music.
The Lecture-Concert Series serves Arkansas State and the surrounding communities by bringing notable guest speakers and performers of diverse backgrounds and wide appeal to the campus, Crist added.
For more details about the series, interested individuals may visit the Lecture-Concert Series website, AState.edu/LectureConcert, or contact Crist, tcrist@AState.edu or (870) 972-2094.
# # #