ASU Rugby Program to Hold Informational Night March 7
02/27/2013
JONESBORO, Ark. — Arkansas State's rugby program wants to share its success and knowledge of the sport with everyone and will get the opportunity to do just that when the team holds a Rugby 101 informational night, Thursday, March 7. The event gets underway at 6:30 p.m. in the Spring River Room in the Carl R. Reng Student Union, 101 North Caraway.
The occasion is open to everyone and members of the team will hand out free t-shirts. Several All-American players will be in attendance to provide instruction about rugby, including Shaun Potgieter, Pat Sullivan, Zac Mizell and Harry Higgins.
"We want everyone to join us to learn about the rules of rugby and about ASU's national championship winning program," said first-year head coach Alex Houser. "Our program is ranked second in the nation and we host Life University, the number one team, March 9. We need our fans to come out and support us. This informational night will help teach fans about the sport.
"When we played Life in the championship, it was the first time we had ever beaten them in 7s. And, Life is the only other team to beat ASU in 7s. So, I'm sure they will be motivated, but so are our players. It should be a great match."
ASU's rugby squad won the national championship in men's college 7s in December and carried a 2012 7s record of 21-1 and had five players named to the all-tournament team. For their efforts, the community recently recognized the players when Jonesboro Mayor Harold Perrin signed a proclamation honoring the team and its accomplishments. The proclamation was presented and read by Mayor Perrin at a City Council meeting.
Capping off a 6-0 run over the course of two days, ASU defeated Life University, 21-7, in the championship of the Men's Cup to capture the title. It marked only the second time in Arkansas State history to win a national challenge in sports.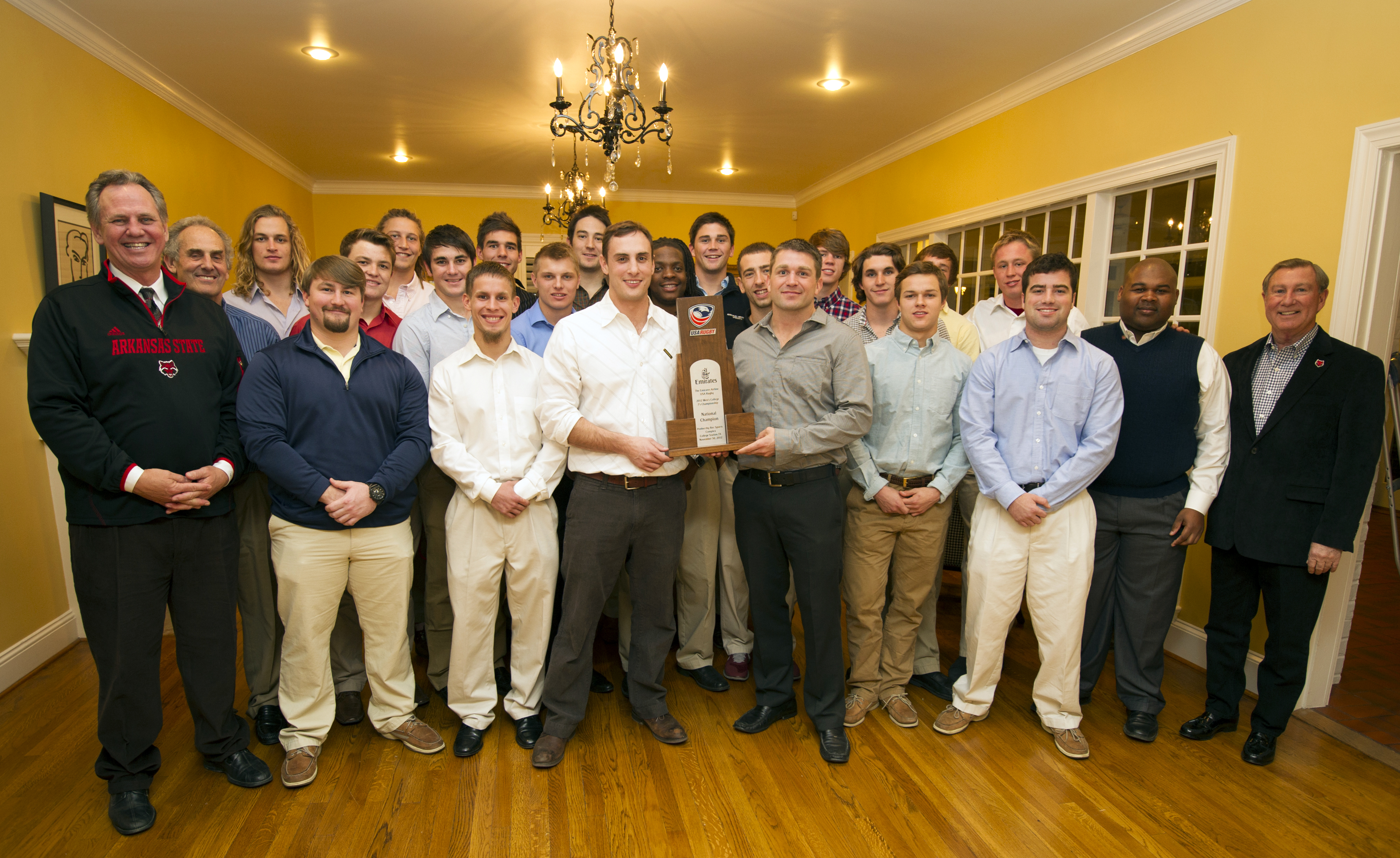 The 2012 men's college 7s national champions were recently honored by Chancellor Tim Hudson (left) and his family at the Chancellor's Residence. Board of Trustees chairman Mike Gibson in on the right.