Art and Design Students Present Work to Disney's Yellow Shoes
10/28/2016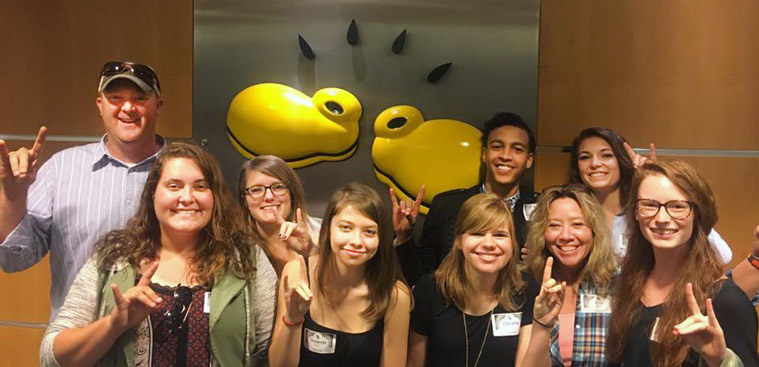 JONESBORO – Arkansas State University's Department of Art and Design students were invited by Disney's Yellow Shoes Creative Group to present a portfolio of their work.
Yellow Shoes Creative Group is the internal creative agency for The Walt Disney Company. Senior art director and A-State alumnus Matt Stewart at Disney's Yellow Shoes spoke to the university's AIGA (the professional association for design) student exhibition last spring.
He was so impressed with the quality and growth of the design program since he graduated almost 20 years ago, he personally invited design students and Kim Vickrey, professor of graphic design, for a rare private tour.
Stewart told the department, "This was an amazing learning opportunity to keep an A-State connection going by having art and design students come and see firsthand how Yellow Shoes operates. This was an exclusive invitation not afforded to the general public. In the vein of 'preserving the magic,' it is rare for Disney operations to allow anyone to peek behind the curtain."
Students had a chance to tour the physical space, meet some of the key people in the organization, view top secret work on future projects and see the approach Disney takes to advertising in graphic design.
"Students were asked to present a portfolio of work to discuss internship opportunities within the creative entities of Disney, given vital informative tips and met directly with people connected with the internship application process, which requires a six-month commitment," according to Vickrey. "The portfolio presentation opened highly competitive doors and rare networking opportunities at possibly the most sought after creative jobs in the world."
In reviewing what the students presented, Stewart noted, "What a fantastic collection of work. The strong conceptual development and obvious skillsets show a respectful collaborative environment within the department. Very similar to how we do things, here in the 'real world.' "
In order to pay for travel expenses, students received sponsorships from the university, an undergraduate research grant, and raised money through multiple fundraising activities on and off campus. Yellow Shoes encouraged Arkansas State to continue supporting field trips for the Department of art and design students.
For details about the Department of Art and Design programs, one of contact Vickrey or Curtis Steele, department chair, at (870) 972-3050.
# # #