Arkansas State Rugby Team Breezes to Second USA Rugby College 7s National Championship
11/24/2013
GREENSBORO, N.C. — For a short time, it seemed that interim rugby coach Matt Huckaby might not have the words to describe how Arkansas State University's rugby team won its second consecutive USA Rugby College 7s National Championship Sunday afternoon. But, once he got started, the pure joy of pride and success poured out.
"I don't really know what to say," said Huckaby. "The guys stayed together and were ready for that final game against St. Mary's. "We knew we came to win and we did, and we knew we had to play a championship game and we did the whole time."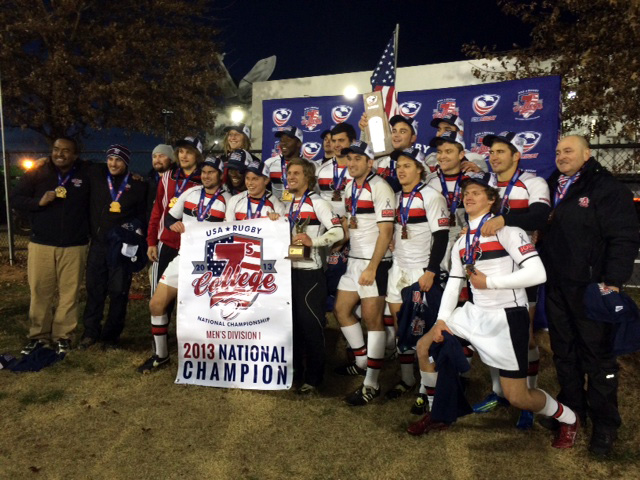 Arkansas State University Rugby Team — Two-time USA Rugby College 7s National Champions


A-State, now a perfect 19-0 overall, advanced to the final game by eliminating five straight opponents. On Sunday, the team defeated Air Force, 24-12; Dartmouth, 32-5, and then knocked out St. Mary's in the title game, 32-12, after taking Saturday victories over North Texas (36-0), Florida (41-0) and Oregon State (46-5) Saturday in Bryan Park Soccer Complex.
The Red Wolves won their first national championship just under a year ago in December 2012. Winning the second one is just as sweet, but maybe a little more businesslike.
"Everyone stepped up and did his job," continued Huckaby. "It was fun to see these young men work hard and execute every time. I really couldn't single anyone out. It was a team. It was the team effort. If there was a team problem, it became team problem solving."
For instance, Huckaby said that fullback/wing Tom Haussrer, a sophomore from Auckland, New Zealand, recognized he was having an off day on his kicking game and turned the duties over to fullback/fly Zin Zan Elan-Puttick while Haussrer picked up in another area.
"He was a difference maker because of his ability to see he wasn't having a good day and made some changes," Huckaby related. "Tom came to me and I told him go ahead and do it."
The players went into the tournament dedicating their play to program founder Curt Huckaby, who is also Matt's father. Matt said he didn't mention the goal set by the team to any players, but he heard them talking about it from time to time and he knew they were aware of it with each game.
"It developed with the team that they wanted to do this and they proved it," Huckaby said. "They are proud of it. They played Curt Huckaby rugby—all out. And, Dad watched a lot of the matches and kept me posted on how other teams were doing. I had the best scout in the country!"
In addition, Huckaby noted that Dylan Carrion, the speedy scrumhalf from Plano, Texas, had an outstanding tournament, including playing every single minute of each game.
"I can't single out anyone in particular, though," he said. "We played a lot of younger players. We didn't hesitate to play any sub or anyone on the bench. We have an aggressive style of play. They kept our starters fresh for the St. Mary's game. A victory is inclusive and a team victory."
The Red Wolves got off to a shaky start trading possessions against St. Mary's until Carrion and Shaun Potgieter, a 6-3, 215-pounder from Port Elizabeth, South Africa, combined to put A-State on top, 5-0. The players got on track and extended the lead with scores by sophomore wing Gavin Brown of Indianapolis, Ind., and Haussrer.
Arkansas State seemed to gain strength in the early second half and essentially put away St. Mary's behind the efforts of sophomore Harry Higgins of Brisbane, Australia; flanker Steyn Benade and Potgieter.
The title now gives Arkansas State University five national titles: 2013 USA Rugby College 7s, 2012 USA Rugby College 7s, 1970 small college football national championship, 2013 International Public Debate Association Team Debate National Championship, and 2009 Moot Court national championship.