Arkansas State Brings Home National Championship In Trap, Skeet Shooting
04/09/2014
SAN ANTONIO, Texas — The Arkansas State University Shooting Sport team brought home its first national champion at the 46th Annual Association of College Unions (ACUI) International Clay Targets Tournament.
"We are excited to make such great strides in such a short time," Dr. Gauri-Shankar Guha, associate professor of economics and coach of the Red Wolves shooting sports team said. "To bring home a national title in what is really our second year says a lot about our students and their hard work."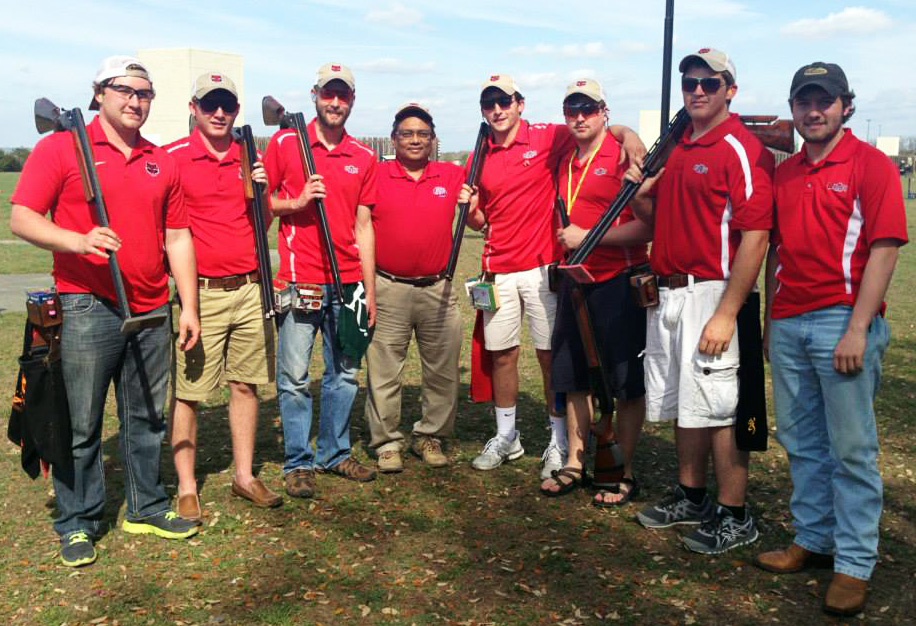 Arkansas State University Shooting Sport Team—(from left) Fletcher Dowell of Little Rock, Haden Zirbel of Jonesboro, Jordan Harper of Harrisburg, Dr. Gauri-Shankar Guha (coach), James Wray of Payneway, Forrest Jones of Marion, Lyle London of Pocahontas and Jacob Morehart of Little Rock.
With the team national title won in shooting sports, Arkansas State adds to its club sports total of a fifth national titles: moot court (2009), men's rugby 7s (2012 and 2013) and debate (2013). A-State also has varsity athletics national titles in football (1970) and several individual NCAA champions, including this year with Sharika Nelvis in the 60-meter hurdles.
A-State was one of 75 universities competing in the trap and skeet division and scored 294 points in four rounds. Members of the three shooters and their scores include Forrest Jones of of Marion (23-25-25-24 — 97); Haden Zirbel of Jonesboro (25-24-25-25—99); and Jordan Harper of Harrisburg (24-24-25-25 — 98).
In addition, the two teams representing A-State finished second and third in international trap. The first squad made up of Jones (24-24-24-24 — 96); James Wray of Payneway (24-23-23-25 — 95; and Lyle London of Pocahontas (23-23-23-25—94) finished with a group score of 285. Team two finished third with 284 points. Scorers are Zirbel (24-23-22-25 —94); Harper (24-25-24-24 — 97); and Fletcher Dowell of Little Rock (22-23-24-24 — 93).
The division system of ACUI is based upon the number of club participants. Division I has more than 20, while Division II has 10 to 19 contributors. Division III, which Arkansas State has membership, has one to nine shooters. Following last year's competition, Dr. Guha earned a place in the "Coaches College" at the U.S. Olympic Training Center in Colorado Springs, Colo., and received training in all six shotgun disciplines and certified as a shotgun coach.
In 2014, the Red Wolves competed in all six events, including American Trap, American Skeet, International Trap, International Skeet, Five Stand, and Sporting Clays, placing second and third in International Trap and won the overall title in Division III American Trap.
"Last year, we attended the ACUI Collegiate National Championships for the first time and were amazed to see 65 schools from coast to coast," said Guha. "We competed only in American Trap and placed third in Division III. We had no experience with the other five events, but we watched and learned."
In his senior season, James Wray who is graduating with a degree in civil engineering, serves as president of the Red Wolves Shooting Sport.
"I shot trap through high school and won many trophies," said Wray, "but was afraid that college was the end of the road. Since 2012, Dr. Guha and I were able to build the ASU Shooting Sports Club and won trophies wherever we competed.
"Winning a national championship in my final semester is a great way for me to finish. My best wishes for the team, and I hope they will win many championships in the future."
"The Natural State has abundant natural talent for shooting sports," concluded Dr. Guha. "Kids learn to shoot and are trained in firearm safety before they are eight years old. Many develop expert level skills and technical knowledge before they get to high school. This talent is nurtured through high school by an excellent youth program run by the Arkansas Game and Fish Commission. Fortunately, I was able to recruit some top talents from Arkansas and they have proven themselves at all levels."
Following are links to the different groups of ACUI results:
ACUI Results:
http://www.acui.org/content.aspx?menu_id=355&id=25156&terms=2014%20clay
American Trap Team Standings
http://clay.acui.org/nationals/results/final/am_trp_teams3.htm
International Trap Team Standings
http://clay.acui.org/nationals/results/frontend.php?type=int_trp_teams