Arkansas Plant Collections to be Digitized with Support from National Science Foundation
10/06/2014
JONESBORO – Creating digital images of every type of plant in Arkansas and making the images accessible to researchers everywhere are two of the goals of a project that has attracted funding from the National Science Foundation.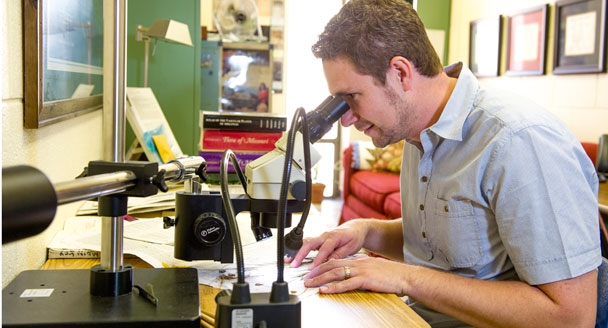 Dr. Travis D. Marsico
Dr. Travis D. Marsico, associate professor of botany, is the collaborating principal investigator (PI) for the Arkansas portion of a 12-state initiative. Marsico also is education and outreach team lead for the entire project, while Dr. George Johnson of Arkansas Tech University is co-PI and state lead.
Although many universities and governmental units have been collecting plants for many years, creating a digital file of each specimen is a relatively new option. Digitized plant specimens can be transmitted and shared easily; that is not practical with the actual specimens.
While researchers naturally would be interested in a collection of digitized plant specimens, there are many ways others might use the information.
"Having specimen data available online is critical to the scientific enterprise of understanding patterns of plant distributions and changes in these distributions over time and under changing conditions," Marsico explained. "These data can be useful to people in the local community because searchable databases can be used to determine the identification of species naturally occurring in the backyard or as a weed in the garden. Individuals can create personalized species lists that can be useful when going on hikes or nature walks."
Student involvement in this project will be extensive, and the benefits for bright science students cannot be understated.
"Students will be involved in the digitization efforts at all eight registered herbaria in Arkansas. In fact, here at Arkansas State, we have already completed a large portion of the digitization effort with graduate and undergraduate research assistants."
The project scientists also will engage community members or 'citizen scientists' in transcribing data from the specimens.
"Transcribed data includes digitizing specimen label information such as when and by whom the specimen was collected, the species name, and specific location of the collection site," Marsico said.
In addition to serving as associate chair for the Department of Biological Sciences, he also is curator for the Arkansas State University Herbarium, known as STAR.
Other Arkansas participating institutions with herbaria are Henderson State University, Hendrix College, University of Arkansas, University of Arkansas-Monticello, University of Central Arkansas, and the Arkansas Natural Heritage Commission.
The project is important to students' professional development as they learn the importance of maintaining natural history collections and making them accessible.
"Through their efforts, students will also learn proper curation techniques for handling and caring for these museum specimens as well as community engagement in scientific activities," the biologist added. The research will be conducted in conjunction with SouthEast Regional Network of Expertise and Collections (SERNEC), which includes botanical experts and collections.
The NSF award was made as part of the National Resource for Digitization of Biological Collections through the Advancing Digitization of Biological Collections program. All data resulting from this award will be available through the national resource iDigBio.org.
# # #