Arkansas Delta Byways Presents 20th Annual Tourism Awards
03/03/2020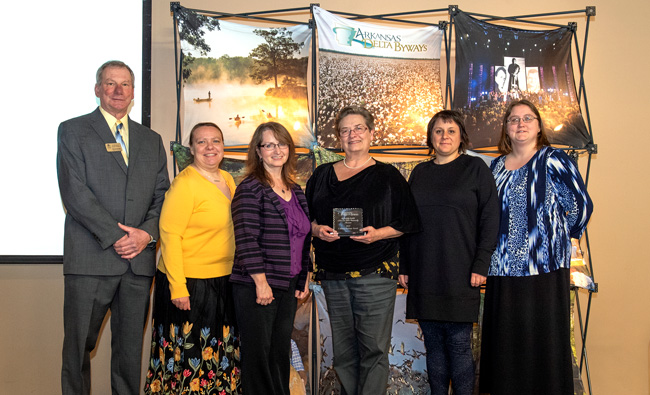 Marcel Hanzlik (left), ADB president, presented the annual tourism awards, including the Cultural Heritage Award to the ASU Museum staff (from left) Valerie Ponder, Jill Kary, Marti Allen, Elisabeth Engel and Michelle Friend.
JONESBORO – The 20th annual Delta Awards, recognizing tourism achievement, were presented by Arkansas Delta Byways during the organization's annual festivities at the Technology Center for the Delta in Wynne.
The event was sponsored by Arkansas Delta Byways with support from the City of Wynne and the Wynne Chamber of Commerce. Marcel Hanzlik, president of Arkansas Delta Byways, served as master of ceremonies.
The winners of the various tourism awards were:
Media Support: KASU – AETN, Ken Burns "Country Music" Promotion, all counties


Hospitality: Vicki Trimble, Cross County


Entrepreneur: Weston Lewey, Chez Weenie, St. Francis County


Tourism Support/Promotional: Madpie's Tea Room and Shoppes, Clay County


Festival/Event: Delta Roots Country Festival, Phillips County


Boot Strap: World War I Anniversary Celebration, Hemingway-Pfeiffer Museum and Piggott PACE, Clay County


Cultural Heritage: Rockabilly Exhibit, Arkansas State University Museum, Craighead County

ADB presented its "Outstanding Member Award" to Sheila Ward, manager of the Welcome Center at Blytheville.
The "Tourism Person of the Year" award went to Little Rock resident John Gill, author of several books on Arkansas history, former chair of the Arkansas History Commission, and a member of the State Parks, Recreation and Travel Commission.
Arkansas Delta Byways is the nonprofit association recognized by the Arkansas Department of Parks and Tourism as the official tourism promotion association for 15 counties in Eastern Arkansas. Member counties are Arkansas, Chicot, Clay, Craighead, Crittenden, Cross, Desha, Drew, Greene, Lee, Mississippi, Monroe, Phillips, Poinsett and St. Francis.
ADB is based on the A-State campus in Jonesboro and receives administrative support through the university's Arkansas Heritage Sites Office.
For more details, contact Arkansas Delta Byways, (870) 972-2803.
# # #