Alumni Association to Honor John Bobango, Ron Miller and the late Ed Way as Distinguished Alumni of 2015
08/25/2015
JONESBORO – The Arkansas State University Alumni Association is announcing the recipients of its Distinguished Alumni Awards for 2015, which will be presented during Homecoming on Saturday, Oct. 3.
This year's honorees are John A. Bobango of Germantown, Tenn., Ron Miller of Jonesboro, and the late Ed Way of Jonesboro. These three alumni have a lifetime of achievements, both professionally and with Arkansas State.
This is the 32nd year the association has recognized the university's most outstanding alumni. A ceremony recognizing the honorees is scheduled for halftime of the Red Wolves football game with the University of Idaho.
"Since 1984, the Alumni Association's board of directors has annually selected award recipients from nominations submitted by the public," according to Rich Carvell Jr. of Bentonville, president of the association. "The final selections are based on community service, professional achievement and service to Arkansas State University."
Here are some highlights about each of this year's award recipients: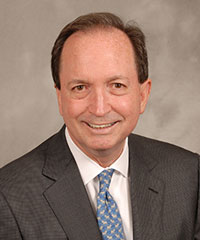 John Bobango
John A. Bobango
Germantown, Tenn.
After coming to A-State, Bobango joined Pi Kappa Alpha fraternity, where he soon began a lifelong commitment. After completing a bachelor's degree in political science in 1978, he travelled for Pike as a chapter consultant, then continued to be highly involved in the organization's leadership, eventually becoming international president last year.
Bobango earned his J.D. degree at the University of Memphis Cecil C. Humphreys School of Law and a Master of Laws in Taxation at the University of Florida. He is the chief manager of Memphis-based Farris Bobango PLC, which also operates a Nashville office.
The firm has become one of the most successful business law practices in the country. Bobango's achievements have brought him numerous accolades from his peers, the most recent being Best Lawyers' 2016 Securities/Capital Markets Law "Lawyer of the Year" for Memphis.
His philanthropy includes scholarships for Pikes at A-State along with numerous causes in the Mid-South. He has served as a member of the Memphis City Council, board member and treasurer for Riverfront Development Corp. and the Economic Club of Memphis, and board member of Madonna Learning Center, a special needs school.
His nominators called Bobango "a consummate professional, ardent public servant, impassioned volunteer" who "never misses the opportunity to be an outspoken advocate for Arkansas State University."
He and his wife Lisa have two children, Allen and Mary Lauren.
---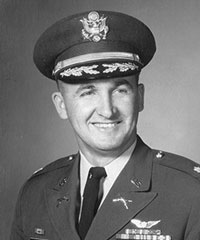 Ron Miller
Ron Miller
Jonesboro, Ark.
After completing A-State's ROTC program in 1959, Miller was commissioned as an Army officer. He became a highly accomplished military pilot, flying a helicopter gunship during three tours in Vietnam. His lengthy list of military achievements during his 20-year career includes two Distinguished Flying Crosses and two Bronze Stars, among many others. While stationed at Fort Benning, he served as a flying safety consultant to producers of the John Wayne movie, "Green Berets."
Miller's military experience shaped his life's focus, dedicating his endeavors to veterans' interests. President Reagan appointed him to serve as executive director of the Georgia Vietnam Veterans Leadership Program, where he assisted thousands with employment, job training and small business assistance over a 13-year period.
After returning to Arkansas he has been a vigorous supporter of the Beck PRIDE Center for Wounded Veterans at A-State since its inception, and he supports military science students in the Red Wolf Battalion through endowed scholarships. He was inducted into ROTC's Hall of Heroes in 2002 and the Arkansas Military Veterans' Hall of Fame in 2012.
Among his numerous achievements, Miller led a successful national effort to get POW/MIA (prisoner of war/missing in action) flags flown regularly at state capitols.
"Few have been as faithful and as selfless as Ron toward his fellow veterans," one of his nominators wrote.
---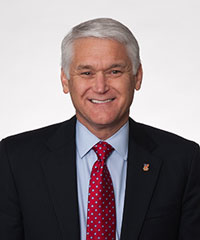 Ed Way
Ed Way
Jonesboro, Ark. (posthumous award)
A native of Stuttgart, Way came to Arkansas State and earned a bachelor's degree in business administration in 1974. He parlayed that experience and his extraordinary talent for building personal relationships into a highly successful banking career, during which he continued his education at the Southwest School of Banking at Southern Methodist University.
Way's last leadership position was Jonesboro market president for Centennial Bank. He was executive vice president and one of the pillars of Centennial's predecessor institution, Liberty Bank of Arkansas, which originated and thrived in Jonesboro largely through his energy, dedication and talent.
In the fall of 2014, Way was recognized as Business Executive of the Year by the A-State College of Business. The award was given for his lifetime of numerous achievements in business.
His record of community service also was extensive. Some of his major leadership roles were chairman of the Jonesboro Regional Chamber of Commerce, president of the Jonesboro Rotary Club, campaign chair for United Way of Northeast Arkansas and president of the Red Wolf Foundation at Arkansas State. He was successful in these and other positions because of his love for the university and his home community.
Way is survived by his wife, Dianna; two children, Philip (wife Lindsey) and Mary Catherine; and two granddaughters.
---
About the Arkansas State University Alumni Association
Information about all previous recipients of the Distinguished Alumnus Award, along with the nomination and selection procedures, is available through the Arkansas State University Alumni Association website, http://astatealumni.org.
# # #