A-State Students Recognized by St. Jude Children's Research Hospital
06/27/2019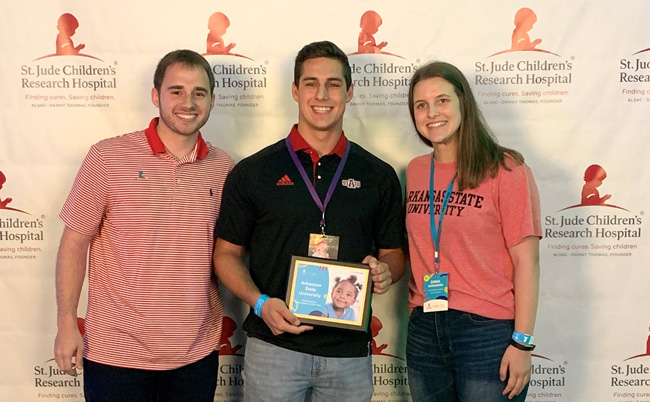 A-State students (from left) Landen Crancer, Will Wilkins of Searcy and Emma Borgmann of St. Louis were members of the 2018-19 Up 'til Dawn executive board at Arkansas State. Crancer and Wilkins are members of Lambda Chi Alpha fraternity. Borgmann and Wilkins also will serve on the 2019-20 board.
JONESBORO – At the St. Jude Collegiate Leadership Seminar this week, Arkansas State University students won two major awards in recognition of the fundraising work they have done to benefit St. Jude Children's Research Hospital in Memphis.
Landen Crancer of Rector was honored as recipient of the 2019 Be Like Danny Award, presented by Phired Up Productions.
The award recognizes a student that mirrors Danny Thomas' vision and leadership, and is selected from student fundraisers across the country. Crancer is the second A-State student to receive this honor in as many years; Hannah Aldridge of Jonesboro won in 2018.
A-State's Up 'til Dawn chapter and Lambda Chi Alpha fraternity received the Side Event/Partnership of the Year Award for the Glow Run they hosted last September. The event raised $5,280 toward the 2018-19 Up 'til Dawn campaign at A-State.
With a total of $100,068 raised during the year, A-State's chapter ranked seventh in the nation among universities and colleges whose students participate in philanthropic support programs for the hospital.
Katey Provence, assistant director of the Leadership Center, is adviser to the Up 'til Dawn chapter at A-State.
# # #