A-State Students Form Cybersecurity Club
03/13/2023

JONESBORO – Nearly everyone carries a mini-computer in their pocket every day, with access to personal information including bank accounts, credit cards and other data.

Students at Arkansas State University have a new opportunity to join a club that can help keep their information safe.Last fall, the Cybersecurity Club was formed and became an official registered student organization.

"The purpose of the Cybersecurity Club is to promote cybersecurity awareness by informing the students of ways that hackers could get into your accounts," said club president Annaleise Anderson of Little Rock. Anderson, along with club vice president Xavier Hendrix of Batesville, are computer and information technology majors. This club is open to all A-State students. Sponsor Dr. James McGinnis, assistant professor of information systems and business analytics said, "Cybersecurity is present in every person's life to some degree. Being aware of the possibilities of cyberattacks could help students, faculty and staff be safer in the technology world." The club has hosted two speakers so far including a presentation from a student about a widespread cyberattack in 2020. Most recently Henry Torres, ASU System vice president for information technology, spoke to the club about the types of cyberattacks the information technology department encounters. "I am interested in learning more about phishing, as this is how most hackers will get your information. The more I know about, the more I can protect myself," said Hendrix.

"The information we talk about in the class is fascinating and is important to anyone who has a phone or uses the internet," said Anderson. "Dr. McGinnis has stories that are fun and you learn something. Think of this club like an afterschool special."

The next meeting will feature Chris Shudy, a special agent with the Federal Bureau of Investigation office in Little Rock, who will share information about ransomware and social engineering. This meeting will be on Friday, March 31, at 11 a.m. at Delta Center for Economic Development, room 106.

For more information one may contact Anderson at annaleis.anderson@smail.AState.edu.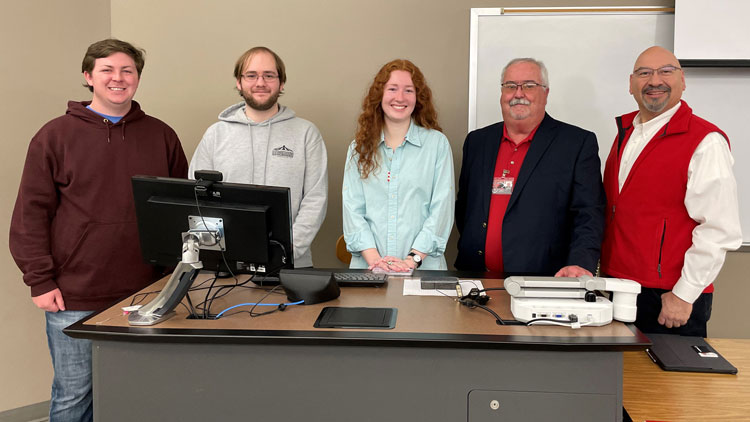 John Pierce, Xavier Hendrix, Annaleise Anderson, Dr. Jim McGinnis and Henry Torres