A-State Students, Chapter Earn FBLA-PBL National Awards
07/14/2014
JONESBORO — Members of Arkansas State University's chapter of Phi Beta Lambda (PBL) attended the 2014 National Future Business Leaders of America-PBL conference and competition in Nashville, Tenn., June 29-July 2. For the fifth year in a row, members walked away with numerous awards in academic competition against some of the top undergraduate universities in the nation.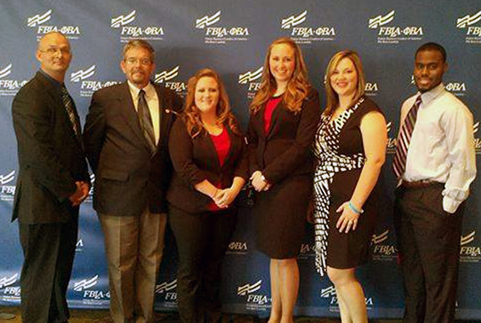 (From left) Scott Lawrence, Daniel Smith, Katelyn Waddell, Sydney Hunt, Linsey Stitts and Faisson Bragg.
Additionally, out of 510 PBL chapters throughout the nation, the A-State group's membership of 115 is recognized as the sixth largest in the country. Phi Beta Lambda is the collegiate version of FBLA.
"The PBL chapter at Arkansas State started back up in 2008, and in the six years since reactivation, the chapter has grown from four members to the largest in the state and sixth largest in the country," said adviser Dr. Philip Tew, assistant professor of finance. "The students from A-State have shown that they are able to compete and win against anyone in the country in any academic area."
Sydney Hunt of Clarksville and Katelyn Waddell from Jonesboro, both 2014 graduates with degrees in finance, placed in the top 15 nationwide with their community service project involving providing financial literacy to college students at Arkansas State. Hunt is employed at Bank of the Ozarks in Clarksville, and Waddell is employed with First Community Bank in Jonesboro.
Linsey Sipa Stitts took third place in "Financial Services" and second place in "Financial Concepts." The 2014 graduate of Arkansas State earned a degree in finance and is from Jonesboro.
Scott Lawrence won ninth place in "Accounting for Professionals." He is a senior accounting major this fall and is from Jonesboro. Daniel Smith won 10th place in "Accounting Analysis and Decision Making." Smith, of Paragould, will be a senior accounting major in the fall.
The local advisers for the A-State chapter are Dr. Tew and Dr. Patricia Robertson, department chair for economics and finance and associate professor of business law.
Future Business Leaders of America-Phi Beta Lambda (FBLA-PBL) is the largest and oldest student business organization. Participants from across the United States attended the conference to sharpen core business skills, expand networks and participate in business and business-related competitive events.