A-State Softball Team Earns Berth In National World Series Championship Tournament
05/14/2014
JONESBORO, Ark. — For the second straight year, Arkansas State University's softball team has punched its ticket to participate in the eighth annual National Club Softball Association (NCSA) World Series. The 16-team double elimination tournament is Friday-Sunday, May 16-18, at the eight-field South Commons Complex, 400 Fourth Street in Columbus, Ga.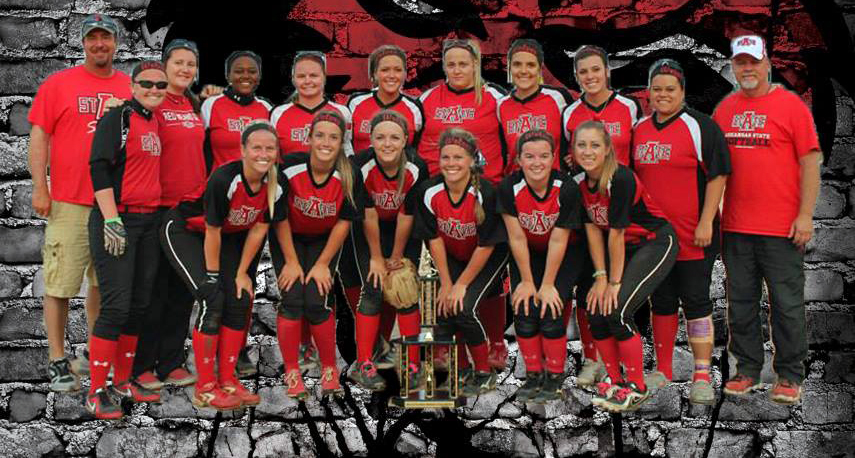 2014 Arkansas State Softball Team
The collegiate club sport team participants represent 12 states, including Arkansas, Colorado, Delaware, Florida, Georgia, Illinois, Kentucky, Michigan, North Carolina, Ohio, Pennsylvania and Virginia. Teams are United States Air Force Academy, Arkansas State, East Carolina, Eastern Illinois, Florida State, James Madison, Michigan State, Penn State, Sacred Heart, The Ohio State, Delaware, Florida, Georgia, Illinois, Kentucky and Virginia Tech.
"First and foremost, I would like to thank the administration and Arkansas State University for their support of our softball club," said Coach Chris Powers who is in his 16th season as a softball coach. "We are going back to the series with an experienced team including eight starters, and I look for us to go deep in the tournament."
The Red Wolves, seeded second, come into pool play with an overall record of 34-8 and a regional championship with an unblemished 12-0 mark in the Mid-South America Conference. Teams will be placed into four pools with games scheduled for 11 a.m., 2 p.m. and 5 p.m. on Friday, May 16. A-State is in Pool B and will open play with Sacred Heart Friday, at 11 a.m. The Red Wolves will follow with Georgia at 2 p.m. and Kentucky at 5 p.m.
Following pool play, teams are re-seeded and begin the elimination play Saturday, May 17 at 11 a.m. The national championship game is set for 4:45 p.m. on Sunday, May 18.
Coach Powers has been successful at every level from 6-under to 18-under and now at the collegiate level. Powers has coached his teams to multiple state and national tournaments including a United States Fastpitch Association (USFA) national runner-up, five league championships, four Amateur Softball Association (ASA) district titles and back-to-back Mountain Dew Classic championships.
He has since led the Arkansas State Red Wolves to a runner-up conference finish, a conference championship and a second World Series berth.
"All of these players are in the classroom five days a week, study for hours, work full time jobs, practice every week, play games almost every weekend—all to play the game they love," said April Arford who resurrected the softball program in 2011. "They never give up and play hard until the end of each and every game. This year's seniors were there at the start of the program and I would love nothing more than for them to win this World Series and have the validation they deserve from all the time and work they have done the past three years."
Arford also credits the addition of assistant coach Todd Clifford with the team's success. He has helped his travel team to a top 10 finish in Pitch for the Cure and top 20 in open World Series with over 100 teams. He coached a state runner-up team and owns multiple top three finishes in state tournaments along with multiple league and conference championships.
Arkansas State will rely on the talents of MacKenzie Powers, a 5-6 senior right-hander from Paragould, at shortstop. At the recent Eastern Illinois University Slugfest Tournament, Powers was 15 for 30 with five doubles, one home run, 11 runs batted in, 12 runs and one stolen base. She also drove in the game-winning run.
Junior pitcher Nicole Edwards is another threat for the Red Wolves after earning NCSA Pitcher of the Week. The 5-5 left-hander from West Memphis had a stretch of four victories while allowing eight runs. Only five were earned.
A-State's five seniors have dominated the NCSA statistics all season, including pitchers Shea Cothren and Edwards, Powers, Erica Whitaker at catcher and first-baseman Katie Collier. Cothren leads the most wins category with 17, while Edwards is third with 11. Cothren is also ranked first in most strikeouts with 140 and a second-place ranking with eight home runs. Erica Whitaker is fifth with seven home runs. Powers holds third place with the most RBI's with 43 and Cothren stands in fourth with 41. Collier is ranked fifth in batting average (minimum 45 plate appearances) with 0.383.
"We seem to be peaking at the right time when everybody is playing well," concluded Coach Powers. "It's a complete team effort. The girls work hard and do a lot on their own. The team has been hungry and ready to compete since last year's appearance in the World Series."
The team departs at 8 a.m., Thursday, May 15, from Tomlinson Stadium on campus for Columbus, Ga.