A-State Softball Sweeps Regional Tournament; Begins Preparation for NCSA World Series
04/28/2015
JONESBORO — After winning a key weekend regional tournament, Arkansas State University's No. 1-ranked softball program turns its attention to preparing for the 2015 National Club Softball Association (NCSA) World Series, Friday through Sunday, May 15-17, in Columbus, Georgia.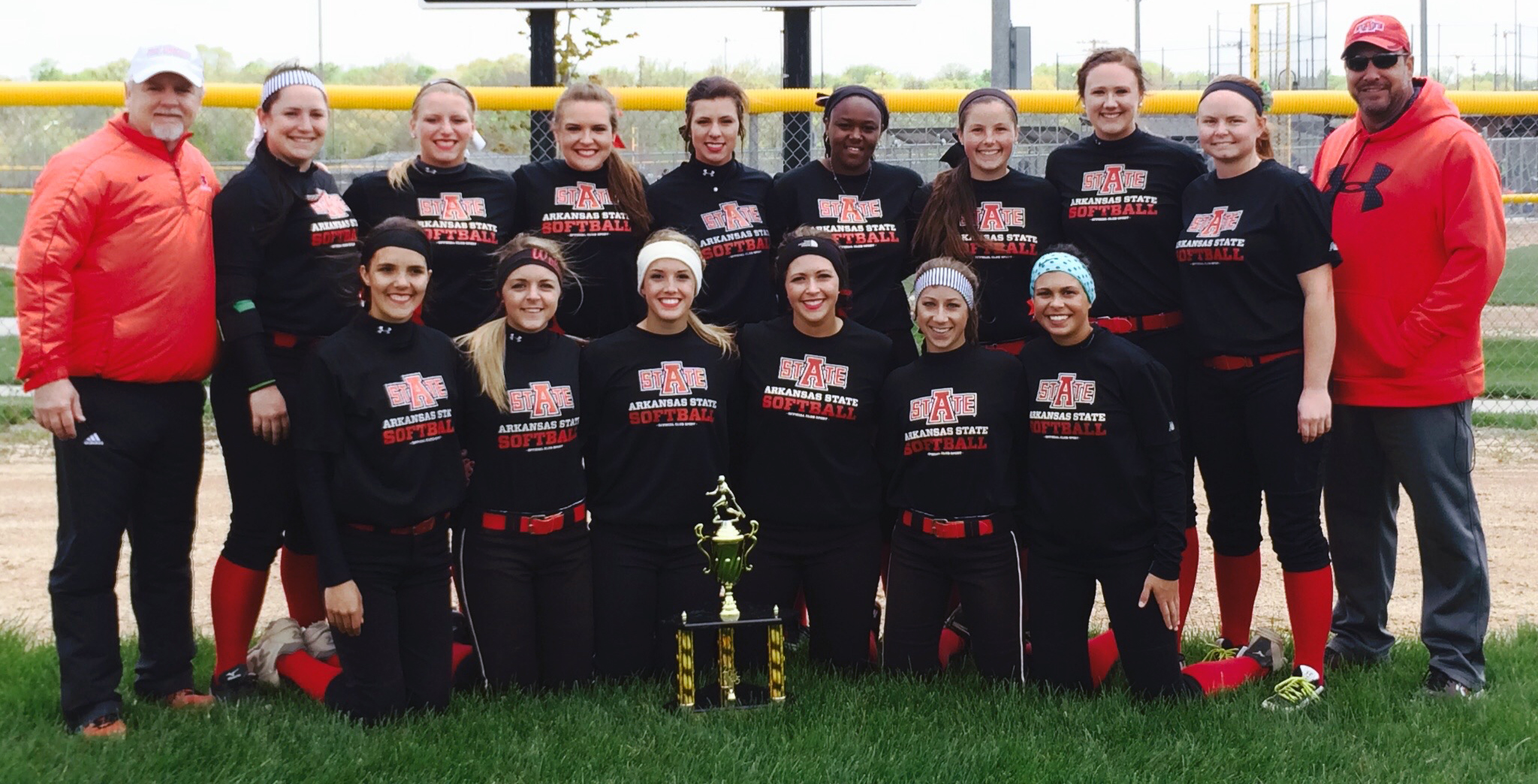 Arkansas State University 2014-15 softball team — (front row, from left) Madison Carr, Mackenzie Powers, Katelyn Brown, Shea Cothren, Erica Whitaker, and Kelsi Wilson. (back row) Head Coach Chris Powers, Emily Clements, Chloe Vaught, Raegan Massey, Sabrina Luttrell, Jeana Canady, Shady Ross, Christen Houwen, Jerri Mathis, Assistant Coach Todd Clifford.

The Red Wolves swept the competition in the weekend's tourney in Overland Park, Kansas, including a 6-0 win over No. 6-ranked Kansas and 17-5 over third-ranked Air Force. A-State kept up the domination by knocking off Air Force, 12-6, in the championship game.

"Winning regionals put us one more step to our team goal of winning a national championship," said A-State head coach Chris Powers, whose team stands 24-6 overall and finished 12-0 in conference play. "We are finally coming together and peaking at the right time. Hopefully, we can carry this momentum with us down to Georgia."
Powers noted the three-game play of pitcher Shea Cothren, calling the senior from Paragould, "pretty impressive."
"Shea picked up all three wins in the circle," he said. "She was untouchable in the first game against Kansas, recording 12 strikeouts. She carried that over to hold a very scrappy athletic No. 3-ranked Air Force team in the semifinals and then come back on Sunday in the finals and beat Air Force again."
A-State's bats were also hot behind the efforts of senior MacKenzie Powers who went three for four and recorded a two-run home run, a run-scoring double and scored two runs.
"She also stayed hot in the second game, picking up four more hits," Coach Powers continued. "Katelyn Brown had four hits against Air Force in the semifinals, including a two-run home run along with 4 RBI's."
Sophomore Madison Carr had some crucial bunts that put runners in scoring position. Powers praised the Armorel High School product for "doing all the little things right that don't necessarily show up in the scorebook to make the big things happen.
"It was good to see senior Erica Whitaker break loose this weekend as well. Emily Clements was hot in the championship game with three big hits, including a two-run homerun of her own. It was a total team effort and that's what I like about this team. We don't have to depend on one or two players to get the job done."
The softball club will devote time to final examinations before returning to practice when finals conclude. Players return to practice every day until departure to the World Series.