A-State Selected to NCAA Women's Bowling Field
03/27/2013
JONESBORO, Ark. (3/27/13) – The Arkansas State women's bowling team, ranked fourth in the nation, was among the eight teams selected Wednesday afternoon to compete at this year's NCAA Women's Bowling Championship April 11-13 at Super Bowl Lanes in Canton, Mich.

"With the field only being eight teams, it's always nice to get selected among the top teams in the nation," ASU bowling coach Justin Kostick said. "We weren't on the bubble this year and pretty much knew we were a lock, so that was nice. We have some things to work on however, like our spare shooting, before we travel there."

The seven other teams competing for the national championship will be Central Missouri, defending champion Maryland-Eastern Shore, Nebraska, Vanderbilt, Sam Houston State, Wisconsin-Whitewater, and Fairleigh Dickinson.
"It's really a wide open field, just like it is every year, with the bracket play," Kostick added. "Any team can win it all, but I'm hoping our experience and versatility will help us bring home the championship."

Competition begins with qualifying rounds in which each team bowls one five-person regular team game against each of the other seven teams participating in the championship for a total of seven games. Teams will be seeded for bracket play based on their win-loss record during the qualifying rounds.

Teams will then compete in best-of-seven-games Baker matches in a double elimination tournament. In the Baker format, each of the five team members, in order, bowls a complete frame until a complete (10-frame) game is bowled. A Baker match tied 3½ games to 3½ games after seven games will be decided by a tiebreaker using the Modified Baker format.

This will be Arkansas State's sixth straight appearance at the national tournament. ASU finished the season with an 86-28 record, setting the school record for regular season wins. The Red Wolves won the Holiday City Classic, recorded five second place finishes, and didn't finish lower than fourth in any of its nine tournament outings during the regular season.

This year's championship finals will air on ESPNU at 8 p.m. Eastern Time Saturday, April 13. A tape delay broadcast of the championship finals will air on ESPN Sunday, April 14 from 2-3:30 p.m. Eastern Time.

The University of Detroit Mercy and the Detroit Sports Commission will host the championship, which will be held April 11-13 at Super Bowl Lanes in Canton, Michigan. Tickets can be purchased on www.NCAA.com prior to the championship.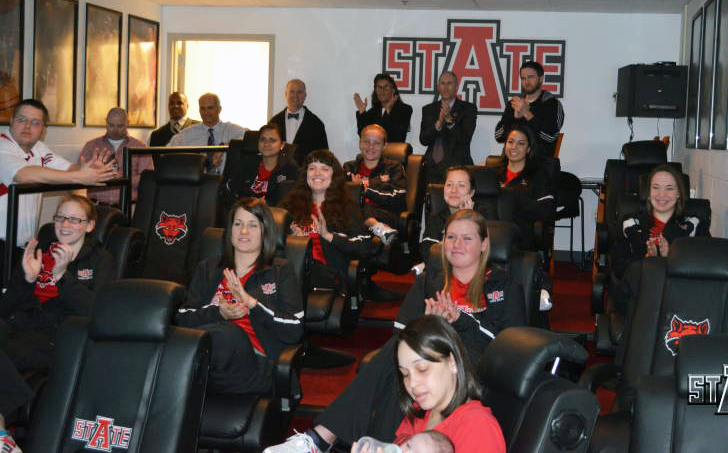 Members of ASU's bowling team watch the NCAA Bowling Championship selection show