A-State's Captures SBC Crown with Win Over Bobcats
12/03/2016
SAN MARCOS, Texas (12/3/16) – The Arkansas State football team captured the Sun Belt Conference Championship for the fifth time in the last six seasons with a 36-14 victory over Texas State Saturday night at Bobcat Stadium.
With the victory, A-State (7-5, 7-1) became the only team in the nation to win five conference championships over the last six seasons (2011, 2012, 2013, 2015 and 2016) and has now won 40 of 47 Sun Belt games during that span.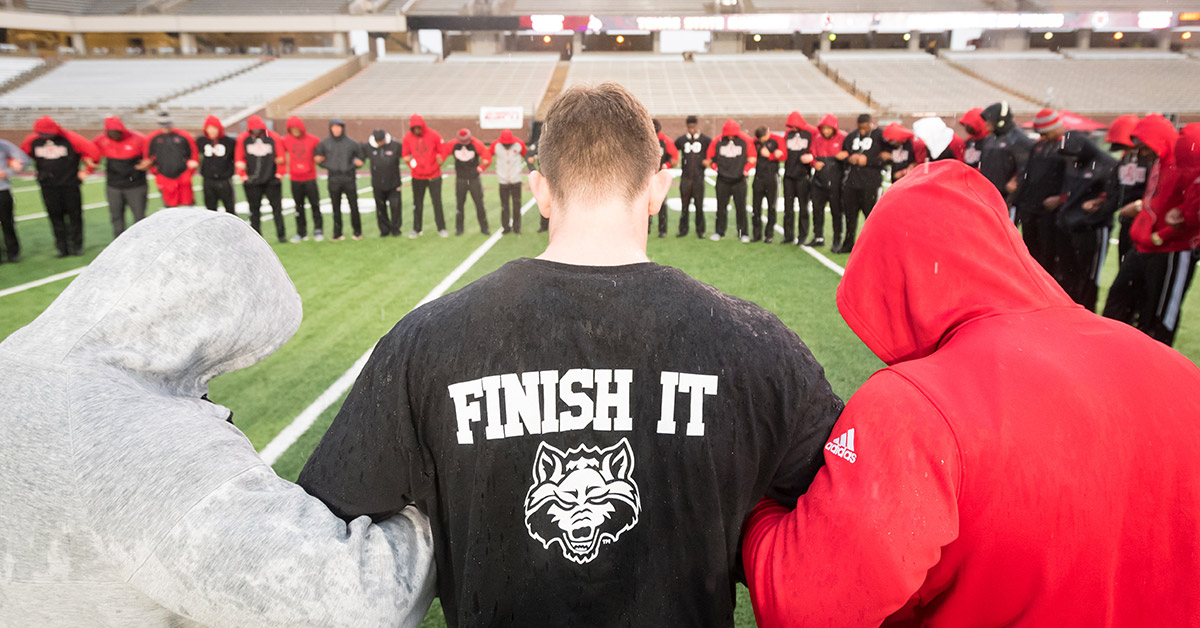 "Five championships in six years is just a testament to all the people that have held this thing together, even before we got here," A-State head coach Blake Anderson said. "It really speaks to how this group has pulled together because half of this senior class is ours and the other half was already here and that can be really hard. You have to give them credit on how they came together and became family and went through a lot of tough stuff."
Texas State led the Red Wolves 14-13 with 8:55 to go in the third quarter, but a Cody Brown interception put the A-State offense in a prime scoring opportunity and J.D. Houston converted a 27-yard field goal to start a run of 23 unanswered points.
Brown's interception came after the A-State offense began the second half with back-to-back 3-and-out offensive possessions and after Texas State took the lead with a 10-play, 73 yard drive to open the half.
The Red Wolves' defense forced the Bobcats' to punt on their next offensive series following the field goal, and the offensive went on a 9-play, 74-yard drive that was capped with a 7-yard pass from Justice Hansen to Dijon Paschal to push the advantage to 22-14.
Hansen finished the game 13-for-21 for 179 yards and two touchdowns after also tossing a 14-yard score to Blake Mack with 9:49 to go in the game. Warren Wand, who had 199 yards of all-purpose yardage, also had a touchdown after scoring on a 26-yard scamper in the second quarter. Wand finished with 135 rushing yards on 23 carries and also had 64 receiving yards.
A-State scored the game's first touchdown on a 6-yard run by Johnston White and then took a 13-0 lead on Wand's touchdown run, but the Bobcats answered with 14 straight points to take the lead before answering with 23 unanswered points to secure the win.
The Arkansas State defense finished the night with 8.5 sacks and 19 tackles for loss and was led by Chris Odom who had five tackles, three sacks and four tackles for loss. The defense also forced Texas State into two turnovers and held them to just 237 yards of total offense.
"They won the game for us," Anderson said. "Bottom line is that their effort won the game for us and they just hung in there play after play after play and gave the ball back to us on a short field and we did just enough to get it in the end zone and we leaned on them just like we have all year.
Saturday night's victory also guaranteed A-State would finish the season with a winning record for the sixth consecutive season for the first time in since 1912-17. It also gave the Red Wolves at least wins for the sixth straight year for the first time in school history.
Red Wolves Accept Bowl Invitation
The Arkansas State Athletics Department announced Sunday that its Sun Belt Conference champion football team has accepted an official invitation to play in the 2016 AutoNation Cure Bowl presented by Florida Hospital on Dec. 17 at 4:30 p.m. (CT), when it will face American Athletic Conference member UCF.
Learn more about the bowl game >>