A-State Rugby Seeks Third 7s National Championship
05/27/2015
JONESBORO — Tournament officials are billing the 2015 Penn Mutual Collegiate Rugby Championship (CRC), May 30-31, as "the most thrilling yet." Arkansas State University's program will not disagree with that.

The team departed for Philadelphia, Pennsylvania, Wednesday morning to compete in the national collegiate tournament, Saturday and Sunday, among the top 20 teams in the nation. The tournament in PPL Park will feature over 45 rugby matches, and the Red Wolves will work hard to keep its three-year perfect 7s mark intact.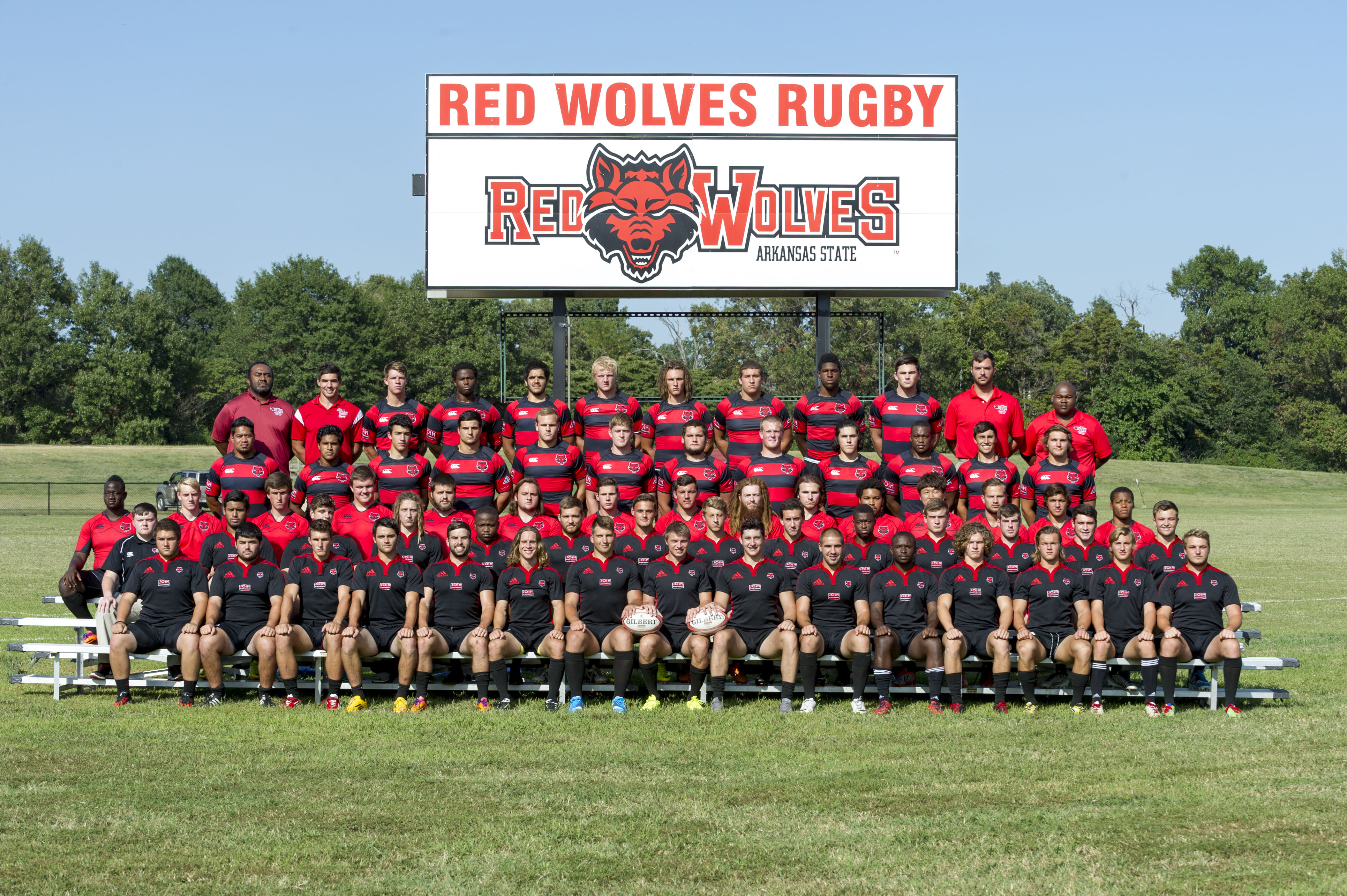 2014-15 Arkansas State University Rugby Team


"This team realizes they represent past players who would have loved this opportunity," said Matt Huckaby, executive director of student wellness, who will assist the coaching staff of Nemani Delaibatiki and Shaun Potgieter. "These players are planning to represent them accordingly—with a win."
A-State won back-to-back 7s national championships in 2012 and 2013.
The Red Wolves are in Pool D of five pools, along with Michigan, Texas and UCLA. A-State will play three games the first day, including opening with Michigan, Saturday, May 30, at 9:20 a.m. (CT). The second match is 11:30 a.m. against Texas, followed by a 1:40 p.m. matchup with UCLA.
Other teams participating in the tournament include Boston College, California, Notre Dame and Virginia Tech in Pool A; Air Force, Kutztown, Navy and Temple in Pool B; Alabama, Clemson, Indiana and Life in Pool C; and Arizona, Dartmouth, Penn State and St. Joseph's in Pool E.
Play can be viewed live on NBC Sports Network. Saturday's schedule is 2-3:30 p.m. CT; 3:30-5 p.m. CT; 5:30-7p.m. CT on NBC Comcast Sportsnet. Tournament action continues Sunday from 1-3 p.m. CT and 3-5 p.m. CT.
Having a very young side at the Las Vegas Invitational 7s qualifier for the collegiate rugby championship in February did not deter the squad from winning the tournament against a very good American International College squad, including winning over Utah and Air Force to earn a berth in the championship. However, A-State has been plagued throughout the season with numerous injuries.
"Injuries are always a reality of rugby, and one every team has to deal with," continued Huckaby. "The guys are extremely fit and ready to go as the coaches have done a wonderful job preparing them."
Also, Potgieter, a former two-time All-America performer, noted that players have done a nice job of filing the roles of injured players and stepped up to the plate.
"After winning the Vegas tournament, the guys have worked hard to use that moment and confidence in training to push themselves to be the best. We have great leaders in Dylan Carrion and Tom Haussrer who are both a part of the two national championships Arkansas State won in 2012 and 2013. With a good mix of experienced players and youngsters trying to make their mark, we have a solid balance to give this tournament a shot."
Huckaby added, "Dylan Carrion has carried the team through the first two championships and is prepared to lead the team to its third."
Director of Rugby NeMani Delaibatiki, in his final 7s tournament with the team, said, "Our players relish the pressure and know what's expected and what's needed to be successful. I believe we have a chance, and the opportunity to go up against some of the best 7s programs in the country all in one weekend, to be featured on NBC, is an opportunity we are grateful for and one we are looking forward to. I am excited for our players that will be participating at the CRC, and I know they will rise to the occasion. We might have different dynamics of players in our squad this season, but we still expect the same, and that is how we will approach the CRC."
Tickets for the championships are $97 for reserved seating and $58 weekend passes and may be purchased online at http://www.usasevenscrc.com/crc-tickets/. Weekend tickets include free parking, access to all rugby competitions and admission to the scheduled music festival.
1.

Mika Baska (Missouri) - Junior
2.

Preston Weigel (Texas) - Sophomore
3.

Connor Cook (Hawaii) - Senior
4.

Dylan Carrion (Texas) – Captain - Senior
5.

Ruann Knuppel (Dubai Emirates) - Freshman
6.

Dustin Bates (Hawaii) - Junior
7.

Glenn Eriksen (South Africa) - Freshman
8.

Tom Hausrrer (New Zealand) - Senior
9.

Blace Walser (Oklahoma) - Sophomore
10.

Nicholas Abreus (Texas) - Freshman
11.

Alex Goff (Tennessee) - Junior
12.

David Snead (England) - Freshman
13.

Jonathan McCole (Missouri) - Junior
14.

Harry Higgins (New York) Senior