A-State Rugby Plays Clemson In First Round Of Varsity Cup
04/03/2015
JONESBORO — Arkansas State University's rugby program takes its first step into a new competition as the team travels to South Carolina to face Clemson in round one of the Penn Mutual Varsity Cup tournament, Saturday, April 4. Game time is 1 p.m. CDT and will be broadcast live on coachesaid.com. Pregame coverage begins at 12:50 p.m.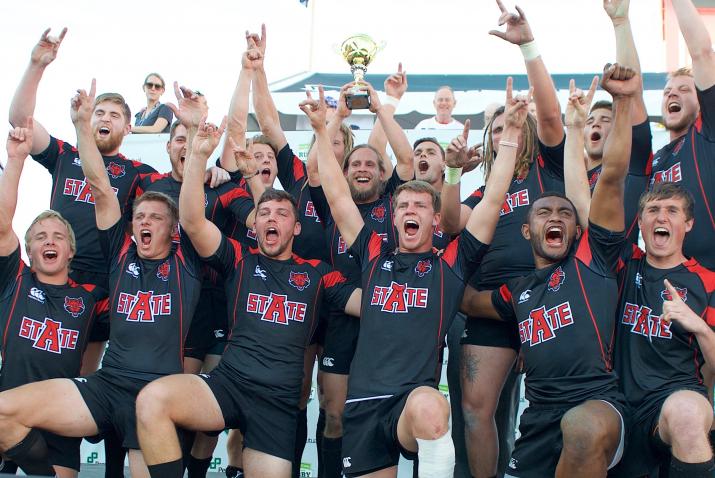 The Varsity Cup, which Arkansas State joined in July 2014, is the top collegiate postseason championship in the United States. The 14 American collegiate teams that are considered to be the most recognized and accomplished rugby programs participate in tournament battles for the Varsity Cup national collegiate championship.
"It's the premier college competition of the best college teams in the country," said A-State Coach NeMani Delaibatiki, whose team is ranked eighth by Rugby Today. "It's usually based on the name and brand of the university as well as your rugby program. We are very proud to be one of those 14 programs."
Delaibatiki noted A-State has never lost to Clemson, but knows the 15th-ranked Tigers, playing at home, will be looking for a win. The Red Wolves have played a tough schedule and have been plagued with injuries throughout the season. Most of the varsity squad has been sidelined; however, it has provided an opportunity for the younger players to step up and gain valuable experience.
"We still have a lot of players out with injuries, but we do have a couple of newcomers who will be able to come back and play, including Zach Allen, Jonathan Howard and Nick Abreus. The young players have been a blessing in disguise this year. Really, the biggest thing they need is experience.
"We have been wanting our young men to get in playing time that will test them for the Varsity Cup," continued Delaibatiki. "The games we have played have made us test our depth and have made us come out stronger than ever before."
Arkansas State, the current USA Rugby 7s champion, plays what is generally considered the most challenging opponents each year, including Mid-South conference foes Life, Lindenwood and Davenport. The Red Wolves also played the Glendale Raptors, defeating the powerhouse, 59-24, in Denver.
The road to the title match is a single-elimination affair. The Penn Mutual Varsity Cup championship is slated for May 2 in Salt Lake City.
# # #