A-State Rugby Drops Narrow Decision To Davenport
02/21/2015
JONESBORO — Arkansas State's rugby team fell to Davenport University by a narrow margin, 16-7, Saturday afternoon in Centennial Bank Stadium.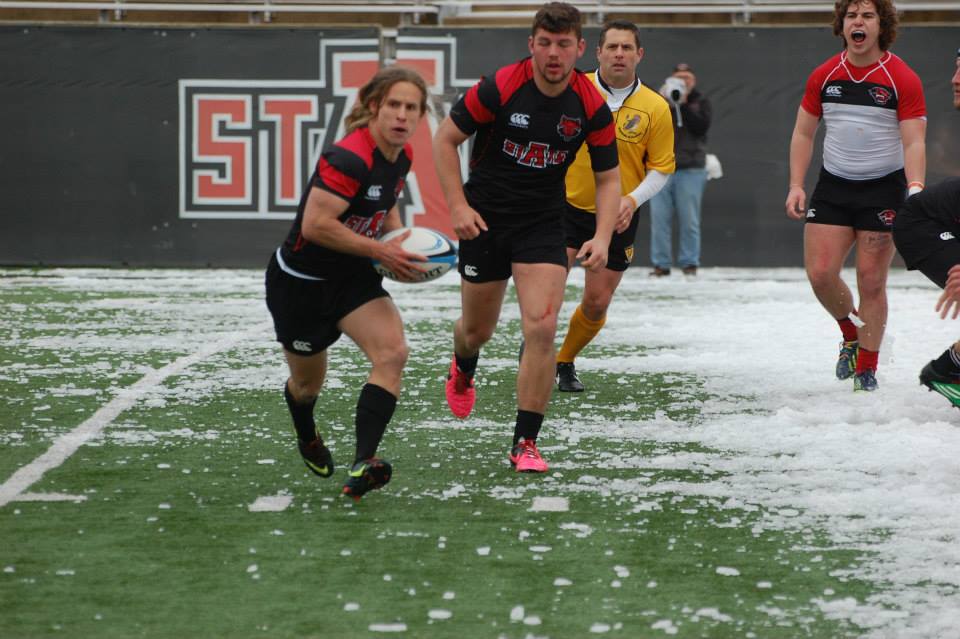 Photo by Richard Carvell
"Davenport deserved the win today and looked like they wanted it more," said A-State head coach NeMani Delaibatiki. "Our guys had little glimpses of positives during the game, but Davenport really took it to us and they deserved every bit of that win."
The game was moved to Centennial Bank Stadium because of weather conditions. Both teams played throughout rainy conditions that washed away much of the snow and ice the region has experienced throughout the week. However, Delaibatiki said the weather wasn't a factor in the Red Wolves' loss.
"There are no excuses to why we lost the game today," he continued. "The referee was never a factor, and neither was the weather. The loss was due to us not being game ready, from poor defense, lack of aggression in main areas of the game when it was needed the most, to mainly just failing to show up and wanting to win.
"We never really showed that from the start and it was too late when we tried to pick the momentum up toward the end of the game, because Davenport defended well all the way to the final whistle."
Davenport got off to the early lead, making the score 3-0 off the penalty kick 10 minutes into the game. The score was 13-0 at the half, and Arkansas State couldn't recover.
"This is the first time Arkansas State University has ever lost to Davenport University and it stings to lose like that," continued Delaibatiki. "I know we have a good core of talented young men on the squad, but in this game it was all Davenport the majority of the game. We tried to get back in the last 15 minutes of the game, but it was too late."
"We have to learn from our mistakes, and rectify them for the next game against Alabama next week here at home. We seemed out of touch with our game plan and what we wanted to accomplish today. Our tackling was very weak, and our guys just didn't seem like they wanted to play the game."