A-State Rugby Club Knocks Off Top-Ranked Life University
02/15/2020
JONESBORO – Arkansas State University's rugby club used a total team effort to defeat number one-ranked Life University, 29-22, in a historic matchup Saturday afternoon at Curt Huckaby Field on the A-State campus.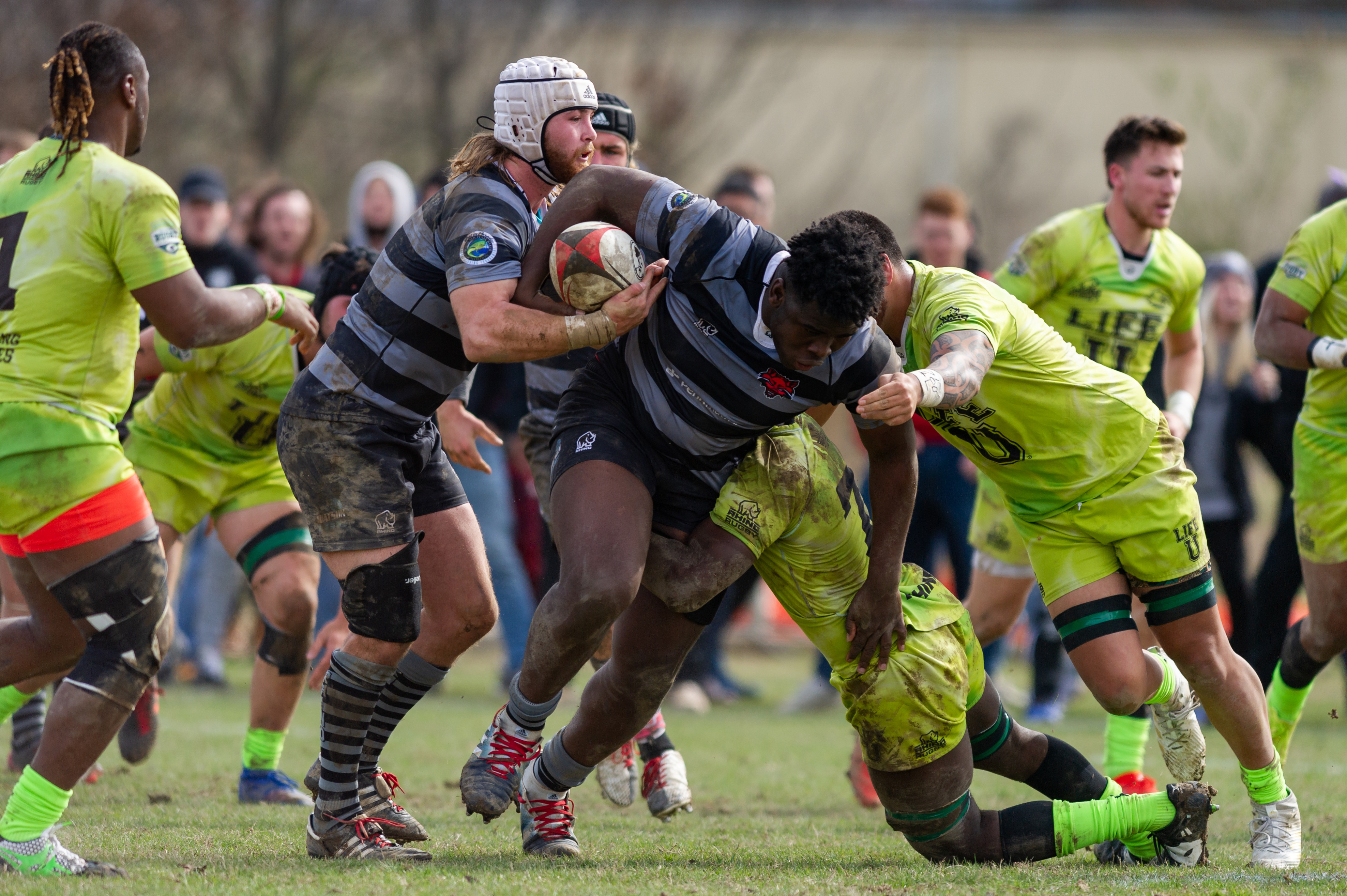 David Ige bulls ahead against Life University's defense. A-State upset the top-ranked Running Eagles, 29-22.
The victory awards the coveted Curt Huckaby Cup to the Red Wolves for the first time since the inception of the trophy in 2014. Even though Arkansas State and Life University make up one of the toughest rivalries in collegiate rugby, coaches and players are close friends off the field. Because of that, the two programs initiated a traveling trophy that celebrates the spirit of the rivalry in the name of Huckaby who resurrected Arkansas State's rugby program.
"This was a great win for the Red Wolves," said a happy Blake White, A-State's third year head coach. "The last time we won over Life was 2012. We had to play hard for each other and not let them get momentum that you knew was coming. Life has an outstanding team, top notch coaching and more than that is a total class act. Our guys played as a team and left it all out there today."
A-State struck the first with a try by South African David Ige to give his team the 5-0 early lead. But Life was able to counter with a score and conversion to take the lead, 7-5.
At the 18:25 mark, Jake Ray dove in for the score. Dan Hartmann sealed the try with his conversion to lift the Red Wolves back on top, 12-7. Eight minutes later, the Running Eagles knotted the score, 12-12. The first period ended with no time on the clock and the Red Wolves were awarded a penalty try that allowed the home team a 19-12 halftime lead.
Jason Scheepers came out to score the try two minutes into the second half. Hartmann's conversion was successful to increase A-State's lead to 26-12. However, Life fought hard and score twice to boost Life's score to 26-22, just four points behind the Red Wolves.
With no time left on the clock, Hartmann lined up to attempt the penalty kick. After the ball sailed through the uprights, Arkansas State sealed the win, 29-22.
"We played with a lot more confidence this week," continued White, whose team came back after dropping a 38-20 decision last week in the season."
A-State will host Clemson, Saturday, Feb. 22, at 1 p.m. at Curt Huckaby Field. Admission is free.