A-State Receives 14th Designation as Military Friendly Campus
09/22/2023

JONESBORO - Arkansas State University has been named a Military Friendly® School (MFS) for 2023-24 and has achieved a gold-level ranking for the second year in a row.

A-State has been on the list 13 times before. This ranking system, established in 2003 by Viqtory, is a way to encourage and acknowledge college campuses that are invested in assisting veterans as students and employees. Schools are chosen based on public data, a survey completed by each institution, and through input from veterans who have experience with the schools. Arkansas State was one of 31 universities in the MFS "large public" category to earn gold nationwide and the only one to get the designation in that category in the state. Johnathon Mullins, enrolled in the environmental sciences doctoral program, leads the A-State Student Veterans Organization. "The university has many outstanding resources available to student veterans. I have personally found the campus, the faculty and fellow students to be warm and welcoming," said Mullins. Of the higher learning institutions surveyed, 1,800 schools participated, with 530 schools earning designations of gold, silver and bronze. A-State joins 250 others awarded gold status. A-State has numerous resources including the Beck Center for Veterans, which assists individuals with obtaining resources they are eligible to receive. Veterans on campus can get education assistance such as help with G.I. benefits, scholarships, grants and financial aid. "When I first came back in the fall of 2019 it was the unique programs that A-State offers that made it a successful transition," Mullins added. In addition, veterans have access to other opportunities on their path to success which include peer mentors, training and classroom adaptive equipment, weekly combat veteran support groups and "conquer college" workshops. Mullins said it was the Beck Center for Veterans that provided a safety net in his journey. He said the support and encouragement he experienced on campus led him to continue his education past his original goal. "Some may feel lost after the military but being reminded that you are now a member of a new team, a student body, and your presence is important gives us some semblance of the lives we have left behind," he added. "I feel that here. Other veterans feel that here. It is wonderful that we have received this award but the reward for us veterans is having an encouraging environment to flourish."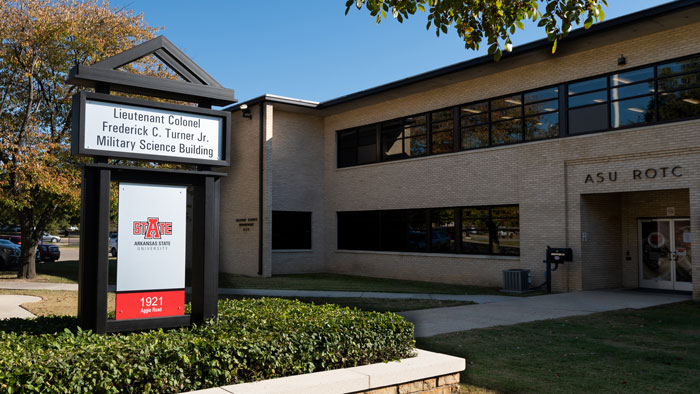 Lieutenant Colonel Frederick C. Turner Jr. Military Science Building