A-State Opera Theatre to Present Opera Tasting
10/24/2018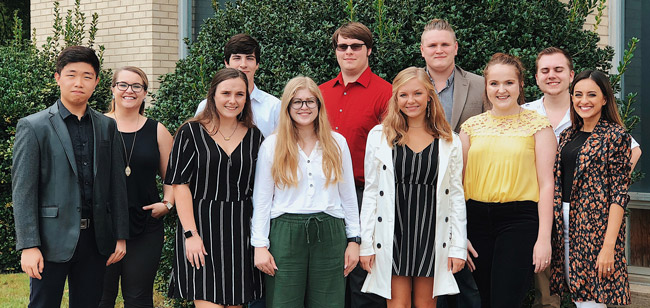 Participants in the Opera Tasting are (front, from left) Genghong Cai, Ally Summers, Katherine Bagwell, Sarah Martin, Olivia Adams, and Bethania Baray Harrison, director; (back) pianist Emily Trapp Jenkins, Kyler Wade, Zachary Lynn, Quaine Hogan, and Chance Bowen.
JONESBORO – The Department of Music at Arkansas State University will present "Opera Tasting, a Sampler of Opera Scenes" Thursday, Nov. 1, at 7:30 p.m. in Fowler Center's Riceland Hall. Tickets are $5 for the public and free for students with A-State ID.
The Opera Tasting event is for anyone who has ever wanted to learn more about opera, what makes it special, and why opera is relevant to today's audience.
This production is a sampling of scenes from some of the great opera literature, including Mozart's "Le Nozze di Figaro", Carlisle Floyd's "Susannah," Donizetti's "Don Pasquale," Rossini's "Il barbiere di Siviglia," Robert Ward's "The Crucible," Mitch Leigh's "Man of La Mancha," and Leonard Bernstein's "Candide."
The nine scenes are directed by Bethania Baray Harrison, director of A-State Opera Theatre.
A preshow interaction will take place with the cast members 30 minutes before the show on the Riceland Hall stage.
The cast includes Olivia Adams, Katherine Bagwell, Chance Bowen, Quaine Hogan, Zachary Lynn, Sarah Martin, and Ally Summers, all from Jonesboro; Kyler Wade of Batesville; and Genghong Cai of China. Refreshments and hors d'oeuvres will be served after the show.
For more information about this concert or any other A-State music event, one may contact the Music Department at (870) 972-2094.
# # #