A-State, Life Rugby Teams To Square Off In Semifinals; Honor Curt Huckaby With Traveling Trophy
05/02/2014
Pat Clifton, Rugbymag.com, contributed to this story.


JONESBORO, Ark. — The third-ranked Arkansas State's rugby squad will square off against No. 2 Life University, Saturday, May 3, in the semifinals of the Division 1A College Rugby Championships in Marietta, Ga. The start time is 12:30 Central. The game will be streamed live by Life and can be accessed through
http://www.livesportsvideo.com/
.
It will be the third time the two teams have met this year, with Life taking both from the Red Wolves, 34-7, at the Running Eagles' home and a 23-17 nail biter in Jonesboro. A-State takes a 4-2 conference mark to Marietta, Ga., against Life's 6-0 record.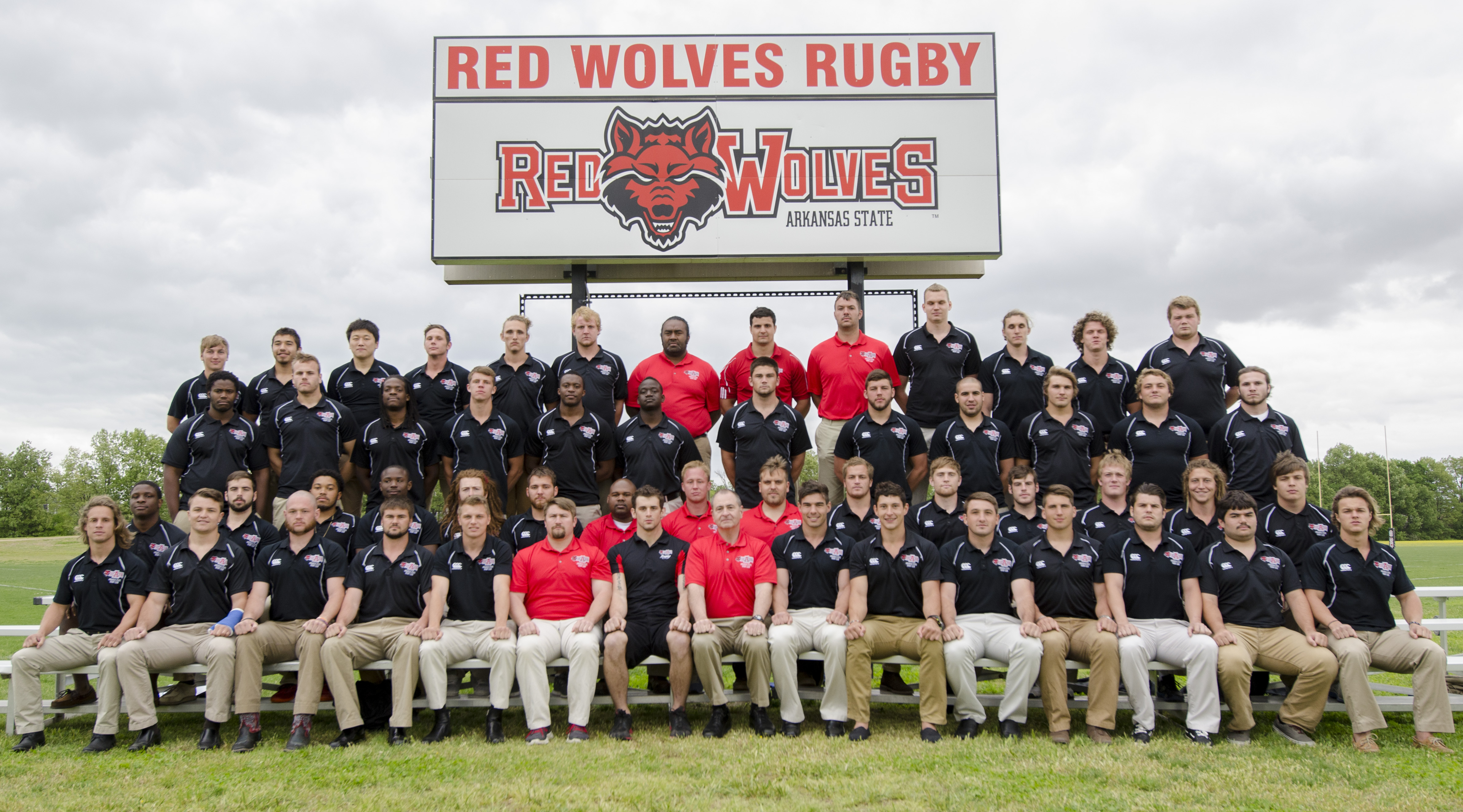 2013-14 A-State Rugby Team
"It's a privilege to be playing in the Division 1 national semifinal," said A-State Head Coach NeMani Delaibatiki. "It's a privilege that's earned and a game that our guys deserve to be playing in. But, it's time to prove that now that we want more and that is moving onto the next round which is the finals. We believe we can do it, but it's time to put in the work now.
"We love playing Life University," he continued. "The battles are always epic physical encounters and it's the team that makes minimal mistakes and plays hard defense that wins the game. That's what we want to do on Saturday."
Injuries have plagued the Red Wolves all year, but Delaibatiki has confidence in the team depth and how they have responded to filling roles.
"We have missed out on a lot more talent this year with huge injuries to Robert Elan Puttick, Gavin Brown, and in the wake of these injuries, we have been able to build our team depth and our guys are stepping up to the challenge. We have had about a dozen of our guys injured and some have been able to make it back and a few taken out for the whole season. But as a team we are managing well and dealing with it, week in and week out."
Even though Arkansas State and Life University make up one of the toughest rivalries in collegiate rugby, coaches and players are close friends off the field. Because of that, the two programs have initiated a traveling trophy that will go to the winner of the tough MidSouth Conference champ each year. That trophy is called the "Curt Huckaby Cup."
"I understand that it was Life coach Don Payne's idea to honor my dad with such a trophy," said Curt's son Matt, who was a successful head coach who followed in his father's footsteps when Curt stepped down. "He and Dad are good friends and we thought it was a huge way to show respect for Dad and recognize his accomplishments with Arkansas State rugby."
Pat Clifton of Rugbymag.com also acknowledges that the trophy celebrates the spirit of the rivalry. He wrote, "Huckaby didn't invent college rugby in the south, but he undoubtedly changed its landscape, resurrecting the Arkansas State program and guiding its growth from a DII startup to a DI powerhouse. He coached the Red Wolves with infectious enthusiasm for 14 years, amassing a 183-44-1 record and acting as a torchbearer for rugby in the region. His son, Matt, became an All- American, an Eagle, and his successor as A-State's head coach."
Not since the early 1980s had a team from the south made a DI rugby final four until Arkansas State reached the semifinals in 2010, the year Curt handed the reins to his son. And, until Life University started an undergraduate varsity program the next season, the Red Wolves had no equals in their quadrant of the country.
Since then, the two fierce competitive teams have met numerous times. Between them, there are four 7s and 15s national championships. The contests are always played at an elite level of both skill and intensity and a keen observer will notice a display of profound respect and sportsmanship after the final whistle when the rivals acknowledge that an extraordinary spectacle has just taken place.
It's this aspect that led to the formation of the Curt Huckaby Cup. "There are certain people you come across in your life that have a profound and special impact on you. Some are relatives; some are coaches, peers, etc. Coach Huckaby has always been one of these individuals to me," said Payne.
"Coach Curt is the main reason we are here today," noted Delaibatiki. "He's the reason why Arkansas State University has a rugby club and the reason the club has been so dominant over the years since its humble beginnings. Curt is a man who has done a lot for college rugby in the region and abroad, and he deserves a lot and more and this is just one small way where we can say thank you. This first cup match called the "Curt Huckaby Cup" is a way Arkansas State and Life can honor and celebrate all that he has done for us as a coach and mentor. This weekend is dedicated to him."


2013-14 Arkansas State University Rugby Team Photo Identification
Top Row Standing: L - R -
Derrick McMahon, Emilio Betanzo, Bedro Baek, Jonathan Howard, Dustin Bates, Jon McCole, (Head Coach) NeMani Delaibatiki, Kirk Pretorius, (Asst Coach) Blake White, Jorn Gries, Dale Bates, Preston Weigel, Theo Gaul.
Third Row Standing: L - R –
Omiphile Magome, Zach Allen, Tito Chitanda, Mike Baska, Jono Mbaya, Kuda Makuvure, (Club President) Harry Higgins, Austin Bush, Tyler Miller, Mike Kroctha, Lourens Erasmus, Feactau Evy.
Second Row Sitting: L – R -
Ike Matthews, Dalton Steele, Terence Kennell, Jamelle Shaw, Stephen Smith, Alex Aguirre, (Team Consultant) Lee Stanback, Assistant Coach -Zac Mizell, Assistant Coach -Nardus Wessels, Sean Paterson, Alex Goff, Greg Wood, Derrick Riddle, Connor Cook, Rob Sindic.
Front Row Sitting: L – R -
(Club Vice President) Dylan Carrion, Robert Elan Puttick, Jake Mizell, Cody Crawford, Tom Haussrer, (Head Trainer) Jonathan Ferguson, (Personal Trainer) Wayne Thompson, (Team Doctor) Dr. Terence Braden, D.O, (Captain) Shaun Potgieter, Martin Vanderwesthuizen, Paul Steyn Benade, Ricardo Lategan, James Cobble, Dionino Breda, Gavin Brown.