A-State Lecture-Concert Series to Feature Brother Sun, Folk Music Group
02/19/2014
JONESBORO – Arkansas State University's Lecture-Concert Series welcomes folk music group Brother Sun for a performance on Tuesday, Feb. 25.
National touring artists Joe Jencks, Greg Greenway and Pat Wictor have made their mark as veteran touring singer-songwriters.
The concert will begin at 7:30 p.m. in Riceland Hall of Fowler Center, 201 Olympic Dr. Admission is free to this and all Lecture-Concert Series events.
According to Dr. Tim Crist, chair of the Lecture-Concert Committee, "Brother Sun consists of highly acclaimed, highly accomplished veterans of the folk music scene - a super group of sorts. Each member is musically a virtuoso in his own right, but together they are a formidable, entertaining, and powerful ensemble. Brother Sun will surely please anyone who enjoys stirring vocal harmonies with a mix of Americana, blues, rock, jazz, and pop."
From three major points on the map -- Chicago, Boston, and New York -- Jencks, Greenway, and Wictor have blended themselves into Brother Sun, a celebration of the amazing power of singing together, says the group's biography. Brother Sun is not resident in any one of them -- it exists between them and audiences feel this intimacy immediately. Their combined musical skills make for an unforgettable experience, three rich voices blending on a well-crafted foundation of guitar, slide guitar, bouzouki and piano.
Brother Sun's latest CD, "Some Part of the Truth" (Brother Sun Music) was named The North American Folk Music Chart's Album of the Year for 2013. In addition, their song, "Lady of the Harbor," was named Song of the Year.
The program at Arkansas State will be presented with generous funding support from the A‑State Department of Music and College of Fine Arts.
The Lecture-Concert Series serves Arkansas State University and the surrounding communities in bringing notable guest speakers and performers of diverse backgrounds and wide appeal to the A-State campus, Crist added. The Lecture-Concert Series supports A-State's mission to educate leaders, enhance intellectual growth and enrich lives.
The complete schedule for the 2013-14 Lecture-Concert Series, including performers' biographies and photographs, is available on the A-State website, AState.edu.
# # #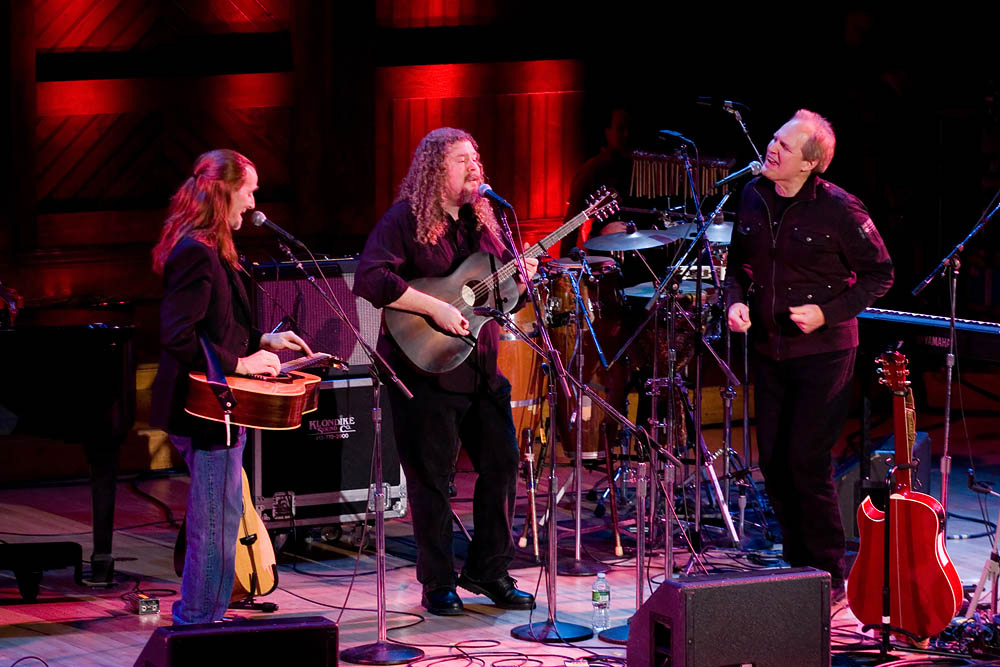 Brother Sun in Concert