A-State Football Accepts New Orleans Bowl Invitation
12/06/2015
JONESBORO, Ark. (12/6/15) – The Arkansas State Athletics Department announced Sunday that its Sun Belt Conference champion football team has accepted an official invitation to play in the 2015 R+L Carriers New Orleans Bowl at the Mercedes-Benz Superdome on Dec. 19 at 8 p.m., when it will face Conference USA member Louisiana Tech.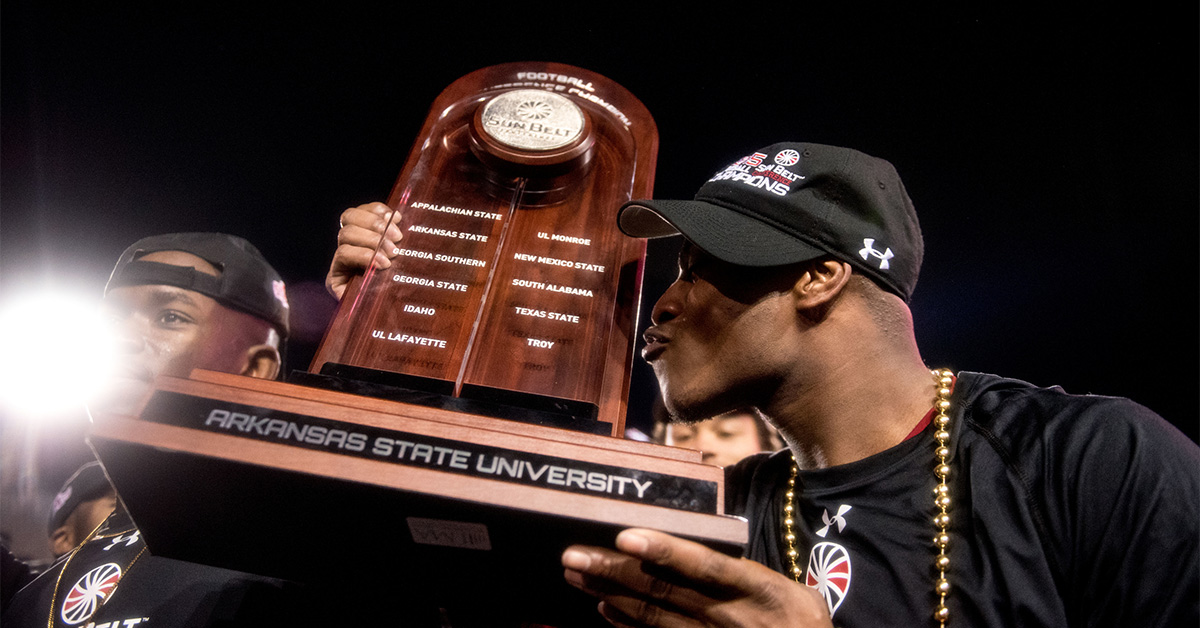 "This will be the fifth consecutive bowl-game appearance for our program, and our team is again excited about the opportunity to continue our season with another highly respected and well-organized bowl game like the New Orleans Bowl," said Blake Anderson, who is the first head coach in school history to lead A-State to 16 wins in 25 or fewer games. "This will be my first trip to the New Orleans Bowl as a head coach, but I've been twice before as an assistant and can say from my past involvement that this will be an outstanding experience for our team and fans alike."
Arkansas State will make its second appearance in the 15th annual New Orleans Bowl, also playing in 2005 edition that was moved to Lafayette, La., due to Hurricane Katrina. The Red Wolves played in the GoDaddy Bowl the last four years and will be making their 13th all-time bowl-game appearance.
A-State finished the 2015 regular season with a 9-3 overall record and unblemished 8-0 Sun Belt Conference mark, and in the process became the only FBS program in the nation to win four league championships over the last five seasons. The Red Wolves are earning votes in both the Associated Press and Coaches Top-25 polls after picking up victories their last eight games for the nation's fourth longest current winning streak.
"As the first bowl game associated with the Sun Belt Conference since its inaugural football season in 2001, the New Orleans Bowl has a fantastic history with our league," said A-State Director of Athletics Terry Mohajir. "I've seen first-hand the work (Executive Director) Billy Ferrante and his staff put into everything associated with this game, so we're excited to be a part of this tremendous event. Receiving this invitation is a great testament to what our coaching staff and players have accomplished, and I'm confident this will be a great experience for our team and fans."
While the Red Wolves have never played Louisiana Tech in a postseason contest, their game with the Bulldogs in the New Orleans Bowl will be the 38th all-time meeting between the two teams. Louisiana Tech finished second in Conference USA's West Division this season with an 8-4 overall record and 6-2 league mark. The two programs were both members of the Southland Conference from 1971-86 and the Big West Conference from 1993-95.
Arkansas State fans are strongly encouraged to purchase tickets for the New Orleans Bowl through the A-State Ticket Office to directly support the Red Wolves' bowl trip and to ensure they receive priority seating within the designated Arkansas State area.
Bowl ticket prices are $63 for lower-level midfield locations that feature wide-padded seating and access to a premium lounge with upgraded concessions and bathrooms. All other upper and lower reserved locations are $43, while Arkansas State University student tickets are $20 each. Students must have a valid student ID and purchase tickets directly from the A-State Ticket Office, located at the Convocation Center's lower red entrance.
Fans can purchase tickets by visiting the A-State Ticket Office in person, by calling 870-972-2781, or online by visiting AStateRedWolves.com/BowlCentral. Seating will be based on Red Wolves Foundation priority-points rankings.
A-State's team hotel has been designated as the Marriott New Orleans, located on 555 Canal St. Fans can receive additional hotel information and assistance with travel accommodations by contacting International Tours (Jonesboro, Ark.) by phone at 870-972-5580 or e-mail at john@inttours.com.