A-State Faculty Members Co-author Marketing Textbook
02/18/2014
JONESBORO, Ark. — Two Arkansas State University professors took a passion and turned it into a reality to help students all across the country.
Dr. Shane Hunt and Dr. John Mello, associate professors of marketing at Arkansas State University, have co-authored a textbook that can demonstrate to students around the world the connection between marketing and their future careers, whether students choose to pursue a major in marketing or another field. The book is titled "Marketing." Published by McGraw-Hill, "Marketing" is one of the leading marketing textbooks of 2014.
Sponsored by A-State Academic Affairs and Research and the College of Business, the authors will hold a book-signing reception Tuesday, February 25, 11:30 a.m. – 1:30 p.m. in the second floor lobby of the Delta Center for Economic Development, 319 University Loop Circle, on the A-State campus. Presentation of a signed copy of the book to Chancellor Tim Hudson and others will take place at noon.
This is the first collaboration textbook for Hunt and Mello following articles they have co-authored for some of the leading marketing and logistics journals worldwide.
"We decided to write the book because we are passionate about the role of marketing in students' lives," said Hunt, "and we believed we could write a book and digital content to go with the book that helped them become better marketers, personally and professionally."
The pair then put the text to the test by utilizing the book in their marketing classes at A-State, and marketing professors all across the nation have added the textbook to their curricula. The book is expected to become one of the top selling marketing books and students across the country will be learning marketing from these A-State professors.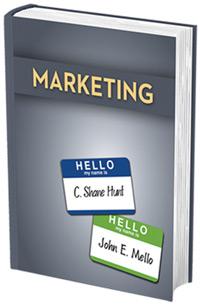 "Marketing" covers all of the content associated with modern marketing and integrates critical aspects of marketing including ethics, globalization and social media into each chapter to better connect students and make it relevant to them. The book also engages students to build their personal brand that will be essential as they enter a highly competitive job market.
"We built this book from the ground up with our publisher McGraw-Hill to be something unique," continued Hunt. "John and I wanted to bring a practical relevance to our Principles of Marketing book. Before we each got Ph.Ds, John and I both worked in the private sector for a number of years in marketing and supply chain management jobs and this book reflects both the theory and practical managerial solutions necessary to help students be more successful once they leave the classroom."
Hunt noted that the book is designed for all students, saying "It's great for non-marketing majors since they make up about 80-85 percent of every Principles of Marketing course."
"Marketing" also supplies a number of features including career tips in all 14 chapters and a comprehensive marketing plan exercise that focuses on students marketing themselves. In addition, the book also highlights what a career in marketing looks like and is a solid foundation for students who ultimately choose to major in marketing.
Mello also added that every chapter has a section on ethics and international marketing, emphasizing the importance of these topics to current business issues.
"Another source of differential for this book is the extensive chapter on supply chain management and logistics, which are areas that companies need to excel in if they want to stay ahead of the competition," said Mello.
Hunt went on to say that both he and Mello, along with every instructor across the country who teaches Principles of Marketing, have students who major in various fields, including finance, accounting, journalism, agriculture and other areas, who take the course as part of their degree plan.
"For many of them it will be the only marketing course they take, so we worked very hard to write content in a way that students see the relevance of marketing to their own lives and future careers," added Hunt. "Whether a student works for a Fortune 500 firm, a small business in Northeast Arkansas, or a non-profit, marketing will be critical to their organization's success."
Dr. Hunt received his Ph.D. in Marketing from Oklahoma State University where he was an American Marketing Association Sheth Foundation and National Conference in Sales Management Doctoral Fellow. He is the recipient of the 2010 National Inspire Integrity Award from the National Society of Collegiate Scholars and the 2010 Lt. Col. Barney Smith Award as Professor of the Year at Arkansas State.
Dr. Mello received his Ph.D. in Logistics from the University of Tennessee. He is a well-respected educator at both the undergraduate and graduate levels and is the recipient of the 2012 Excellence in Graduate Teaching Award from the Arkansas State University College of Business. Prior to completing his Ph.D., Mello spent 28 years in the consumer packaged goods industry in a variety of positions at Unilever and Playtex Products. He holds a bachelor's degree from Central Connecticut State University and master's degrees from the University of New Haven and Wilmington College. He is also the director for the Center for Supply Chain Management at A-State.