A-State Engineering Students Win Big at Deep South Conference
04/17/2014
JONESBORO – In regional competition with 13 other universities, Arkansas State University's civil engineering students earned the most first and second place finishes in five categories of competition.
A-State's student chapter of the American Society of Civil Engineers (ASCE) competed in the Deep South Conference held in Memphis, with team entries in steel bridge, concrete canoe, technical paper, mystery event, and surveying competitions.
Dr. Tom Parsons, professor of civil engineering and faculty sponsor for the chapter, said he was extremely pleased with the students' success, an achievement made more memorable for him because this was his last time to sponsor a team at Deep South. He is retiring from Arkansas State at the end of this academic year.
Parsons said the steel bridge team won first place overall in their contest, and also had first place finishes in construction speed, lightness, stiffness, economy, efficiency, and display.
A-State entries in mystery events and technical paper won first runner‑up in their respective contests. The mystery event team consisted of Keegan Tatsch of Mena, and the technical paper was written and presented by Travis Brooks of Jonesboro. The concrete canoe team placed seventh overall.
Deep South is comprised of 14 universities including Memphis, Mississippi State, Ole Miss, LSU, New Orleans, Louisiana Tech and Louisiana Lafayette.
Members of the steel bridge team are (from left) Eric Romero of Hot Springs, Grant Cox of Jonesboro, Kevin Wang of Sherwood, Ryan Wood of Birmingham, Ala., Eugene Uekman of Quitman, Travis Brooks of Jonesboro, and Steven Rollins of Paragould.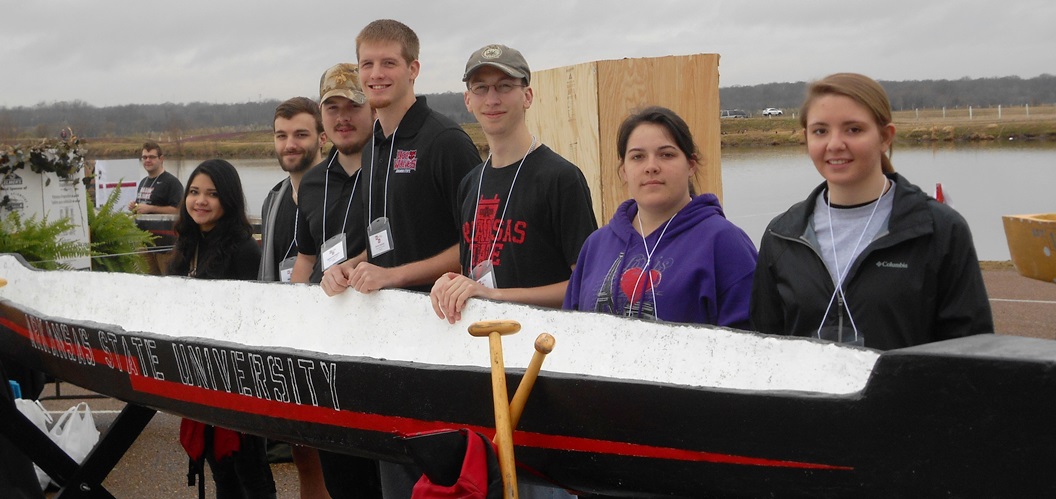 Members of the concrete canoe team are (from left) Stephanie Saenz of Ciudad Juarez, Mexico, Jed Schales of Melbourne, Robert Darrington of Gravel Ridge, Hunter Eastman of White Hall, Keegan Tatsch of Mena, Megan Land of Vilonia, Hannah Tyler of Paragould.