A-State Department of Music to Present Madrigal Feaste, Dec. 6-7, with Proceeds Supporting Trip to Spain
11/14/2013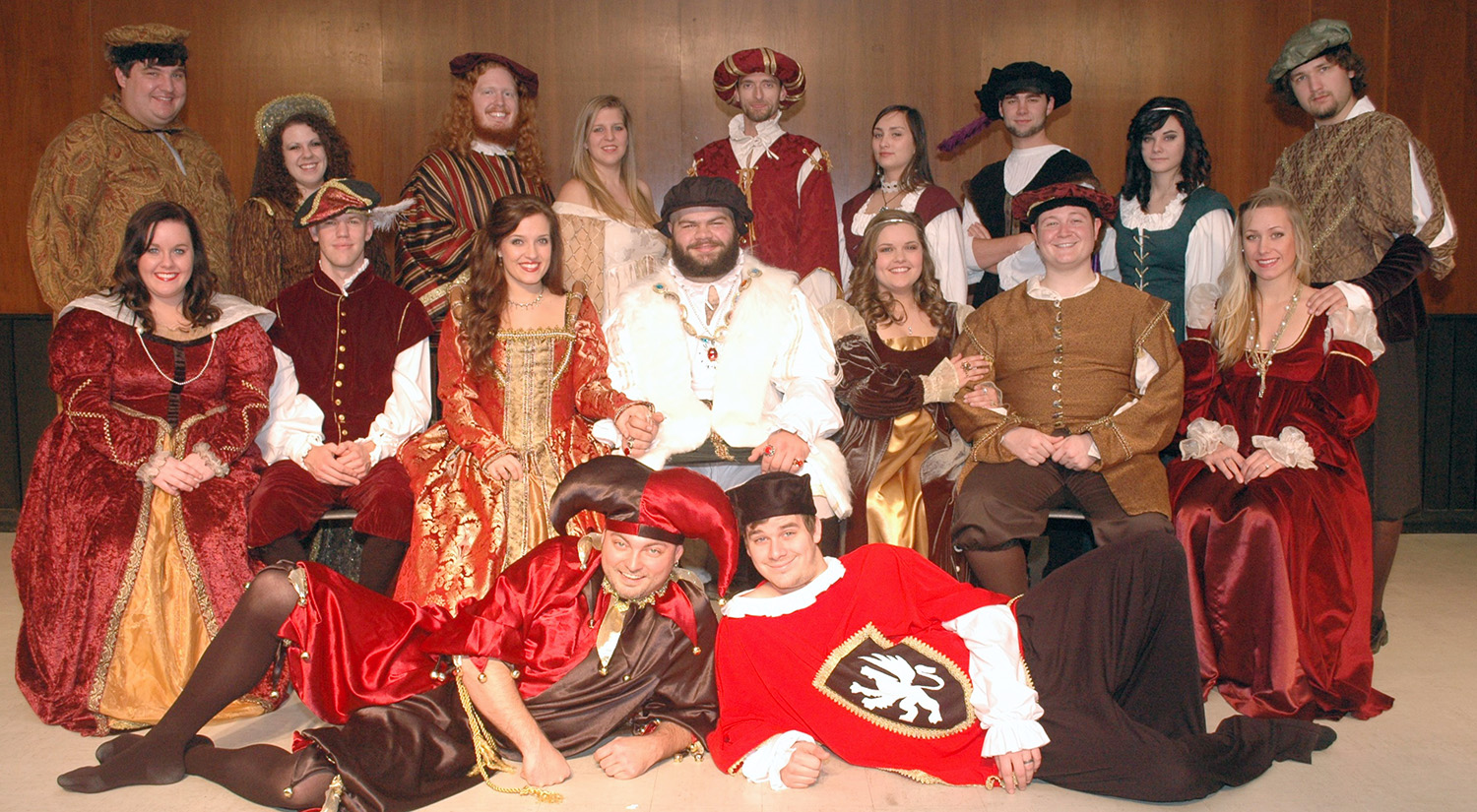 Members of the Royal Court
JONESBORO – In the style of Merrie Olde England with costumes, decorations, comedy and fanfare, Arkansas State University Choirs will present the 15th Madrigal Feaste in the Grand Hall of Fowler Center at 7 p.m. on Friday, Dec. 6, and Saturday, Dec. 7.
The Concert Choir and Chamber Singers, led by Dr. Dale Miller, director of choral activities, will host the evening's entertainment. They will serve as the court of "King Henry the Eighth of England, Jonesboro, and Craighead County." Guests will enjoy the wassail bowl beginning 15 minutes prior to seating, which begins with the first fanfare.
"I think our students enjoy it so much because they get a chance to interact one-on-one with the members of the audience, who are more like our guests," Miller said. "I believe that our guests enjoy it for the same reason. Also, I've had many tell us in the past that the Madrigal Feaste just seems to kick off their holiday season."
The Friday performance will be hosted by the Faculty Women's Club. General admission tickets are $35 each and may be obtained by contacting any FWC member, or Madrigal Feaste chair Libby James at (870) 972-3055 or (870) 972-3330, or by email, ljames@astate.edu.
Seats for the Saturday performance are reserved and are limited by space available. Ticket prices are $40 for the general public, and $35 for A-State faculty, staff, and students, as well as senior citizens and groups of eight or larger.
Tickets for Saturday's performance will be available through Tuesday, Dec. 3, at the A-State Central Box Office, 972-2781, or 888-278-3267.
Proceeds will benefit the A-State Choirs' concert tour of Spain in March 2014.
"We are so excited about our trip to perform in Spain, seeing the art and architecture, and especially being able to sing in some historically significant cathedrals in Barcelona and Valencia and Madrid," Miller continued. "We need the help of many people who can donate to be able to take as many of our students as possible. We are able to bring music history to life as we sing in the same church where a Spanish composer from the 16th century wrote his masses, and to bring American music like our spirituals and secular music of living composers like Eric Whitaker."
The music for the feast will include traditional carols by the servers and audience, brass fanfares and harpsichord solos, as well as madrigals and chansons by the royal court. The menu for the royal feast will include lemon parmesan encrusted chicken breast, candied baby carrots with pecans, roasted potatoes with garlic and parsley, baby lettuce with dried cranberries, and rolls. A flaming pudding will be served with the royal fanfare.
King Henry the Eighth and Queen Anne Boleynn will be played by John Phillians of Wynne and Jessica Baldwin of Paragould. The lords and ladies of the Royal Court, played by the members of the Chamber Singers, are: Dennese Adkins of Cabot, Jesse Holder of Advance, Mo., Emily Garren of Minneapolis, Minn., sopranos; Morgan Langley of White Hall, Sara Ray of Paragould, Loren Snook of Bradford, and Cori Beasley of Gilmer, Texas, altos; Jacob Bushong of Paragould, Grant Atkins of Springdale, Alex Swenson of Poplar Bluff, Mo., and Kane Bradley of Russellville, tenors; and Gregory Self of Williford, Ian Tucker of Bakersfield, Calif., and Drew Warren of Manila, basses.
Kale McDaniel of Jonesboro will be the steward and John Yerger, also of Jonesboro, will be the jester. The knaves and wenches will be played by other members of the A-State Concert Choir. Brian Henkelmann, temporary instructor of music, will play harpsichord; Jay Shepherd of Paragould will play guitar, and the student brass ensemble also will play.
For more details about this concert or information about A-State music, individuals may call the Department of Music at (870) 972-2094.
# # #