A-State Community Choir Benefits From Trip To Spain
04/28/2014
JONESBORO, Ark. — Henry Wadsworth Longfellow once called music the "universal language of mankind." The Concert and University-Community choirs at Arkansas State University recently found that to be true after returning from a trip to present concerts in Spain as part of the choirs' "American Celebration of Music."
"We had a terrific trip," said Dr. Dale Miller, director of choral activities, who accompanied the group. "Our students sang well and enjoyed the country of Spain and its many attractions. Arkansas State choir students continue to benefit greatly from travel to culturally rich and diverse cities in the United States and abroad. These trips are worthy educational experiences."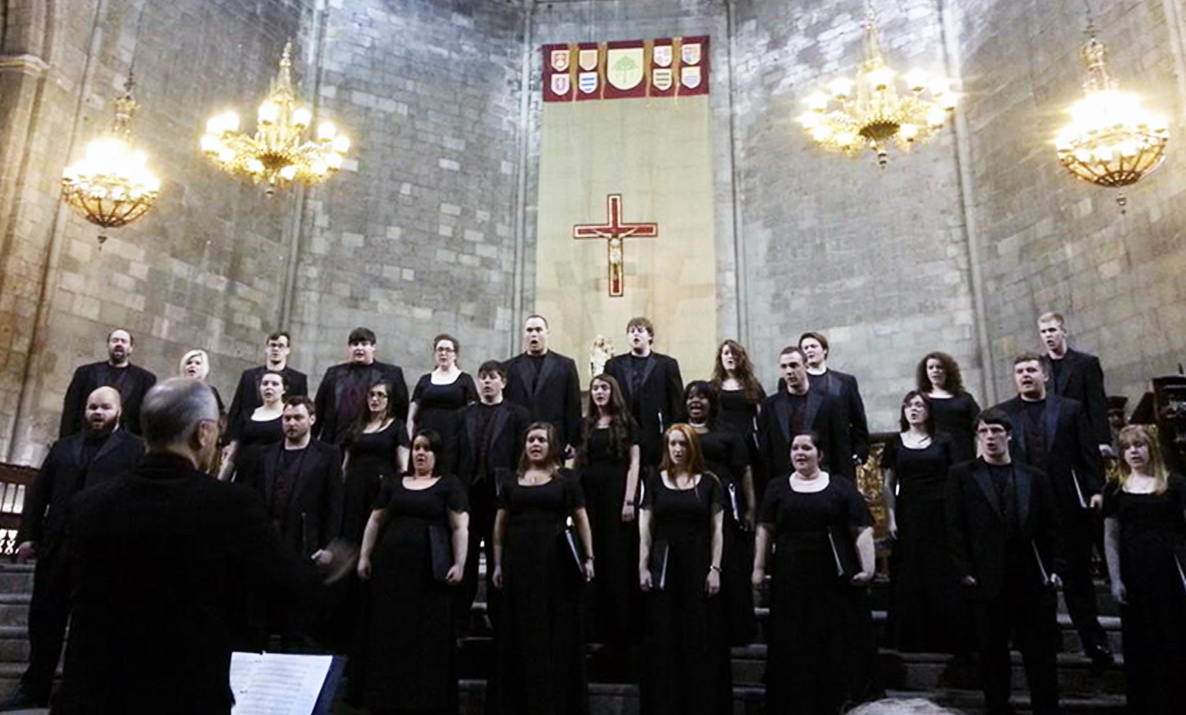 Arkansas State University choirs perform at Basilica de Santa Maria del Pi
The 44-member group including chaperones traveled to Spain March 20-29 to sing in three major cities. Among the highlights were events at the Church of the Pines in Barcelona, the Conservatory of Saint Cugat, the Cathedral of Barcelona, the Church of Pilar in Valencia and in the Church of Carmen in Madrid.
"These A-State choir students provided a service to Arkansas State by maintaining a 'community link' to our own alumni and the northeast Arkansas community," continued Miller. "The traveling performing group included 10 members of the University-Community Choir which has former A-State Concert Choir members, parents of some of the ASU students, and one high-school-age sibling of an A-State singer."
"Our total of six concerts and numerous 'flash mob' performances were warmly received by the local audiences and tourists of many nationalities," Miller said.
Dennese Adkins, a soprano from Cabot, said, "The Spain trip was my first time outside of the country. Though we were in a Spanish-speaking country, I ended up exercising my French, German, and Japanese with fellow travelers, tourists, and college students. The tours of Tarragona, Toledo, the art museum and the monastery were all incredibly enriching."
The choir's travel involved performing a joint concert with the 40-member youth choir from the Conservatory of Saint Cugat near Barcelona, mass at the Cathedral of Barcelona, and a concert at the Church Pilar in Valencia.
"Of course, the most valuable was singing in the space that the music we have studied was meant to be sung in," Adkins said. "The basilicas and cathedrals were breathtaking and the way the spaces filled up with sound were even more so."
"Spain wasn't just a spring break vacation for me," added Meagan Hamilton, an alto from Wynne. "It was an educational experience that opened my eyes to how truly beautiful our planet is. I learned so much about the history and culture of Spain.
"My favorite part of the whole trip was being able to go inside the Basilica de Sagrada Familia which is the unfinished cathedral of Antoni Gaudi. I learned the history behind it and that the people of Barcelona are trying to finish what Antoni started. It is absolutely breathtaking and definitely a once in a lifetime opportunity. I am truly grateful for all the help and support that was given to us."
Arkansas State students shared the music, but also pins, lanyards, and key-chains from A-State. Miller went on to say that the time the students spent rehearsing and relaxing with the 16-to 20-year-old Spanish singers and their families may help in recruiting students for A-State.
Here is a list of choir members (alphabetical by city) who made the trip to Spain:
Crist Blackwell, Batesville, Tenor
Emily Garren, Blytheville, Soprano
David Little, Blytheville, Bass
Dennese Adkins, Cabot, Soprano
Megan Carter, Gosnell, Alto
Matt Smith, Gosnell
Chris Dyson, Harker Heights, Texas, Tenor
Wesley Hooper, Harrisburg, Tenor
Sarah Woodson, Harrisburg, Alto
Kari Rickman, Jonesboro, Soprano
Nancy Miller, Jonesboro, Soprano
Jennifer Hannah, Jonesboro, Soprano
Katelin Rickman, Jonesboro, Soprano
Mary Rougeau, Jonesboro, Alto
John Yerger, Jonesboro, Tenor
David Rickman, Jonesboro, Bass
Matt Crociata, Jonesboro, Bass
Jacob Kelly, Jonesboro, Bass
Kale McDaniel, Jonesboro Bass
Matt Penny, Jonesboro, Bass
Gayle Howe, Little Rock, Alto
Markham Howe, Little Rock, Bass
Maegan McDaniel, Manila, Alto
Drew Warren, Manila, Bass
Ashley Bradberry, Paragould, Soprano
Sara Ray, Paragould, Soprano
Jacob Bushong, Paragould, Tenor
Michele Byrd, Pine Bluff, Alto
Haven Cagle, Rector, Soprano
Karen Cagle, Rector, Alto
Harmony Cagle, Rector, Alto
Kane Bradley, Russellville, Tenor
Hal Niederbrach, Searcy, Bass
MaeLee Reed, White Hall, Soprano
Morgan Langley, White Hall, Alto
Elli Fowler, Wynne, Soprano
Meagan Hamilton, Wynne, Alto
John Phillians, Wynne, Bass