A-State College of Education and Community Partners Join Forces for Service-Learning Program
07/18/2013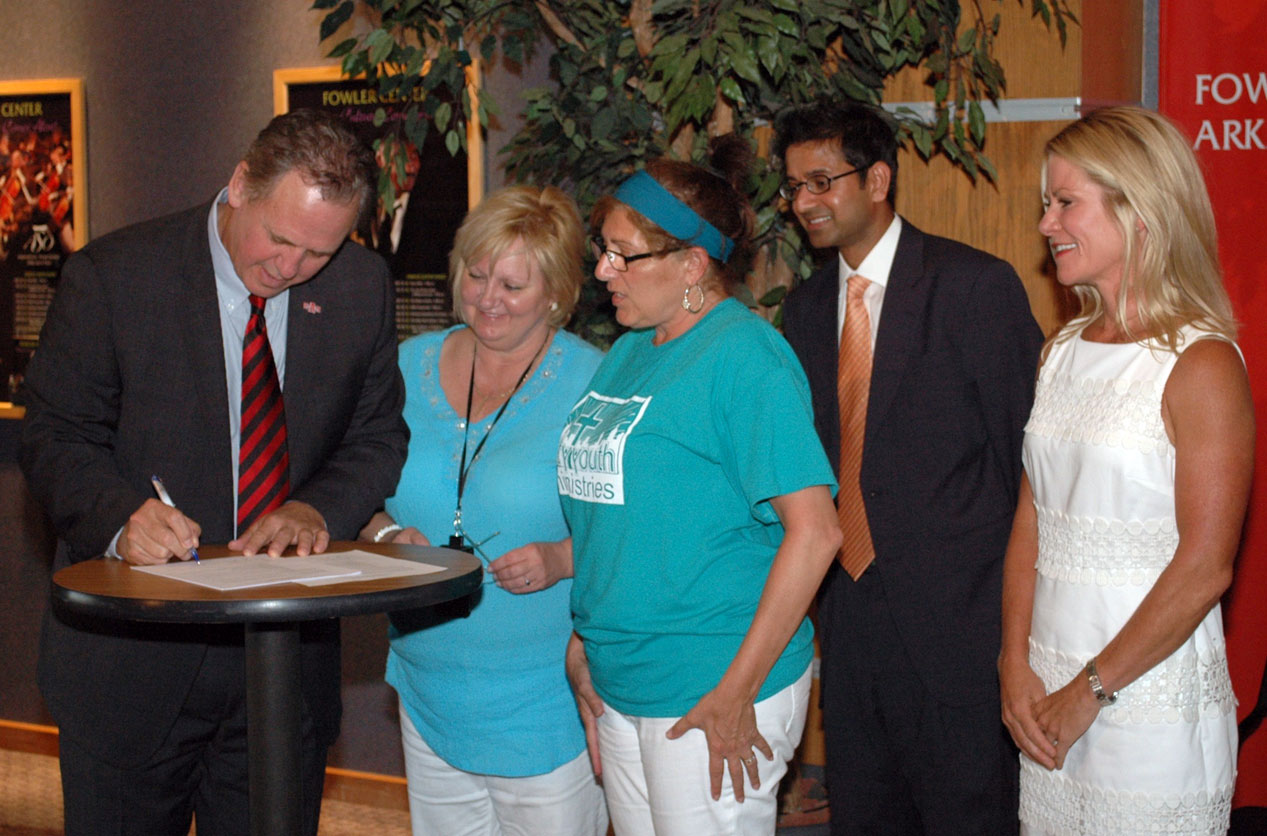 As Dr. Tim Hudson, chancellor, signs the Memorandum of Understanding, Julie Winberry and Annie Ford with City Youth Ministries look on. Also participating in the signing ceremony are Dr. Thilla Sivakumaran, dean of the College of Education, and Dr. Blair Dean, director of the service-learning project.
JONESBORO – Representatives of 12 non-profit public service agencies signed on today to participate in a new community-based service-learning program with the College of Education at Arkansas State University.
The community partners and university representatives met for an agreement signing ceremony and reception in the Grand Hall of Fowler Center.
Arkansas State entered into a Memorandum of Understanding (MOU) with each of the agencies, through which A-State students may enroll to work in a service-learning project as part of their degree program.
The new opportunity will be available to students at Arkansas State, according to Dr. Blair Dean, service-learning director for the college and professor of physical education.
"The service-learning course will be a method of teaching, learning, and sharing – with its main purpose being to connect the service experiences with academic learning," she explained. "I am pleased that the course will be offered soon for education majors, because the learning experience will be an important step toward their future as a classroom teacher."
Participating with Dr. Dean in the program announcement and signing ceremony were Dr. Tim Hudson, chancellor; Dr. Lynita Cooksey, provost; and Dr. Thilla Sivakumaran, dean of the College of Education.
The community partners who already have agreed to participate include:
Big Brothers Big Sisters of NEA
City Youth Ministries
Craighead County Jonesboro Public Library
Forrest L. Wood Crowley's Ridge Nature Center
Hispanic Community Services, Inc.
The Foundation of Arts
Jonesboro Human Development Center
Jonesboro Parks and Recreation
Jonesboro Urban Renewal & Housing Authority
Pregnancy Resource Center
St. Bernard's Health & Wellness Institute
United Way
Dr. Sivakumaran commented that the program will be a special opportunity for students at Arkansas State to get involved in a tangible way through the integration of community service projects with classroom learning, supporting the university's mission to educate leaders, enhance intellectual growth and enrich lives.
Dr. Dean also emphasized, "Through this process, students will become engaged in the educational process and be able to apply what they learn in the classroom to problems in the real world as actively contributing citizens."
# # #