A-State Brings Top Governor's Cup Business Plan Honors Home
04/23/2015
JONESBORO — Long hours and hard work paid off for students from Arkansas State University who brought home $35,000 in winnings after competing in the prestigious 15th annual Donald W. Reynolds Governor's Cup collegiate business plan competition. The announcement of the winners was made Wednesday at the business plan awards ceremony at the Statehouse Convention Center in Little Rock.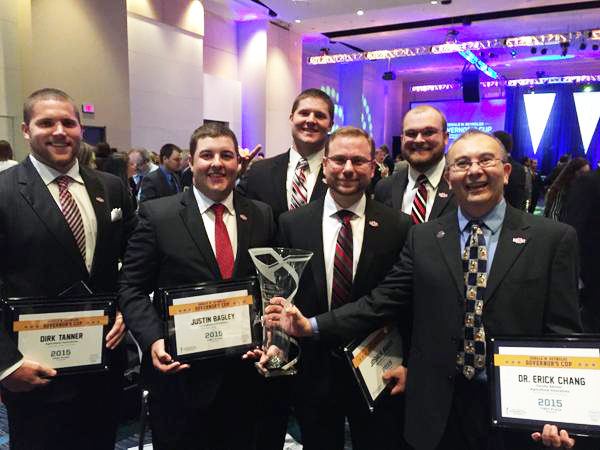 (from left) Agricultural Innovations team members—Dirk Tanner, Justin Bagley, Kenneth Rains, Joshua Baker, Frank Kelley and team adviser Dr. Erick Chang. (Photo by Jeff Hankins).
The A-State team, Agricultural Innovations, was awarded $25,000 for its first place finish in the graduate division as well as taking home $3,000 for finishing second in the Arkansas Farm Bureau Agriculture Awards. The team also won the Delta Plastics Innovation Award of $5,000 in the graduate division.
Saf-Tech, a team from Arkansas State University-Beebe that built a device able to block calls and texting called the Guardian, won the $2,000 price for winning the AT&T Elevator Pitch Award. The team includes two recent management graduates, Dustin Lavender and Lillian Bryant, and two management majors, Amanda Barton-Smith and Pam English. Marvin Jones of ASU-Beebe is the faculty adviser for Saf-Tech with Dr. Erick Chang serving as a co-adviser.
The two teams previously won $1,000 each for becoming finalists after delivering oral presentations April 2-3 at Embassy Suites Hotel in Little Rock. Dr. Erick Chang, associate professor of management at Arkansas State who is the adviser for Agricultural Innovations also was awarded $2,000 for his role. He said he plans to donate the winnings to support prizes for A-State's 2015-16 business plan competition.
Agricultural Innovations is comprised of four management majors including Joshua Baker, Justin Bagley Frank Kelley and Dirk Tanner and a master of science in engineering student, Kenneth Rains.
The group developed an automated irrigation system called WellsVision that would significantly aid farmers.
"Congratulations to our A-State business plan students for their incredible success," said Dr. Shane Hunt, dean of the College of Business. "Winning the competitions at the 2015 Donald W. Reynolds Governor's Cup was the result of months of hard work by the students, their professors and advisers.
"I am so proud of the great work that our students did, and so thankful for the outstanding leadership of Dr. Erick Chang who runs our business plan competition. Our future as a university, business community and state are very bright with entrepreneurs like these."
A-State's third team, Grand Prairie Husk, is a manufacturer and producer of a smokeless tobacco alternative made with re-purposed rice husk. The team includes one management major, Lindsey Cole, and two agribusiness majors, Alex Reid and Seth Moore.
"Josh Baker, an Iraqi war veteran, has a father-in-law who could not make it to dinner one day because he needed to turn on his well, and that's how the business idea started," said Chang. "Justin, Franklin and Dirk all took my small business management class. Then, Ken, the only graduate student, joined the team after Dirk (his roommate) asked him. None have a degree beyond their undergraduate studies and did not rely on lots of money in research to come up with their product. They just did their best."
Agricultural Innovations will travel to Las Vegas to contend for the tri-state title against the winners of the Oklahoma and Nevada state-level competition. Teams will compete to win a share of $118,000.
The 2015 Donald W. Reynolds Governor's Cup winners are:
Graduate Business Plan Winners
1st Place — Arkansas State University, Agricultural Innovations, $25,000
2nd Place — University of Arkansas, Kordate Solutions, Inc., $15,000
3rd Place — University of Arkansas, Baby Booster, $10,000
Undergraduate AT&T Elevator Pitch Award
Harding University, TIRE, $2,000
Graduate AT&T Elevator Pitch Award
Arkansas State University, Saf-Tech, $2,000
Undergraduate Delta Plastics Innovation Award
University of Arkansas, Conner Innovation, $5,000
Graduate Delta Plastics Innovation Award
Arkansas State University, Agricultural Innovations, $5,000
First Place Agriculture Award
University of Arkansas, Baby Booster, $5,000
Second Place Agriculture Award
Arkansas State University, Agricultural Innovations, $3,000
Undergraduate Business Plan Winners
1st Place — Harding University, TIRE, $25,000
2nd Place — John Brown University, Charlie's Choices, $15,000
3rd Place — John Brown University, Opt-In, $10,000
# # #