A-State Athletics Receives $10 Million from Allison Family, Centennial Bank
12/11/2017
JONESBORO — The Arkansas State University Board of Trustees voted today to name A-State's football field "Allison Field" and its future north end zone facility "Centennial Bank Athletics Operations Center" in recognition of a combined $10 million from the Johnny Allison family and Centennial Bank to the Red Wolves Foundation. In 2014, Allison, founder and chairman of Home BancShares, made a $5 million contribution to the Red Wolves Foundation that matches his latest personal gift commitment as the largest in A-State history.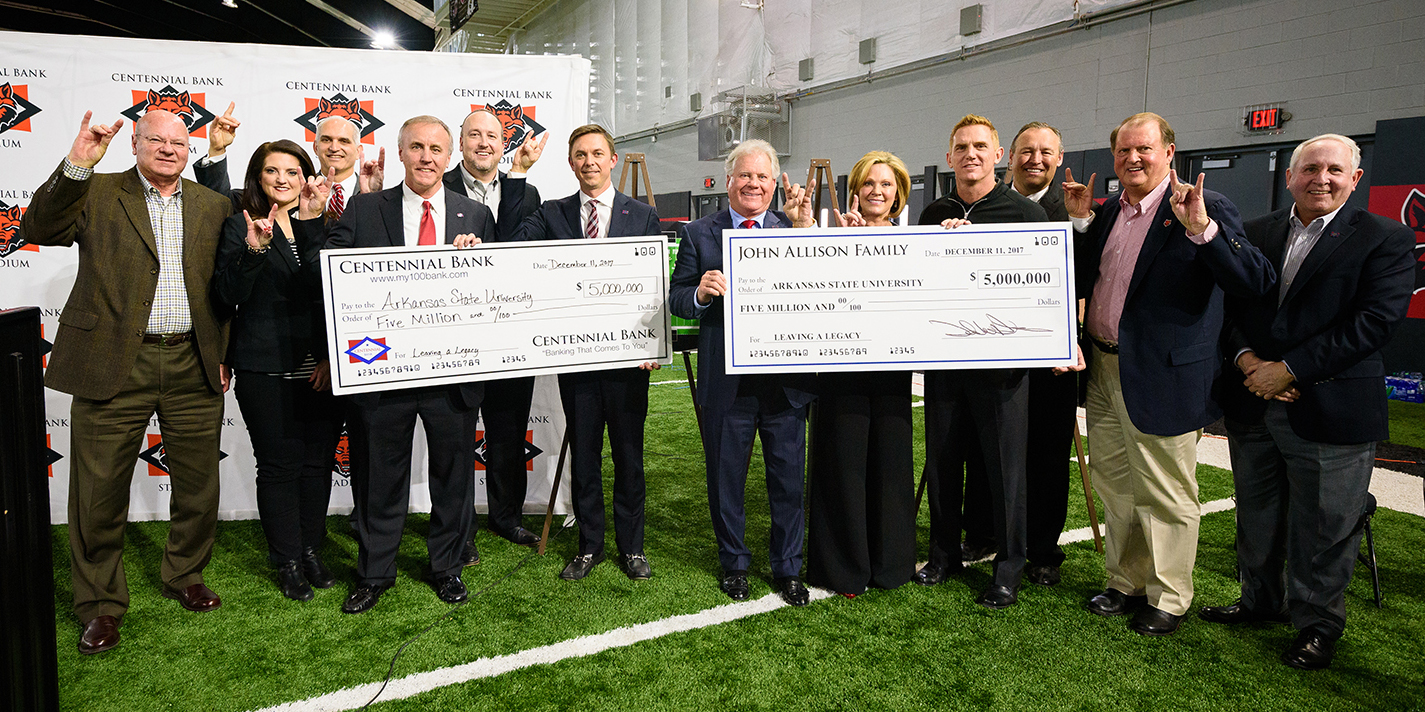 (From left) — Niel Crowson, Stacy Crawford, Terry Mohajir, Tracy French, Chuck Welch, Davy Carter, Johnny Allison, Jennifer Allison, Blake Anderson, Kelly Damphousse, Ron Rhodes and Bunny Adcock.

"On behalf of our intercollegiate athletics department, I would like to thank the Allison family and Centennial Bank for their belief and support in us that we can be more than we are," said A-State Director of Athletics Terry Mohajir. "This sponsorship and gift will help allow us to build an athletics operations center as nice as there is in the country, guaranteed. It will be utilized by all our 350-plus student-athletes, enhancing both their experiences and opportunities as Red Wolves.
"In addition, it's a privilege and honor that our football field will be named after one of our most successful and influential alumni in the nation. Every time one of our student-athletes walks on that field, they will know that no one should ever be underestimated and they have a chance to be whatever they want to be."
Honoring the former A-State letterman who played on the 1968 football team, served on the ASU Board of Trustees from 1979-84 and was named an Arkansas State University Distinguished Alumnus in 1998, "Allison Field" will proudly be displayed at multiple locations on the field as well as the tunnel entrance into the Centennial Bank Athletics Operations Center. With Centennial Bank's $5-million sponsorship, its previously acquired naming rights to Centennial Bank Stadium will be extended by 10 years to 2037. The new construction in the north end zone will now display the Centennial Bank Stadium name.
"The Allison family is delighted to be able to make this contribution, alongside the Centennial Bank contribution, with the goal to provide the student-athletes at Arkansas State University new opportunities for additional success in multiple areas," said Allison. "We couldn't be prouder to assist and be associated with such an impactful project for Arkansas State University."
"On behalf of the students, faculty, and staff of Arkansas State, I want to add my appreciation for not only today's generous gift, but for a lifetime of service to our university by Johnny and the Allison family," said Chancellor Kelly Damphousse. "This private support for the North End Zone project allows our athletics department to address space and facility issues for all 17 sports, not just football."
Home BancShares, Inc. is a bank holding company, headquartered in Conway, Arkansas. Its wholly-owned subsidiary, Centennial Bank, provides a broad range of commercial and retail banking plus related financial services to businesses, real estate developers, investors, individuals and municipalities. Centennial Bank has branch locations in Arkansas, Florida, South Alabama and New York City.
"Centennial Bank is honored to contribute to a project that will have a tremendous impact on Arkansas State Athletics, its student-athletes and the game-day atmosphere at Centennial Bank Stadium," said Davy Carter, Centennial Bank regional president. "We are grateful for Johnny Allison's outstanding leadership and unwavering commitment to Arkansas State University, which ultimately led the bank to vote unanimously to continue its support through this project."
The Arkansas State Athletics Department received approval on Nov. 20, 2017, to begin construction on its Centennial Bank Stadium $29-million "North End Zone Expansion" project following a vote by the Arkansas State University Board of Trustees granting ground lease and space lease agreements with the Red Wolves Foundation. The Board of Trustee's approval gave the Red Wolves Foundation the ability to facilitate and pay for the construction of a new A-State athletics facility spanning approximately 66,533 square feet, as well as premium seating areas and aesthetic enhancements, in the north end zone of Centennial Bank Stadium.
"Johnny Allison and Centennial Bank continue to provide unparalleled levels of support to our university," said ASU System President Dr. Chuck Welch. "We are so blessed and thankful for their unwavering commitment to our student-athletes and the university as a whole. The incredible advancements of the past several years would have never been possible without the Allison family and Centennial Bank, and our entire university is grateful for their generosity."