A-State Announces 2019 Spring Graduation List
06/18/2019
JONESBORO – Arkansas State University has released the list of students who were awarded diplomas on the undergraduate and graduate levels during the 2019 spring commencement ceremony May 11 in the First National Bank Arena on campus.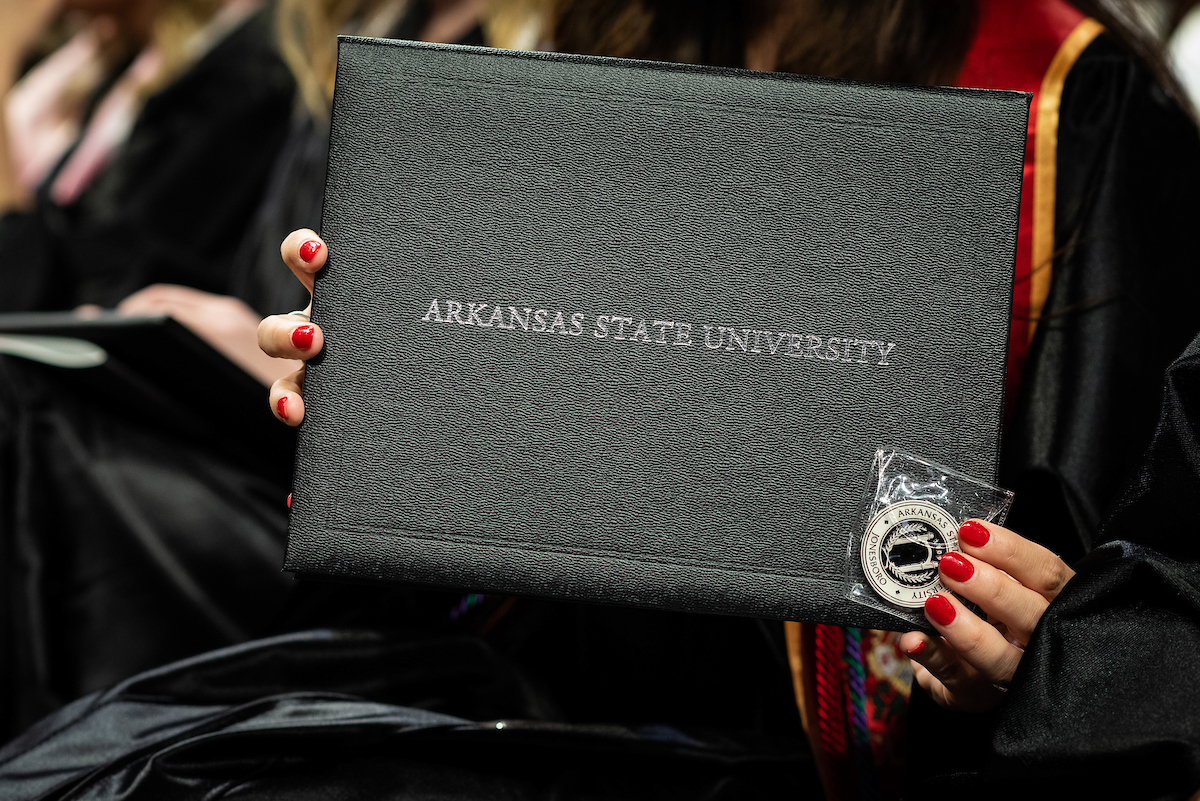 Chancellor Kelly Damphousse conferred more than 2,000 diplomas during the two ceremonies in the First National Bank Arena. The College of Education and Behavioral Science and the College of Nursing and Health Professions participated in the morning event, and the afternoon ceremony included the College of Agriculture, the Neil Griffin College of Business, the College of Engineering and Computer Science, the College of Liberal Arts and Communication, the College of Sciences and Mathematics, and Undergraduate Studies.
There are 16 students who achieved a 4.00 GPA graduating summa cum laude, 96 with a GPA of 3.80-3.99 graduating magna cum laude, and 173 cum laude with a GPA of 3.60-3.79. A-State also recognized 34 students who graduated in University Honors and 56 students who graduated in Honors.
Here is the list of graduates representing 68 of the 75 counties in Arkansas, 43 states and 20 nations:
ALABAMA
Chambers, Lanett, Kalesia Whitlow McKnight, Specialist in Education, Educational Leadership
Colbert, Tuscumbia, Michael Shannon Hathorn, Master of Science in Education, Educational Leadership
Jefferson, Hoover, Amber Lynne Denaburg, Master of Science in Nursing, Nurse Anesthesia
Madison, Huntsville, Susan Lanier Young, Master of Science in Education, Curriculum and Instruction
Morgan, Hartselle, Elizabeth Ann Compton, Bachelor of Science in Mechanical Engineering, Mechanical Engineering, Cum Laude
Pickens, Ethelsville, Mary Amanda Tolleson, Master of Science in Education, Reading
Russell, Phenix City, Parise Bostale Bailey, Specialist in Education, Educational Leadership
Shelby, Birmingham, Caitland Elyse Smith, Bachelor of General Studies, General Studies
Shelby, Calera, Melissa A. Ellison, Specialist in Education, Educational Leadership
ALASKA
Anchorage, Anchorage, Heather Parker Conlin, Master of Science in Education, Educational Leadership
Fairbanks North Star, Fairbanks, Lori L. Swanson, Certificate Program, Special Education Director
Matanuska Susitna, Palmer, Hayley June Miessner, Master of Science in Education, Educational Leadership
ARIZONA
Maricopa, Surprise, Matthew Paul Thomas, Master of Business Administration, Business Administration
Mohave, Kingman, Denisha Moodley, Specialist in Education, Educational Leadership
Pinal, Maricopa, Daniel James Coe, Master of Public Administration, Public Administration
Pinal, San Tan Valley, Toby Ben Haugen, Specialist in Education, Educational Leadership
Santa Cruz, Nogales, Justin Anthony Felix, Bachelor of Arts, Criminology
ARKANSAS
Arkansas, Casscoe, Lauren Renee Barnett, Bachelor of Arts, Criminology
Arkansas, Casscoe, Lauren Renee Barnett, Bachelor of Science, Psychology
Arkansas, Gillett, Rylee Allison Knoll, Associate of Applied Science, Physical Therapist Assistant
Arkansas, Gillett, Jammy Layne Turner, Bachelor of Science in Agriculture, Plant and Soil Science
Arkansas, Stuttgart, Samantha Jo Davis, Bachelor of Science in Agriculture, Agricultural Business
Arkansas, Stuttgart, Jacob L. Dillingham, Bachelor of Science in Mechanical Engineering, Mechanical Engineering
Arkansas, Stuttgart, Tiffany LeShunda Gipson, Master of Science in Education, Reading
Arkansas, Stuttgart, Alexandria Nicole Lane, Bachelor of Fine Arts, Graphic Design
Arkansas, Stuttgart, Clay Alexander Leder, Bachelor of Science in Agriculture, Agricultural Business
Arkansas, Stuttgart, Madison Alayne Summers, Bachelor of Science, Communication Disorders, Cum Laude
Ashley, Crossett, James Michael Riles, Bachelor of Science, Finance, Cum Laude
Ashley, Crossett, Logan Michael White, Associate of Science, A.S. En Route
Ashley, Hamburg, Angela Harris Bowman, Specialist in Education, Educational Leadership
Ashley, Hamburg, Rebecca Adams, Master of Science in Education, Curriculum and Instruction
Baxter, Clarkridge, Bethany D. Barcelona, Bachelor of Science in Education, Mid-Level Education, Cum Laude
Baxter, Cotter, Cody Allen Reese, Bachelor of Science, Biological Sciences
Baxter, Gassville, Kyle Alan Tardiff, Master of Science in Education, Educational Leadership
Baxter, Henderson, Brooke Marlene Barnes, Bachelor of Science, Management
Baxter, Jordan, Mitcheal Robert Hargett, Bachelor of General Studies, General Studies, Cum Laude
Baxter, Lakeview, Jason Hickman, Associate of Arts, A.A. En Route
Baxter, Lakeview, Megan Nicole Strain, Master of Science in Education, Educational Leadership
Baxter, Midway, Branden C. McMaster, Bachelor of Science, Marketing
Baxter, Mountain Home, Whitney Nicole Barkes, Associate of Science, A.S. En Route
Baxter, Mountain Home, Kaci Leigh Thomas, Bachelor of Science in Education, Elementary Education, Cum Laude
Baxter, Mountain Home, Cheyenna S. Belt, Bachelor of Science in Education, Elementary Education, Cum Laude
Baxter, Mountain Home, Michael Boswell, Associate of Applied Science, Physical Therapist Assistant
Baxter, Mountain Home, Curtis Bradley Bowers, Bachelor of Science in Mechanical Engineering, Mechanical Engineering
Baxter, Mountain Home, Alexis S. Crull, Bachelor of Science in Agriculture, Animal Science, Cum Laude, Honors Program
Baxter, Mountain Home, Amanda Love Estes, Bachelor of Science in Nursing, Nursing
Baxter, Mountain Home, Shelby Tayler Feeney, Bachelor of Science in Education, Elementary Education, Cum Laude
Baxter, Mountain Home, Shaunessy Rose Hamilton, Associate of Science, A.S. En Route
Baxter, Mountain Home, Vanessa Gail Harvey, Bachelor of Science in Nursing, Nursing
Baxter, Mountain Home, Jason Reece Hickman, Bachelor of Science in Education, English, Magna Cum Laude
Baxter, Mountain Home, Maranda L. Hickman, Associate of Applied Science, Physical Therapist Assistant
Baxter, Mountain Home, Kaytlin H. Jones, Bachelor of Science, Communication Disorders, Cum Laude
Baxter, Mountain Home, Emily Marie Lake, Bachelor of Science in Education, Elementary Education
Baxter, Mountain Home, Kayla M. Lamar, Bachelor of Science in Education, Mid-Level Education
Baxter, Mountain Home, Patrick J. Leppold, Bachelor of Science in Civil Engineering, Civil Engineering
Baxter, Mountain Home, Shelby Faith Lind, Bachelor of Science in Education, Elementary Education
Baxter, Mountain Home, Shane C. Lively, Bachelor of Science, Technology
Baxter, Mountain Home, Cailyn Victoria Mann, Bachelor of Science, Management
Baxter, Mountain Home, Morgan L. Erby, Bachelor of Science in Nursing, Nursing
Baxter, Mountain Home, Zoe M. Parsons, Bachelor of Science, Finance, Cum Laude
Baxter, Mountain Home, Alyssa M. Pendergrass, Bachelor of Science in Nursing, Nursing, Magna Cum Laude
Baxter, Mountain Home, Blake Leroy Poush, Bachelor of Science, Computer Science
Baxter, Mountain Home, Samuel Nomon Reagan, Bachelor of Science, Computer Science, Magna Cum Laude
Baxter, Mountain Home, Shelly D. Ross, Bachelor of Science in Education, Elementary Education, Cum Laude
Baxter, Mountain Home, Kenneth W. Sanders, Bachelor of Science, Management
Baxter, Mountain Home, April M. Stacey, Certificate Program, Addiction Studies
Baxter, Mountain Home, April M. Stacey, Master of Social Work, Social Work
Baxter, Mountain Home, Melissa Ann Tabor, Master of Public Administration, Public Administration
Baxter, Mountain Home, Cortni Paige Thomas, Associate of Science, A.S. En Route
Baxter, Mountain Home, Lexy Eileen Baxter, Specialist in Education, Psychology and Counseling
Baxter, Mountain Home, Courtney Alison Tone, Bachelor of Science in Education, Special Education
Baxter, Mountain Home, Natalie M. Ungerank, Bachelor of Science, Management
Baxter, Mountain Home, Tyler Blaine Williams, Bachelor of Science in Education, Mid-Level Education
Benton, Bella Vista, Samantha Marie Bailey, Master of Science in Education, Curriculum and Instruction
Benton, Bella Vista, Heather Leigh Crain, Bachelor of Science in Nursing, Nursing, Cum Laude
Benton, Bella Vista, Emily Anne Ensor, Master of Science in Education, Reading
Benton, Bella Vista, Leonard Edgar Neumann, Master of Science in Education, Special Education K-12
Benton, Bella Vista, Kelly R. Parker, Certificate Program, Building-Level Administration
Benton, Bentonville, Andrew Sears Ballard, Certificate Program, Special Education Director
Benton, Bentonville, Shannon Clay Bink, Master of Science in Education, Educational Leadership
Benton, Bentonville, Amanda Dawn Cook, Specialist in Education, Educational Leadership
Benton, Bentonville, Brittani Nicole Firsick, Specialist in Education, Psychology and Counseling
Benton, Bentonville, Adrienne Rebecca Gunter, Master of Science in Education, Educational Leadership
Benton, Bentonville, James Justin Harris, Master of Science, Sport Administration
Benton, Cave Springs, Jared Morgan Schoonover, Master of Science in Education, Educational Leadership
Benton, Centerton, Taylor J. Lewis, Master of Science in Education, Educational Leadership
Benton, Centerton, Mary Lynne Webb, Specialist in Education, Educational Leadership
Benton, Gentry, Amanda Marie Ward, Master of Science in Education, Educational Leadership
Benton, Gravette, Kimberly Dawn Smith, Master of Science in Education, Educational Leadership
Benton, Lowell, Angela Morae Nhu, Master of Science in Education, Reading
Benton, Lowell, Amanda Clair Wunderlich, Master of Science, Media Management
Benton, Pea Ridge, Celeste Dawn Vanaman, Master of Science in Education, Educational Leadership
Benton, Rogers, Nicholas C. Brill, Master of Science in Education, Educational Leadership
Benton, Rogers, Lisa Siler Cassidy, Master of Science in Education, Special Education GTC
Benton, Rogers, Lexy Alyse Hutchison, Master of Science in Education, Special Education K-12
Benton, Rogers, Hope Laken Resor, Master of Science in Education, Reading
Benton, Rogers, Shannon Gayle Resor, Master of Science in Education, Reading
Benton, Rogers, Danilo H. Sandoval, Master of Science in Education, Special Education K-12
Benton, Rogers, Kim Roger Ward, Bachelor of General Studies, General Studies
Benton, Siloam Springs, Joshua Z. Killian, Specialist in Education, Educational Leadership
Benton, Springdale, Katelyn Dianne Fetner, Specialist in Education, Educational Leadership
Boone, Harrison, Alexxandrea Kristian Carter, Bachelor of Science in Education, Elementary Education
Boone, Harrison, Kali Laraine Carter, Bachelor of Science in Education, Mid-Level Education, Cum Laude
Boone, Harrison, Savannah Dawn Edwards, Bachelor of Science, Mathematics
Boone, Harrison, Shannon I. Popejoy, Bachelor of Science in Education, Mid-Level Education
Boone, Harrison, Kamri M. Rogers, Bachelor of Science, Biological Sciences
Boone, Lead Hill, Tami Lea Richey, Specialist in Education, Educational Leadership
Bradley, Hermitage, Mason Tyler Temple, Bachelor of Science in Nursing, Nursing, Cum Laude, University Honors
Bradley, Warren, Jacob Scott Clanton, Specialist in Education, Educational Leadership
Calhoun, Fordyce, Mitchell Musgrove, Master of Science in Education, Educational Leadership
Carroll, Berryville, Andrew Gregory Killingsworth, Master of Science in Education, Educational Leadership
Carroll, Green Forest, Glenda Ann Ayers, Specialist in Education, Educational Leadership
Carroll, Green Forest, Alonso Sinay, Bachelor of Science in Education, Mid-Level Education, Cum Laude
Carroll, Holiday Island, Valarie Ann Standridge, Master of Science in Education, Curriculum and Instruction
Chicot, Lake Village, Kaitlin M. Hill, Bachelor of Science, Communication Disorders, Cum Laude
Clay, Corning, Rebecca Lynne Barajas, Bachelor of Science in Education, Mid-Level Education
Clay, Corning, Aaron Gage Ermert, Master of Social Work, Social Work
Clay, Corning, Samantha Joann Smart, Bachelor of Science in Agriculture, Agricultural Studies
Clay, Corning, Travis E. Wilcut, Master of Science in Education, Educational Leadership
Clay, Knobel, Stephanie M. Young, Certificate Program, Nurse Educator
Clay, Knobel, Stephanie M. Young, Master of Science in Nursing, Nursing
Clay, Lafe, Kristen Elizabeth Huckabay, Bachelor of Science, Marketing, Cum Laude
Clay, Rector, Brittany Brooke Bradshaw, Bachelor of Social Work, Social Work
Clay, Rector, Stephanie Michelle Brandaberry, Master of Science in Education, Mathematics
Clay, Rector, Grayson Ann Crancer, Bachelor of Science in Nursing, Nursing, Cum Laude
Clay, Rector, Landen Blake Crancer, Bachelor of Science, Accounting
Clay, Rector, Mallory Rachelle Flemon, Bachelor of Science in Education, Elementary Education, Cum Laude
Clay, Rector, Eathan Dale Pruett, Bachelor of Science in Agriculture, Plant and Soil Science
Clay, Rector, Lindsay Mikhale Sheets, Master of Science in Nursing, Nursing
Cleburne, Edgemont, Sally Josephine Stuart, Certificate Program, Gifted and Talented Director
Cleburne, Heber Springs, Roxanne Marguerite Anderton, Bachelor of Science in Education, Elementary Education
Cleburne, Heber Springs, Kelsi Jo Davison, Bachelor of Science in Nursing, Nursing
Cleburne, Heber Springs, Kortney A. Davison, Bachelor of Science in Nursing, Nursing, Cum Laude
Cleburne, Heber Springs, Chandler R. Jones, Bachelor of Science, Biological Sciences
Cleburne, Heber Springs, Kristina Faith Miller, Associate of Science, A.S. En Route
Cleburne, Heber Springs, Janet Smith Owen, Master of Science in Education, Reading
Cleburne, Heber Springs, Jessica P. Sansoucie, Bachelor of Science in Education, Elementary Education, Magna Cum Laude
Cleburne, Heber Springs, Allison DeFries Shuttleworth, Master of Science in Education, Educational Leadership
Cleburne, Quitman, Sarah Jaylynn Peterson, Bachelor of Science in Education, Elementary Education
Cleburne, Rose Bud, Kailee Bell, Bachelor of Science in Education, Mid-Level Education
Cleburne, Tumbling Shoals, Kristen Abigail McCormick, Bachelor of Science in Education, Elementary Education, Cum Laude
Cleveland, Rison, Clay M. Ashcraft, Specialist in Education, Educational Leadership
Cleveland, Rison, Haley Jean Dismuke, Bachelor of Arts, Political Science
Columbia, Magnolia, Douglas Ezell Moss, Bachelor of Science in Education, Physical Education
Conway, Center Ridge, Dena L. Smith, Master of Science in Education, Reading
Conway, Morrilton, Amoni J. Clemons, Bachelor of Science in Nursing, Nursing, Cum Laude
Conway, Morrilton, Thomas C. Ragland, Bachelor of Science, Global Supply Chain Management, Summa Cum Laude
Craighead, Bay, Autumn E. Lee, Associate of Applied Science, Physical Therapist Assistant
Craighead, Bay, Jake Edward Martin, Bachelor of Science in Agriculture, Plant and Soil Science
Craighead, Bay, Sasha R. O'Guinn, Master of Social Work, Social Work
Craighead, Bay, Brianna Jakae Riga, Associate of Science, A.S. En Route
Craighead, Bay, Nathan Heath Smith, Associate of Science, A.S. En Route
Craighead, Bay, Rebecca Sue Wilson, Bachelor of General Studies, General Studies
Craighead, Black Oak, Anthony Morgan Hendrickson, Bachelor of Science, Business Economics, Cum Laude
Craighead, Bono, Garrett W. Barnes, Specialist in Education, Educational Leadership
Craighead, Bono, Deanna Kay Barton, Associate of Science, A.S. En Route
Craighead, Bono, Skyler Scott Boyle, Associate of Science, A.S. En Route
Craighead, Bono, Sarah Taylor Broadaway, Bachelor of Science, Strategic Communications, Cum Laude
Craighead, Bono, Carmen Lynette Cobbs, Bachelor of Social Work, Social Work
Craighead, Bono, Rachael Michelle Drummonds, Bachelor of Arts, English
Craighead, Bono, Lindsey Nicole Hawthorne, Bachelor of Science, Business Administration
Craighead, Bono, Felica S. Johnson, Master of Science in Nursing, Nursing
Craighead, Bono, Sabrina K. Knight, Bachelor of Science, Interdisciplinary Studies, Cum Laude
Craighead, Bono, Yoneko L. McDaniel, Bachelor of Social Work, Social Work
Craighead, Bono, Shellie Lee McMorries, Master of Science in Education, Special Education K-12
Craighead, Bono, Anna Claire Mitchell, Associate of Applied Science, Physical Therapist Assistant
Craighead, Bono, Zachary Tyler Preston, Bachelor of Science, Biological Sciences
Craighead, Bono, Caleb A. Price, Bachelor of Science, Computer Science
Craighead, Bono, Alexis Brianne Primm, Associate of Science, A.S. En Route
Craighead, Bono, Rocio Roades, Master of Science in Nursing, Nursing
Craighead, Bono, Lori Ann Winn, Doctor of Education, Educational Leadership
Craighead, Bono, Caragan Nicole Woods, Bachelor of Science in Nursing, Nursing, Cum Laude
Craighead, Bono, Kajavia Samone Woods, Bachelor of Science in Education, Elementary Education
Craighead, Brookland, Nathaniel James Baggett, Bachelor of Science, Biological Sciences, Magna Cum Laude, University Honors
Craighead, Brookland, Brent Davis, Doctor of Physical Therapy, Physical Therapy
Craighead, Brookland, Corey Wayne Dorman, Master of Science in Nursing, Nursing
Craighead, Brookland, Tamela Ann Foshee, Certificate Program, Addiction Studies
Craighead, Brookland, Tamela Ann Foshee, Master of Social Work, Social Work
Craighead, Brookland, Emily Ann Foster, Bachelor of Science, Communication Disorders, Summa Cum Laude
Craighead, Brookland, Taylor Samuel Osment, Bachelor of Science in Agriculture, Agricultural Business
Craighead, Brookland, Brittany L. Rowland, Associate of Applied Science, Physical Therapist Assistant
Craighead, Brookland, Samantha Dawn Scalf, Specialist in Education, Psychology and Counseling
Craighead, Brookland, Tristan A. Skaggs, Bachelor of Science, Computer and Information Technology
Craighead, Brookland, Erin Elizabeth Tilley, Associate of Science, A.S. En Route
Craighead, Brookland, Princess Faith Toney, Associate of Science, A.S. En Route
Craighead, Brookland, Taylor G. West, Bachelor of General Studies, General Studies
Craighead, Caraway, Keith M. Hensley, Bachelor of Science, Creative Media Production
Craighead, Jonesboro, Hollie Marie Adams, Master of Science in Education, Special Education K-12
Craighead, Jonesboro, Kirsten Taylor Adcock, Bachelor of Science in Education, Physical Education
Craighead, Jonesboro, Mohammed Bedri Ahmed, Bachelor of Science, Mathematics
Craighead, Jonesboro, Marka Morgan Ahrent, Master of Science in Nursing, Nursing
Craighead, Jonesboro, Mohamed Abdulmunem M Al Abbas, Bachelor of Science, Finance
Craighead, Jonesboro, Khadim Ahmed Alabdrabalnabi, Associate in Science, Computer and Information Technology
Craighead, Jonesboro, Fadeel Abaas A Aloqili, Bachelor of Science, Business Administration
Craighead, Jonesboro, Lucas Anderson, Master of Science in Agriculture, General Agriculture
Craighead, Jonesboro, Skyler Mckane Ashley, Bachelor of Science, Communication Disorders, Magna Cum Laude
Craighead, Jonesboro, Ashley Marie Aycock, Bachelor of Science in Agriculture, Animal Science
Craighead, Jonesboro, Erica Jasmine Bacsa, Bachelor of Science, Interdisciplinary Studies, Magna Cum Laude
Craighead, Jonesboro, Pradeep Baddela, Master of Science, Computer Science
Craighead, Jonesboro, Lauren Harrison Balch, Bachelor of Science in Education, Elementary Education
Craighead, Jonesboro, Ahmad A Banisa Eed, Master of Science, Computer Science
Craighead, Jonesboro, Ahmad A Banisa Eed, Certificate Program, High Performance Computing
Craighead, Jonesboro, Emily Claire Barber, Bachelor of General Studies, General Studies
Craighead, Jonesboro, Andrew James Barker, Bachelor of Science, Business Administration
Craighead, Jonesboro, Justin Andrew Barnes, Bachelor of Science in Electrical Engineering, Electrical Engineering
Craighead, Jonesboro, Whittney Lee Anderson, Associate in General Studies, General Studies
Craighead, Jonesboro, Eric Thomas Barnet, Associate of Applied Science, Physical Therapist Assistant
Craighead, Jonesboro, Dominique Wesley Battles, Specialist in Education, Educational Leadership
Craighead, Jonesboro, Lacretia N. Belcher, Bachelor of Arts, Criminology
Craighead, Jonesboro, Kristyn Leighann Belk, Bachelor of Science, Psychology, Magna Cum Laude, University Honors
Craighead, Jonesboro, Amanda C. Bell, Bachelor of Social Work, Social Work
Craighead, Jonesboro, Trevor John Belyew, Bachelor of Science in Nursing, Nursing
Craighead, Jonesboro, Hazel Krupzkaya Berrios Alvarez, Master of Science, Biology
Craighead, Jonesboro, Ashley Nichole Betts, Bachelor of Science in Education, Physical Education
Craighead, Jonesboro, Preston Miles Black, Bachelor of Social Work, Social Work
Craighead, Jonesboro, Jessica Scott Blackburn, Master of Public Administration, Public Administration
Craighead, Jonesboro, Caitlyn Dawn Blalock, Bachelor of General Studies, General Studies
Craighead, Jonesboro, SkylarLee Bobo, Associate of Science, A.S. En Route
Craighead, Jonesboro, Dylan L. Bosze, Doctor of Physical Therapy, Physical Therapy
Craighead, Jonesboro, Kevin W. Bosze, Doctor of Physical Therapy, Physical Therapy
Craighead, Jonesboro, Jordan Drew Bradley, Associate in General Studies, General Studies
Craighead, Jonesboro, Joseph E. Branch, Associate of Science, A.S. En Route
Craighead, Jonesboro, Matthew David Brandon, Doctor of Physical Therapy, Physical Therapy
Craighead, Jonesboro, Zachary G. Brewer, Bachelor of Science, Creative Media Production
Craighead, Jonesboro, Steven Lamar Brimlett, Jr., Associate of Arts, A.A. En Route
Craighead, Jonesboro, Carrie Lynn Broadaway, Certificate Program, Health Care Management
Craighead, Jonesboro, Carrie Lynn Broadaway, Master of Science in Health Sciences, Health Sciences
Craighead, Jonesboro, Akira Nate' Brown, Master of Science, Early Childhood Services
Craighead, Jonesboro, DeJean Marquis Brown, Master of Science in Education, Educational Leadership
Craighead, Jonesboro, Samantha Leann Brown, Bachelor of Social Work, Social Work, Magna Cum Laude
Craighead, Jonesboro, Jacob Douglas Brumley, Associate of Applied Science, Physical Therapist Assistant
Craighead, Jonesboro, Ashley Dian Buazard, Bachelor of Fine Arts, Art
Craighead, Jonesboro, Brenna Ashtn Cannon, Associate of Science, A.S. En Route
Craighead, Jonesboro, Anna Elizabeth Carroll, Associate of Science, A.S. En Route
Craighead, Jonesboro, Rhonda S. Carter, Certificate Program, Addiction Studies
Craighead, Jonesboro, Rhonda S. Carter, Master of Social Work, Social Work
Craighead, Jonesboro, Emily Michelle Carvell, Master of Science in Health Sciences, Health Sciences
Craighead, Jonesboro, Emily Michelle Carvell, Certificate Program, Health Sciences Education
Craighead, Jonesboro, Pete Wilson Caubble, Associate of Science, A.S. En Route
Craighead, Jonesboro, Julie Gayle Chambers, Bachelor of Science in Education, English, Magna Cum Laude, Honors Program
Craighead, Jonesboro, Mackenzie Chambers Gibbons, Master of Science in Nursing, Nursing
Craighead, Jonesboro, Kourtland Nathaniel Chandler, Associate of Science, A.S. En Route
Craighead, Jonesboro, Sarah E. Childers, Bachelor of Science in Electrical Engineering, Electrical Engineering, Cum Laude
Craighead, Jonesboro, Anthony V. Ciaramitaro, Master of Science in Nursing, Nursing
Craighead, Jonesboro, Paul Fraiser Clark III, Associate in Science, Computer and Information Technology, Cum Laude
Craighead, Jonesboro, Shelia Machella Clay, Bachelor of Social Work, Social Work
Craighead, Jonesboro, Brittney Elizabeth Clayton, Bachelor of Fine Arts, Graphic Design
Craighead, Jonesboro, Miranda Grace Clayton, Associate of Applied Science, Physical Therapist Assistant
Craighead, Jonesboro, Christopher Sidney Coats, Associate of Science, A.S. En Route
Craighead, Jonesboro, Brandon Faulkner Cole, Bachelor of Science in Mechanical Engineering, Mechanical Engineering, Cum Laude
Craighead, Jonesboro, Christopher James Collinsworth, Bachelor of Science, Strategic Communications
Craighead, Jonesboro, Gianna Reid Confer, Associate of Arts, A.A. En Route
Craighead, Jonesboro, Joeanna Lynn Cooper, Doctor of Education, Educational Leadership
Craighead, Jonesboro, Roy Edward Cooper III, Bachelor of Science, Biological Sciences
Craighead, Jonesboro, Julia Erin Cothron, Bachelor of Science, Psychology
Craighead, Jonesboro, Rachel Marie Crabtree, Bachelor of Science in Education, Mid-Level Education, Cum Laude
Craighead, Jonesboro, Trisha L. Craig, Bachelor of Arts, Sociology
Craighead, Jonesboro, Julia Kaye Crawford, Bachelor of Science in Education, Elementary Education
Craighead, Jonesboro, Bridgette Renee Davis, Bachelor of Social Work, Social Work
Craighead, Jonesboro, Valencia Eyonna Dawson, Master of Public Administration, Public Administration
Craighead, Jonesboro, Aaron Joe Deaton, Master of Science in Education, Educational Leadership
Craighead, Jonesboro, Sarah Katherine Defries, Master of Social Work, Social Work
Craighead, Jonesboro, Stephanie Grace Dekok, Master of Arts, English
Craighead, Jonesboro, Kimberly Diane Dement, Master of Science in Education, Reading
Craighead, Jonesboro, Jarryd A. Dempsey, Doctor of Physical Therapy, Physical Therapy
Craighead, Jonesboro, Bailey Elizabeth Doggett, Bachelor of Arts, Economics
Craighead, Jonesboro, Hannah Faith Doss, Bachelor of Science in Education, Mid-Level Education
Craighead, Jonesboro, Madison Hope Doss, Bachelor of Science, Health Studies, Cum Laude
Craighead, Jonesboro, Brandon Kyle Doty, Certificate Program, Addiction Studies
Craighead, Jonesboro, Brandon Kyle Doty, Master of Social Work, Social Work
Craighead, Jonesboro, Sarah Brianne Doty, Bachelor of Music Education, Instrumental Music, Cum Laude
Craighead, Jonesboro, Billy Dromgoole, Bachelor of Science, Psychology
Craighead, Jonesboro, Brittany M. DuBose, Bachelor of Science, Psychology, Magna Cum Laude, Honors Program
Craighead, Jonesboro, Brittany M. DuBose, Bachelor of Arts, World Languages and Culture, Magna Cum Laude, Honors Program
Craighead, Jonesboro, Brittney L. Dunn, Bachelor of Fine Arts, Art
Craighead, Jonesboro, Megan N. Dunn, Bachelor of Social Work, Social Work
Craighead, Jonesboro, Deborah Grace Eberwein, Bachelor of Social Work, Social Work, Magna Cum Laude
Craighead, Jonesboro, Heather Marie Eberwein, Bachelor of Social Work, Social Work
Craighead, Jonesboro, Ashley Marie Ehrhart, Bachelor of Science, Psychology
Craighead, Jonesboro, Lana Elkins, Doctor of Philosophy, Molecular Biosciences
Craighead, Jonesboro, Madeline Margaret England, Bachelor of Science, Interdisciplinary Studies, Cum Laude
Craighead, Jonesboro, Uriel C. Esparza Saucedo, Bachelor of Science, Accounting, Cum Laude
Craighead, Jonesboro, Ethan A. Farris, Bachelor of Fine Arts, Art
Craighead, Jonesboro, Rebekah Garner Fisher, Bachelor of Social Work, Social Work
Craighead, Jonesboro, Lacey Dawn Fivecoat, Certificate Program, Addiction Studies
Craighead, Jonesboro, Lacey Dawn Fivecoat, Master of Social Work, Social Work
Craighead, Jonesboro, Mallory Ann Flippin, Bachelor of Fine Arts, Art
Craighead, Jonesboro, Jacob Thomas Ford, Bachelor of General Studies, General Studies
Craighead, Jonesboro, Elizabeth Marie Forkum, Bachelor of Science in Nursing, Nursing
Craighead, Jonesboro, Jessica Lee Fowler, Bachelor of Science, Psychology
Craighead, Jonesboro, Nathaniel Allen Frank, Bachelor of Arts, English
Craighead, Jonesboro, Haley Alexandra French, Specialist in Education, Psychology and Counseling
Craighead, Jonesboro, Jordan Taylor Fryman, Bachelor of Science, Chemistry
Craighead, Jonesboro, Haydn C. Fuller, Bachelor of Science in Agriculture, Agricultural Business
Craighead, Jonesboro, Teresa Kay Fuller, Specialist in Education, Educational Leadership
Craighead, Jonesboro, Andrew Devin Tyler Gadberry, Master of Arts, English
Craighead, Jonesboro, Courtney Dale Garner, Bachelor of Science in Nursing, Nursing
Craighead, Jonesboro, Ian D. Gates, Bachelor of Science in Civil Engineering, Civil Engineering
Craighead, Jonesboro, Donna Sue Gibson, Master of Public Administration, Public Administration
Craighead, Jonesboro, David Patrick Gleason, Bachelor of Arts, History
Craighead, Jonesboro, Jenna Marie Glenn, Associate of Science, A.S. En Route
Craighead, Jonesboro, Scott Alan Glennon, Bachelor of Science in Electrical Engineering, Electrical Engineering
Craighead, Jonesboro, Jasmine Kimble Goode, Bachelor of Science, Communication Disorders
Craighead, Jonesboro, Jacob Ryan Goodwin, Master of Science, Computer Science
Craighead, Jonesboro, Ze'Darius Q. Gray, Bachelor of Science, Biological Sciences
Craighead, Jonesboro, Daniel Hayden Green, Bachelor of Science in Agriculture, Plant and Soil Science
Craighead, Jonesboro, McKenzie Leigh Griffin, Bachelor of Science, Psychology, Magna Cum Laude, Univ Honors
Craighead, Jonesboro, Olivia Claire Peeler, Bachelor of Science in Education, Mid-Level Education, Cum Laude
Craighead, Jonesboro, Brooke Allison Guthrie, Master of Science in Education, Educational Leadership
Craighead, Jonesboro, Katelyn Gray Hall, Bachelor of Arts, English
Craighead, Jonesboro, Kendall Leanne Harris, Bachelor of Science, Marketing
Craighead, Jonesboro, Taylor Elizabeth Harston, Bachelor of Science, Psychology
Craighead, Jonesboro, Lindsey Michelle Heckmann, Bachelor of General Studies, General Studies
Craighead, Jonesboro, Amanda Lyn Hendrix, Master of Social Work, Social Work
Craighead, Jonesboro, Christopher Reed Henry, Bachelor of Science in Mechanical Engineering, Mechanical Engineering
Craighead, Jonesboro, Hope N. Higginbotham, Bachelor of Science, Communication Disorders, Cum Laude
Craighead, Jonesboro, Benjamin Lance Hilliard, Bachelor of Science in Education, Mathematics
Craighead, Jonesboro, Gus Laramie Hinson, Bachelor of Science in Nursing, Nursing
Craighead, Jonesboro, Jalen Cole Holloway, Bachelor of Science in Education, Physical Education
Craighead, Jonesboro, Drake Logan Hopkins, Bachelor of Arts, Political Science
Craighead, Jonesboro, Meredith Elaine Huey, Bachelor of Science, Disaster Preparedness and Emergency Management
Craighead, Jonesboro, Jack Endre Huff, Bachelor of Science in Education, Mid-Level Education
Craighead, Jonesboro, Katherine Haley Huss, Bachelor of Arts, English, Summa Cum Laude, University Honors
Craighead, Jonesboro, Michael S. Jackson, Bachelor of Science, Computer and Information Technology
Craighead, Jonesboro, Reneisha Kiera Naomi James, Bachelor of Science, Strategic Communications
Craighead, Jonesboro, Madeline Victoria McMahan, Bachelor of Fine Arts, Art, Magna Cum Laude
Craighead, Jonesboro, Amanda Paige Johns, Bachelor of Science in Nursing, Nursing, Cum Laude
Craighead, Jonesboro, Kiarra D. Dawkins, Bachelor of Science, Communication Disorders
Craighead, Jonesboro, Dallas Elizabeth Johnson, Bachelor of Science, Communication Disorders
Craighead, Jonesboro, Trenton Mark Jones, Bachelor of Science, Management
Craighead, Jonesboro, Tyler Austen Jones, Bachelor of Science, Accounting
Craighead, Jonesboro, Kyle M. Jurczyk, Bachelor of Science, Exercise Science
Craighead, Jonesboro, Bonnie Claire-Kamei Barkley, Bachelor of Science, Biological Sciences
Craighead, Jonesboro, Tierra Lin Kastner, Associate of Applied Science, Physical Therapist Assistant
Craighead, Jonesboro, Caleb Joseph Keating, Bachelor of Science, Marketing
Craighead, Jonesboro, Gramm Lopaka Kelly, Bachelor of Science, Business Administration, Cum Laude
Craighead, Jonesboro, Kyoosik Kim, Master of Science, Computer Science
Craighead, Jonesboro, Kyoosik Kim, Certificate Program, Data Science
Craighead, Jonesboro, Samuel Edward King, Bachelor of Science in Agriculture, Agricultural Studies, Magna Cum Laude, Honors Program
Craighead, Jonesboro, Erica Jade Kisner, Bachelor of Science, Disaster Preparedness and Emergency Management, Magna Cum Laude
Craighead, Jonesboro, Christina Carmen Kostick, Master of Science, College Student Personnel Services
Craighead, Jonesboro, Meagan Renee Lard, Associate of Science, A.S. En Route
Craighead, Jonesboro, Madison Michele Lawson, Bachelor of Science in Education, Elementary Education, Cum Laude
Craighead, Jonesboro, Misty Y. Layman, Associate in General Studies, General Studies
Craighead, Jonesboro, Barbera Lee, Master of Business Administration, Business Administration
Craighead, Jonesboro, Daniel Jacob Lester, Bachelor of General Studies, General Studies
Craighead, Jonesboro, Rebecca Lynn Lett, Associate of Science, A.S. En Route
Craighead, Jonesboro, Sammie Davis Lewis, Bachelor of Science, Business Administration
Craighead, Jonesboro, Heather Alaina Light, Bachelor of Science in Education, Elementary Education
Craighead, Jonesboro, Sarah Taylor Lipsky, Master of Social Work, Social Work
Craighead, Jonesboro, Corey Wayne Locke, Master of Science in Education, Social Science
Craighead, Jonesboro, Ja'von M. Long, Master of Public Administration, Public Administration
Craighead, Jonesboro, Jessica Lauren Maddox, Doctor of Physical Therapy, Physical Therapy
Craighead, Jonesboro, Neil W. Maestri, Bachelor of Science, Management
Craighead, Jonesboro, Zachary Tyler Marsh, Bachelor of Science in Education, Special Education
Craighead, Jonesboro, Jessica Leigh Martin, Bachelor of Science, Creative Media Production, Magna Cum Laude, University Honors
Craighead, Jonesboro, Kaleb May, Associate of Science, A.S. En Route
Craighead, Jonesboro, Ellen M. McCauley, Specialist in Education, Educational Leadership
Craighead, Jonesboro, Marshall Kirkpatrick McDaniel, Doctor of Physical Therapy, Physical Therapy
Craighead, Jonesboro, Tanner Miles McElrath, Master of Business Administration, Business Administration
Craighead, Jonesboro, Jennifer Lee McFarland, Master of Science in Education, Special Education K-12
Craighead, Jonesboro, Makenna Lang McGowen, Bachelor of Science, Biological Sciences
Craighead, Jonesboro, Makenna Lang McGowen, Certificate of Proficiency, Neuropsychological Testing
Craighead, Jonesboro, Makenna Lang McGowen, Bachelor of Science, Psychology
Craighead, Jonesboro, Kurtlynd David McLane, Bachelor of Arts, Computer Science
Craighead, Jonesboro, Joshua D. McMahan, Bachelor of Science, Mathematics
Craighead, Jonesboro, Tiffany McNeal, Bachelor of General Studies, General Studies, Cum Laude
Craighead, Jonesboro, Kylie Paige Meredith, Associate of Science, A.S. En Route
Craighead, Jonesboro, Yuichiro Miyakawa, Bachelor of Science in Mechanical Engineering, Mechanical Engineering
Craighead, Jonesboro, Justin Allen Mohler, Bachelor of Fine Arts, Graphic Design
Craighead, Jonesboro, Lisa Elaine Mohlke, Bachelor of Social Work, Social Work, Cum Laude
Craighead, Jonesboro, Abigail Grace Montgomery, Bachelor of Science in Education, Elementary Education, Cum Laude
Craighead, Jonesboro, Kendall Renee Montgomery, Bachelor of Social Work, Social Work
Craighead, Jonesboro, Seth Curtis Moody, Bachelor of Science in Electrical Engineering, Electrical Engineering, Summa Cum Laude, University Honors
Craighead, Jonesboro, Young Ju Moon, Master of Arts, Political Science
Craighead, Jonesboro, Jhara R. Moore, Bachelor of Science, Exercise Science
Craighead, Jonesboro, Erin Marie Morgan, Bachelor of Arts, History, Honors Program
Craighead, Jonesboro, Abigail M. Moseley, Bachelor of Science, Global Supply Chain Management
Craighead, Jonesboro, Mallory Elizabeth Murphy, Bachelor of Science, Health Studies
Craighead, Jonesboro, Jullette Faith Nagy, Associate of Science, A.S. En Route
Craighead, Jonesboro, Christina R. Newman, Associate of Applied Science, Physical Therapist Assistant
Craighead, Jonesboro, Clarissa Danielle Nicholson, Bachelor of Science in Nursing, Nursing, Cum Laude
Craighead, Jonesboro, Darren William Niedermeyer, Master of Business Administration, Business Administration
Craighead, Jonesboro, Kiera Marie O'Keefe, Bachelor of Science, Biotechnology, Magna Cum Laude, Honors Program
Craighead, Jonesboro, Moira Ann O'Keefe, Bachelor of Science, Interdisciplinary Studies, Cum Laude, Honors Program
Craighead, Jonesboro, Desiree L. Orosz, Associate of Applied Science, Physical Therapist Assistant
Craighead, Jonesboro, Darby Ann Osment, Associate of Science, A.S. En Route
Craighead, Jonesboro, Deanna Joy Owen, Master of Science in Agriculture, General Agriculture
Craighead, Jonesboro, Jeremiah I. Page, Bachelor of Music, Music
Craighead, Jonesboro, Madison J. Palmer, Bachelor of General Studies, General Studies, Cum Laude
Craighead, Jonesboro, Noha Pandit, Associate of Science, A.S. En Route
Craighead, Jonesboro, Neelam C. Pandya, Master of Science, Media Management
Craighead, Jonesboro, Zachary Blake Passmore, Bachelor of Arts, Theatre, Magna Cum Laude, Honors Program
Craighead, Jonesboro, Abbey Christine Adams, Associate of Arts, A.A. En Route
Craighead, Jonesboro, Kelly Ann Pierce, Master of Arts, Criminal Justice
Craighead, Jonesboro, Ashlyn R. Pillow, Bachelor of Social Work, Social Work
Craighead, Jonesboro, Monique N. Pope, Bachelor of Science, Strategic Communications
Craighead, Jonesboro, Kayce J. Porter, Bachelor of General Studies, General Studies
Craighead, Jonesboro, Patricia A. Porter, Bachelor of Science in Nursing, Nursing
Craighead, Jonesboro, Tiffany Michelle Porter, Associate of Science, A.S. En Route
Craighead, Jonesboro, Beau Thomas Priest, Bachelor of Science in Agriculture, Agricultural Business
Craighead, Jonesboro, Luke Allen Priest, Bachelor of Science in Agriculture, Agricultural Studies
Craighead, Jonesboro, Christina Louise Pringle, Master of Science in Education, Educational Leadership
Craighead, Jonesboro, Jose Guadalupe Puga, Bachelor of Science in Nursing, Nursing
Craighead, Jonesboro, Jamaal Rashaad Rainey, Bachelor of Social Work, Social Work
Craighead, Jonesboro, Kassidy Ann Ratz, Bachelor of Science, Psychology, Magna Cum Laude, University Honors
Craighead, Jonesboro, Mary Agnes Marie Reding, Bachelor of Science, Interdisciplinary Studies, Magna Cum Laude
Craighead, Jonesboro, John Parker Reed, Associate of Arts, A.A. En Route
Craighead, Jonesboro, Jennifer Lynn Reves, Bachelor of Science in Education, Mid-Level Education, Magna Cum Laude
Craighead, Jonesboro, Henry A. Reyes Jr., Bachelor of Science in Education, Physical Education
Craighead, Jonesboro, Nicole Noel Roberson, Bachelor of Science in Education, English, Magna Cum Laude
Craighead, Jonesboro, Brandon Michael Roe, Master of Business Administration, Business Administration
Craighead, Jonesboro, Chaney E. Rogers, Bachelor of Social Work, Social Work
Craighead, Jonesboro, Julie Beth Rogers, Bachelor of Science, Communication Disorders, Cum Laude
Craighead, Jonesboro, John Allen Ross, Bachelor of Science, Biological Sciences, Magna Cum Laude
Craighead, Jonesboro, John Mark Rutter, Master of Science in Nursing, Nurse Anesthesia
Craighead, Jonesboro, Christopher D. Saldivar, Master of Science, Computer Science
Craighead, Jonesboro, Samantha Janell Saldivar, Specialist in Education, Psychology and Counseling
Craighead, Jonesboro, Allison Nicole Sammons, Associate of Science, A.S. En Route
Craighead, Jonesboro, Kaitlin Sellers, Doctor of Physical Therapy, Physical Therapy
Craighead, Jonesboro, Kelly SueAnn Sellers, Doctor of Physical Therapy, Physical Therapy
Craighead, Jonesboro, Sabrina Rihane Settles, Bachelor of General Studies, General Studies
Craighead, Jonesboro, Connor L. Shannon, Master of Accountancy, Accounting
Craighead, Jonesboro, Katelyn Brooke Sharp, Bachelor of Science in Agriculture, Agricultural Business
Craighead, Jonesboro, Rebekkah Ann Shawell, Bachelor of Science, Psychology
Craighead, Jonesboro, Broderick Allen Sheard, Master of Science in Nursing, Nursing
Craighead, Jonesboro, Autumn Kay Sheppherd, Bachelor of Science in Nursing, Nursing, Cum Laude
Craighead, Jonesboro, Jennifer Alys Sherrod, Certificate Program, Special Education Director
Craighead, Jonesboro, Ayesha Siddiqua, Master of Science, Exercise Science
Craighead, Jonesboro, Chancy Lakesa Simmons, Master of Science, Disaster Preparedness and Emergency Management
Craighead, Jonesboro, Leon Sims III, Associate of Science, A.S. En Route
Craighead, Jonesboro, Stephanie L. Slawson, Bachelor of Science in Nursing, Nursing, Cum Laude
Craighead, Jonesboro, Stacey Bell Sloas, Doctor of Education, Educational Leadership
Craighead, Jonesboro, Adam Robert Smith, Associate of Applied Science, Physical Therapist Assistant
Craighead, Jonesboro, Aimee Lynette Smith, Associate of Science, A.S. En Route
Craighead, Jonesboro, Emily Spencer Smith, Bachelor of Fine Arts, Art
Craighead, Jonesboro, Kiara D. Smith, Specialist in Education, Psychology and Counseling
Craighead, Jonesboro, Ronnie D. Smith, Bachelor of Science, Health Studies
Craighead, Jonesboro, Michaela J. Smothers, Bachelor of Science in Nursing, Nursing
Craighead, Jonesboro, Ryleigh Jean Snow, Associate of Applied Science, Physical Therapist Assistant
Craighead, Jonesboro, Jasmine Laquitta Sotherland, Master of Science in Education, Educational Leadership
Craighead, Jonesboro, Jason Edward Steimel, Master of Science in Nursing, Nurse Anesthesia
Craighead, Jonesboro, Taylor M. Stevens, Bachelor of Science in Agriculture, Agricultural Studies
Craighead, Jonesboro, Rachel Briann Stewart, Bachelor of Science, Psychology
Craighead, Jonesboro, Russell Blaine Stokes, Specialist in Education, Educational Leadership
Craighead, Jonesboro, Corrie Wade Stricklin, Bachelor of Science in Nursing, Nursing
Craighead, Jonesboro, Anna Catherine Radillo, Bachelor of Science in Education, Mathematics, Cum Laude, Honors Program
Craighead, Jonesboro, Dustin Noel Finch Sullivan, Master of Science, Media Management
Craighead, Jonesboro, Kenneth Edward Sutton, Master of Science in Nursing, Nurse Anesthesia
Craighead, Jonesboro, Alexia Marie Swartz, Bachelor of Arts, English
Craighead, Jonesboro, Laura Mechelle Syc, Master of Music, Music Performance
Craighead, Jonesboro, Starr Lorisa Taylor, Bachelor of Science, Exercise Science, Cum Laude
Craighead, Jonesboro, Cynthia Elaine Teague, Master of Science in Nursing, Nursing
Craighead, Jonesboro, Franklin E. Teague, Specialist in Education, Educational Leadership
Craighead, Jonesboro, Matthew Blake Tennison, Master of Science in Education, Educational Leadership
Craighead, Jonesboro, Gregory Ryan Thetford, Specialist in Education, Educational Leadership
Craighead, Jonesboro, Carl J. Thirion, Bachelor of Science, Computer Science
Craighead, Jonesboro, Amanda Sharrell Thomas, Master of Science in Nursing, Nurse Anesthesia
Craighead, Jonesboro, Laura Christine Thompson, Master of Music Education, Music Education
Craighead, Jonesboro, Lakon S. Thurman, Bachelor of Science in Nursing, Nursing
Craighead, Jonesboro, Tarnisha Dionna Tilson, Master of Public Administration, Public Administration
Craighead, Jonesboro, Andrew Preston Tippitt, Bachelor of Science, Interdisciplinary Studies
Craighead, Jonesboro, Tristan Tyler Tippitt, Bachelor of Science, Business Administration
Craighead, Jonesboro, Alicia Marie Torres, Associate of Science, A.S. En Route
Craighead, Jonesboro, William Lee Travis, Certificate Program, Addiction Studies
Craighead, Jonesboro, William Lee Travis, Master of Social Work, Social Work
Craighead, Jonesboro, Sydney B. Turner, Bachelor of General Studies, General Studies
Craighead, Jonesboro, Brea O. Tyler, Specialist in Education, Psychology and Counseling
Craighead, Jonesboro, Bethany Caroline Tyner, Bachelor of Science in Nursing, Nursing
Craighead, Jonesboro, Jessica Lynn Vaughn, Associate of Science, A.S. En Route
Craighead, Jonesboro, Krishna Sasank Vellanki, Bachelor of Science, Biological Sciences, Magna Cum Laude
Craighead, Jonesboro, Seth Thomas Vickery, Bachelor of Science, Accounting
Craighead, Jonesboro, Kelsey N. Vinson, Bachelor of Arts, Chemistry
Craighead, Jonesboro, Shawn MaKenzie Walker, Associate of Applied Science, Physical Therapist Assistant
Craighead, Jonesboro, James Alexander Washam, Master of Music, Music Performance
Craighead, Jonesboro, Rachel Elizabeth Washam, Bachelor of Science, Finance
Craighead, Jonesboro, Emily Grace Watkins, Bachelor of Science, Biological Sciences
Craighead, Jonesboro, DeAnna L. Weaver, Certificate Program, Health Care Management
Craighead, Jonesboro, DeAnna L. Weaver, Master of Science in Health Sciences, Health Sciences
Craighead, Jonesboro, Alden Elisabeth Weeks, Bachelor of Science in Education, Mathematics
Craighead, Jonesboro, Hilde Nicole White, Certificate Program, Addiction Studies
Craighead, Jonesboro, Hilde Nicole White, Master of Social Work, Social Work
Craighead, Jonesboro, Jordan Seth Whitlock, Bachelor of Science, Management
Craighead, Jonesboro, Heath A. Wilcox, Bachelor of Science, Finance
Craighead, Jonesboro, Amy Myre Williams, Bachelor of Fine Arts, Art
Craighead, Jonesboro, Chandler A. Williams, Bachelor of Science, Biological Sciences, Magna Cum Laude, University Honors
Craighead, Jonesboro, Helen Razian Williams, Master of Science in Nursing, Nursing
Craighead, Jonesboro, LeShaundra Chantele Williams, Specialist in Education, Psychology and Counseling
Craighead, Jonesboro, Tabitha G. Williams, Bachelor of Arts, Criminology
Craighead, Jonesboro, Logan Ashley Willmer, Associate of Applied Science, Physical Therapist Assistant
Craighead, Jonesboro, Holland Victoria Wilson, Certificate Program, Addiction Studies
Craighead, Jonesboro, Holland Victoria Wilson, Master of Social Work, Social Work
Craighead, Jonesboro, Taylor Rachell Wilson, Bachelor of Science, Biological Sciences
Craighead, Jonesboro, Kiennah Allyne' Wofford, Associate of Arts, A.A. En Route
Craighead, Jonesboro, Kelsi Cheyenne Wood, Bachelor of Science, Health Studies, Cum Laude
Craighead, Jonesboro, Bailey Morgan Wright, Associate of Science, A.S. En Route
Craighead, Jonesboro, Perri Jane Wright, Bachelor of Science, Clinical Laboratory Science
Craighead, Jonesboro, Allison Anne Wyatt, Master of Science in Education, Educational Leadership
Craighead, Jonesboro, LaCrystal C. Young, Associate of Science, A.S. En Route
Craighead, Lake City, Ryan Scott Anderson, Master of Science in Nursing, Nursing
Craighead, Lake City, Blake Aaron Hall, Associate of Science, A.S. En Route
Craighead, Lake City, Abbie Elizabeth Love, Bachelor of Science, Health Studies, Cum Laude
Craighead, Lake City, Bailey Nicole Owens, Bachelor of Science in Education, Elementary Education, Cum Laude
Craighead, Lake City, Dakota R. White, Bachelor of Arts, English
Craighead, Leachville, Griffin Lyn Varner, Bachelor of Science in Agriculture, Agricultural Business, Cum Laude
Craighead, Monette, Callyn Mackenzie Truelove, Bachelor of Science, Communication Disorders, Cum Laude
Craighead, Monette, Cidnie Jane Brooks, Bachelor of General Studies, General Studies
Craighead, Monette, Micah Jobeth Thompson, Bachelor of Science, Disaster Preparedness and Emergency Management
Craighead, State University, Lucia Margarita Acosta Gamboa, Doctor of Philosophy, Molecular Biosciences
Craighead, State University, Maurice Nathaniel Ates, Master of Social Work, Social Work
Craighead, State University, Brandi Lavelle Caffey, Bachelor of Social Work, Social Work
Craighead, State University, Natalie Jade Draper, Master of Public Administration, Public Administration
Craighead, State University, Taurus R. Cockfield Jr., Bachelor of Arts, Communication Studies
Craighead, State University, Thomas J. Hamaker, Bachelor of Science, Marketing, Summa Cum Laude, University Honors
Craighead, State University, Randy Aaron Hammett, Bachelor of Arts, Criminology
Craighead, State University, Hannah Marie Hampton, Master of Social Work, Social Work
Craighead, State University, Aracelly Maria Jimenez Rios, Bachelor of Science, Finance, Magna Cum Laude
Craighead, State University, Joseph Tyler Johnson, Associate of Applied Science, Physical Therapist Assistant
Craighead, State University, James R. Kearney, Master of Science, College Student Personnel Services
Craighead, State University, Brooke E. Lasley, Bachelor of Social Work, Social Work
Craighead, State University, Tabo David Barend Maree, Bachelor of Science, Psychology
Craighead, State University, Melissa Lorraine Nichols, Bachelor of Science, Disaster Preparedness and Emergency Management
Craighead, State University, Anna Maria Paul, Bachelor of Science in Nursing, Nursing, Cum Laude
Craighead, State University, Naina Narayan Rao, Master of Science in Agriculture, General Agriculture
Craighead, State University, Conrad Davis Ray, Bachelor of Science, Finance, Cum Laude
Craighead, State University, Nour-Eddine Seidnaly, Bachelor of Arts, Communication Studies
Craighead, State University, Tiaan Steenkamp, Bachelor of Science, Finance
Craighead, State University, Muneyoshi Sudo, Bachelor of Fine Arts, Graphic Design
Craighead, State University, Warren G. Wand IV, Bachelor of Science, Sport Management
Craighead, State University, Kathryn Casey Williams, Associate of Applied Science, Disaster Preparedness and Emergency Management
Crawford, Alma, Lucinda Faye McCabe, Certificate Program, Special Education Teacher
Crawford, Alma, Sharon Ralynn Wilkinson, Specialist in Education, Educational Leadership
Crawford, Cedarville, Melinda Dawn Smith, Master of Science in Education, Reading
Crawford, Mulberry, Joni Kay Wilbanks, Specialist in Education, Educational Leadership
Crawford, Natural Dam, Cassandra Lynn Schumacher, Master of Science in Education, Special Education K-12
Crawford, Van Buren, Drew Robert Deffenbaugh, Master of Science in Education, Educational Leadership
Crawford, Van Buren, Dana K. Goodman, Master of Science in Education, Educational Leadership
Crawford, Van Buren, Sherry Lynn Lipe, Master of Science in Education, Reading
Crittenden, Earle, Vernita Howard, Associate of Arts, A.A. En Route
Crittenden, Earle, Lekeria Monique Price, Master of Science, Early Childhood Services
Crittenden, Hughes, Ashley Nicole Williams, Bachelor of General Studies, General Studies, Cum Laude
Crittenden, Marion, David Brandon Adkins, Bachelor of Science in Education, Mid-Level Education
Crittenden, Marion, Maggie Marianna Aureli, Associate of Science, A.S. En Route
Crittenden, Marion, Scarlet A. Beggs, Bachelor of Science in Education, Elementary Education
Crittenden, Marion, Brittany Elizabeth Bius, Master of Science in Nursing, Nurse Anesthesia
Crittenden, Marion, Christina Paige Carter, Specialist in Education, Educational Leadership
Crittenden, Marion, Elizabeth Creel, Master of Science in Education, Educational Leadership
Crittenden, Marion, Anthony Tyrone Davis Sr., Bachelor of Arts, Criminology
Crittenden, Marion, Molly Elizabeth Ginn, Bachelor of Science, Communication Disorders, Magna Cum Laude, Honors Program
Crittenden, Marion, Jillian Katherine Griffin, Bachelor of Science, Creative Media Production, Cum Laude
Crittenden, Marion, Sydney Brooke Griffin, Bachelor of Science, Creative Media Production
Crittenden, Marion, Katie M. Hutton, Master of Science, Media Management
Crittenden, Marion, Gary D. Kelley, Master of Science in Education, Educational Leadership
Crittenden, Marion, Korielle A. Knight, Master of Engineering Management, Engineering Management
Crittenden, Marion, Olivia Walker Lace, Associate of Applied Science, Physical Therapist Assistant
Crittenden, Marion, Madison A. Martin, Bachelor of Science, Business Administration
Crittenden, Marion, Martha-Kay A. Mettler, Bachelor of Social Work, Social Work, Magna Cum Laude
Crittenden, Marion, Jordan I. Morgan, Bachelor of Science, Computer Science
Crittenden, Marion, Jeannette Michelle Myers, Specialist in Education, Educational Leadership
Crittenden, Marion, Amanda Nicole Nash, Specialist in Education, Educational Leadership
Crittenden, Marion, Diane R. Phillips, Bachelor of Science, Communication Disorders, Magna Cum Laude
Crittenden, Marion, Denton Michael Postlewait, Bachelor of Science, Creative Media Production
Crittenden, Marion, Abbie Kaye Rawls, Bachelor of Science in Nursing, Nursing, Cum Laude, Honors Program
Crittenden, Marion, Lisa Ann Schafer, Doctor of Nursing Practice, Nursing Practice
Crittenden, Marion, Alex Taylor Stanfill, Master of Science in Nursing, Nurse Anesthesia
Crittenden, Marion, Crystal Watson, Master of Science in Education, Curriculum and Instruction
Crittenden, Marion, Noah Ennis Whited, Associate of Science, A.S. En Route
Crittenden, Marion, Raymond Loyd Whiteside, Master of Science in Education, Educational Leadership
Crittenden, West Memphis, Kyvita Brooks, Bachelor of General Studies, General Studies
Crittenden, West Memphis, Amanda Kaye Burchett, Bachelor of Science, Business Administration
Crittenden, West Memphis, Shanquetta Renee Cisero, Bachelor of Social Work, Social Work
Crittenden, West Memphis, Robin M. Creel, Bachelor of Science in Education, Elementary Education
Crittenden, West Memphis, Kameron Alana Davis, Bachelor of Science in Education, Elementary Education
Crittenden, West Memphis, La Quita Sheronda Dawson-Harris, Master of Science, Early Childhood Services
Crittenden, West Memphis, Lindsey Shea Dougherty, Bachelor of Science in Nursing, Nursing
Crittenden, West Memphis, Petula Lenise Evans, Bachelor of General Studies, General Studies
Crittenden, West Memphis, Cassandra Lynn Mitchell, Master of Science, Early Childhood Services
Crittenden, West Memphis, Faith Marie Grissom, Bachelor of Social Work, Social Work
Crittenden, West Memphis, Mia Su'Kole Lewis, Bachelor of Science, Biological Sciences, Cum Laude, Honors Program
Crittenden, West Memphis, Sheila Jones Miller, Bachelor of Arts, Communication Studies
Crittenden, West Memphis, Makalie Carter Stagen, Bachelor of Science in Education, Elementary Education, Cum Laude
Crittenden, West Memphis, Sue-Allen Slade-Adams, Bachelor of Science in Education, Elementary Education, Cum Laude
Crittenden, West Memphis, Kayle C. Stewart, Bachelor of Science, Health Studies
Crittenden, West Memphis, Katherine Elizabeth Thomas, Bachelor of Science, Exercise Science, Magna Cum Laude
Cross, Cherry Valley, Tanya Nicole Hopkins-Roberts, Master of Public Administration, Public Administration
Cross, Colt, Tyler Ray Crutcher, Bachelor of Science, Technology
Cross, Colt, Anna Marie Mears, Bachelor of Science, Biological Sciences, Magna Cum Laude, University Honors
Cross, Colt, Damon B. Watlington, Master of Science in Agriculture, General Agriculture
Cross, Hickory Ridge, Jenna Rae Martin, Bachelor of Science in Agriculture, Agricultural Business, Cum Laude
Cross, Wynne, Maggie L. Bethell, Bachelor of Science in Nursing, Nursing
Cross, Wynne, Alexandria Anita Busick, Associate of Applied Science, Physical Therapist Assistant
Cross, Wynne, Caitlyn Alexus Campbell, Bachelor of Science in Nursing, Nursing
Cross, Wynne, Amanda Kay Davis, Associate of Science, A.S. En Route
Cross, Wynne, Lyncoya Katreece Davis, Bachelor of Social Work, Social Work, Cum Laude
Cross, Wynne, Jacy Lynn Hans, Bachelor of Science, Wildlife, Fisheries and Conservation
Cross, Wynne, Atavia LaKenya Houston, Associate of Science, A.S. En Route
Cross, Wynne, Schunda Lanett Jones-Murphy, Specialist in Education, Educational Leadership
Cross, Wynne, Jamie Lynn McDaniel, Bachelor of Science in Nursing, Nursing
Cross, Wynne, Samuel Tanner McKnight, Master of Business Administration, Business Administration
Cross, Wynne, Ashtyn Alexis Muckelberg, Bachelor of Social Work, Social Work
Cross, Wynne, Kyle D. Neal, Associate of Science, A.S. En Route
Cross, Wynne, Emily Rebecca Odom, Bachelor of Science, Communication Disorders
Cross, Wynne, Lacey LaDawn Pulley, Master of Social Work, Social Work
Cross, Wynne, Lindsey Renee Pruiett, Associate of Applied Science, Physical Therapist Assistant
Cross, Wynne, Abigail Jayne Pucik, Bachelor of Arts, History
Cross, Wynne, Quy Cong Van, Bachelor of Science, Biological Sciences, Cum Laude
Cross, Wynne, Aneshah Deshay Washington, Bachelor of Science in Nursing, Nursing, Cum Laude
Desha, Dumas, Kenslee Ann Jones, Bachelor of Science in Nursing, Nursing
Desha, Dumas, Shelley Renee Moncrief, Bachelor of Science in Nursing, Nursing
Desha, Dumas, Materria L. Tanner, Bachelor of Science in Nursing, Nursing
Desha, McGehee, Skyler Brieanne Mankin, Master of Science in Nursing, Nursing
Drew, Monticello, Alexandra Page Borchardt, Bachelor of Arts, English, Magna Cum Laude, University Honors
Drew, Monticello, Kelsea LaRae Jackson, Master of Science in Education, Educational Leadership
Drew, Monticello, Olivia Adden Pesaresi, Bachelor of Science, Biological Sciences, Cum Laude
Drew, Monticello, Paul Ryan Smith, Bachelor of Science, Biological Sciences, Cum Laude
Faulkner, Conway, Cheyenne Acklin, Bachelor of Science in Education, Elementary Education, Magna Cum Laude
Faulkner, Conway, Hanna Mae Barton, Bachelor of Science in Education, Elementary Education
Faulkner, Conway, Natalie Linette Bennett, Master of Science in Education, Reading
Faulkner, Conway, Briunna De'Shea Bradford, Master of Science in Education, Curriculum and Instruction
Faulkner, Conway, Tiffany Elise Eastburn, Master of Science in Nursing, Nurse Anesthesia
Faulkner, Conway, Cheyenne W. Jordan, Specialist in Education, Educational Leadership
Faulkner, Conway, Kara D. McGee, Master of Science, Early Childhood Services
Faulkner, Conway, Jennifer Noelle Park, Master of Science in Education, Educational Leadership
Faulkner, Conway, Callie Ann Robichaud, Bachelor of Science in Nursing, Nursing
Faulkner, Conway, Jean Kelly Rose, Master of Science in Education, Reading
Faulkner, Conway, Clayton E. Williams, Master of Science in Education, Educational Leadership
Faulkner, Greenbrier, Mariah Hall, Bachelor of Science in Education, Elementary Education
Faulkner, Greenbrier, Jennifer Lynn Lee, Specialist in Education, Educational Leadership
Faulkner, Greenbrier, Brian Eric Robertson, Master of Engineering Management, Engineering Management
Faulkner, Greenbrier, Mikhayla L. Walls, Bachelor of Science in Nursing, Nursing
Faulkner, Mayflower, Rachel Elaine Gaffney, Bachelor of Science in Agriculture, Animal Science
Faulkner, Vilonia, Megan Curtis, Master of Science in Education, Educational Leadership
Faulkner, Vilonia, Rachel R. Hinson, Bachelor of Science, Communication Disorders, Magna Cum Laude, Honors Program
Faulkner, Vilonia, Veronica Marie Price, Bachelor of Science in Nursing, Nursing, Magna Cum Laude
Faulkner, Vilonia, Zachary S. Rail, Bachelor of Science, Mathematics, Magna Cum Laude, University Honors
Franklin, Ozark, John Michael Elms, Specialist in Education, Educational Leadership
Franklin, Ozark, DeAnna Grace Skaggs, Specialist in Education, Educational Leadership
Franklin, Ozark, Tammy King Stevens, Master of Science in Education, Reading
Franklin, Ratcliff, Haley Elizabeth Shaw, Master of Science in Education, Educational Leadership
Fulton, Elizabeth, Amanda B. Martin, Bachelor of Science, Biological Sciences
Fulton, Glencoe, Kendra Shyann Pendergrass, Bachelor of Science, Communication Disorders, Magna Cum Laude
Fulton, Hardy, Leonard Austin Merriman, Bachelor of Music, Music
Fulton, Mammoth Spring, Trisha Rylee Davis, Associate of Science, A.S. En Route
Fulton, Mammoth Spring, Melinda Kathleen Langston, Specialist in Education, Educational Leadership
Fulton, Mammoth Spring, Nicholas A. Mero, Bachelor of General Studies, General Studies, Magna Cum Laude
Fulton, Mammoth Spring, Jacob Logan Stewart, Bachelor of Science, Creative Media Production, Magna Cum Laude, Honors Program
Fulton, Mammoth Spring, Elizabeth Ann Taylor, Associate of Science, A.S. En Route
Fulton, Salem, Kaylee T. Barry, Bachelor of Science in Education, Elementary Education, Cum Laude
Fulton, Salem, Sarah Danielle Brotherton, Bachelor of Science in Education, Elementary Education
Fulton, Salem, Natalie Claire Everett, Associate of Science, A.S. En Route
Garland, Bonnerdale, Stephanie Buendia, Master of Science in Nursing, Nurse Anesthesia
Garland, Hot Springs, Kristal Bre-Ann Brandon, Master of Science in Education, Educational Leadership
Garland, Hot Springs, Kellen Vance Davis, Master of Public Administration, Public Administration
Garland, Hot Springs, Hayley Lyn Cole, Master of Science in Education, Special Education K-12
Garland, Hot Springs, Karis Oneida Evans, Bachelor of Arts, Communication Studies
Garland, Hot Springs, Marcus Jordan Fisher, Bachelor of Science, Marketing
Garland, Hot Springs, Vaishnavi Jhala, Doctor of Physical Therapy, Physical Therapy
Garland, Hot Springs, Meggan Lorraine Moody, Master of Science in Education, Curriculum and Instruction
Garland, Hot Springs, Courtney Lynn Porter, Associate of Arts, A.A. En Route
Garland, Hot Springs, Austin Blue Smith, Bachelor of Science in Education, Elementary Education, Magna Cum Laude
Garland, Hot Springs, Ellen Elizabeth Tedder, Master of Science in Education, Curriculum and Instruction
Garland, Hot Springs, Jarrett R. Tedder, Master of Science in Education, Education Theory and Practice
Garland, Hot Springs, Kailyn Ciara Tidwell, Associate of Science, A.S. En Route
Garland, Hot Springs, Sydney Claire Vaught, Bachelor of Science in Agriculture, Animal Science
Garland, Hot Springs, Eric Wacaster, Master of Public Administration, Public Administration
Garland, Hot Springs, Kimberly Denise Crudup-Walker, Specialist in Education, Educational Leadership
Garland, Hot Springs, Marissa Faith Wyatt, Master of Science in Nursing, Nurse Anesthesia
Garland, Jessieville, Cody James Lambert, Master of Science in Education, Educational Leadership
Grant, Sheridan, Caitlyn Noelle Barnhill, Bachelor of Science in Nursing, Nursing, Cum Laude, Honors Program
Grant, Sheridan, Morgan Mae Hall, Master of Accountancy, Accounting
Grant, Sheridan, Alexandra Olivia Richardson, Bachelor of Science in Nursing, Nursing
Grant, Sheridan, Jena Lee Shepherd, Master of Science in Nursing, Nursing
Grant, Sheridan, Brandi Lee Webb, Bachelor of Science in Nursing, Nursing
Greene, Lafe, Katelyn M. Retherford, Bachelor of Social Work, Social Work
Greene, Lafe, Brittany Nicole Snyder, Bachelor of General Studies, General Studies
Greene, Marmaduke, Jennifer Machell Graves, Associate of Arts, A.A. En Route
Greene, Marmaduke, Allison Nacole Hyde, Bachelor of Science in Education, Mid-Level Education, Magna Cum Laude
Greene, Marmaduke, Alison Marie West, Master of Science in Education, Special Education K-12
Greene, Paragould, Ross Wells Adams, Bachelor of Science in Agriculture, Agricultural Business
Greene, Paragould, Logan Bryce Adcock, Bachelor of Science, Marketing
Greene, Paragould, Elizabeth Nicole Allbritton, Master of Social Work, Social Work
Greene, Paragould, Matthew Alan Barnett, Bachelor of Science in Agriculture, Plant Science
Greene, Paragould, Brett Ashton Baugh, Bachelor of Science in Nursing, Nursing
Greene, Paragould, Ashley Victoria Bishop, Bachelor of Science, Health Studies
Greene, Paragould, Shelby Nicole Blackburn, Bachelor of Science in Education, Elementary Education
Greene, Paragould, Slater Michael Blackford, Bachelor of Science in Agriculture, Agricultural Business
Greene, Paragould, Lindsey Boggs, Bachelor of Science, Accounting
Greene, Paragould, Hannah Jo Bryson, Bachelor of Science, Biological Sciences
Greene, Paragould, Melissa L. Bustamante, Bachelor of Arts, Criminology, Magna Cum Laude
Greene, Paragould, Zachary Christopher Camp, Bachelor of Science in Agriculture, Agricultural Business
Greene, Paragould, Jessica Summer Carlile, Bachelor of Science, Health Studies, Magna Cum Laude
Greene, Paragould, Colton Bryce Carner, Bachelor of Arts, Criminology
Greene, Paragould, Shelby Elizabeth Carson, Associate of Arts, A.A. En Route
Greene, Paragould, Alec Michael Carter, Associate of Science, A.S. En Route
Greene, Paragould, Erica Nicole Carter, Bachelor of Science in Nursing, Nursing, Honors Program
Greene, Paragould, Thomas Hayden Carter, Bachelor of Arts, Chemistry
Greene, Paragould, Aaron Wes-Lee Champion, Bachelor of Science, Computer and Information Technology
Greene, Paragould, Madeline Grace Cupp, Bachelor of General Studies, General Studies, Cum Laude
Greene, Paragould, Jordan E. Davault, Bachelor of Science, Accounting
Greene, Paragould, John D. Davis, Associate in General Studies, General Studies
Greene, Paragould, Seth J. Douglas, Bachelor of Science in Nursing, Nursing, Cum Laude, Honors Program
Greene, Paragould, Oliver Ray Dozier, Bachelor of Science, Biological Sciences, Magna Cum Laude, University Honors
Greene, Paragould, Patricia Lou Graham, Master of Science in Education, Educational Leadership
Greene, Paragould, Rebecca Danyelle Dunn, Bachelor of Science in Nursing, Nursing, Cum Laude
Greene, Paragould, Aaron S. Duty, Master of Science, Exercise Science
Greene, Paragould, Sterling Edson, Bachelor of Science, Clinical Laboratory Science
Greene, Paragould, Lavonda A. Evans, Master of Arts, Sociology
Greene, Paragould, Josie Erin Fletcher, Bachelor of Science, Accounting, Magna Cum Laude
Greene, Paragould, Justin Randall Gibson, Master of Arts, Criminal Justice
Greene, Paragould, Michael Andrew Gossett, Master of Science in Nursing, Nursing
Greene, Paragould, Maddison Gabrielle Griggs, Bachelor of Social Work, Social Work, Cum Laude
Greene, Paragould, Chelsea Grace Jones, Master of Science in Nursing, Nursing
Greene, Paragould, Savanna Clarice Hailey, Master of Science in Nursing, Nursing
Greene, Paragould, Logan Shane Hale, Bachelor of Science in Agriculture, Agricultural Business
Greene, Paragould, Ryan L. Hankins, Master of Science, Computer Science
Greene, Paragould, Ryan L. Hankins, Certificate Program, High Performance Computing
Greene, Paragould, Cynthia Darlene Henderson, Master of Science in Education, Reading
Greene, Paragould, Jennifer Leanne Hendrix, Bachelor of Science, Mathematics
Greene, Paragould, Karlie Mique Herren, Associate of Arts, A.A. En Route
Greene, Paragould, Alton Roland Irwin, Associate of Science, A.S. En Route
Greene, Paragould, J. Matthew Jackson, Certificate Program, Addiction Studies
Greene, Paragould, J. Matthew Jackson, Master of Social Work, Social Work
Greene, Paragould, Holly Celeste Johnson, Master of Social Work, Social Work
Greene, Paragould, Stephanie Lee Judkins, Bachelor of Science in Nursing, Nursing
Greene, Paragould, Olivia Caroline Kidd, Bachelor of Science, Psychology
Greene, Paragould, Colin Wade Luke, Bachelor of Science, Computer Science
Greene, Paragould, Sydney R. Markum, Bachelor of Science in Nursing, Nursing, Cum Laude, Honors Program
Greene, Paragould, Elizabeth C. McDermott, Certificate Program, Health Care Management
Greene, Paragould, Elizabeth C. McDermott, Master of Science in Health Sciences, Health Sciences
Greene, Paragould, Brenda J. McKown, Master of Science in Education, Reading
Greene, Paragould, Melissa Bree'Ann Sowell, Certificate Program, Addiction Studies
Greene, Paragould, Melissa Bree'Ann Sowell, Master of Social Work, Social Work
Greene, Paragould, Blair Snoann Metheny, Bachelor of Science in Education, Physical Education, Cum Laude
Greene, Paragould, Krystal Dawn Myrick, Associate of Science, A.S. En Route
Greene, Paragould, Cortney L. Parker, Bachelor of Social Work, Social Work
Greene, Paragould, India Danielle Perkins-Harris, Specialist in Education, Psychology and Counseling
Greene, Paragould, Emily Jade Pigue, Bachelor of General Studies, General Studies
Greene, Paragould, Brooke Nicole Pitcher, Master of Social Work, Social Work
Greene, Paragould, Katrina Marie Prince, Master of Science in Education, Special Education GTC
Greene, Paragould, Allison Renee Rogers, Bachelor of Science in Education, Mid-Level Education, Magna Cum Laude
Greene, Paragould, Kyle Stewart Runsick, Bachelor of Science in Agriculture, Agricultural Business
Greene, Paragould, Melanie Paige Schenk, Bachelor of General Studies, General Studies
Greene, Paragould, Allyssa Ebbie Sellmeyer, Master of Science in Nursing, Nursing
Greene, Paragould, Madison S. Shelton, Bachelor of Social Work, Social Work, Summa Cum Laude
Greene, Paragould, Garrett Lee Shepard, Master of Social Work, Social Work
Greene, Paragould, Chantilly Lacey Steyer, Master of Science, Mathematics
Greene, Paragould, Mallory Lauren Straub, Associate of Arts, A.A. En Route
Greene, Paragould, Katy M. Taylor, Bachelor of Arts, Criminology
Greene, Paragould, Susan J. Taylor, Bachelor of Science, Biological Sciences, Honors Program
Greene, Paragould, Chelsea E. Thielemier, Master of Social Work, Social Work
Greene, Paragould, Joshua Wayne Thompson, Bachelor of Science, Finance
Greene, Paragould, Lauren Shaye Tompkins, Bachelor of Science, Strategic Communications
Greene, Paragould, Allison Taylor Vaughn, Bachelor of General Studies, General Studies
Greene, Paragould, Natosha Leigh Weaver, Bachelor of Arts, Criminology, Cum Laude
Greene, Paragould, Kalyn Danielle Welch, Bachelor of Social Work, Social Work
Greene, Paragould, Samantha Rain Ferrell, Bachelor of Science, Psychology, Cum Laude
Greene, Paragould, Victoria L. Winn, Bachelor of Science in Education, English
Greene, Paragould, Kristen N. Wooten, Bachelor of Science, Psychology
Greene, Paragould, Kailee Michelle Wrather, Bachelor of Science in Education, Elementary Education, Cum Laude
Greene, Paragould, Tristen D. Wright, Bachelor of Science, Biotechnology, Magna Cum Laude, Honors Program
Greene, Paragould, Kendra Lee Yeager, Specialist in Education, Educational Leadership
Greene, Rector, Kirsten Richey, Associate of Arts, A.A. En Route
Greene, Walcott, AnnMarie L. Brogdon, Master of Science in Education, Special Education GTC
Hempstead, Hope, Whitney Rae Britt, Master of Science in Education, Special Education K-12
Hempstead, Hope, Tommie J. Crow, Master of Science in Education, Educational Leadership
Hempstead, Hope, Janine Marie Gathright-Allen, Master of Science in Education, Educational Leadership
Hempstead, Hope, Cindy Ann Kennedy, Master of Science in Education, Educational Leadership
Hot Spring, Bismarck, James Cameron Brown, Master of Science in Education, Educational Leadership
Hot Spring, Bismarck, Greg Evans, Certificate Program, Special Education Teacher
Hot Spring, Bismarck, Tristin S. Phillips, Bachelor of Science in Civil Engineering, Civil Engineering, Cum Laude
Hot Spring, Donaldson, Susan Beth Barnes, Master of Science in Education, Reading
Hot Spring, Donaldson, Sadie Celeste Green, Master of Science in Education, Special Education K-12
Hot Spring, Malvern, Linda Darlene Bailey, Bachelor of Science, Psychology
Hot Spring, Malvern, TaYana Krissa Bailey, Bachelor of Science, Biological Sciences
Hot Spring, Malvern, Nichole Diane Hawthorne, Master of Science in Education, Reading
Hot Spring, Malvern, Lindsey Thompson, Bachelor of Science in Nursing, Nursing
Hot Spring, Malvern, Akasha K. Westbrook, Bachelor of Science, Biological Sciences
Hot Spring, Malvern, Faith Victoria Woodfield, Bachelor of Science, Mathematics, Cum Laude, Honors Program
Hot Spring, Rockport, Jordan Alexandria Brown, Master of Science in Education, Education Theory and Practice
Howard, Dierks, Tonya D. Moore, Bachelor of Science in Nursing, Nursing
Howard, Nashville, Samuel Evan Dean, Bachelor of Science in Nursing, Nursing, Cum Laude
Howard, Nashville, Krisanna R. Miller, Master of Science in Education, Reading
Independence, Batesville, Davis Keith Campbell, Bachelor of Arts, Theatre
Independence, Batesville, David L. Carpenter, Master of Arts, Heritage Studies
Independence, Batesville, Victoria Grace Davis, Bachelor of Science in Agriculture, Agricultural Business
Independence, Batesville, Jace Daniel Dunegan, Bachelor of Science in Education, Mid-Level Education
Independence, Batesville, Cierra Faith Frazier, Associate of Arts, A.A. En Route
Independence, Batesville, Kaitlyn A. Gramling, Bachelor of Science, Sport Management
Independence, Batesville, Wesley William Gwaltney, Bachelor of Science, Creative Media Production, Cum Laude, Honors Program
Independence, Batesville, Brittnay Suzanne Hall, Associate of Arts, A.A. En Route
Independence, Batesville, Cassie Shannon Hendrix, Bachelor of Science in Nursing, Nursing, Cum Laude
Independence, Batesville, Chelsea Hendrix Winemiller, Master of Science in Nursing, Nursing
Independence, Batesville, Mollie Erin Hill, Master of Science in Education, Curriculum and Instruction
Independence, Batesville, Whitney E. Hodges, Bachelor of Arts, Sociology
Independence, Batesville, Savannah Grace Hooper, Bachelor of Science, Health Studies, Cum Laude
Independence, Batesville, William Tyler Hurst, Associate of Science, A.S. En Route
Independence, Batesville, Korbin Faithe Inman, Bachelor of Science, Psychology
Independence, Batesville, Hannah Brickell Jones, Bachelor of Science in Education, Elementary Education, Cum Laude
Independence, Batesville, Randall Parker Jones Jr., Bachelor of Science, Computer and Information Technology, Cum Laude
Independence, Batesville, Kerri Lynn Kramer, Bachelor of Science in Education, Elementary Education, Summa Cum Laude
Independence, Batesville, Grant Allen Long, Bachelor of Science, Finance, Magna Cum Laude
Independence, Batesville, Karla J. Marshall, Bachelor of Social Work, Social Work
Independence, Batesville, Abby Kathleen McNeil, Bachelor of Science, Psychology
Independence, Batesville, Melissa A. Mergy, Specialist in Education, Educational Leadership
Independence, Batesville, Ronald Edmond Mergy, Bachelor of General Studies, General Studies
Independence, Batesville, Sydney Madison Nail, Bachelor of Science, Health Studies
Independence, Batesville, April Ann Qualls, Bachelor of Social Work, Social Work
Independence, Batesville, Lashanda J. Martin-Tucker, Bachelor of Science, Strategic Communications
Independence, Batesville, Kailey Jae Thompson, Bachelor of Science, Communication Disorders, Summa Cum Laude
Independence, Cave City, Teila Juliann Sneha Marlin, Bachelor of Science, Clinical Laboratory Science
Independence, Cave City, Michelle Ann Snow, Master of Science in Nursing, Nursing
Independence, Cushman, Katrena L. Jones, Certificate Program, Addiction Studies
Independence, Cushman, Katrena L. Jones, Master of Social Work, Social Work
Independence, Desha, Jonathan David Norris, Bachelor of Arts, Theatre
Independence, Desha, Allanna Nicole Hughey, Specialist in Education, Educational Leadership
Independence, Newark, Brian Creighton Combee, Bachelor of Science, Biological Sciences
Independence, Newark, Hannah Michelle Kolke, Bachelor of Science in Agriculture, Animal Science
Independence, Oil Trough, Theodore James Freemire II, Associate of Arts, A.A. En Route
Independence, Oil Trough, Jeffrey H. Steward, Bachelor of Music, Music, Cum Laude
Independence, Pleasant Plains, Sidney Faith Marx, Associate of Science, A.S. En Route
Independence, Sulphur Rock, Rex David Fletcher, Bachelor of Science, Finance
Independence, Sulphur Rock, Ashlyn Brooke Hoggard, Bachelor of Arts, Political Science
Independence, Thida, Madison Brianne Randleas, Bachelor of General Studies, General Studies
Izard, Calico Rock, Kaitlyn Marie Fry, Doctor of Physical Therapy, Physical Therapy
Izard, Calico Rock, Samuel Hurst, Master of Business Administration, Business Administration
Izard, Dolph, Angela D. Sanders, Bachelor of Arts, Sociology
Izard, Franklin, Emily Denise Roberts, Associate of Applied Science, Physical Therapist Assistant
Izard, Horseshoe Bend, Melissa Lea Floyd, Master of Science in Education, Curriculum and Instruction
Izard, Horseshoe Bend, Davia Jaren Fuller, Bachelor of Science in Education, English, Magna Cum Laude, Honors Program
Izard, Horseshoe Bend, Alex L. Kurtzweil, Master of Science in Nursing, Nursing
Izard, Horseshoe Bend, Kendra Dawn Rains, Master of Science in Education, Special Education K-12
Izard, Melbourne, Kelly N. Cooper, Bachelor of Science, Communication Disorders, Cum Laude
Izard, Melbourne, Madison Ann DeLoach, Bachelor of Arts, Criminology
Izard, Melbourne, Kasey Dawn Sutterfield, Master of Science in Nursing, Nursing
Izard, Melbourne, Kennedi Sue Wiles, Bachelor of Science, Exercise Science, Cum Laude
Izard, Mount Pleasant, Emilie F. Bowlin, Bachelor of Science in Nursing, Nursing
Izard, Sage, Josh Allen Lung, Bachelor of Science in Nursing, Nursing
Jackson, Bradford, Kristie Lynn Edwards, Bachelor of Science in Education, Mid-Level Education
Jackson, Bradford, Effie Marie Herman, Bachelor of Science in Education, Elementary Education
Jackson, Diaz, Peyton Susanne Inman, Bachelor of Social Work, Social Work
Jackson, Newport, Mika D. Cheshier, Associate in General Studies, General Studies
Jackson, Newport, Caitlyn Brianna Ellis, Bachelor of Science, Business Administration
Jackson, Newport, Leta Bobette Ray, Certificate Program, Curriculum Director
Jackson, Newport, Lillyan Jestine McQuay, Bachelor of Science, Biological Sciences
Jackson, Newport, Allison Grace Victory, Master of Business Administration, Business Administration
Jackson, Swifton, Candace Montgomery Lunsford, Bachelor of Science in Nursing, Nursing
Jackson, Swifton, Allison Marie Schulz, Master of Social Work, Social Work
Jackson, Swifton, Mackenzie Renee Turner, Master of Science in Education, Special Education K-12
Jackson, Tuckerman, Samantha J. Henderson, Master of Science in Education, Special Education K-12
Jackson, Tuckerman, Lauren Alexis McCormick, Bachelor of Arts, Sociology
Jackson, Tuckerman, Brianna Elizabeth Phillips McAdams, Bachelor of General Studies, General Studies
Jackson, Tuckerman, Alexis KayLynn Rorex, Bachelor of Science in Education, Special Education, Cum Laude
Jackson, Tuckerman, Andrew Logan Shoffner, Associate of Science, A.S. En Route
Jefferson, Pine Bluff, Pamela I. Ervin, Master of Public Administration, Public Administration
Jefferson, Pine Bluff, Jennifer Leigh Howington, Certificate Program, Building-Level Administration
Jefferson, Pine Bluff, Bria Rodnesha Jones, Bachelor of Science in Nursing, Nursing, Cum Laude
Jefferson, Pine Bluff, Camesha S. Marks, Bachelor of Arts, Criminology
Jefferson, Pine Bluff, Markisha Renae Smiley, Master of Science, Early Childhood Services
Jefferson, Redfield, Zachary Tyler Corbitt, Bachelor of Science, Finance, Magna Cum Laude, Univ Honors
Jefferson, White Hall, Jillian Renee Ashcraft, Master of Science in Education, Mathematics
Jefferson, White Hall, Miranda Mae Chambliss, Bachelor of Science in Nursing, Nursing
Jefferson, White Hall, Sydney L. Harper, Associate of Applied Science, Physical Therapist Assistant
Jefferson, White Hall, Race William Shelby, Master of Science in Nursing, Nurse Anesthesia
Johnson, Clarksville, Amy Leigh White, Master of Science in Education, Reading
Lawrence, Alicia, Courtney Leanne Light, Bachelor of Arts, Theatre, Magna Cum Laude
Lawrence, Hoxie, Allison D. Ramirez, Bachelor of Science in Education, English
Lawrence, Hoxie, Chase Allen Flippo, Bachelor of Science in Agriculture, Plant and Soil Science
Lawrence, Hoxie, Melton J. Sloan, Specialist in Education, Educational Leadership
Lawrence, Imboden, William R. Adams, Master of Science in Education, Educational Leadership
Lawrence, Imboden, Christian Alexander Capps, Bachelor of Science, Biological Sciences
Lawrence, Imboden, Dalina M. Gholson, Bachelor of Science, Clinical Laboratory Science
Lawrence, Imboden, Brittany Cheyenne Gosha, Bachelor of Science, Communication Disorders, Magna Cum Laude
Lawrence, Imboden, David Aaron Higginbotham, Bachelor of Arts, Sociology
Lawrence, Imboden, Nicole Ann Salva, Bachelor of Science, Accounting, Cum Laude
Lawrence, Lynn, Debbie Kaitlyn Geurin, Associate of Science, A.S. En Route
Lawrence, Lynn, Natalie N. Howard, Bachelor of Science in Nursing, Nursing, Magna Cum Laude
Lawrence, Ravenden, Brianna L. Allen, Bachelor of Music, Music, Cum Laude
Lawrence, Ravenden, Bailey Laine Bradley, Associate of Applied Science, Physical Therapist Assistant
Lawrence, Ravenden, Kaylyn Beth Ferguson, Associate of Applied Science, Physical Therapist Assistant
Lawrence, Saffell, Chelisa Ann George, Bachelor of Science in Nursing, Nursing
Lawrence, Smithville, Bridget Ann Sloan, Bachelor of Arts, English
Lawrence, Strawberry, Caitlin M. Whitmire, Bachelor of Science, Business Administration
Lawrence, Walnut Ridge, Tyler Jeffry Andrews, Bachelor of Science, Biological Sciences
Lawrence, Walnut Ridge, Jacob B. Bigger, Bachelor of Science in Agriculture, Plant and Soil Science
Lawrence, Walnut Ridge, Ashley Marie Cavenaugh, Master of Science in Education, Education Theory and Practice
Lawrence, Walnut Ridge, Gunner S. Cook, Bachelor of Science in Education, Social Science
Lawrence, Walnut Ridge, Molly Rene Dutton, Bachelor of Science, Clinical Laboratory Science
Lawrence, Walnut Ridge, Logan Hewlette Gaither, Doctor of Physical Therapy, Physical Therapy
Lawrence, Walnut Ridge, Kennedy Haden, Bachelor of Science in Education, Elementary Education, Summa Cum Laude
Lawrence, Walnut Ridge, Katalina Breann Holbrook, Bachelor of Arts, English
Lawrence, Walnut Ridge, Aubree Diane Hughart, Bachelor of Science, Interdisciplinary Studies, Magna Cum Laude, University Honors
Lawrence, Walnut Ridge, Lane Kennedy, Bachelor of Science, Business Administration
Lawrence, Walnut Ridge, Sydney C. Linebaugh, Bachelor of Science, Communication Disorders, Magna Cum Laude
Lawrence, Walnut Ridge, Jordan Lucus Masterson, Master of Social Work, Social Work
Lawrence, Walnut Ridge, Jodie Michelle Reithemeyer, Bachelor of Science, Clinical Laboratory Science
Lawrence, Walnut Ridge, Kimberly Ann Slusser, Certificate Program, Nurse Educator
Lawrence, Walnut Ridge, Kimberly Ann Slusser, Master of Science in Nursing, Nursing
Lawrence, Walnut Ridge, Chelsea L. Treadway, Specialist in Education, Educational Leadership
Lee, Haynes, Keseya N. Gates, Master of Science, Early Childhood Services
Lee, Moro, Brianna Elizabeth Coyle, Bachelor of Science, Interdisciplinary Studies
Lee, Moro, Kaley E. Robinson, Bachelor of Science in Nursing, Nursing
Lincoln, Gould, Cedric Lee Freeman Jr., Certificate Program, Addiction Studies
Lincoln, Gould, Cedric Lee Freeman Jr., Master of Social Work, Social Work
Lincoln, Pine Bluff, Megan Belvedresi, Bachelor of Science in Nursing, Nursing
Lincoln, Star City, Tyler M. Courson, Bachelor of Science in Agriculture, Animal Science
Lincoln, Star City, Joshua Ryan Dutton, Bachelor of Science in Agriculture, Agricultural Business
Lincoln, Star City, Curtis A. Shepherd, Bachelor of Science, Finance
Lincoln, Star City, Corey T. Young, Associate of Applied Science, Physical Therapist Assistant
Logan, Booneville, Megan Nicole Davis, Associate of Arts, A.A. En Route
Logan, Booneville, Kimberly Diane Redding, Master of Science in Education, Special Education K-12
Logan, Magazine, Brenden Levi Scott, Bachelor of Science in Nursing, Nursing, Cum Laude, Honors Program
Logan, New Blaine, Kennady Rhea Kremers, Bachelor of Science, Communication Disorders, Magna Cum Laude
Logan, Paris, Aaron Jerl Chastain, Master of Science in Education, Educational Leadership
Logan, Paris, Benjamin Charles Schmalz, Specialist in Education, Educational Leadership
Logan, Scranton, Sadra M. Siebenmorgen, Doctor of Physical Therapy, Physical Therapy
Lonoke, Austin, Codi Rae Boyd, Bachelor of Science in Nursing, Nursing, Magna Cum Laude, Honors Program
Lonoke, Austin, Mary Jo Carpenter, Master of Science in Education, Special Education K-12
Lonoke, Austin, Valerie Ann Doll, Bachelor of Science in Education, Elementary Education, Cum Laude
Lonoke, Austin, Jennifer L. Griffin, Master of Science in Education, Special Education K-12
Lonoke, Austin, Nathan Jay Hatler, Bachelor of Science, Creative Media Production
Lonoke, Austin, Marlee Faith Sowell, Bachelor of Science in Education, Elementary Education, Cum Laude
Lonoke, Austin, Braden D. Wilson, Master of Science in Education, Special Education K-12
Lonoke, Cabot, Rachel Elizabeth Allgood, Bachelor of Science, Sport Management, Cum Laude
Lonoke, Cabot, Courtney Lyn Bader, Bachelor of Science, Psychology
Lonoke, Cabot, Ellianne E. Barbour, Master of Science in Education, Reading
Lonoke, Cabot, Kaitlyn Michelle Burrow, Master of Science in Education, Special Education K-12
Lonoke, Cabot, Joshua Ward Bennett, Bachelor of Science, Biological Sciences, Cum Laude, University Honors
Lonoke, Cabot, Payton Nicole Binns, Bachelor of Arts, Criminology, Summa Cum Laude, University Honors
Lonoke, Cabot, Robert Brenton Brockel, Bachelor of Science, Technology
Lonoke, Cabot, Allie Greeson Derryberry, Bachelor of Science in Education, Elementary Education
Lonoke, Cabot, Jessica Rosa Duran, Bachelor of Science, Business Administration, Magna Cum Laude
Lonoke, Cabot, Victoria Renaie Eckert, Bachelor of Science, Strategic Communications
Lonoke, Cabot, Emily Paige Ford, Bachelor of Social Work, Social Work
Lonoke, Cabot, Megan Azlee Fruhling, Bachelor of Science in Nursing, Nursing, Cum Laude, Honors Program
Lonoke, Cabot, Sarah Elizabeth Giddings, Bachelor of Science in Education, Mid-Level Education
Lonoke, Cabot, Alana Moseley Graham, Specialist in Education, Educational Leadership
Lonoke, Cabot, Madison Paige Gray, Associate in General Studies, General Studies
Lonoke, Cabot, Lindsey L. Hart, Bachelor of Science in Education, Mid-Level Education, Magna Cum Laude, University Honors
Lonoke, Cabot, Jocelyn Kennedy, Bachelor of Science in Education, Elementary Education
Lonoke, Cabot, Sierra A. Lee, Bachelor of Arts, Criminology
Lonoke, Cabot, Colby Shaye Lynch, Bachelor of Science, Management, Magna Cum Laude
Lonoke, Cabot, Ashley N. Martin, Bachelor of Science, Marketing
Lonoke, Cabot, Curtis Drake McKinney, Bachelor of Science in Agriculture, Agricultural Business
Lonoke, Cabot, William Anthony Metzger, Bachelor of Science, Exercise Science
Lonoke, Cabot, Emily Elizabeth Nichols, Associate of Science, A.S. En Route
Lonoke, Cabot, Austin Cole Petty, Bachelor of Science in Civil Engineering, Civil Engineering
Lonoke, Cabot, Austin Lee Phelps, Associate in General Studies, General Studies
Lonoke, Cabot, Kirsten Plouch, Associate of Applied Science in Nursing, Nursing
Lonoke, Cabot, Ryan A. Raines, Bachelor of Fine Arts, Graphic Design
Lonoke, Cabot, Taylor Madison Romine, Bachelor of Science, Biological Sciences, Cum Laude, Honors Program
Lonoke, Cabot, Taylor Madison Romine, Bachelor of Arts, Chemistry, Cum Laude, Honors Program
Lonoke, Cabot, Charlotte Marie Sandage, Specialist in Education, Educational Leadership
Lonoke, Cabot, Brittany Faith Sorrell, Bachelor of Social Work, Social Work, Magna Cum Laude, Honors Program
Lonoke, Cabot, Lindsay Alexandra Spell, Bachelor of Science, Psychology, Magna Cum Laude, Honors Program
Lonoke Cabot, Lindsay Alexandra Spell, Bachelor of Arts, World Languages and Culture, Magna Cum Laude, Honors Program
Lonoke, Cabot, Lee Evan Sullivan, Bachelor of Science, Global Supply Chain Management, Magna Cum Laude
Lonoke, Cabot, Janet Kristen Sumler, Master of Science in Education, Educational Leadership
Lonoke, Cabot, Bridget A. Thompson, Bachelor of Science in Education, Mid-Level Education
Lonoke, Cabot, Katherine Anne Walton, Associate of Science, A.S. En Route Lonoke, Cabot, Madison Brooke Willhite, Bachelor of Science in Education, Elementary Education, Cum Laude
Lonoke, Cabot, Logan H. Yancey, Bachelor of Arts, History
Lonoke, Carlisle, Miles W. Cunningham, Bachelor of Science in Agriculture, Plant and Soil Science
Lonoke, Carlisle, Nicholas Edison Schafer, Bachelor of Science, Accounting, Magna Cum Laude, University Honors
Lonoke, Carlisle, Kathleen F. Weems, Master of Public Administration, Public Administration
Lonoke, Jacksonville, Tarrah Lashay Blue, Master of Science, Disaster Preparedness and Emergency Management
Lonoke, Lonoke, Denise K. DeViney, Bachelor of Science in Nursing, Nursing
Lonoke, Lonoke, Pierce Griffith Jackson, Bachelor of Science, Health Studies
Lonoke, Lonoke, Jose Enrique Rodriguez, Bachelor of Science in Agriculture, Plant and Soil Science
Lonoke, Lonoke, Joseph R. Williams, Master of Science in Education, Educational Leadership
Lonoke, Ward, Maggie Leigh Collier, Bachelor of Science in Education, Elementary Education, Magna Cum Laude, Honors Program
Lonoke, Ward, Emilee Paige Colvin, Bachelor of Science, Health Studies
Lonoke, Ward, Theresa Craigo, Bachelor of Science, Management
Lonoke, Ward, Charles Hunter Davis, Bachelor of Science in Agriculture, Agricultural Business
Lonoke, Ward, Mika Emerson Finney, Specialist in Education, Educational Leadership
Lonoke, Ward, Rebecca D. Kemp, Bachelor of Science in Nursing, Nursing
Lonoke, Ward, Helen Holcomb Wilson, Master of Science in Education, Special Education K-12
Lonoke, Ward, Marion Alexander Witkowski, Associate of Science, A.S. En Route
Madison, Huntsville, Matthew Blake Ferguson, Master of Science in Education, Educational Leadership
Marion, Bull Shoals, Kimberly Nicole Guthrie, Master of Science in Education, Special Education K-12
Marion, Pyatt, Chelsee M. Brandon, Bachelor of Science in Education, Elementary Education
Marion, Yellville, Kendra Nicole Rogers, Bachelor of Science in Education, Elementary Education, Magna Cum Laude
Miller, Texarkana, Krista Breann Beard, Bachelor of Science in Education, Elementary Education, Magna Cum Laude
Miller, Texarkana, Joel Thomas Brown, Specialist in Education, Educational Leadership
Miller, Texarkana, Melissa A. Estes, Master of Science in Education, Education Theory and Practice
Miller, Texarkana, Luke Hayden Hampton, Associate of Science, A.S. En Route
Miller, Texarkana, TiAna LaChae London, Master of Arts, Communication Studies
Mississippi, Blytheville, Amanda Brooke Allison, Associate of Science, A.S. En Route
Mississippi, Blytheville, Bailey Christopher Cason, Bachelor of Arts, History
Mississippi, Blytheville, Tiffany Annette Cloud, Master of Social Work, Social Work
Mississippi, Blytheville, Holly M. David, Bachelor of Science in Nursing, Nursing
Mississippi, Blytheville, Claire Elise Howard, Bachelor of Science, Clinical Laboratory Science
Mississippi, Blytheville, Mary E. Jackson, Master of Science in Education, Educational Leadership
Mississippi, Blytheville, Abigail Grace McCauley, Associate of Science, A.S. En Route
Mississippi, Blytheville, Jeffrey L. Rounsaville, Bachelor of Science, Technology
Mississippi, Blytheville, Emily Marie Southern, Associate of Science, A.S. En Route
Mississippi, Blytheville, Hannah L. Wakefield, Bachelor of Science, Psychology, Cum Laude, Honors Program
Mississippi, Dyess, Shannon Elizabeth Forister, Bachelor of Science in Nursing, Nursing, Cum Laude
Mississippi, Gosnell, Megan Taylor Fountain, Bachelor of Social Work, Social Work
Mississippi, Gosnell, Karma Brooke Sullivan, Master of Science in Education, Special Education K-12
Mississippi, Keiser, Summer K. Gardner, Bachelor of Science, Communication Disorders, Cum Laude
Mississippi, Keiser, Garrett G. Lane, Bachelor of General Studies, General Studies
Mississippi, Keiser, Whitney Dawn Tyler, Bachelor of Science in Education, Physical Education
Mississippi, Leachville, Jessica Morgan Brown, Associate of Science, A.S. En Route
Mississippi, Leachville, Stephanie Lea Lasater, Bachelor of Social Work, Social Work
Mississippi, Leachville, Hannah Lee Poe, Bachelor of General Studies, General Studies, Cum Laude
Mississippi, Leachville, Mikayla J. White, Master of Social Work, Social Work
Mississippi, Luxora, Jon Mark Horton, Bachelor of Science, Exercise Science, Magna Cum Laude
Mississippi, Manila, Kellye Pierce Brown, Master of Science in Nursing, Nursing
Mississippi, Manila, Jennifer Marie Harper, Master of Science in Education, Educational Leadership
Mississippi, Manila, Candy A. McMinn, Bachelor of Science, Psychology
Mississippi, Manila, Caleb Luke Reinhart, Bachelor of Arts, Chemistry
Mississippi, Manila, Taylen R. Smith, Bachelor of Science in Education, English, Cum Laude
Mississippi, Osceola, Tiffany Danielle Cooper, Certificate Program, Addiction Studies
Mississippi, Osceola, Tiffany Danielle Cooper, Master of Social Work, Social Work
Mississippi, Osceola, Saccari Aikea Jacobs, Certificate Program, Addiction Studies
Mississippi, Osceola, Saccari Aikea Jacobs, Master of Social Work, Social Work
Mississippi, Osceola, Amber Danielle Manley, Master of Social Work, Social Work
Mississippi, Osceola, Brittany Nichole Weldon, Bachelor of Science, Biological Sciences
Mississippi, Osceola, Kyra L. Wright, Bachelor of Science, Psychology
Mississippi, Wilson, Denice Alvis, Master of Science in Education, Special Education GTC
Mississippi, Wilson, Kendall L. Fleming, Bachelor of Science, Business Administration
Monroe, Brinkley, Karagon M. Henard, Bachelor of Science, Management
Monroe, Brinkley, Cesley Williams, Bachelor of Science, Marketing, Cum Laude
Monroe, Holly Grove, Mary Elizabeth DePriest, Bachelor of Science in Education, Physical Education
Ouachita, Camden, Krystal Clevenger Adcock, Specialist in Education, Educational Leadership
Perry, Adona, Carol Marie Ross, Master of Public Administration, Public Administration
Perry, Perryville, Hannah Danielle Bradford, Associate of Science, A.S. En Route
Phillips, Elaine, Tate Lawson, Bachelor of General Studies, General Studies
Phillips, Helena, Marcus D. Brown, Associate of Arts, A.A. En Route
Phillips, Helena, Joshua Caleb Mondy, Bachelor of Science, Computer and Information Technology
Phillips, Lexa, Lawren Faye Guthrie, Bachelor of Arts, English
Phillips, Lexa, Jamie N. Lawrence, Bachelor of Science, Psychology
Phillips, Lexa, Alexis R. Travis, Bachelor of Science, Psychology
Phillips, Lexa, Amy Jo Von Kanel, Bachelor of Science in Nursing, Nursing, Cum Laude
Phillips, Marvell, Kailyn Nicole Pettie, Associate of Arts, A.A. En Route
Phillips, West Helena, Cimone Ashley Hamiter, Bachelor of Science in Nursing, Nursing
Phillips, West Helena, Rayven Mackenzie Hatchett, Bachelor of Fine Arts, Art
Pike, Delight, Melissa Cornish, Master of Science in Education, Educational Leadership
Pike, Kirby, Vicki V. Cowart, Master of Science in Education, Special Education GTC
Poinsett, Harrisburg, Tyler Wade Armstrong, Associate of Applied Science, Physical Therapist Assistant
Poinsett, Harrisburg, Cristal Coronado, Bachelor of Science in Education, Elementary Education, Cum Laude
Poinsett, Harrisburg, Maegan Leigh Davis-Carlson, Associate of Arts, A.A. En Route
Poinsett, Harrisburg, Veronica Michelle Easter, Bachelor of Science in Nursing, Nursing
Poinsett, Harrisburg, Natalie Eaton Jarrett, Bachelor of Social Work, Social Work
Poinsett, Harrisburg, Elizabeth Grace Goad, Bachelor of Social Work, Social Work
Poinsett, Harrisburg, Collin A. McCrary, Bachelor of Science in Mechanical Engineering, Mechanical Engineering, Cum Laude
Poinsett, Harrisburg, Cody J. O'Guinn, Bachelor of Science in Nursing, Nursing
Poinsett, Harrisburg, Ashton A. Reddmann, Bachelor of General Studies, General Studies
Poinsett, Harrisburg, Alivia K. Rouse, Bachelor of Fine Arts, Graphic Design, Cum Laude
Poinsett, Harrisburg, Carly Fayth Shannon, Bachelor of Science in Education, Elementary Education, Cum Laude
Poinsett, Harrisburg, Emily Rachelle Walton, Bachelor of Science in Education, English
Poinsett, Harrisburg, Matthew Dylan Walton, Bachelor of Science, Finance
Poinsett, Lepanto, Chelsea M. Barrett, Master of Science in Education, Special Education K-12
Poinsett, Lepanto, Gwendolyn Dawn Sam Smith, Associate of Arts, A.A. En Route
Poinsett, Lepanto, Candis Renee Sunday, Master of Music Education, Music Education
Poinsett, Marked Tree, Michael Dwayne Nash, Master of Science in Education, Educational Leadership
Poinsett, Marked Tree, Rebecca Michelle Prather, Bachelor of Arts, English
Poinsett, Trumann, Hannah O. Booth, Master of Social Work, Social Work
Poinsett, Trumann, Blaire Whitli Brown, Bachelor of Science in Education, Elementary Education, Cum Laude
Poinsett, Trumann, DeAndre R. Campbell, Bachelor of General Studies, General Studies
Poinsett, Trumann, April LeighAnn Doty, Bachelor of Science, Communication Disorders
Poinsett, Trumann, Alicia Danielle Dyer, Bachelor of Science, Management, Cum Laude
Poinsett, Trumann, Stacy Dawn Goodman, Associate of Science, A.S. En Route
Poinsett, Trumann, Cydney Danyelle Gordon, Associate of Science, A.S. En Route
Poinsett, Trumann, Jaycee Caraline Hogan, Bachelor of Science, Communication Disorders
Poinsett, Trumann, Amber Elizabeth Liles, Bachelor of Arts, Communication Studies
Poinsett, Trumann, Kylie Jane Long, Bachelor of Science, Biological Sciences
Poinsett, Trumann, Sydney Madison McMasters, Associate in General Studies, General Studies
Poinsett, Trumann, Adrian Mitchell, Associate in General Studies, General Studies
Poinsett, Trumann, Alejandra Morales, Bachelor of Arts, Political Science
Poinsett, Trumann, Allison Klaire Victory, Bachelor of Science in Nursing, Nursing, Cum Laude
Poinsett, Trumann, Lauren Nicole Walker, Bachelor of Science, Health Studies, Cum Laude
Poinsett, Trumann, Michelle Teresa Waymire, Specialist in Education, Educational Leadership
Poinsett, Tyronza, Hannah Faith Hale, Bachelor of Science, Health Studies, Magna Cum Laude
Poinsett, Tyronza, Stacey Mott, Bachelor of Science, Communication Disorders, Magna Cum Laude
Poinsett, Weiner, Pamela LaKeisha Bible, Bachelor of Science in Nursing, Nursing
Poinsett, Weiner, Melinda S. Howard, Bachelor of Science, Business Administration
Polk, Cove, McKenna Ciara Jewell, Master of Science in Education, Special Education GTC
Polk, Hatfield, Kristen F. Baxter, Master of Science in Education, Education Theory and Practice
Polk, Hatfield, Kayla Denea Beck, Master of Science in Education, Special Education K-12
Polk, Hatfield, Casey Renea Long, Master of Science in Education, Curriculum and Instruction
Polk, Wickes, Dustin L. James, Certificate Program, Special Education Teacher
Pope, Dover, Sara Walker, Specialist in Education, Educational Leadership
Pope, London, Lydia Gabrielle Mitchell, Bachelor of Arts, Criminology, Summa Cum Laude
Pope, Pottsville, Aaron Drake Furrh, Bachelor of Science in Nursing, Nursing, Cum Laude, University Honors
Pope, Russellville, Stanton C. Apple, Master of Engineering Management, Engineering Management
Pope, Russellville, Marcia E. Correia, Master of Science in Education, Educational Leadership
Pope, Russellville, DeAnna Michelle Ezell, Certificate Program, Gifted, Talented, and Creative Teaching
Pope, Russellville, Talina Patricia Tankersley, Specialist in Education, Educational Leadership
Prairie, Des Arc, Hayley Marie Calhoun, Bachelor of Science in Nursing, Nursing, Cum Laude
Prairie, Des Arc, Kylee Emiline Elam, Bachelor of Science in Education, Elementary Education
Prairie, Des Arc, Tyler D. Hill, Bachelor of Science in Agriculture, Agricultural Business
Prairie, Des Arc, Taylor Owen Lawrence, Bachelor of Science in Agriculture, Agricultural Business
Prairie, Des Arc, Brandi Nicole Long, Bachelor of Science in Education, Mid-Level Education, Cum Laude
Prairie, Des Arc, Abigail Leighanne York, Bachelor of Science, Health Studies, Magna Cum Laude
Prairie, Devalls Bluff, Taylor Lauren Strohl, Bachelor of Science in Nursing, Nursing, Cum Laude
Prairie, Hazen, Megan Nicole Anderson, Bachelor of General Studies, General Studies
Prairie, Hazen, Holly C. Boothe, Master of Science in Education, Reading
Prairie, Hazen, Mitchell Whitman McCarty, Bachelor of Science, Finance
Prairie, Hazen, Katie A. Shelman, Bachelor of Science in Education, Elementary Education
Prairie, Ward, Katie Elizabeth Skinner, Bachelor of Science, Business Administration
Prairie, Ward, Melinda Nichole Tenison, Bachelor of Science in Education, Mid-Level Education, Magna Cum Laude
Pulaski, Alexander, Precious Lynette Lowe, Master of Science, Early Childhood Services
Pulaski, Jacksonville, Cameron Joseph Bajorek, Bachelor of Science in Mechanical Engineering, Mechanical Engineering
Pulaski, Jacksonville, Brittany Nicole Jones, Master of Science in Nursing, Nursing
Pulaski, Jacksonville, Johnna D. Bias, Bachelor of Science in Education, Elementary Education, Cum Laude
Pulaski, Jacksonville, Brandon Scott Bridges, Bachelor of Arts, Criminology
Pulaski, Jacksonville, Joseph Ray Eason, Master of Science in Education, Special Education K-12
Pulaski, Jacksonville, Kathryn S. Eason, Master of Science in Education, Special Education K-12
Pulaski, Jacksonville, VanKe'via NKenge' Garner, Bachelor of Arts, Criminology, Cum Laude
Pulaski, Jacksonville, VanKe'via NKenge' Garner, Bachelor of Science, Psychology, Cum Laude
Pulaski, Jacksonville, April Dionne Jones, Specialist in Education, Educational Leadership
Pulaski, Jacksonville, Taylor A. Marshall, Bachelor of Science in Education, Elementary Education, Cum Laude
Pulaski, Jacksonville, Katelyn M. Northington, Bachelor of Science in Education, Elementary Education
Pulaski, Jacksonville, Valorie Lynn Pinkney-Worthington, Bachelor of Science in Nursing, Nursing
Pulaski, Jacksonville, Tamika SheRese Spaight, Bachelor of General Studies, General Studies
Pulaski, Jacksonville, Shilah Rae Sugg, Bachelor of Science in Nursing, Nursing, Magna Cum Laude
Pulaski, Little Rock, Nathan G. Alberius, Bachelor of General Studies, General Studies
Pulaski, Little Rock, Kennia Monique Anderson, Specialist in Education, Educational Leadership
Pulaski, Little Rock, Ashley Atkins, Certificate Program, Gifted, Talented, and Creative Teaching
Pulaski, Little Rock, Mario J. Baldassaro, Master of Science in Nursing, Nurse Anesthesia
Pulaski, Little Rock, Alexis Danielle Barnes, Associate in General Studies, General Studies
Pulaski, Little Rock, Olivia Layton Bennett, Bachelor of General Studies, General Studies
Pulaski, Little Rock, Kaylee Madison Benson, Bachelor of Science, Strategic Communications
Pulaski, Little Rock, Eric Matthew Berg, Master of Science in Nursing, Nurse Anesthesia
Pulaski, Little Rock, Stephen Andrew Bowen, Bachelor of Arts, Computer Science
Pulaski, Little Rock, Tiffany L. Brazle, Master of Business Administration, Business Administration
Pulaski, Little Rock, Barbara Ann Brown, Master of Public Administration, Public Administration
Pulaski, Little Rock, Taylor Nicole Brown, Master of Science, Early Childhood Services
Pulaski, Little Rock, Tonisha Ragene Brown, Master of Public Administration, Public Administration
Pulaski, Little Rock, Mary Elise Cooper, Bachelor of Science, Strategic Communications
Pulaski, Little Rock, Tracy Lynn Crain, Master of Arts, Heritage Studies
Pulaski, Little Rock, Haylee Ashton Curd, Bachelor of Science, Health Studies, Cum Laude
Pulaski, Little Rock, Jamie Lynn Custer, Specialist in Education, Educational Leadership
Pulaski, Little Rock, Madison Claire Daugherty, Bachelor of Science in Education, Elementary Education, Cum Laude
Pulaski, Little Rock, Alexandria Nicole Evans, Bachelor of Science, Creative Media Production
Pulaski, Little Rock, Shayla Ann Evans, Certificate Program, Addiction Studies
Pulaski, Little Rock, Shayla Ann Evans, Master of Social Work, Social Work
Pulaski, Little Rock, Elizabeth Finney, Master of Science in Education, Special Education GTC
Pulaski, Little Rock, Ashdon Bene't Floyd, Master of Arts in Teaching, Teaching
Pulaski, Little Rock, Brittany Nicole Fuhrmann, Master of Public Administration, Public Administration
Pulaski, Little Rock, Ross Anthony Fulgham, Bachelor of Science, Management
Pulaski, Little Rock, Crystal Janai' Graves, Master of Social Work, Social Work
Pulaski, Little Rock, Katina Erica Williams Harper, Master of Science, Early Childhood Services
Pulaski, Little Rock, Jason V. Hennessey, Bachelor of Science in Education, Mathematics
Pulaski, Little Rock, Justin Edward Holt, Master of Science in Education, Educational Leadership
Pulaski, Little Rock, Miqdas I. Bancie, Bachelor of Science, Technology
Pulaski, Little Rock, Thomas Bryan Kenley, Bachelor of Science in Nursing, Nursing
Pulaski, Little Rock, John Kendrick Lovell, Bachelor of Science in Nursing, Nursing, Magna Cum Laude, Honors Program
Pulaski, Little Rock, Talena Michele McNeely, Master of Arts, English
Pulaski, Little Rock, McKenzie Ellis Moriconi, Bachelor of General Studies, General Studies
Pulaski, Little Rock, Brittany Taylor-Obi, Master of Science, Early Childhood Services
Pulaski, Little Rock, Thaddeus Cortez Pearson, Master of Science in Education, Educational Leadership
Pulaski, Little Rock, Takida Marisa Phillips, Bachelor of Science, Biological Sciences
Pulaski, Little Rock, Lacey D. Quiroz, Bachelor of Arts, Sociology
Pulaski, Little Rock, Aaron Michael Robinson, Bachelor of Science in Mechanical Engineering, Mechanical Engineering
Pulaski, Little Rock, Deborah Ann Rodgers, Certificate Program, Special Education Director
Pulaski, Little Rock, Blakelynn Mackenna Smith, Bachelor of Science, Biological Sciences
Pulaski, Little Rock, Devon Nicole Smith, Bachelor of Science in Nursing, Nursing
Pulaski, Little Rock, Jessica K. Thompson, Master of Science, Early Childhood Services
Pulaski, Little Rock, Yolanda E. Traylor, Master of Science, Early Childhood Services
Pulaski, Little Rock, Adam M. Weiner, Bachelor of Science in Civil Engineering, Civil Engineering, Magna Cum Laude, Honors Program
Pulaski, Little Rock, Madalyn Rose Weiner, Bachelor of Arts, Chemistry, Summa Cum Laude, University Honors
Pulaski, Little Rock, Conrad T. Williams II, Bachelor of Science in Mechanical Engineering, Mechanical Engineering
Pulaski, Little Rock, Larrane D. Williams, Specialist in Education, Educational Leadership
Pulaski, Little Rock, Charles Craig Wren, Associate of Science, A.S. En Route
Pulaski, Mabelvale, Shalon Raye Judge, Master of Science in Education, Reading
Pulaski, Mabelvale, Porchia Denise Raymond, Master of Science, College Student Personnel Services
Pulaski, Maumelle, Natalie Brooke Barrett, Master of Science in Education, Reading
Pulaski, Maumelle, Katelyn Ashley Bates, Bachelor of General Studies, General Studies, Cum Laude
Pulaski, Maumelle, Kristi Lee Heverling, Master of Public Administration, Public Administration
Pulaski, Maumelle, Eliza Katie Richmond, Associate of Science, A.S. En Route
Pulaski, Maumelle, Emily Grace Thompson, Doctor of Physical Therapy, Physical Therapy
Pulaski, Maumelle, Emily Rae Brown, Specialist in Education, Educational Leadership
Pulaski, North Little Rock, Kavin Keshun Alexander, Bachelor of Science, Creative Media Production
Pulaski, North Little Rock, Whitney M. Birch, Master of Science in Nursing, Nurse Anesthesia
Pulaski, North Little Rock, Regan Dawn Carpenter, Master of Business Administration, Business Administration
Pulaski, North Little Rock, Julie Anne Coker, Master of Science in Education, Early Childhood Education
Pulaski, North Little Rock, Taylor Simone Coulter, Associate of Arts, A.A. En Route
Pulaski, North Little Rock, Jessica D. Crow, Bachelor of Science in Education, Physical Education
Pulaski, North Little Rock, Laura Elise Eubank, Doctor of Physical Therapy, Physical Therapy
Pulaski, North Little Rock, Joshua Simon Garrett, Associate of Science, A.S. En Route
Pulaski, North Little Rock, Aaliyah Mergede Green, Associate of Science, A.S. En Route
Pulaski, North Little Rock, Natalie Latrice Holliman, Certificate Program, Building-Level Administration
Pulaski, North Little Rock, Marisa Claire House, Bachelor of Science, Biological Sciences
Pulaski, North Little Rock, Tanica Nicole Howard, Specialist in Education, Educational Leadership
Pulaski, North Little Rock, Zachary Wayne Hunter, Bachelor of Science, Finance, Cum Laude
Pulaski, North Little Rock, Ashlyn Elyse Johnson, Bachelor of Science in Electrical Engineering, Electrical Engineering, Cum Laude, University Honors
Pulaski, North Little Rock, DeLinda DeAnn Pack, Master of Science in Education, Special Education GTC
Pulaski, North Little Rock, Jackson James Lucas Shevlin, Bachelor of Science in Nursing, Nursing, Cum Laude
Pulaski, North Little Rock, Mya Christina Thomas, Bachelor of Science, Health Studies
Pulaski, North Little Rock, Yolanda Yevette Thomas, Specialist in Education, Educational Leadership
Pulaski, North Little Rock, Cydney Maya Thompson, Bachelor of Science, Creative Media Production
Pulaski, North Little Rock, Hannah R. Vaden, Bachelor of Science, Communication Disorders, Magna Cum Laude
Pulaski, Roland, Corbin Jacob Edwards, Bachelor of Arts, Computer Science, Cum Laude, Honors Program
Pulaski, Roland, Conner Alexander White, Associate of Science, A.S. En Route
Pulaski, Scott, Katelyn L. Chapman, Bachelor of Science in Education, Elementary Education
Pulaski, Scott, Tori Janel Newton, Bachelor of Science, Sport Management
Pulaski, Sherwood, Matthew Wade Brown, Bachelor of Science, Strategic Communications, Cum Laude
Pulaski, Sherwood, Shelby Dean Brown, Bachelor of Science in Nursing, Nursing, Cum Laude
Pulaski, Sherwood, John Fred Chunn III, Bachelor of Science, Communication Disorders, Magna Cum Laude, Honors Program
Pulaski, Sherwood, Daliaana Gonzalez Calderon, Bachelor of Science in Nursing, Nursing
Pulaski, Sherwood, Patrick A. Hale, Bachelor of Science, Business Administration
Pulaski, Sherwood, Debora Denise Cosen, Master of Science in Education, Special Education K-12
Pulaski, Sherwood, Rebecca Jennifer Mae Hepler, Bachelor of General Studies, General Studies
Pulaski, Sherwood, Anna Michelle Huston, Bachelor of Science in Nursing, Nursing
Pulaski, Sherwood, Zachary Aaron Maier, Bachelor of Arts, Criminology, Cum Laude
Pulaski, Sherwood, Amity McKayla Moore, Bachelor of Science, Health Studies
Pulaski, Sherwood, Caitlin Anne Sanders, Bachelor of Science in Nursing, Nursing, Cum Laude, Honors Program
Pulaski, Sherwood, Lydia D. Shelton, Master of Science in Education, Special Education K-12
Pulaski, Sherwood, Stephanie Nicholle Thompson, Master of Science in Education, Reading
Pulaski, Sherwood, Elizabeth Ann Wetzel, Master of Science in Education, Special Education K-12
Randolph, Biggers, Taylor Anne Landreth, Bachelor of Science in Agriculture, Animal Science, Cum Laude
Randolph, Maynard, Payton McKale Archer, Master of Science in Agriculture, General Agriculture
Randolph, Maynard, Joshua D. Cagle, Master of Science in Education, Educational Leadership
Randolph, Maynard, Emily Faith Crawley, Associate in General Studies, General Studies
Randolph, Maynard, Johnathon Anthoney White, Bachelor of Arts, History
Randolph, Pocahontas, Kayley Nicole Baltz, Bachelor of Science in Nursing, Nursing
Randolph, Pocahontas, Nancy Jane Baltz, Doctor of Nursing Practice, Nursing Practice
Randolph, Pocahontas, Meriah Katlynn Casey, Bachelor of Science, Wildlife, Fisheries and Conservation
Randolph, Pocahontas, Anthony Utah Crismon, Master of Arts, History
Randolph, Pocahontas, Holly A. Hague, Bachelor of Arts, Criminology
Randolph, Pocahontas, Stephanie L. Hicks, Bachelor of Science in Education, Mathematics
Randolph, Pocahontas, Keri Lynn Hufford, Bachelor of General Studies, General Studies
Randolph, Pocahontas, Sarah M. Lowtharp, Master of Science in Nursing, Nursing
Randolph, Pocahontas, Brianna Nicole Mahan, Associate of Science, A.S. En Route
Randolph, Pocahontas, Brandy Lynn Mull, Bachelor of Science in Education, Elementary Education
Randolph, Pocahontas, Amber A. Skibinski, Bachelor of Science in Education, English
Randolph, Pocahontas, Lillie J. Sutton, Specialist in Education, Psychology and Counseling
Randolph, Pocahontas, Elizabeth Anne Weick, Bachelor of Social Work, Social Work
Randolph, Ravenden Springs, Jessica L. Martin, Certificate Program, Addiction Studies
Randolph, Ravenden Springs, Jessica L. Martin, Master of Social Work, Social Work
Randolph, Warm Springs, Dharma Lee Blackwell, Associate of Science, A.S. En Route
Saint Francis, Colt, Shanice Caprice Pettigrew, Associate of Applied Science, Physical Therapist Assistant
Saint Francis, Forrest City, Keuna Bianca Anderson-Adams, Master of Public Administration, Public Administration
Saint Francis, Forrest City, Torrey Erbes, Associate of Applied Science, Disaster Preparedness and Emergency Management
Saint Francis, Forrest City, Hannah Kathryn Gregory, Bachelor of Social Work, Social Work
Saint Francis, Forrest City, Shannon G. Heard, Master of Science in Education, Reading
Saint Francis, Forrest City, Victoria May Johnson, Master of Science in Nursing, Nursing
Saint Francis, Forrest City, Odessa Denice Robinson, Bachelor of Arts, Communication Studies
Saint Francis, Forrest City, Deidre Symone Sparks, Doctor of Physical Therapy, Physical Therapy
Saint Francis, Forrest City, Briana Alexi Ursery, Bachelor of Science, Communication Disorders
Saint Francis, Forrest City, Kayla Nichole Watlington, Bachelor of Science in Education, Elementary Education
Saint Francis, Forrest City, Krystal Patrice Weaver, Master of Science, Sport Administration
Saint Francis, Forrest City, Pearlie White, Associate of Arts, A.A. En Route
Saint Francis, Forrest City, Carmika LaRea Williams, Bachelor of Arts, Sociology
Saint Francis, Palestine, Sonya Martishe Anderson, Master of Public Administration, Public Administration
Saint Francis, Palestine, Jessica Faith Roberts, Master of Science in Education, Education Theory and Practice
Saline, Alexander, Jonah M. Barnett, Bachelor of Science in Nursing, Nursing, Cum Laude, Honors Program
Saline, Alexander, Lucas Charles Brantley, Bachelor of Science in Mechanical Engineering, Mechanical Engineering
Saline, Alexander, Caroline Elizabeth Cato, Bachelor of Music, Music, Cum Laude, Honors Program
Saline, Alexander, Natalie A. Claussen, Master of Science in Education, Special Education K-12
Saline, Alexander, John Malcolm Davis, Bachelor of Science, Physics
Saline, Alexander, Jonathan Pitts, Specialist in Education, Educational Leadership
Saline, Alexander, Zoey Grace Smith, Associate of Arts, A.A. En Route
Saline, Bauxite, Benjamin Eric Perry, Master of Science in Education, Educational Leadership
Saline, Benton, Jessica A. Allbritton, Bachelor of Science, Biological Sciences, Cum Laude, Honors Program
Saline, Benton, Samuel Patrick Bell, Associate of Arts, A.A. En Route
Saline, Benton, Jennifer Nichole Blankenship, Master of Science in Education, Special Education K-12
Saline, Benton, Katelyn Diane Daley, Bachelor of Science in Nursing, Nursing
Saline, Benton, Emily Dianne Davis, Bachelor of Science, Communication Disorders, Cum Laude
Saline, Benton, Mallory Grace Donaldson, Bachelor of Science, Marketing, Magna Cum Laude, University Honors
Saline, Benton, Derek C. Fisher, Bachelor of Science, Finance
Saline, Benton, Joshua Grant Gray, Bachelor of Science, Biological Sciences
Saline, Benton, Grant Clayton Hinze, Bachelor of Science in Mechanical Engineering, Mechanical Engineering
Saline, Benton, Colby Wilson Johnson, Bachelor of Science in Mechanical Engineering, Mechanical Engineering, Cum Laude
Saline, Benton, Monica Kay Kuykendall, Bachelor of General Studies, General Studies, Cum Laude
Saline, Benton, Dustin Douglas Lamproe, Associate of Applied Science, Physical Therapist Assistant
Saline, Benton, Laura J. Lancaster, Master of Science in Education, Reading
Saline, Benton, Hannah Gabriel Malone, Bachelor of Arts, Political Science
Saline, Benton, Jordan Suave McDonald, Bachelor of Science, Computer and Information Technology
Saline, Benton, Victoria Elizabeth Meister, Bachelor of Science, Marketing
Saline, Benton, Natalie R. Norwood, Bachelor of Science, Communication Disorders, Cum Laude, Honors Program
Saline, Benton, Tanner Austin Oglesby, Master of Science in Education, Education Theory and Practice
Saline, Benton, Emma Jane Penticoff, Master of Science in Education, Special Education GTC
Saline, Benton, Kenya L. Farris, Master of Science, Early Childhood Services
Saline, Benton, Madison Logan Rhodes, Bachelor of Science in Nursing, Nursing, Cum Laude
Saline, Benton, Dawn Marie Roberts, Master of Science in Education, Special Education GTC
Saline, Benton, Connie Marie Schade, Specialist in Education, Psychology and Counseling
Saline, Benton, Cameron Joel Spivey, Bachelor of Science, Accounting, Magna Cum Laude
Saline, Benton, Nicolas Gage Thomas, Bachelor of Science in Mechanical Engineering, Mechanical Engineering, Magna Cum Laude
Saline, Benton, Drew C. Tipton, Bachelor of Science, Business Administration
Saline, Bryant, Beau William Buford, Master of Public Administration, Public Administration
Saline, Bryant, Makayla A. Fleming, Bachelor of Science in Nursing, Nursing, Cum Laude
Saline, Bryant, Casey Amanda Garrett, Bachelor of Arts, Criminology, Cum Laude
Saline, Bryant, Cody R. Grant, Master of Science in Nursing, Nurse Anesthesia
Saline, Bryant, Cristina Schally Meyer, Specialist in Education, Educational Leadership
Saline, Bryant, Laura Camille Naumann, Bachelor of Science, Health Studies
Saline, Bryant, Nicholas Errol Poole, Master of Public Administration, Public Administration
Saline, Hensley, Corey P. Kapales, Bachelor of Science in Nursing, Nursing
Saline, Hot Springs Village, Michael Gary Holdiness, Specialist in Education, Educational Leadership
Saline, Mabelvale, Erica L. Mack, Master of Science in Education, Reading
Scott, Waldron, Heather Michelle Woodral, Master of Science in Education, Special Education K-12
Searcy, Harriet, Ashley Nichole Carr, Master of Science in Education, Educational Leadership
Searcy, Marshall, Andrew H. Phillips, Associate of Applied Science, Physical Therapist Assistant
Searcy, Western Grove, Amanda J. Fain, Master of Science in Education, Educational Leadership
Sebastian, Fort Smith, Gunnar Z. Etzkorn, Bachelor of Science in Mechanical Engineering, Mechanical Engineering, Magna Cum Laude
Sebastian, Fort Smith, Kaitlin Ann Gramlich, Bachelor of Arts, English
Sebastian, Fort Smith, Stephanie Jill Grinder, Master of Science in Education, Special Education K-12
Sebastian, Fort Smith, Christopher E. Turner, Certificate Program, Special Education Teacher
Sebastian, Fort Smith, Brittney Dawn Wilbanks, Master of Science, Early Childhood Services
Sebastian, Greenwood, Brooke Nicole Selby, Associate of Arts, A.A. En Route
Sebastian, Hackett, Kelsey Rhiannon Dickerson, Bachelor of Science in Nursing, Nursing, Cum Laude
Sebastian, Lavaca, Michael S. McKnight, Master of Science in Education, Educational Leadership
Sebastian, Lavaca, Shannon Lynn Todaro, Certificate Program, Building-Level Administration
Sevier, De Queen, Cristian Osbaldo Robles, Bachelor of Science, Sport Management
Sharp, Ash Flat, Savannah Noel Sutton, Bachelor of Science, Interdisciplinary Studies
Sharp, Cave City, Arnold Mason Cunningham, Associate of Science, A.S. En Route
Sharp, Cave City, Tyler Blaine Foust, Bachelor of Science, Management, Cum Laude
Sharp, Cave City, Lacey C. Turner, Bachelor of Social Work, Social Work, Magna Cum Laude
Sharp, Cave City, José Angel Williams, Bachelor of Science, Biological Sciences, University Honors
Sharp, Cherokee Village, Kasey Lynn Carter, Master of Science, Media Management
Sharp, Cherokee Village, Kayla Danielle Davis, Master of Arts, English
Sharp, Cherokee Village, Michael Steven Hemme, Master of Science in Education, Educational Leadership
Sharp, Cherokee Village, Sharon Diane Mamath, Certificate Program, Addiction Studies
Sharp, Cherokee Village, Sharon Diane Mamath, Master of Social Work, Social Work
Sharp, Cherokee Village, Jeremy Glenn Miller, Bachelor of Science in Education, Mid-Level Education
Sharp, Cherokee Village, Darian Deshawn Stewart, Bachelor of Fine Arts, Art
Sharp, Cherokee Village, Darian Deshawn Stewart, Bachelor of Fine Arts, Graphic Design
Sharp, Evening Shade, Kylie Nicole Pruett, Associate of Science, A.S. En Route
Sharp, Hardy, Rebecca Cheyenne Reed, Bachelor of Arts, Criminology
Sharp, Sidney, Misty Lynn Bacon, Certificate Program, Building-Level Administration
Sharp, Williford, Benjamin M. Levenbach, Bachelor of Science in Agriculture, Plant and Soil Science
Stone, Mountain View, Savannah Elizabeth Hall, Bachelor of Science in Nursing, Nursing
Stone, Mountain View, Robert Jeffrey McCord, Associate of Arts, A.A. En Route
Stone, Mountain View, Laura M. Moore, Bachelor of Science in Nursing, Nursing
Stone, Mountain View, Caleb Eugene Spann, Bachelor of Science, Finance
Stone, Onia, Micheal Logan Hudspeth, Bachelor of Science in Nursing, Nursing
Stone, Timbo, Kamayka Leann Fry, Bachelor of Science in Education, Mid-Level Education, Cum Laude
Union, El Dorado, Kristianson Bayliss Borosvskis, Master of Science, Sport Administration
Union, El Dorado, Aixa Schrader, Bachelor of Science, Biological Sciences, Honors Program
Union, Norphlet, Tammy Lea Wills, Master of Science in Education, Educational Leadership
Van Buren, Clinton, Kylie Dayne Blanton, Associate of Applied Science, Physical Therapist Assistant
Van Buren, Quitman, Madeline Rose Holland, Bachelor of Science in Education, Elementary Education
Washington, Elkins, Sherri Denise Tobey Buckner, Master of Science in Education, Education Theory and Practice
Washington, Elkins, Tonyia Sue Tannehill, Associate of Arts, A.A. En Route
Washington, Fayetteville, Brigette L. Clement, Master of Public Administration, Public Administration
Washington, Fayetteville, Matthew Brian Cole, Bachelor of Science, Marketing
Washington, Fayetteville, Shelley Renee England, Master of Science in Education, Curriculum and Instruction
Washington, Fayetteville, Paige Louise Erwin, Bachelor of Arts, Sociology
Washington, Fayetteville, Marleah Ashton Hannaford, Specialist in Education, Educational Leadership
Washington, Fayetteville, Marian Elizabeth Hendrickson, Certificate Program, Gifted, Talented, and Creative Teaching
Washington, Fayetteville, Jared Tom James, Master of Science in Education, Educational Leadership
Washington, Fayetteville, Robert T. Lee, Certificate Program, Gifted, Talented, and Creative Teaching
Washington, Fayetteville, Ashley Louise Marcum, Specialist in Education, Educational Leadership
Washington, Fayetteville, Joel Patton, Master of Business Administration, Business Administration
Washington, Fayetteville, Nicolas Kenner Peavy, Master of Science in Education, Special Education K-12
Washington, Fayetteville, Tyler David Rooks, Bachelor of Science, Interdisciplinary Studies
Washington, Fayetteville, Laura Katherine Smith, Certificate Program, Special Education Teacher
Washington, Fayetteville, Bobbie Megan Sullivan, Master of Science in Education, Special Education K-12
Washington, Fayetteville, Kayla L. White, Master of Science in Education, Educational Leadership
Washington, Fayetteville, Clarice Whitmore, Associate of Arts, A.A. En Route
Washington, Prairie Grove, Katherine E. Baumbach, Associate of Applied Science, Physical Therapist Assistant
Washington, Springdale, Dawn Buchanan, Specialist in Education, Educational Leadership
Washington, Springdale, Casey Lane Cole, Specialist in Education, Psychology and Counseling
Washington, Springdale, Cynthia Kay Foster, Certificate Program, Special Education Teacher
Washington, Springdale, Jason Alexander George, Specialist in Education, Educational Leadership
Washington, Springdale, Cy Michael Mason, Master of Science in Education, Curriculum and Instruction
Washington, Springdale, Sharyn Annette O'Hearn, Specialist in Education, Educational Leadership
White, Bald Knob, Hannah E. Blanton, Bachelor of Science in Education, Elementary Education
White, Bald Knob, McKenzie DeLoache Grayson, Bachelor of Science, Psychology
White, Bald Knob, Cameron Mitchell Duke, Bachelor of Science, Biological Sciences, Magna Cum Laude, Honors Program
White, Bald Knob, Kayle Jean Feather, Certificate Program, Addiction Studies
White, Bald Knob, Kayle Jean Feather, Master of Social Work, Social Work
White, Bald Knob, Jennifer Renee Fuller, Bachelor of Science, Marketing, Cum Laude
White, Bald Knob, Sarah Melissa Grayson, Bachelor of Science, Psychology
White, Bald Knob, Lindsay Norris Greeno, Bachelor of Social Work, Social Work
White, Bald Knob, Ashlee Leighann Downs, Bachelor of Science in Education, Mid-Level Education, Magna Cum Laude
White, Bald Knob, Andrew Masahiro Ino, Associate of Science, A.S. En Route
White, Bald Knob, Autumn Leigh Spencer, Bachelor of Science in Nursing, Nursing
White, Bald Knob, Dylan Taylor Western, Associate of Science, A.S. En Route
White, Beebe, Jared Jacob Aschbrenner, Bachelor of Arts, Criminology
White, Beebe, Christopher Thomas Bailey, Master of Science in Education, Educational Leadership
White, Beebe, Lydia Ann Belew, Bachelor of Fine Arts, Graphic Design
White, Beebe, Tyler Clark Childress, Bachelor of Science, Biological Sciences, Cum Laude, Honors Program
White, Beebe, Emma BreAnne Elliott, Bachelor of Science, Psychology
White, Beebe, Hannah Kae Glynn, Bachelor of Science, Psychology, Magna Cum Laude
White, Beebe, Stephen C. McNeill, Bachelor of Science in Nursing, Nursing
White, Beebe, Shana Diane Nichols, Bachelor of Science, Biological Sciences
White, Beebe, Allison F. Warner, Bachelor of Science in Nursing, Nursing
White, Bradford, Michelle Anne Marie Everhart, Bachelor of Science in Education, Mid-Level Education, Cum Laude
White, Higginson, John Randal Risk, Associate of Science, A.S. En Route
White, Judsonia, Madison Nicole Chandler, Associate of Science, A.S. En Route
White, Kensett, Evelyn Castillo, Bachelor of Social Work, Social Work
White, Kensett, Kirklan Anthony Pettis, Bachelor of Science in Education, Physical Education, Cum Laude
White, Mount Vernon, Lisa Michelle Hardy, Bachelor of General Studies, General Studies
White, Mount Vernon, Samantha Marie Patterson, Master of Science in Education, Reading
White, Mount Vernon, LaDawn M. Ross, Master of Science in Education, Special Education GTC
White, Mount Vernon, Emily Kay Webb, Master of Science in Education, Reading
White, Romance, Brandon Riley Baker, Associate of Science, A.S. En Route
White, Searcy, Elizabeth Megan Brown, Master of Social Work, Social Work
White, Searcy, Nathan Claxton, Master of Science in Education, Educational Leadership
White, Searcy, Kassandra Marie Day, Bachelor of Science in Nursing, Nursing
White, Searcy, Will F. Dunavan, Bachelor of Science in Education, Mid-Level Education
White, Searcy, Tyler Jon Galban, Bachelor of General Studies, General Studies
White, Searcy, Ciera Rochelle Haefer, Bachelor of Science, Biological Sciences
White, Searcy, Ciera Rochelle Haefer, Bachelor of Arts, Chemistry
White, Searcy, Hunter Thomas Ingle, Bachelor of Science, Computer Science
White, Searcy, Elizabeth P. Looney, Bachelor of Science, Accounting
White, Searcy, Jade J. Mershon, Bachelor of Science in Education, Elementary Education
White, Searcy, Kiehl Logan Miers, Bachelor of Science, Accounting
White, Searcy, Erica Christine Miller, Bachelor of Science, Strategic Communications
White, Searcy, Alana N. Niederbrach, Bachelor of Science in Education, Special Education
White, Searcy, Aleshia Showen O'Neal, Master of Arts, Heritage Studies
White, Searcy, Erica Paige Taylor, Bachelor of General Studies, General Studies, Cum Laude
White, Searcy, Chloe Leigh Philpott, Bachelor of Arts, Sociology
White, Searcy, Ashley Nicole Pigg, Bachelor of Science, Business Administration
White, Searcy, Jeremiah S. Quattlebaum, Master of Science, Sport Administration
White, Searcy, Miranda E. Roddy, Associate in General Studies, General Studies
White, Searcy, Mica Leanne Rose, Master of Science in Education, Curriculum and Instruction
White, Searcy, Megan Leigh Sarringar, Bachelor of Arts, Criminology
White, Searcy, Daniel Dewayne Shults, Bachelor of Science in Agriculture, Agricultural Studies
White, Searcy, Mira Leigh Smith, Specialist in Education, Educational Leadership
White, Searcy, Alexis Anne-Marie Roach, Bachelor of Science in Education, Elementary Education, Cum Laude
Woodruff, Augusta, Mary Katherine Peebles, Bachelor of Science in Nursing, Nursing, Honors Program
Woodruff, McCrory, Jessica D. Brown, Bachelor of Science in Education, Elementary Education, Cum Laude
Woodruff, McCrory, Cade Wilson Campbell, Bachelor of Science, Finance, Summa Cum Laude
Woodruff, McCrory, Skylar D. Huggins, Bachelor of Arts, Sociology
Yell, Belleville, Tyler Wayne Corbin, Bachelor of Science, Wildlife, Fisheries and Conservation, Honors Program
Yell, Dardanelle, Shelley Elizabeth Applegate, Certificate Program, Special Education Director
Yell, Dardanelle, Abigail Bree Sims, Master of Science in Education, Special Education GTC
CALIFORNIA
Contra Costa, San Ramon, Paul William Sanftner II, Master of Public Administration, Public Administration
Inyo, Death Valley, Leigh Beth McLendon, Master of Public Administration, Public Administration
Los Angeles, Covina, Javier Guerrero, Master of Public Administration, Public Administration
Los Angeles, Downey, Mary Mialma Cantoran, Master of Public Administration, Public Administration
Los Angeles, Los Angeles, Veronika Lapina, Bachelor of Science in Nursing, Nursing
Los Angeles, Palmdale, Michelle Marilyn Cruz, Master of Public Administration, Public Administration
Los Angeles, Walnut, Michael Antoino Johnson, Bachelor of General Studies, General Studies
Mono, Coleville, Robert Cloyce Remington, Master of Science in Education, Special Education K-12
Orange, Irvine, Mark David Stal, Master of Public Administration, Public Administration
Orange, Mission Viejo, Hsuan Chao, Master of Science in Education, Early Childhood Education
Riverside, Eastvale, Jeffrey Daniel Creighton, Associate of Applied Science, Physical Therapist Assistant
Riverside, Riverside, Victor Paul Blass, Master of Science in Education, Education Theory and Practice
Riverside, Riverside, Norma Ramirez Ybarra-Cox, Master of Science in Education, Education Theory and Practice
Riverside, Temecula, Eric Daniel Ackerman, Master of Public Administration, Public Administration
San Bernardino, Victorville, Stacy Chea, Master of Science in Education, Special Education K-12
San Diego, San Diego, Olene Yang, Master of Business Administration, Business Administration
Santa Clara, San Jose, Leonard Jones, Master of Science in Education, Special Education K-12
COLORADO
Adams, Westminster, Parker Brent Sitton, Bachelor of Science, Sport Management
Denver, Denver, Elliot Melkonian Zettas, Master of Public Administration, Public Administration
Jefferson, Arvada, Dana Leslie Fleming, Master of Science in Education, Educational Leadership
Jefferson, Conifer, Amy Ann Smith, Specialist in Education, Educational Leadership
Jefferson, Lakewood, Hillary Daniels, Master of Science in Education, Special Education K-12
CONNECTICUT
Fairfield, Bethel, Kristen Dawn Ladue, Master of Science in Education, Special Education GTC
Fairfield, Fairfield, Ashley Osborn West, Master of Science in Education, Special Education K-12
Fairfield, Stratford, Katelyn Foran, Specialist in Education, Educational Leadership
New Haven, Bethany, Nicole J. Velardi, Bachelor of Science, Disaster Preparedness and Emergency Management
New Haven, New Haven, James P. Carlson, Specialist in Education, Educational Leadership
New Haven, Wallingford, Anthony Michael Kolakowski, Master of Science, College Student Personnel Services
DELAWARE
New Castle, Bear, Anita Temitope Grantson, Master of Science in Nursing, Nurse Anesthesia
FLORIDA
Broward, Deerfield Beach, Merrill Lynn Galante, Master of Science, Early Childhood Services
Broward, Pembroke Pines, Zuilan Verdera Alvarez, Master of Science in Education, Educational Leadership
Broward, Pompano Beach, Kevin Gonzalez, Specialist in Education, Educational Leadership
Charlotte, Punta Gorda, Angela Lynette Johannsen, Master of Science in Education, Early Childhood Education
Escambia, Pensacola, Donna Renee Lett, Specialist in Education, Educational Leadership
Flagler, Palm Coast, Daniela Giovanna D'Angelo, Master of Science in Education, Reading
Hendry, Clewiston, Teresita A. Terga, Master of Science, Media Management
Highlands, Sebring, Whitney Elaine McGee, Master of Science in Education, Educational Leadership
Hillsborough, Tampa, Allison Cherrise Lippitt, Master of Science, Media Management
Leon, Tallahassee, Karissa Elise Pendleton, Master of Science, Sport Administration
Marion, Ocala, Carrie Lynn Rossman, Master of Arts in Teaching, Teaching
Miami Dade, Miami, Rosa Maria Garcia Maso, Master of Science in Education, Special Education K-12
Palm Beach, West Palm Beach, Colin Brant Eichenmuller, Bachelor of General Studies, General Studies
Pasco, Trinity, Fallon D. Pearn, Bachelor of Arts, Criminology, Cum Laude
Polk, Davenport, Renee Rankine-Colman, Specialist in Education, Educational Leadership
Polk, Haines City, Ralph Napoleon Harris, Master of Science, Sport Administration
Polk, Lakeland, Katherine Donne Wilson, Master of Science in Education, Educational Leadership
Saint Johns, Saint Augustine, Brian Anthony Green, Master of Science in Education, Educational Leadership
Saint Lucie, Port Saint Lucie, Ashley Monique Jeune, Specialist in Education, Educational Leadership
Saint Lucie, Port St Lucie, Michael Charles MacKenzie, Specialist in Education, Educational Leadership
Volusia, Port Orange, Isaiah Kofi Poku, Associate of Science, A.S. En Route
GEORGIA
Bartow, Cartersville, Olivia Jean Rutledge, Master of Science in Education, Early Childhood Education
Bartow, Cartersville, Darla Rediger Smith, Master of Science in Education, Early Childhood Education
Bartow, Cartersville, Hannah Perry Stewart, Master of Science in Education, Early Childhood Education
Bartow, Euharlee, Emily Katherine Hardy, Master of Science in Education, Early Childhood Education
Bartow, Taylorsville, Rebekah Lauren Rolley, Master of Science in Education, Early Childhood Education
Clayton, Atlanta, Jennifer Denise Jones, Master of Science, Media Management
Cobb, Marietta, Dylan Boast, Bachelor of Science, Global Supply Chain Management
Forsyth, Cumming, Shelby A. King, Bachelor of Science, Communication Disorders, Cum Laude
Gwinnett, Norcross, Akeya Treonne Works, Master of Science in Education, Reading
Gwinnett, Snellville, Jessica Emma Clausen, Master of Science in Education, Early Childhood Education
Houston, Bonaire, Tajhea Kormaal Chambers, Bachelor of Science, Sport Management
Jackson, Jefferson, James Thomas Wascher, Master of Public Administration, Public Administration
Lamar, Barnesville, Tranceyton Shawan White, Master of Science, College Student Personnel Services
Polk, Rockmart, Amy Barber Chappell, Master of Science in Education, Early Childhood Education
Troup, Pine Mountain, Summer Brooke Jarosz, Bachelor of Science in Education, General Science, Cum Laude
HAWAII
Honolulu, Honolulu, David Clarke Saunders, Associate of Arts, A.A. En Route
Honolulu, Waipahu, Kristine Monique Hochschwender, Master of Business Administration, Business Administration
IDAHO
Bingham, Shelley, Brandon LaVar Crain, Master of Science in Education, Special Education GTC
Bonneville, Idaho Falls, Beverly Lalia Holtom, Master of Science in Education, Special Education GTC
Fremont, Saint Anthony, Jennifer Lynn Lester, Master of Science in Education, Reading
Madison, Rexburg, Tracie Kay Cloward, Master of Science in Education, Reading
Madison, Rexburg, Brandi Maybee Walker, Master of Science in Education, Reading
Twin Falls, Twin Falls, Tana Marie Schroeder, Master of Science in Education, Reading
ILLINOIS
Cook, Chicago Heights, Kayla Marie Fonseca, Master of Arts, English
Cook, Markham, Denisyha Ann Waller, Bachelor of General Studies, General Studies
Cumberland, Neoga, Olivia Mintun, Master of Science, College Student Personnel Services
Kane, Saint Charles, Andrew Alphonse Fecteau, Bachelor of Science in Education, Physical Education
Madison, Marine, Eric Lee Bassett, Master of Science, College Student Personnel Services
Montgomery, Litchfield, Jennifer Cathleen Young, Associate of Arts, A.A. En Route
Randolph, Ruma, Nicole LeAnn Brunkhorst, Bachelor of Science in Education, Elementary Education, Cum Laude
Saint Clair, Belleville, Michael Colin Carty, Bachelor of Science in Mechanical Engineering, Mechanical Engineering
Winnebago, Rockford, Stephanie Morovis Montoya, Master of Science, College Student Personnel Services
INDIANA
Floyd, Greenville, Sydney Gail Allgeier, Bachelor of Science in Civil Engineering, Civil Engineering
Hendricks, Brownsburg, Martin Jon Guise, Master of Science in Education, Educational Leadership
Marion, Indianapolis, Elliott Morgan Hendrick, Master of Public Administration, Public Administration
Wayne, Centerville, Meghan Scales, Specialist in Education, Educational Leadership
KANSAS
Douglas, Lecompton, Emily Ann Peters Riner, Specialist in Education, Educational Leadership
Franklin, Ottawa, Taylor Rae Neiswender, Master of Science in Education, Reading
Harvey, Newton, Diane Rene Hershberger, Master of Science in Education, Reading
Johnson, Lenexa, Ashlyn G. Thalmann, Associate of Applied Science, Physical Therapist Assistant
Johnson, Olathe, Justine Danielle Strickland, Associate of Science, A.S. En Route
Johnson, Overland Park, Erin Bridget Gately, Bachelor of Science in Education, Elementary Education, Magna Cum Laude, Univ Honors
Johnson, Overland Park, Brittani Melissa Marinsky, Specialist in Education, Educational Leadership
Norton, Norton, James David Moreau, Master of Public Administration, Public Administration
Shawnee, Wakarusa, Jesse Douglas Kutzke, Bachelor of General Studies, General Studies
KENTUCKY
Fulton, Hickman, Misti Emmons, Master of Science in Education, Reading
LOUISIANA
Bossier, Bossier City, Courtney Jane Andrews, Master of Science in Nursing, Nurse Anesthesia
Caddo, Shreveport, Angelica Andreana Alexander, Master of Science, Exercise Science
Caddo, Shreveport, Kimberly Coleman Blackmon, Master of Science in Education, Educational Leadership
De Soto, Stonewall, Jamie L. Mathews, Master of Science in Education, Educational Leadership
East Baton Rouge, Baton Rouge, Joseph Delhoste, Master of Science in Education, Educational Leadership
East Baton Rouge, Baton Rouge, Ashley Erin Livingston, Master of Science in Education, Educational Leadership
East Baton Rouge, Baton Rouge, Kirk Gerard Louis Jr., Bachelor of Science, Sport Management
East Baton Rouge, Baton Rouge, Leslie Deville Tate, Master of Science in Education, Educational Leadership
Lafayette, Broussard, Rachel Schmidt Toups, Specialist in Education, Educational Leadership
Lafayette, Duson, Gena Hanks Cormier, Master of Science in Education, Educational Leadership
Lafayette, Lafayette, Grant Steven Ellis, Master of Science in Education, Special Education GTC
Saint Tammany, Covington, Morgan Landry Candies, Master of Science in Education, Special Education K-12
Saint Tammany, Slidell, Lauren Elizabeth Bartholomay, Doctor of Physical Therapy, Physical Therapy
St John The Baptist, La Place, Kirk James Merritt, Bachelor of General Studies, General Studies
Tangipahoa, Kentwood, Selena D. Morgan, Master of Science in Education, Educational Leadership
MARYLAND
Anne Arundel, Odenton, Earin Michael Saunders, Master of Science, Sport Administration
Howard, Ellicott City, Brian James Montgomery, Master of Science, Disaster Preparedness and Emergency Management
Montgomery, Gaithersburg, Samantha Elizabeth Melkonian, Master of Science in Education, Special Education K-12
MAINE
Androscoggin, Lisbon, James Edwin Riley, Master of Science, College Student Personnel Services
MICHIGAN
Eaton, Potterville, Stephanie Susan Scavarda, Master of Science, Early Childhood Services
Kent, Byron Center, Carissa Jean Judy, Master of Public Administration, Public Administration
Macomb, Chesterfield, Zachary Lawrence MacIntosh, Specialist in Education, Educational Leadership
Macomb, Utica, David Benjamin Colon, Master of Science in Education, Educational Leadership
Monroe, Monroe, Cy I Am Maughmer, Master of Science in Education, Reading
Shiawassee, Durand, Nicole L. Carpenter, Specialist in Education, Educational Leadership
Wayne, Canton, Jessica Leigh Lucke, Master of Science, Early Childhood Services
Wayne, Canton, Robert John Yusko, Master of Science in Education, Educational Leadership
Wayne, Grosse Pointe Woods, Renée Cheryl Bialke, Specialist in Education, Educational Leadership
MINNESOTA
Carver, Carver, Kelly Ann Brigham, Master of Science in Education, Education Theory and Practice
Saint Louis, Duluth, Abby Marie Norton, Master of Science in Education, Reading
Saint Louis, Proctor, Monica Jean Lambert-Lind, Master of Science in Education, Reading
MISSISSIPPI
Adams, Natchez, Theodore L. Johnson, III, Master of Science in Mass Communications, Radio Television
Alcorn, Corinth, Brandi Greene, Master of Science in Education, Reading
Alcorn, Corinth, Samantha Kline, Master of Science in Education, Educational Leadership
Alcorn, Rienzi, Alice Dodds, Master of Science, Early Childhood Services
Alcorn, Rienzi, Skylar Everette Mincey, Master of Science in Education, Education Theory and Practice
Alcorn, Rienzi, Carrie A. Mitchell, Master of Science in Education, Special Education K-12
Attala, Kosciusko, Summer Beth Burns, Master of Science in Education, Educational Leadership
Bolivar, Cleveland, Latoshia Victoria Lewis, Specialist in Education, Educational Leadership
Bolivar, Cleveland, Daphney Annamaria Rebeiro, Specialist in Education, Educational Leadership
Calhoun, Bruce, Katherine Ann-Claire Westmoreland, Master of Science in Education, Education Theory and Practice
Calhoun, Calhoun City, Erick Lee Lofton, Master of Science, Sport Administration
Calhoun, Calhoun City, Brittany Reneisha Venson, Master of Science in Education, Special Education K-12
Desoto, Hernando, Tasha Conner Blaylock, Master of Science in Education, Special Education K-12
Desoto, Hernando, Victoria Plemmons Carter, Master of Science in Education, Curriculum and Instruction
Desoto, Hernando, Melissa Y. Durham, Master of Science in Education, Special Education K-12
Desoto, Hernando, Christopher Parker Jones, Master of Science in Education, Educational Leadership
Desoto, Hernando, Angela Baker Lashlee, Specialist in Education, Educational Leadership
Desoto, Hernando, Kenneth Dewayne Thompson, Master of Science in Education, Educational Leadership
Desoto, Hernando, LaWanda Beasley Wallace, Specialist in Education, Educational Leadership
Desoto, Horn Lake, India Day Brunenkant, Specialist in Education, Educational Leadership
Desoto, Horn Lake, Shawanda Rena Hicks, Master of Science, Early Childhood Services
Desoto, Horn Lake, Jana Lee Malone, Master of Science in Education, Reading
Desoto, Horn Lake, Stacey June Morgan, Master of Science in Education, Reading
Desoto, Horn Lake, Kierra Chanice Rose, Associate of Science, A.S. En Route
Desoto, Nesbit, Jessica Marie Neely, Master of Science in Education, Educational Leadership
Desoto, Nesbit, Pamela Rose Robertson, Bachelor of Arts, Sociology
Desoto, Olive Branch, Brittany K. Ball, Master of Science in Nursing, Nurse Anesthesia
Desoto, Olive Branch, Amanda Genell Mayo, Master of Science in Education, Special Education K-12
Desoto, Olive Branch, Nicolette LaShay Pringle, Specialist in Education, Educational Leadership
Desoto, Olive Branch, Laura Virginia Robinson, Master of Science in Education, Reading
Desoto, Olive Branch, Heba Sammour, Master of Science in Education, Educational Leadership
Desoto, Olive Branch, Matthew Thomas Yardley, Specialist in Education, Educational Leadership
Desoto, Olive Branch, Amy Elizabeth Zaccagnini, Certificate Program, Gifted, Talented, and Creative Teaching
Desoto, Southaven, Jamie Camille Cross, Master of Science in Education, Reading
Desoto, Southaven, Amanda Ferrill, Master of Science in Education, Reading
Desoto, Southaven, Ashley Forrester, Master of Science in Education, Curriculum and Instruction
Desoto, Southaven, Kimberly Sobley Hunt, Master of Science in Education, Special Education GTC
Desoto, Southaven, Martha Sue Mooneyham, Master of Science in Education, Special Education GTC
Desoto, Southaven, Morgan T. Smith, Master of Science in Nursing, Nurse Anesthesia
Desoto, Southaven, Melony McFarley Smith-Wellington, Specialist in Education, Educational Leadership
Desoto, Southaven, Melinda Webb Tutor, Master of Science in Education, Education Theory and Practice
Desoto, Southaven, Stephen Kyle Underwood, Master of Science in Education, Educational Leadership
Desoto, Walls, Chandra Rena Perkins, Master of Science in Education, Special Education GTC
Forrest, Lumberton, Teresa Poston, Master of Science in Education, Education Theory and Practice
George, Lucedale, Jason Patrick McDonald, Master of Science, Sport Administration
Greene, Lucedale, Amanda Lynn Grimes, Master of Science in Education, Special Education GTC
Harrison, Long Beach, Ashley Harvey, Specialist in Education, Educational Leadership
Hinds, Clinton, Dora A. Gaddis, Specialist in Education, Educational Leadership
Itawamba, Nettleton, Leigh Anne Eaton, Master of Science in Education, Special Education GTC
Jackson, Ocean Springs, Amanda Jo Reid, Specialist in Education, Educational Leadership
Jasper, Pachuta, Audrey Ann O'Neil Shirley, Master of Science in Education, Reading
Lafayette, Oxford, Jeana Galatas Noble, Specialist in Education, Educational Leadership
Lafayette, Oxford, Cliff M. Ormon, Master of Science in Education, Educational Leadership
Lafayette, Oxford, Betty Renee Whiteaker, Master of Science in Education, Special Education GTC
Lafayette, Oxford, Maudann Wilson Phillips, Master of Science in Education, Special Education GTC
Lauderdale, Enterprise, Donna Raeshel Melton, Master of Science in Education, Reading
Lee, Baldwyn, Jeffrey Kevin Cates, Master of Science in Education, Educational Leadership
Lee, Belden, Leigh Ellen Taylor, Master of Science in Education, Special Education K-12
Lee, Guntown, Lacie Nicole Myhand, Master of Science in Education, Reading
Lee, Guntown, Shashondiandrina Janisha Smith, Master of Science, Early Childhood Services
Lee, Shannon, Kendra McVay Johns, Master of Science in Education, Reading
Lee, Tupelo, Teresa Dawn Dickey, Master of Science in Education, Special Education K-12
Lee, Tupelo, Joe Seth Dover, Master of Science in Education, Educational Leadership
Lee, Tupelo, Adam Jordan Whitley, Master of Science in Education, Educational Leadership
Lowndes, Caledonia, Jeaniece A. Wade, Master of Science in Education, Reading
Lowndes, Columbus, Patricia Lynn Bartley, Master of Science in Education, Education Theory and Practice
Lowndes, Columbus, Katherine Savage Gillon, Master of Science in Education, Educational Leadership
Lowndes, Columbus, Elizabeth Clemmons Greene, Master of Science in Education, Reading
Lowndes, Columbus, Harley Hatcher, Master of Science in Education, Educational Leadership
Lowndes, Columbus, Sarah Kathleen Heberling, Master of Science in Education, Reading
Lowndes, Columbus, Virginia Burwell Sanders, Master of Science in Education, Education Theory and Practice
Lowndes, Columbus, Teresa Ann Wittke, Master of Science in Education, Special Education K-12
Lowndes, Columbus, Ivye Elizabeth Yeatman, Master of Science in Education, Education Theory and Practice
Lowndes, Steens, April Andrews Denney, Master of Science in Education, Reading
Lowndes, Steens, Shannon Bailey Tolleson, Master of Science in Education, Reading
Madison, Canton, Brittney Loryn Felder, Master of Science in Education, Education Theory and Practice
Madison, Canton, Brianna Noelle Love-Havens, Bachelor of Science, Psychology
Madison, Canton, Kayla M. Cody, Master of Science in Education, Curriculum and Instruction
Marshall, Byhalia, Amy Elizabeth Cole, Master of Science in Education, Reading
Monroe, Aberdeen, Kellie Williams Poole, Master of Science in Education, Education Theory and Practice
Monroe, Aberdeen, Jennifer Kyle Rollison, Master of Science in Education, Educational Leadership
Monroe, Hamilton, Jessica Lynn Smith, Master of Science in Education, Educational Leadership
Monroe, Smithville, Sabrina Dianne Horne Morris, Master of Science in Education, Special Education K-12
Oktibbeha, Starkville, Amy Butler Higginbotham, Master of Science in Education, Special Education K-12
Oktibbeha, Starkville, Alisha L. Thames, Master of Science in Education, Special Education K-12
Panola, Batesville, Timothy Lane Melton, Master of Science, Sport Administration
Pearl River, Lumberton, Lori M. Ladner, Specialist in Education, Educational Leadership
Perry, Richton, Tristin Matthew Walley, Bachelor of General Studies, General Studies
Pike, McComb, Aaron Jay Freeman, Master of Science in Education, Educational Leadership
Pike, McComb, Alisha Nicole Rayborn, Master of Science, Sport Administration
Pontotoc, Pontotoc, Katherine Ruth Downing, Master of Science, Sport Administration
Pontotoc, Pontotoc, Jordan Cameron Graham, Master of Science in Education, Educational Leadership
Pontotoc, Pontotoc, Miranda Shea Person, Master of Science in Education, Educational Leadership
Pontotoc, Pontotoc, Bethany Michelle Wray, Specialist in Education, Educational Leadership
Prentiss, Booneville, Molly Nicole Lambert, Master of Science, Sport Administration
Prentiss, Booneville, Jessica S. Taylor, Master of Science, Sport Administration
Rankin, Brandon, Anjan S. Karmacharya, Master of Science in Education, Educational Leadership
Rankin, Brandon, Megan Lewis, Master of Science in Education, Reading
Rankin, Brandon, Kelli East Payne, Specialist in Education, Educational Leadership
Rankin, Brandon, Tate William Rogers, Master of Science in Education, Educational Leadership
Rankin, Pearl, Jerrial M. Dawson, Specialist in Education, Educational Leadership
Rankin, Pearl, Jazmine Kiara Hall, Specialist in Education, Educational Leadership
Scott, Harperville, Christy Wilkerson Martin, Specialist in Education, Educational Leadership
Simpson, Magee, Derek Justin Huffman, Master of Science in Education, Educational Leadership
Smith, Mize, Danielle Maria Darden, Master of Science in Education, Educational Leadership
Tate, Coldwater, Andrea Barham Yates, Master of Science in Education, Reading
Tate, Senatobia, Ashley Nicole Privett, Master of Science in Education, Special Education K-12
Tippah, Ripley, Gregory Bryson Dillard, Specialist in Education, Educational Leadership
Tippah, Ripley, Katie Latch, Master of Science in Education, Reading
Tippah, Ripley, Christina Marie Martini-Ferrell, Specialist in Education, Educational Leadership
Tishomingo, Burnsville, Stephanie Leah Petroskey Hall, Bachelor of Science in Nursing, Nursing
Tishomingo, Iuka, James Preston Leathers, Master of Science in Education, Educational Leadership
Union, New Albany, Alexandria Nichole Randolph, Specialist in Education, Educational Leadership
Washington, Greenville, Yolanda L. Johnson, Specialist in Education, Educational Leadership
Winston, Louisville, Chester Ryan Keeton, Master of Science in Education, Educational Leadership
Yalobusha, Water Valley, Linda Norwood Neeley, Master of Science in Education, Curriculum and Instruction
MISSOURI
Andrew, Savannah, Barbara Jean Spencer, Master of Science in Education, Educational Leadership
Boone, Columbia, Sumnima Neupane, Master of Science in Nursing, Nurse Anesthesia
Buchanan, Saint Joseph, Bret Michelle Dillman, Master of Science in Education, Reading
Buchanan, Saint Joseph, Jennifer Kay Goss, Specialist in Education, Educational Leadership
Buchanan, Saint Joseph, Garret Michael McDowell, Master of Science in Education, Reading
Butler, Neelyville, Zane Steven Davis, Bachelor of Science, Business Administration
Butler, Poplar Bluff, Trevor B. Asher, Bachelor of Arts, Music, Magna Cum Laude, Honors Program
Butler, Poplar Bluff, Brooke Elizabeth Darnell, Bachelor of Science, Communication Disorders, Magna Cum Laude
Butler, Poplar Bluff, Madison Rose Decker, Associate of Science, A.S. En Route
Butler, Poplar Bluff, Mariah Kay Jackson, Associate of Applied Science, Physical Therapist Assistant
Butler, Poplar Bluff, Lydia Nicole Keller, Bachelor of Science, Business Administration, Cum Laude, Honors Program
Butler, Poplar Bluff, Melva Verene Sparkman, Master of Science in Education, Special Education K-12
Butler, Poplar Bluff, Alyssa Regan Spear, Bachelor of Science, Health Studies, Cum Laude
Butler, Poplar Bluff, Brandon Joseph Stuckenschneider, Bachelor of Arts, Chemistry, Cum Laude
Butler, Poplar Bluff, Emily Marie Walls, Bachelor of Science in Education, Elementary Education, Magna Cum Laude
Camden, Camdenton, Dustin Miller, Specialist in Education, Educational Leadership
Cape Girardeau, Jackson, Olivia Nicole Leible, Bachelor of Science, Exercise Science
Carter, Ellsinore, Kendra Maria Asher, Specialist in Education, Educational Leadership
Cass, Belton, Sarah Najette Robertson, Master of Science in Education, Special Education K-12
Cass, Raymore, John N. Janes, Specialist in Education, Educational Leadership
Cass, Raymore, Isaiah Michael Kittrell, Associate of Science, A.S. En Route
Christian, Bruner, Gwenyth L. Nel, Bachelor of Science in Nursing, Nursing
Clay, Kansas City, Amanda Lynn Shropshire, Specialist in Education, Educational Leadership
Clay, Kansas City, Edward Bernard Tate, Jr., Specialist in Education, Educational Leadership
Cole, Jefferson City, Aubrey Ann Moss, Specialist in Education, Educational Leadership
Cole, Jefferson City, Jenna D. Poire, Master of Science in Education, Reading
Dade, Greenfield, Mary Heather Harden, Specialist in Education, Educational Leadership
Dallas, Buffalo, Elizabeth Anne Redd, Master of Science in Education, Reading
Dekalb, Maysville, Alan Lee Hutchcraft, Specialist in Education, Educational Leadership
Dekalb, Maysville, Heather SuAnn Wiedmer/Cole, Master of Science in Education, Reading
Dent, Salem, Brenda Ann Parks, Master of Science in Education, Educational Leadership
Douglas, Dora, Kelsie Ina Lovan, Bachelor of Science in Nursing, Nursing, Magna Cum Laude
Dunklin, Arbyrd, Ariana Garcia Briceno, Bachelor of Science, Computer Science, Cum Laude
Dunklin, Campbell, Brittany Nicole Davis, Bachelor of Science, Accounting, Magna Cum Laude
Dunklin, Campbell, Margaretann Pearson, Bachelor of Arts, History
Dunklin, Campbell, Margaretann Pearson, Certificate of Proficiency, Museum Studies
Dunklin, Hornersville, Jeffery Franklin Harris, Master of Science in Nursing, Nursing
Dunklin, Kennett, Laurell Ann Gamblin, Master of Science in Nursing, Nursing
Dunklin, Kennett, Lexi Donielle Henfling, Associate of Science, A.S. En Route
Dunklin, Kennett, Kayli Laen Jones, Bachelor of Science, Accounting
Dunklin, Kennett, Charity A. Lane, Master of Science in Nursing, Nursing
Dunklin, Kennett, Jacqueline Lee Lockhert, Bachelor of Science, Marketing, Cum Laude
Dunklin, Kennett, Rachele Holder Morgan, Master of Science in Education, Educational Leadership
Dunklin, Malden, Mason C. Huber, Bachelor of Science in Education, Social Science
Greene, Springfield, Thomas Levi Woods, Associate of Arts, A.A. En Route
Harrison, Ridgeway, Dana Lea Seymour-Price, Specialist in Education, Educational Leadership
Howell, West Plains, Danielle Morgan Gregory, Associate of Applied Science, Physical Therapist Assistant
Howell, Willow Springs, Stefanie N. Hobson, Master of Science in Education, Special Education GTC
Howell, Willow Springs, Brandon P. Pitts, Master of Science, Sport Administration
Jackson, Blue Springs, Hannah M. Brady, Specialist in Education, Educational Leadership
Jackson, Blue Springs, Terri L. Freeland, Master of Science in Education, Reading
Jackson, Blue Springs, Joshua Brennan Reichert, Specialist in Education, Educational Leadership
Jackson, Grain Valley, Benny Sherman Palmer, Specialist in Education, Educational Leadership
Jackson, Grandview, Daniel D. Strang, Specialist in Education, Educational Leadership
Jackson, Kansas City, Kristen Burton Schade, Master of Science in Education, Reading
Jackson, Kansas City, Brian Daniel McDavitt, Specialist in Education, Educational Leadership
Jackson, Lees Summit, Carlisa Simone May, Bachelor of General Studies, General Studies
Jackson, Lees Summit, Gary Lee Renshaw, Specialist in Education, Educational Leadership
Jackson, Lees Summit, Jennifer Renee Schweigerdt, Master of Science in Education, Reading
Jackson, Lees Summit, Warren Durrell Strickland, Specialist in Education, Educational Leadership
Jackson, Raytown, Rachel Michelle Butler, Specialist in Education, Educational Leadership
Jasper, Carl Junction, Caleb Foley Wheeler, Master of Science in Education, Educational Leadership
Jasper, Joplin, Christina A. Chandler, Master of Science in Education, Special Education K-12
Jasper, Joplin, Kasey L. Pliler, Specialist in Education, Educational Leadership
Jasper, Webb City, Jess Douglas Whitehead, Master of Science in Education, Educational Leadership
Jefferson, Barnhart, Catherine Toeniskoetter, Master of Science in Education, Special Education K-12
Jefferson, Dittmer, Jessica Lynn Queen, Bachelor of General Studies, General Studies
Jefferson, Hillsboro, Emily Jean Brown, Bachelor of Science in Nursing, Nursing
Jefferson, House Springs, Amy Kathleen Hoechst, Master of Science in Education, Special Education K-12
Lawrence, Monett, Macey Dawn Embrey, Master of Science in Education, Educational Leadership
Lawrence, Mount Vernon, Dawn Renee Cassity, Master of Science in Education, Education Theory and Practice
Macon, Macon, Peter L. Claas, Specialist in Education, Educational Leadership
Madison, Fredericktown, Abbey Gail Mooney, Master of Science in Education, Reading
Madison, Fredericktown, Paula Cain Sawyer, Master of Science in Education, Reading
Madison, Fredericktown, Tami Lynn Wright, Master of Science in Education, Reading
McDonald, Noel, Anita L. Bailey, Master of Science, Disaster Preparedness and Emergency Management
Miller, Eldon, Megan Nicole Rhine, Master of Science in Education, Curriculum and Instruction
New Madrid, Gideon, Brooklyn Nicole Montgomery, Bachelor of Social Work, Social Work, Magna Cum Laude, Honors Program
New Madrid, New Madrid, Heather Elizabeth Polk, Master of Science in Nursing, Nursing
New Madrid, Portageville, Brittany Catherine Bessenger, Bachelor of Science in Nursing, Nursing, Cum Laude
Newton, Granby, Ashley Rene Wolfe, Specialist in Education, Educational Leadership
Newton, Neosho, Ashley T. Gilion, Master of Science in Education, Reading
Newton, Neosho, Jari Francis Jacobs, Specialist in Education, Educational Leadership
Newton, Stark City, Dorrenda Louise Laughlin, Master of Science in Education, Reading
Oregon, Alton, Nicholas Patrick Collins, Master of Science in Education, Educational Leadership
Ozark, Gainesville, Patricia M. Acklin, Bachelor of Science in Nursing, Nursing
Ozark, Gainesville, Melissa M. Hayes, Bachelor of Science in Nursing, Nursing
Pemiscot, Bragg City, Brittany Renee Cole, Associate of Science, A.S. En Route
Pemiscot, Caruthersville, Dalton Joesph Johnson, Bachelor of Science in Nursing, Nursing
Pemiscot, Caruthersville, James Lee Stricklin II, Bachelor of Science in Agriculture, Agricultural Studies
Pemiscot, Caruthersville, Landon Emerson Stricklin, Bachelor of Science in Agriculture, Agricultural Business
Pemiscot, Gideon, Camille J. Randolph, Bachelor of Science in Nursing, Nursing
Pemiscot, Hayti, Parr Harrison Abbott, Bachelor of Science in Agriculture, Agricultural Business
Pemiscot, Steele, Brittney Rene Hoskins, Bachelor of Science in Nursing, Nursing
Pemiscot, Wardell, Jeremy Scott Lawson, Master of Science in Nursing, Nursing
Pettis, Sedalia, Blake Robert Grupe, Associate of Science, A.S. En Route
Phelps, Rolla, Terri Leann Heiby, Master of Science in Education, Special Education GTC
Platte, Dearborn, Clinton Allen Spencer, Master of Science in Education, Educational Leadership
Platte, Kansas City, Adam Marshall Langdon, Specialist in Education, Educational Leadership
Platte, Kansas City, Randy Lee Stout, Specialist in Education, Educational Leadership
Platte, Platte City, Brett Dale Kisker, Specialist in Education, Educational Leadership
Platte, Platte City, Kathryn Marie Newsome, Master of Science in Education, Educational Leadership
Polk, Flemington, Tammy Lynn Sawyers, Master of Science in Education, Special Education K-12
Randolph, Moberly, Wesley Clinton Land, Specialist in Education, Educational Leadership
Ripley, Doniphan, Makayla Brielle Cline, Bachelor of Fine Arts, Graphic Design
Ripley, Doniphan, Andrew Jacob Short, Doctor of Physical Therapy, Physical Therapy
Saint Charles, O Fallon, Bryan Andrew Davis, Master of Science in Education, Educational Leadership
Saint Charles, Saint Charles, Kyle Matthew Barras, Master of Science in Education, Educational Leadership
Saint Charles, Saint Charles, Eric Matthew Schroer, Specialist in Education, Educational Leadership
Saint Charles, Saint Peters, Ann Norrine Wait, Master of Science in Education, Reading
Saint Louis, Eureka, Daniel T. Shelton, Bachelor of Science in Agriculture, Plant and Soil Science
Saint Louis, Saint Louis, Joseph John Jackson, Specialist in Education, Educational Leadership
Saint Louis, Saint Louis, Kelsey Alyssa Ponder, Bachelor of Science, Exercise Science, Cum Laude
Saint Louis, Saint Louis, Marvin LeNard Rice, Master of Science in Education, Educational Leadership
Saint Louis, University City, Emily Grace Naylor Russell, Master of Science in Education, Education Theory and Practice
Saint Louis City, Saint Louis, Patrice Lee Mitchell, Master of Science in Education, Special Education K-12
Scott, Sikeston, Jennifer Suzanna Keller, Bachelor of Science, Strategic Communications
Scott, Sikeston, Jasmin Latriese Liggett, Master of Science in Education, Educational Leadership
Stoddard, Dexter, Brooks Joshua Propst, Bachelor of Science in Nursing, Nursing, Magna Cum Laude, University Honors
Stoddard, Dexter, Destiny L. Robertson, Bachelor of Science, Strategic Communications
Stoddard, Dexter, Olivia Danielle Sitzes, Associate of Science, A.S. En Route
Stoddard, Dexter, Dorothy Brooke Stoker, Master of Social Work, Social Work
Stone, Reeds Spring, Gary E. Neal, Jr., Specialist in Education, Educational Leadership
Taney, Kirbyville, Heather Dawn Sullins, Master of Science in Education, Curriculum and Instruction
Taney, Kirbyville, Emily Nicole Williamson, Master of Science in Education, Educational Leadership
Texas, Cabool, Nathan Andrew Christeson, Master of Science in Education, Educational Leadership
Vernon, Nevada, Joel Christopher Braden, Specialist in Education, Educational Leadership
Warren, Vicksburg, Vicksburg, Aneshia Symone Stamps, Bachelor of General Studies, General Studies
Washington, Mineral Point, Erin Kimberly Hartley, Specialist in Education, Educational Leadership
Webster, Marshfield, Russell Harold Lee, Master of Science in Education, Educational Leadership
MONTANA
Missoula, Missoula, Shaun Mark Bummer, Master of Public Administration, Public Administration
NEBRASKA
Lancaster, Lincoln, Jared William Scheuler, Bachelor of Science, Accounting, Cum Laude
NEW HAMPSHIRE
Merrimack, Concord, Megan Bethany Reese, Bachelor of Science, Biological Sciences, Magna Cum Laude, Honors Program
NEW JERSEY
Bergen, Carlstadt, Sheiyna Inez Machado, Master of Science in Education, Education Theory and Practice
Burlington, Delran, Courtney Verbaro, Master of Science in Education, Education Theory and Practice
Camden, Haddon Heights, Brandon Cody Kundrick, Master of Science in Education, Education Theory and Practice
Monmouth, Belford, Alanna Antonia Najjar, Master of Science in Education, Educational Leadership
Monmouth, North Middletown, Samantha Brook DePalma, Master of Science in Education, Educational Leadership
Morris, Pine Brook, Andrea M. Vandermast, Master of Science in Education, Education Theory and Practice
NEW MEXICO
Eddy, Carlsbad, Andrea Laura Ruiz, Master of Science in Education, Special Education GTC
Lea, Lovington, Carmen Sulema Borunda, Master of Science in Education, Education Theory and Practice
Sandoval, Rio Rancho, Lisa Marie Hughes, Certificate Program, Building-Level Administration
NEVADA
Clark, Las Vegas, Margaret Mary Acevedo, Master of Science, Sport Administration
Humboldt, Winnemucca, Brady Jorden Rupp, Master of Science in Education, Educational Leadership
Queens, Far Rockaway, Khalil J. Bratton, Master of Science, Sport Administration
NORTH CAROLINA
Durham, Durham, Alaa N.R. Alawna, Master of Engineering Management, Engineering Management
OHIO
Butler, Rosstownship, Ronald C. Hatten, Jr., Master of Science, Sport Administration
Clermont, Cincinnati, Alyson Renae Robinson-Jimenez, Master of Engineering Management, Engineering Management
Cuyahoga, Bedford, Kortney LaRoy Delafosse, Master of Science, Exercise Science
Franklin, Westerville, Kimberly French, Master of Science, Sport Administration
Greene, Xenia, Morgan Ashley Koster, Master of Science, College Student Personnel Services
Hamilton, Cincinnati, Stephanie Ann Born, Master of Public Administration, Public Administration
Hamilton, Cincinnati, Richard Ledford, Master of Science in Education, Special Education K-12
Hamilton, Springdale, Cody L. Coley, Master of Science, Disaster Preparedness and Emergency Management
Mahoning, Youngstown, Kristin Szabo, Master of Science in Education, Education Theory and Practice
OKLAHOMA
Kay, Blackwell, Kathleen Swain, Master of Science, College Student Personnel Services
Le Flore, Spiro, Randa Rae Grant, Master of Science in Education, Education Theory and Practice
Logan, Guthrie, Amanda Jensen Paul, Master of Science in Education, Reading
Mayes, Spavinaw, Cara Elaine Arneecher, Master of Science in Education, Educational Leadership
Oklahoma, Choctaw, Wilma Ivette Molina Arocho, Master of Engineering Management, Engineering Management
Oklahoma, Edmond, April Yeager, Master of Science in Education, Reading
Oklahoma, Oklahoma City, Angela Sue Suttles, Specialist in Education, Educational Leadership
Pontotoc, Ada, Kristopher W. McCullough, Master of Science, Sport Administration
Sequoyah, Muldrow, Amra D. Ramey, Master of Science in Education, Special Education K-12
Sequoyah, Roland, John Michael Bridges, Specialist in Education, Educational Leadership
Wagoner, Broken Arrow, Eric Ray Ward, Master of Public Administration, Public Administration
OREGON
Clackamas, Eagle Creek, Christina Marie Tewes, Master of Science, College Student Personnel Services
Josephine, Grants Pass, Ryan Storms Reade, Doctor of Physical Therapy, Physical Therapy
PENNSYLVANIA
Bucks, Bensalem, Roksolana Hanf, Master of Science in Education, Education Theory and Practice
Chester, Malvern, Mathew D. Lane, Master of Science in Education, Educational Leadership
Cumberland, Carlisle, Leslie Michelle Wheeler, Master of Business Administration, Business Administration
Delaware, Wayne, Catherine Mary Dunn, Master of Science, Sport Administration
Lawrence, Pulaski, Katherine Marie Mathieson, Master of Science in Education, Education Theory and Practice
Montgomery, North Wales, Nicholas Andrew Johnson, Master of Science in Education, Education Theory and Practice
RHODE ISLAND
Newport, Newport, Jadee M. Scott-Jones, Bachelor of Science in Electrical Engineering, Electrical Engineering
Providence, Foster, Kelsey Lynn Tortolano, Master of Science in Education, Reading
SOUTH CAROLINA
Aiken, Graniteville, Kathryn Anngell Paradise Ellison, Master of Science, Early Childhood Services
Anderson, Williamston, Katarina Lauren Clegg, Master of Science in Education, Reading
Cherokee, Gaffney, Melissa Bright Holmes, Master of Science in Education, Reading
Cherokee, Gaffney, Casey L. Peeler, Master of Science in Education, Reading
Florence, Florence, Thomas J. Anderson, Master of Science in Education, Educational Leadership
Florence, Scranton, Miranda S. Barfield Atkinson, Master of Science in Education, Educational Leadership
Greenville, Greenville, Michael Palmer Hitch, Specialist in Education, Educational Leadership
Greenville, Simpsonville, James Franklin Hicks, III, Master of Science, Media Management
Greenwood, Greenwood, Lee Squires, Master of Science, Sport Administration
Horry, Myrtle Beach, Travis Jon Klatka, Specialist in Education, Educational Leadership
Horry, Myrtle Beach, Jennifer Moreno, Specialist in Education, Educational Leadership
Horry, Myrtle Beach, Joseph Wayne Worley, Master of Science, Sport Administration
Lexington, Gaston, Tiffany Rippy Miller, Specialist in Education, Educational Leadership
Lexington, Lexington, Carla Watkins Jackson, Master of Science in Education, Reading
Lexington, Lexington, Jennifer Ann Steiner, Specialist in Education, Educational Leadership
Pickens, Central, William Joseph Henderson, Master of Science, Media Management
Richland, Columbia, William Jonathan Owens, Master of Science in Education, Educational Leadership
Richland, Columbia, Virginia Edwards Tate, Master of Science in Education, Educational Leadership
Richland, Columbia, Chalisa E. Wolfe, Specialist in Education, Educational Leadership
Richland, Eastover, Bridget Morris Barwick, Specialist in Education, Educational Leadership
Saluda, Saluda, Erin Eargle McQuade, Master of Science in Education, Reading
Spartanburg, Inman, Justin M. Henson, Master of Science in Education, Educational Leadership
Spartanburg, Roebuck, Cameron William O'Sullivan, Specialist in Education, Educational Leadership
York, Fort Mill, Keyatta Zhané Crowell, Master of Science, Media Management
SOUTH DAKOTA
Minnehaha, Sioux Falls, Layne R. Somsen, Master of Science, Sport Administration
TENNESSEE
Blount, Maryville, Brandi Hendrix Kinkead, Master of Science in Education, Educational Leadership
Bradley, Cleveland, Rebecca Domanic Miller, Master of Science in Education, Early Childhood Education
Bradley, Georgetown, Thomas W. Kimsey, Master of Public Administration, Public Administration
Carroll, Atwood, Madison Celeste Heckert, Bachelor of Science, Exercise Science, Cum Laude
Cocke, Bybee, Brittany Hope Smith Metcalf, Master of Science in Education, Reading
Cocke, Newport, David Wayne Overholt, Master of Science in Education, Educational Leadership
Coffee, Manchester, Eron Elmore Powers III, Master of Science in Education, Educational Leadership
Davidson, Nashville, Jasmine Augusta Morgan, Master of Science, College Student Personnel Services
Dyer, Dyersburg, Maciej Chęć, Bachelor of Science in Nursing, Nursing
Dyer, Dyersburg, Kathleen Meghan Irvin, Specialist in Education, Educational Leadership
Gibson, Medina, Ashley Erin Walters, Master of Science in Education, Education Theory and Practice
Gibson, Medina, Abigail Marie Wilkins, Specialist in Education, Educational Leadership
Gibson, Trenton, Callie LeeAnn Craig, Master of Science in Education, Educational Leadership
Haywood, Gates, Rachael Lynn Wright, Master of Science in Education, Educational Leadership
Knox, Knoxville, Jessica Ann Gerstenmaier, Specialist in Education, Educational Leadership
Knox, Knoxville, Hollie Stiltner, Master of Science in Education, Special Education K-12
Madison, Jackson, Emily Ann Haltom, Master of Science in Education, Education Theory and Practice
Madison, Jackson, Melanie Roshun Hurst, Specialist in Education, Educational Leadership
Madison, Jackson, Chelsea Matamoros, Master of Science in Education, Education Theory and Practice
Madison, Three Way, Kelli Marlene Duck, Master of Science in Education, Education Theory and Practice
McMinn, Athens, Karla Victoria Dake, Master of Science in Education, Education Theory and Practice
McMinn, Englewood, Emma Barnett, Master of Science in Education, Education Theory and Practice
McMinn, Etowah, Brookelyn Nicole Martin, Master of Science in Education, Education Theory and Practice
Monroe, Sweetwater, Cassandra Belcher, Master of Science in Education, Curriculum and Instruction
Rhea, Dayton, Jeremy Alan Fitzgerald, Specialist in Education, Educational Leadership
Rhea, Spring City, James Zeno Harrison, Specialist in Education, Educational Leadership
Roane, Rockwood, Kaila Brooke Jolly, Specialist in Education, Educational Leadership
Rutherford, Murfreesboro, Sara Morgan Lyles, Specialist in Education, Educational Leadership
Rutherford, Murfreesboro, Alison Bowen Murphy, Specialist in Education, Educational Leadership
Shelby, Arlington, Amanda Pegram Bynum, Specialist in Education, Educational Leadership
Shelby, Arlington, Nathan Bradley Yount, Master of Science in Nursing, Nurse Anesthesia
Shelby, Bartlett, Kenzie Megan Fields, Bachelor of Science, Exercise Science, Cum Laude
Shelby, Bartlett, Laura Elizabeth Haumesser, Master of Science in Nursing, Nurse Anesthesia
Shelby, Collierville, Ashiqua Jamita Jackson, Master of Science in Nursing, Nursing
Shelby, Cordova, Amber Fanchon Bowden, Master of Science in Education, Reading
Shelby, Cordova, Contessa Clay, Master of Science in Nursing, Nurse Anesthesia
Shelby, Cordova, Rex Alvin Hamilton Jr., Master of Science in Education, Educational Leadership
Shelby, Cordova, Keith Edward Harris, Specialist in Education, Educational Leadership
Shelby, Cordova, Donald Carl Hudson, Master of Science, Sport Administration
Shelby, Cordova, Maria D. Santiago Rosado, Master of Science in Education, Educational Leadership
Shelby, Germantown, Alicia Mizell Earley, Master of Science in Nursing, Nursing
Shelby, Germantown, Oliver Rainey Gibbs, Bachelor of Science, Finance, Cum Laude, University Honors
Shelby, Germantown, Ethan Martin Langston, Certificate Program, Building-Level Administration
Shelby, Germantown, Alexa Cristina Von Bergen, Bachelor of Science, Health Studies
Shelby, Memphis, Julius Ellis Blackburn, Master of Science in Education, Educational Leadership
Shelby, Memphis, Douglas Cole Bostick, Master of Science in Education, Educational Leadership
Shelby, Memphis, LaJuana Denise Broden-Scott, Master of Science in Education, Special Education GTC
Shelby, Memphis, Julie Dianne Dockery, Doctor of Education, Educational Leadership
Shelby, Memphis, Calley Elizabeth Dunn, Master of Science in Nursing, Nurse Anesthesia
Shelby, Memphis, Callie Lee Gattuso, Bachelor of Science in Nursing, Nursing
Shelby, Memphis, Elizabeth Nicole Frison, Master of Science in Education, Education Theory and Practice
Shelby, Memphis, Joshua Ryan Godsey, Master of Science in Nursing, Nurse Anesthesia
Shelby, Memphis, Taylor Simone Horner, Bachelor of Science in Agriculture, Animal Science
Shelby, Memphis, EuDarius R. Jones, Master of Science in Education, Curriculum and Instruction
Shelby, Memphis, Kandice I. Jones, Bachelor of Science in Nursing, Nursing
Shelby, Memphis, Marques Devon Lipsey, Specialist in Education, Educational Leadership
Shelby, Memphis, Shequilla Renee Mallory, Master of Science in Education, Educational Leadership
Shelby, Memphis, Rozzetta C. Mayham, Master of Science in Education, Special Education K-12
Shelby, Memphis, Veranda Victoria Moffett, Specialist in Education, Educational Leadership
Shelby, Memphis, Darius Perkins, Master of Science in Education, Special Education K-12
Shelby, Memphis, Sherri Lynn Phillips, Master of Science in Education, Special Education GTC
Shelby, Memphis, Jennifer D. Cole, Master of Science in Education, Educational Leadership
Shelby, Memphis, John Phillip Ruch, Bachelor of Science in Agriculture, Agricultural Business
Shelby, Memphis, Magda-Margaret Aziza Sakaan, Master of Science in Education, Educational Leadership
Shelby, Memphis, Samuel Luke Savidge, Specialist in Education, Educational Leadership
Shelby, Memphis, Willie Edward Steward, Specialist in Education, Educational Leadership
Shelby, Memphis, Cha'Brandy D. Sutton, Master of Science in Education, Reading
Shelby, Memphis, Lauren Brooke Taylor, Master of Science in Education, Reading
Shelby, Memphis, Tabatha Caprie Wallace, Master of Science in Education, Special Education GTC
Shelby, Memphis, Latoya Evette Washington, Master of Science, Early Childhood Services
Shelby, Memphis, Reaster West, Bachelor of Science in Nursing, Nursing
Shelby, Memphis, Shannon E. Wright, Bachelor of Science in Nursing, Nursing, Magna Cum Laude
Shelby, Millington, Heather Holly Hinshaw-Chalker, Master of Science in Education, Educational Leadership
Sumner, Gallatin, Barbara M. Newberry, Specialist in Education, Educational Leadership
Tipton, Brighton, Cristen Skylar McBride James, Master of Science in Education, Reading
Tipton, Brighton, Tiffany Marie Rarick Overall, Master of Science in Education, Reading
Tipton, Brighton, Nicholas P. Stevens, Master of Science in Education, Educational Leadership
Tipton, Covington, Katrisha Mae Glass, Specialist in Education, Educational Leadership
Tipton, Drummonds, Madeline Kate Baugus, Master of Science, Early Childhood Services
Tipton, Mason, Samantha Jordan Smith, Master of Science in Education, Reading
Tipton, Munford, Bailee Renee Webb, Associate of Science, A.S. En Route
Washington, Johnson City, Lauren Elizabeth Chandley, Master of Science in Education, Curriculum and Instruction
Washington, Johnson City, Chad D. Plaisted, Specialist in Education, Educational Leadership
Williamson, Thompsons Station, Lindsey Elizabeth Dearien, Master of Science in Education, Educational Leadership
Wilson, Mt Juliet, Paul Calvin Christensen, Master of Science, Sport Administration
TEXAS
Bexar, Helotes, Emily Marie Mallet, Bachelor of Science, Finance, Cum Laude, Honors Program
Bowie, Maud, David Clark Harris III, Master of Science in Education, Special Education K-12
Collin, Allen, Sawyer J. Williams, Bachelor of General Studies, General Studies
Collin, Frisco, Chadd Jeromy Springer, Master of Public Administration, Public Administration
Collin, Plano, Darreon Taimar Jackson, Bachelor of Arts, Communication Studies
Dallas, Dallas, Emily Katherine Pitts, Master of Science in Education, Special Education GTC
Dallas, Dallas, Lara Ashley Young, Master of Science in Education, Special Education GTC
Dallas, Mesquite, Cassandra Ramona Smith, Master of Science in Education, Special Education K-12
Dallas, Richardson, David L. Brathwaite II, Bachelor of Arts, Criminology
El Paso, El Paso, Ineka Olbrisch, Master of Science, Sport Administration
Harris, Houston, LaCarol Baynes, Bachelor of Science, Psychology
Harris, Houston, Nicholas Lorenz Hogan, Master of Science in Nursing, Nurse Anesthesia
Harris, Seabrook, Thomas Marshall Burke, Associate of Arts, A.A. En Route
Hays, Kyle, Darrick Dewayne Richards Jr., Master of Science, Sport Administration
Orange, Orange, Marvis Brown III, Bachelor of Arts, Communication Studies
Tarrant, Arlington, Rhonda S. Parker, Master of Science, College Student Personnel Services
Tarrant, Keller, Madison Emily Alexander, Doctor of Physical Therapy, Physical Therapy
Tarrant, Keller, Angela Danelle Bolding, Bachelor of Science in Nursing, Nursing
Tarrant, Kennedale, Amanda Allen Atlas, Master of Science, Sport Administration
Williamson, Cedar Park, Mackenzie Caroline Steiner, Doctor of Physical Therapy, Physical Therapy
Williamson, Leander, Erica Andrea Sanchez, Master of Public Administration, Public Administration
UTAH
Cache, Logan, Joshua Ross Greenwell, Doctor of Physical Therapy, Physical Therapy
Carbon, Price, Bradon Cutler Bradford, Master of Public Administration, Public Administration
Salt Lake, Kearns, Yolanda Elena Rodriguez, Master of Science in Education, Special Education GTC
Utah, Lehi, Randy Villarreal, Master of Public Administration, Public Administration
Utah, Provo, Kyoo Kim, Master of Science, College Student Personnel Services
Utah, Provo, Jace Caroline Clark Phister, Master of Science, College Student Personnel Services
VIRGINIA
Albemarle, Charlottesville, Robert Thomas Truoccolo, Master of Science, Disaster Preparedness and Emergency Management
Arlington, Arlington, Larissa Catherine Hatch, Master of Public Administration, Public Administration
Chesapeake City, Chesapeake, Kurt Lee Straub, Master of Science, Sport Administration
Henrico, Henrico, Mark E. Howard, Master of Science in Education, Educational Leadership
Newport News City, Newport News, Jerrod Michael Ward, Doctor of Education, Educational Leadership
Prince William, Woodbridge, Tasia Samantha Jaslynn Limonius, Master of Public Administration, Public Administration
Virginia Beach City, Virginia Beach, Kathryn Lynn Arnold, Master of Business Administration, Business Administration
WASHINGTON
King, Kent, Jennifer Theresa Rigsby Cusmir, Master of Public Administration, Public Administration
WISCONSIN
Columbia, Poynette, Amber Dawn Lesniak, Master of Public Administration, Public Administration
Waukesha, New Berlin, Rebecca Ann Eldien, Bachelor of Science, Marketing, Cum Laude
WYOMING
Albany, Laramie, Johanna Ashley Eslinger, Master of Public Administration, Public Administration
Laramie, Cheyenne, Daniel John Banaszynski, Master of Public Administration, Public Administration
INTERNATIONAL
Canada, Guelph, Rachel Lindsay Pollock, Master of Science, Sport Administration
Canada, Mississauga, Kyle John MacDonald, Bachelor of General Studies, General Studies
Canada, Terrebonne, Oluwayinka Ifeaka Dada, Master of Arts, Communication Studies
China, Changsha, Hunan, Zhili Jin, Bachelor of Science in Agriculture, Plant and Soil Science
China, Guangzhou, Shuangsui Yang, Bachelor of Science, Accounting, Cum Laude
China, Guangzhou, Yiting Zhang, Bachelor of Science, Accounting, Magna Cum Laude
China, Ningbo, Shuangshuang Tong, Bachelor of Science, Finance
China, Qingdao, Xiaofan Liu, Bachelor of Science, International Business
China, Shanghai, Yuchen Zhou, Bachelor of Science, Computer Science
Denmark, Oksboel, Kewin Errit Nielsen, Doctor of Physical Therapy, Physical Therapy
France, Lormont, Valentin Balande, Bachelor of Arts, Economics
Grenada, St. George's, Wayne Anthony Smart, Master of Science, Environmental Sciences
India, Kollegal, Manoj Amrutharaj Bomman, Master of Science, Computer Science
India, Kollegal, Manoj Amrutharaj Bomman, Certificate Program, High Performance Computing
India, Kandikuppa, Viswanath Yedidi, Master of Science, Computer Science
India, Nakrekal, Saikrishna Gunda, Master of Science, Computer Science
India, Vijayawada, Sasi Kanth Paladugu, Master of Science, Computer Science
India, Ahmedabad, Tanisha Tak, Bachelor of Arts, Communication Studies, Summa Cum Laude, University Honors
India, Guntur, Sireesha Jampani, Master of Science, Computer Science
India, Hyderabad, Madhu Sheela Pakala, Professional Science Master, Biotechnology
India, Krishna, Laxme Vasuke Maganti, Master of Science, Computer Science
India, Medak, Santhosh Reddy Pathuri, Master of Science, Computer Science
India, Nellore, Vikram Mannasamudram, Master of Science, Computer Science
India, Telengana, Anvesh Reddy Nallavelli, Master of Engineering Management, Engineering Management
Ireland, Buttevant, Co. Cork, Daniel O'Hare, Master of Business Administration, Business Administration
Japan, Ageo-shi, Saitama-ke, Miyu Omuro, Bachelor of Science, International Business
Japan, Setagaya-ku, Takeru Koiwa, Bachelor of Science, Computer Science
Japan, Tokyo, Tomomi Hashimoto, Bachelor of Arts, Sociology, Summa Cum Laude
Latvia, Jelgava, Anita Ance Detlava, Bachelor of General Studies, General Studies
Malaysia, Seberang Perai Utara, Xin Ying Kong, Bachelor of Music, Music, Magna Cum Laude
Malaysia, Kuching, Jonathan Koh, Associate of Applied Science, Physical Therapist Assistant
Nepal, Kathmandu, Anukrit Chapagain, Master of Public Administration, Public Administration
Nepal, Kathmandu, Neha Verma, Master of Science in Agriculture, General Agriculture
Nigeria, Wuse-Abuja, Francis Effiom Idim, Master of Public Administration, Public Administration
Pakistan, Karachi, Muhammad Saad Sohail, Master of Engineering Management, Engineering Management
Saudi Arabia, Aljandal, Faisal Ahmad S Alsabilah, Bachelor of Science, Finance
Saudi Arabia, Dammam, Abdalala Ibrahim Alsuwaij, Bachelor of Science in Mechanical Engineering, Mechanical Engineering
Saudi Arabia, Moscow, Khaled Abdulaziz Almuaqel, Master of Accountancy, Accounting
Saudi Arabia, Qatif, Ayat Abdulazim A Al Deabl, Bachelor of Science, Psychology
Saudi Arabia, Qatif, Muhamad Hassan Alukili, Bachelor of Science, Global Supply Chain Management
Saudi Arabia, Riyadh, Abdullah Abbas Y Omari, Bachelor of Science in Mechanical Engineering, Mechanical Engineering
Saudi Arabia, Saud Adel S Abualsaud, Bachelor of Science, Marketing
South Africa, Pretoria, Omphile Botshelo Magome, Bachelor of Fine Arts, Art
South Korea (Rep. of Korea), Yongin-si, Gyeonggi, Jeong Kwon Yun, Bachelor of Science, Accounting
Spain, Terrassa, Andrea Pérez Algarra, Bachelor of Science, Sport Management, Magna Cum Laude
Sweden, Gavle, Joel Wendin, Bachelor of Science, Global Supply Chain Management
Turkey, Umut Ufuk Gokmen, Bachelor of Science, Business Administration
Vietnam, Hanoi, Quan Hong Nguyen, Master of Science, Computer Science
Vietnam, Hanoi, Viet Hoang Nguyen, Master of Business Administration, Business Administration
Vietnam, Tan Phu, Trang Kieu Nguyen, Master of Business Administration, Business Administration