A-State Alumni Establish Scholarship for Herald Editor
10/10/2014
JONESBORO — Roy and Pat Ockert, both former editors of Arkansas State University's school newspaper "The Herald," have initiated the Roy and Pat Ockert Herald Editor Scholarship endowment for the Herald editor's position.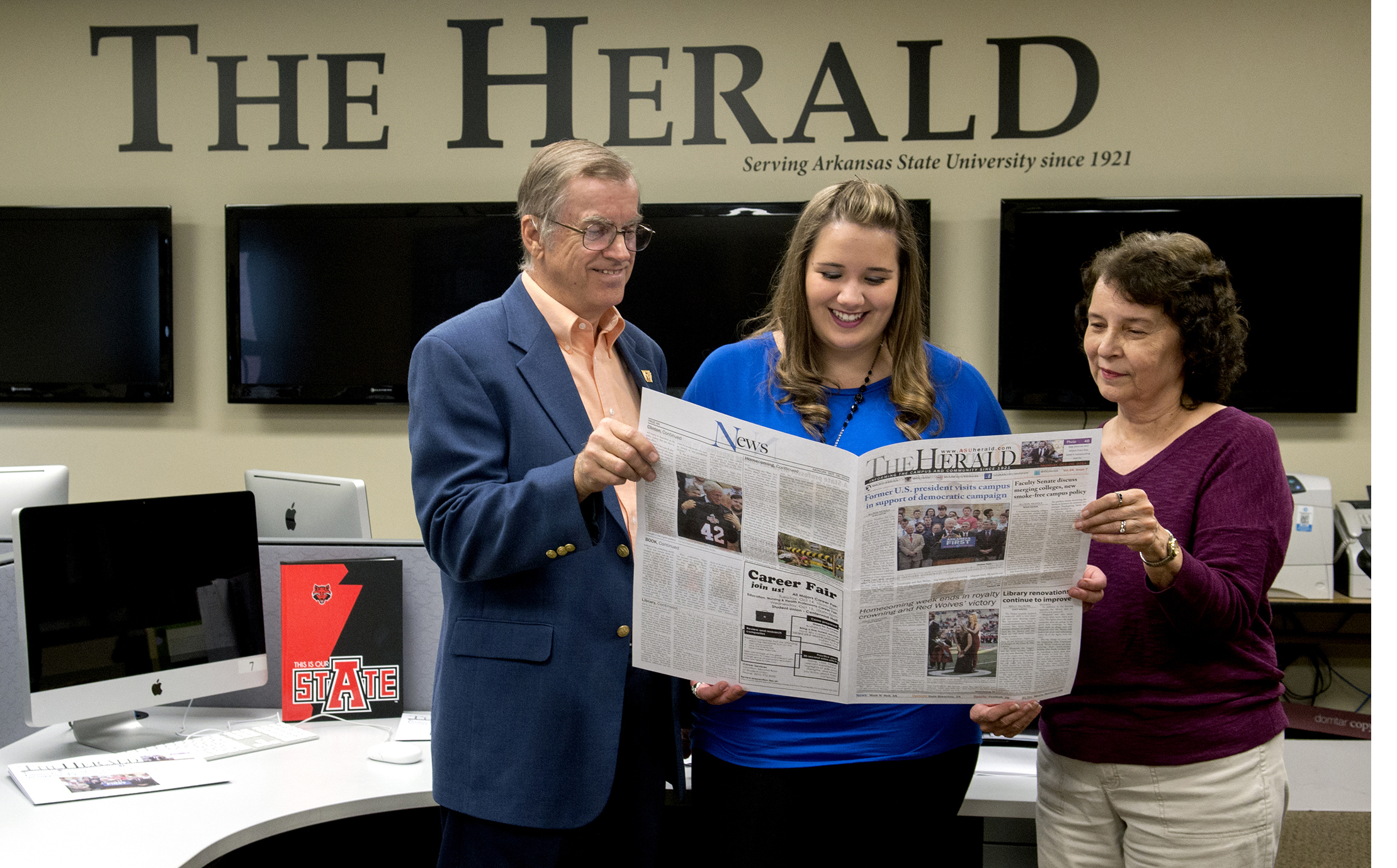 Pictured from left: Roy Ockert, first scholarship recipient Emily Alexander of Nashville and Pat Ockert. (Photo by Vince Chandler)
Each semester the chief editor will receive a stipend to help with his or her college expenses. The Ockerts have been joined by many family members and friends to donate over $25,000 toward the scholarship fund. A new editor takes over the Herald reins each semester. Roy and his wife Pat worked together as co-editors for The Herald as A-State students in 1966-67.
The initial scholarship is awarded to Emily Alexander of Nashville, current Herald editor-in-chief.
"We are grateful to Roy and Pat Ockert for their contributions to our program and to the profession of journalism," said dean of the College of Media and Communication Dr. Brad Rawlins. "We are also grateful to everyone who contributed to the scholarship in their name. The scholarship will directly benefit a journalism student who has demonstrated the same commitment to quality journalism characterized by Roy and Pat."
"Having served as co-editors of The Herald, Pat and I know that the person or persons with that responsibility puts a lot of work into the job, which makes it hard to earn expense money, so we wanted to do something to help," Ockert said. "As journalism alumni, we also believe that a journalism education is strongest when combined with publications experience."
Most recently, Roy served as the editor of the local newspaper, The Jonesboro Sun, for more than 10 years before retiring on Feb. 1, 2012. At the time, Jonesboro Mayor Harold Perrin said Ockert "was among the individuals who have helped shape Jonesboro into the city it has become."
As editor emeritus, he continues to write a weekly column for The Sun and five other newspapers.
"Roy and Pat Ockert, the co-editors of The Herald when Arkansas State achieved university status, have decided to give back something to the student newspaper and its editors," said the former chairman of what was known as the Department of Journalism, Dr. Joel Gambill, who retired in 2010 after 40 years of service to Arkansas State.
"The Ockerts were an impressive team as students, and they continue in their fervent support of the editor as husband and wife. They have been steadfast in their support of Arkansas State as well and have contributed significant time and money to the former Department of Journalism (now Department of Media) and the university."
"This scholarship will support a person who has a highly responsible job and puts in effort far beyond most university students."
Roy's interest in journalism led him to Arkansas State College as a freshman in 1963. Two significant moments in his personal and professional life happened when, as Herald editor, he covered the story in 1967 about then-Governor Winthrop Rockefeller's signed legislation giving university status to Arkansas State and when he and Pat, who was Herald co-editor, married after graduation.
Upon his retirement, Roy thanked Pat for serving as a sounding board throughout his career. Pat is also active as secretary of the local Phi Mu alumni organization. And, she is also a member of the 1924 society of the ASU Alumni Association.
After completing a master's degree at the University of Oklahoma, Roy and Pat returned to Jonesboro and Arkansas State where Roy was a faculty member in journalism and adviser to The Herald. He has also served as editor of newspapers in Batesville and Russellville before returning to the Sun as editor. In addition to teaching at A-State, he was on the faculty at Southern Arkansas University and Lyon College.
Formerly serving as president of the Arkansas Press Association, Roy is also active in his college fraternity — Lambda Chi Alpha — as treasurer of its house corporation. He recently began a second term as president of the Kiwanis Club of Jonesboro. Both he and Pat are 1924 Sustaining Life Members of the A-State Alumni Association. Roy was recognized as a Distinguished Alumnus at Arkansas State in 2013.