69 Staff Members Achieve Service Milestones of 10, 20, 30 & 40 Years
05/21/2018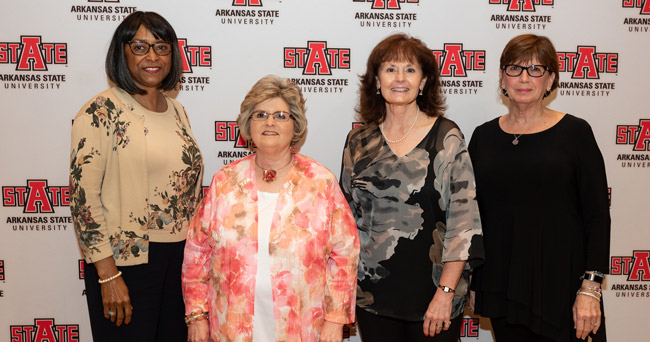 Employees recognized for 40 years of service were (from left) Jenifer Rice Mason, Lola Langley, Carol Barnhill and Phareta Calkin.
JONESBORO – A total of 69 staff members who have attained service milestones of 10, 20, 30 or 40 years at Arkansas State University were recognized Friday during the annual Distinguished Performance and Service Recognition ceremony in Centennial Hall.
The 69 individuals who have achieved employment milestones this year were as follows:
40 Years
Four staff members – Carol Barnhill in Procurement, Phareta Calkin in Printing Services, Lola Langleyin Procurement, and Jenifer Rice Mason in Disability Services – have achieved 40 years of service.
30 Years
Nine individuals with 30 years of service were recognized: N. Paulette Bradley, Financial Aid and Scholarships; Jane Ann Craft, Mathematics and Statistics; Patricia Glascock, Counseling Center; Bettye J. McKinney, First National Bank Arena; Teresa L. Ryan, First National Bank Arena; Sandra Bramblett Sherman, Business Services; Rusty Stroud, Construction Services; Kathy A. Ward, Controller's Office; Marilyn Wilhide, Sciences and Mathematics.
20 Years
Seventeen individuals have attained 20 years of service. Those individuals and their employment areas are Charles D. Atherton, Facilities Management; Richard L. Bergener, Facilities Management; Dena Bolar Graves, Financial Aid and Scholarships; Dr. Audrey Bowser, School of Teacher Education; Sandra A. Clements, Treasurer; Shane D. Copeland, Student Development and Leadership; Jimmy R. Crocker, Facilities Management; Craig S. Johnson, Student Affairs; Andrea C. Massie, Ellis Library; Terry Phipps, University Police; Kimberly J. Price, Testing Center; Karen Rinehart, football; Jacquelyn Rorex, Institutional Effectiveness; Dr. Jill Simons, Undergraduate Studies; Tawnya A. Waymack, Financial Aid and Scholarships; Lori Ann Winn, Human Resources; and Samantha Young, Safety and Emergency Management.
10 Years
An additional 39 employees received certificates for attaining the 10-year service milestone. Those recognized are: Beth Ballard, Josephine Battle, Shawn Alan Blanchard, Seth W. Broadaway, Karen E. Carter, Emily Devereux, Pat Edwards, Sherry C. Ellis, Natalie Eskew, Phillip P. Gatling, Sharon Groves, Janice Hargett, Sandra K. Hermann, Cathie Hiegel, Linda Hinton, Cristle Gail Kilgore, Matthew L. Kraft, Ruby D. Landers, Kimberly Lee, Tony Marshall, Emily Michelle Mason, Jennifer Novalick, Rebecca Oliver, Angela M. Opperman, Brian Gale Pettie, Bradley A. Pietz, Clarisa L. Ratliff, Jamila C. Reeves, Jarrod S. Riley, Connie Louise Scott, Brian K. Shelton, Joseph G. Thornton, Nikki Turner, Theressa Walker, Bebe E. Walton, Anna Warren, Bobby Paul Warren, Tara D. Watson and Marcy Kathleen White.
The annual Distinguished Performance Awards and Service Recognition program was initiated in 1994 to note outstanding job performance and long-time service by the university's non-faculty employees, both classified and non-classified.


Employees recognized for 30 years service at A-State.




These seven A-State employees were among those recognized for their 20 years of service.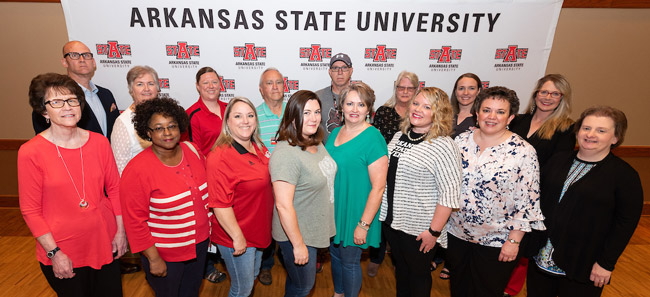 Here is a group of staff members recognized for 10 years of service at A-State.