21 Outstanding Students Receive 2017 'Who's Who' Award
05/08/2017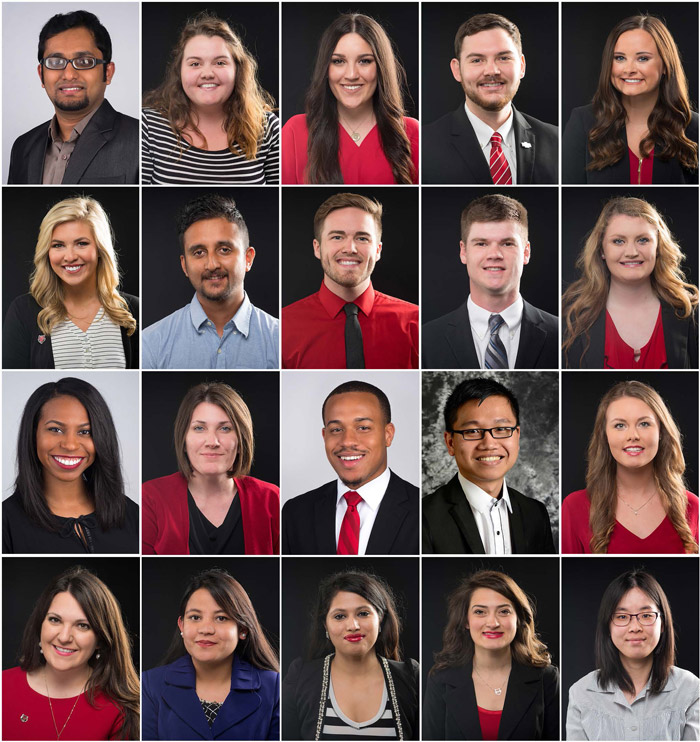 Top row: Ahsan, Atkins, Balisterri, Barnes and Bell; (second row) Collins, Ghimire, Gowen, Hale and Holsted; (third row) Jones, Kemp, Long, Nguyen and Smith; (bottom row) Taylor, Thapa, Verma, Widmer and Yu.
JONESBORO – Twenty-one outstanding upper-level students at Arkansas State University have been named to the prestigious "Who's Who Among Students in American Universities and Colleges" for 2016‑17. The students were introduced during a campus ceremony recognizing student leaders.
Jared Gowen of Garner received the "Outstanding Who's Who" award and a scholarship from Crews and Associates of Little Rock. The Crews firm was represented by Steve Pulley.
The Who's Who honorees for 2016-17 and their academic program majors (and minor or emphasis area) are:
Mohammad Badrul Ahsan, Dhaka, Bangladesh, graduate student, engineering
Morgan E. Atkins of Springdale, senior, social work
Alexis K. Balisterri of Bryant, senior, interdisciplinary studies
Ethan J. Barnes of Hardy, senior, business administration
Tori L. Bell of Des Arc, senior, strategic communication (public relations/advertising)
Jade Collins of Hector, senior, strategic communication (public relations/social media management)
Ashish Ghimire of Kathmandu, Nepal, graduate student, business administration
Jared T. Gowen of Garner, senior, biological sciences (pre-professional studies)
Bretton M. Hale of Doniphan, Mo., junior, plant science
Jessica L. Holsted of Alpena, senior, exercise science
Skyler D. Jones of Magnolia, senior, general studies
Nikki R. Kemp of Jonesboro, graduate student, adult health nursing
Ja'von M. Long of Hot Springs, senior, criminology and sociology (homeland security disaster preparedness emphasis)
Weston H. McDaniel of Jonesboro, senior, business
Viet Nguyen of Quang Ngai, Vietnam, graduate student, communication studies
Merideth N. Smith of Russellville, senior, communication disorders
Emilee M. Taylor of Jonesboro, senior, world languages and cultures (Spanish)
Sajani Thapa of Kathmandu, Nepal, graduate student, business administration
Neha Verma of Birgunj, Nepal, graduate student, agriculture (plant and soil sciences)
Lauren E. C. Widmer of Conway, senior, dietetics
QianQian Yu of Kaifeng, China, graduate student, educational leadership
About the Who's Who program
Who's Who Among Students is one of the most highly regarded and long-standing honors programs, having earned the respect of faculty members and administrators throughout the nation. Selections to Who's Who Among Students are made each fall by individual colleges and universities.
Campus nominating committees, created to nominate eligible upperclassmen and graduate students, are composed of representatives from the faculty, staff and student body. Each school in the national program has an assigned quota of nominees, calculated to ensure a well-rounded representation of the student body.
# # #