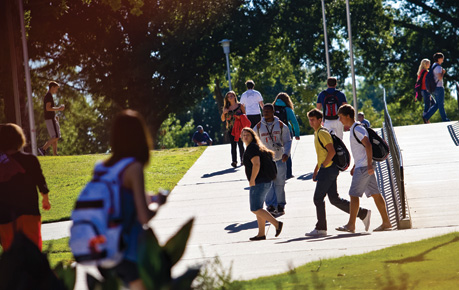 The Department of Criminology, Sociology, and Geography (CSG) is a dynamic multidisciplinary department. CSG utilizes interdisciplinary and applied approaches to address and examine many of today's social concerns. Crime and violence, poverty and welfare, social injustice, and environmental degradation represent some of the department's academic and scholarly pursuits. The erosion of natural resources and rampant demographic change are also strenuously investigated.
Participation in a global community

CSG educates students by offering diverse perspectives and knowledge tools that enhance analytical and critical thinking skills. CSG enriches the lives of students, faculty, and the community by educating students for careers in criminology and criminal justice, politics and civic service, and education and the health professions. We prepare students for participation in a global community.
Our Mission
Our mission is to provide the best education possible for students by expanding their intellectual understanding of the world, developing their critical reasoning and communication skills, laying a foundation for understanding the scientific method and encouraging relevant career paths after graduation.
Recent Publications
Costello investigates Online Extremism
This study examines factors associated with the production of online hate material. The amount of hate material online is growing at an alarming rate, and it is therefore increasingly important to understand correlates of its creation. Using a random sample of Americans, ages 15 – 36, they find that men are significantly more likely than women to produce online hate material. Additionally, the use of particular social networking sites, such as Reddit, Tumblr, and general messaging boards, is positively related to the dissemination of hate material online. Individuals who are close to an online community, or spend more time in areas populated by hate, are also more inclined to produce hate material.
Kulkarni Reexamines The Socioeconomic Patterning Of Undernutrition and Obesity In India
Dr. Veena Kulkarni and her co-authors in the article 'Double Burden of Malnutrition': Reexamining the Coexistence of Undernutrition and Overweight among Women in India, forthcoming in International Journal of Health Services study the co-existence of undernutrition and obesity or what is called as'double burden of malnutrition' among women in India. Drawing upon a nationally representative sample, the analysis finds the existence of a socioeconomic patterning of obesity and undernutrition. After adjusting for educational levels and prices of staple food items, less affluent women are more likely to suffer from undernutrition and more affluent women are more likely to be obese. This pattern is opposite to what has been observed for the developed countries.
Rukus Investigates LGBTQ Novel Drug Use
The foci of Dr. Rukus' research are, services in rural county jails and re-entry. He is currently working on projects with two sheriff's departments that examine mental health services delivery. Their goal is to find more effective ways to provide treatment to those who need it.
Kendig studies alcohol consumption among college bound young adults
Dr. Kendig and her co-authors in the article "College-Going and Trajectories of Drinking from Adolescence into Adulthood" published in the Journal of Health and Social Behavior examine the influence of college attendance on teenage and young adult alcohol consumption.