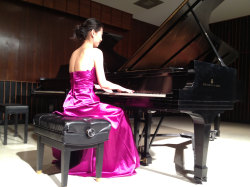 We are glad you're interested in piano study at Arkansas State University. We offer Bachelor of Music degrees in Performance, Composition, the BME in Music Education, and the Bachelor of Arts degree. We also offer the Master of Music degree in Performance, Piano Pedagogy and Performance, Conducting, Composition, and the Master of Music Education.
Audition Information: For potential piano performance majors, prepare at least three works of contrasting styles and time periods and be able to perform from memory. Contact Lauren Schack Clark to set up an audition time and to check repertoire requirements. International students may send a video or video link.
Please visit the websites below for further information.
Information for International Students
Best wishes,
Dr. Lauren Schack Clark
870-680-8029, lsclark@astate.edu