Student, faculty/staff and motorcycle parking permits are ordered online through the my.AState web portal. After logging in to my.AState, look for the Parking eBiz icon in the QuickLaunch Navigation section. Click on the icon, and then select "Get Permits" from the menu options. Carefully read each screen throughout the ordering process. At the end of the transaction, a link to a free 8-day temporary permit will appear for you to print and display on your dash until your parking permit is delivered by USPS. Please allow at least 5 days for your permit to be delivered by USPS.
Types of parking permits
Issued to part-time and full-time students. Any student, whether taking online classes or campus classes, must display a permit while parking on campus. (Online Only)
Issued to FULL-TIME faculty/staff employees only. (Online Only)
Issued to full-time employees not wishing to purchase FS permits and to all part-time employees hired through human resources. (Online Only)
Permits are for all motorcycles, motor bikes, scooters, etc. (Online Only)
Temporary permits valid for 8 days from the date of purchase. (Online Only)
Issued to service providers who are not faculty, staff or students and who will receive or potentially receive payment for services rendered on or for any A-State system with the exception of activities coordinated through the Construction Office of Facilities Management.
Placards issued to A-State departments. They are for use by department employees who must use personal vehicles in the absence of state-owned vehicles for short-term service/delivery activities (30 minute time limit).
Issued to persons who are not registered students and are working on projects coordinated through the Construction Office of Facilities Management. CP Permits must be secured through the Construction Office.
Issued to residents of The Village. Each family unit in The Village must purchase at least one A-State student or employee parking permit.
Student Health Center (HC)
Issued by the Student Health Center. HC Permits allow students with qualifying illness or injury to park in Faculty/Staff parking during the period the permits are valid. This permit does not allow for parking in disability parking spaces.
Parking Permit Placement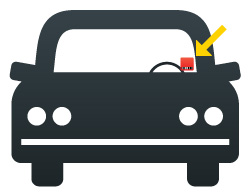 Your parking permit must be displayed right side up (barcode at the bottom) on the inside of the vehicle windshield in the lower driver side of the windshield. The entire front surface of the permit must be visible. The vehicle VIN number should not be obstructed by the permit.
Driving a Secondary Vehicle
The window-cling permits may be moved from vehicle to vehicle without contacting Parking Services. However, changes in your primary vehicle should be submitted to Parking Services through the online vehicle information update form.
Order a Parking Permit
To order a parking permit, simply follow the following steps:
Log in to my.AState, the university portal.
Click on the "Parking eBiz" icon.
Follow the directions.