by Van Hawkins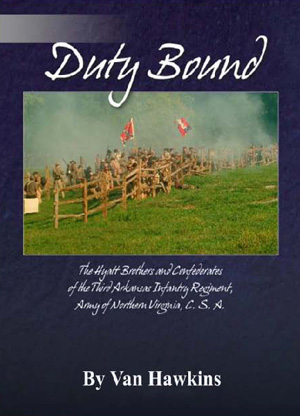 Announcing the release of Duty Bound by Van Hawkins.
Abstract
The Hyatt family of Monticello, Arkansas sent four sons off to fight in the Civil War, and only one returned, though an amputee. Three of the Hyatts served in the legendary Third Arkansas infantry, which saw action at such well known battles as Antietam, Gettysburg, and Chickamauga. The letters they wrote home, housed at the Arkansas State University Museum, form the basis for this book.
Order Information
To order Duty Bound by Van Hawkins, call Valerie Ponder at 870-972-2074.
Total cost is $36.56 (this includes tax plus $5.00 for shipping and handling).
You may also mail a check to the ASU Museum at P. O. Box 490, State University AR 72467.