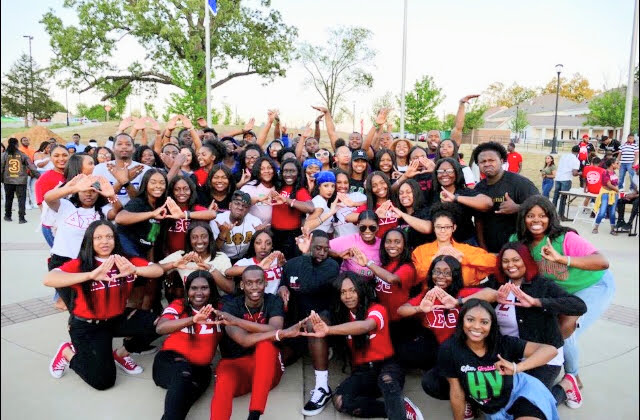 The National Pan-Hellenic Council, Inc. (NPHC), is a coalition of the nine largest historically African American Greek letter Fraternities and Sororities. Locally, Arkansas State is proud to represent seven of the nine organizations.
The NPHC is currently composed of nine international Greek letter Fraternities and Sororities: Alpha Kappa Alpha Sorority, Inc., Alpha Phi Alpha Fraternity, Inc., Delta Sigma Theta Sorority, Inc., Zeta Phi Beta Sorority, Inc., Iota Phi Theta Fraternity, Inc., Kappa Alpha Psi Fraternity, Inc., Sigma Gamma Rho Sorority, Inc., Phi Beta Sigma Fraternity, Inc., and Omega Psi Phi Fraternity, Inc.
History of the NPHC
On May 10, 1930, on the campus of Howard University, in Washington DC, the National Pan-Hellenic Council was formed as a permanent organization with the following charter members: Omega Psi Phi and Kappa Alpha Psi Fraternities, and Alpha Kappa Alpha, Delta Sigma Theta and Zeta Phi Beta Sororities. In 1931, Alpha Phi Alpha and Phi Beta Sigma Fraternities joined the Council. Sigma Gamma Rho Sorority joined in 1937 and Iota Phi Theta Fraternity completed the list of member organizations in 1997.
The stated purpose and mission of the organization in 1930 was "Unanimity of thought and action as far as possible in the conduct of Greek letter collegiate fraternities and sororities, and to consider problems of mutual interest to its member organizations." Early in 1937, the organization was incorporated under the laws of the State of Illinois and became known as "The National Pan-Hellenic Council, Incorporated."
Membership into an NPHC Organization
The Process
The process for membership into an NPHC organization is called the Membership Intake Process, (MIP). At Arkansas State the process is composed of four components: A-State Intake 101 Session, Pre-Induction/Orientation Period (Interest Tea or Meeting), Final Induction Ceremony (Initiation), In-Depth Education Program.
Academic Requirement
Please note that none of the NPHC organizations at Arkansas State University allow undergraduates to join until they have completed at least one semester of school and have proven themselves academically. Some organizations require that one full year of academics be completed before they can begin to discuss the membership intake process for their organization. The intake process begins in the spring semester for some organizations and occurs in the fall for others.
Arkansas State University requires all prospective members to attend an A-State NPHC's Intake 101 Session held each semester. This seminar is designed to educate new members about joining NPHC organizations, anti-hazing policies, (local, state, and national), the new membership intake process, application and interview tips, and more. The cost to attend is $5 and registration is required.
Fall 2023 Intake 101 Session Dates (Registration links will be live by June 1, 2023)
Friday, September 15th, 3:30pm-5:00pm, Location- Arkansas River Room-CLICK HERE TO REGISTER
Thursday, September 21st, 5:00pm-6:30pm, Location- Arkansas River Room- CLICK HERE TO REGISTER
Friday, September 22nd, 3:30pm-5:00pm, Location- Arkansas River Room- CLICK HERE TO REGISTER
Generally, the actual intake process begins with an informational meeting. At the informational meeting, interested students are invited to learn more about a specific organization and the specifics of the application process and financial obligations for that organization. Each organization has individual intake requirements, membership requirements, initiation dates, and membership dues. However, each organization will have an academic and financial responsibility to maintain while at Arkansas State University.
It is important that each interested student take the time to learn about the history, aims, and national programs of each organization before joining any NPHC fraternity or sorority to fully appreciate and understand the depth of Black Greek Letter Organizations.
Top 5 Things You Can Do to Show Interest in an NPHC Chapter
Attend chapter programs and events.
Attend an Interest Meeting or Informational for that chapter.
Get to know the members of the organization.
Research information on the internet about the group you are interested in.
Show your own involvement on campus (i.e. get involved in clubs, community service, etc.)