COMMUNITY SERVICES
Powering Rural Development
Powering Rural Development Program assists small cities through county-led economic development strategic planning and organizational development in partnership with the Electric Cooperatives of Arkansas.
Related Links
Chamber of Commerce Training
The Delta Center provides training and planning retreats for Chambers of Commerce and Economic Development Organizations. Training materials are developed by working closely with the staff and executive officers. Best practices and today's trends are incorporated with traditional concepts and protocol to insure your leadership, whether they are new or experienced, are better prepared to guide the organization to its most productive level.
Related Links
Case Studies
The ASU Delta Center for Economic Development, in a partnership with East Arkansas Planning and Development District and the Institute for Economic Advancement – University of Arkansas Little Rock developed the economic development website adaptarkansas.org, which includes data for analysis and a series of case studies addressing issues relevant to comprehensive and new economy strategies.
Related Links
Analysis & Studies
Planning sound growth strategies are essential components in today's economic development and business expansion. The Delta Center provides studies for the public and private sector. A team often including Delta Center staff and College of Business faculty offer community leaders, economic development professionals and business clients up-to-date data and analysis to understand current conditions; identify growth strategies that maximize and direct important resources and are sustainable.
Related Links
Other Services
Develop an Ongoing Community Leadership Programs
A three-hour introductory session conducted in your community. Based on lessons from the 13-year ASU Regional Leaders Program, and other successful small city leadership programs.
State & Federal Table Hops
We arrange for at least 15 different state and federal resource agencies, both public and private, to visit your community for a 2-hour "Table Hop" event. Local citizens and organizational representatives move freely from table to table having one-on-one conversations with agency representatives about their services, programs and latest offerings. Done in association with a local organization.
Community & Economic Development Strategic Planning
Three hour organizational session to get your community on its way to a successful planning effort based on citizen and stakeholder involvement.
The complete strategic planning package that includes the 3-hour organizational session and all subsequent technical assistance to organize, conduct, draft and implement a strategic plan at the community or regional level.
Community Leadership Training
Six 1-day sessions and three 2-day sessions scheduled over a 9-month period beginning in August. Join the nearly 400 people from throughout north and east Arkansas who have graduated from the Arkansas State University "Regional Leaders Program" since it began in 1989. Each session is held in a different host community, and one is held overnight in Little Rock. Enhance leadership skills, and learn about the latest and best ideas in developing communities. Audience: emerging as well as established leaders from both public and private sectors.
Center for Economic Development Off-Campus
The following services are provided at the Center for Economic Development, located at 5501 Krueger Drive in the heart of the Jonesboro Technology Park.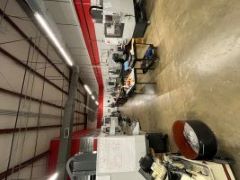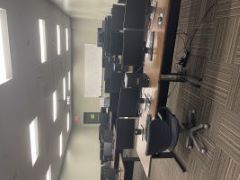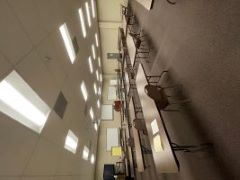 Business Incubator
Our Business Incubator is a great place to consider starting your new business. The facility has several 150 sq. ft. furnished offices with ample support services available. Some of these services include a reception to receive your clients or guest, access to phone and internet services, heat and air along with a coded security system. We also have fax and copy services at a minimal charge.
Flexible Work Space
A flexible workspace with over 800 sq. ft. to host a distribution or light manufacturing business is available. It is a great place to start a new technology business with open space for collaboration and/or cubical units. The area includes one or two furnished offices and has both high and low dock access, heating and cooling, phone and internet access including wire-less, and a coded security system. Contact us for details about this space.
Starting your business in our incubation can help in reducing some of the initial capital investment and start-up costs while you receive support services that can promote a successful start-up.
Classrooms
Our classrooms are spacious and loaded with technology to enhance your next meeting. Whether you are looking for a venue for an annual event or have a need for ongoing training space, we have what you need and can supply the support to make your meetings work in a first-class manner.
We can provide access through our H.323 IP based system that will allow you to connect to any audience in the world that is connected via internet and has an IP address. This is a great way to manage your travel budget by connecting with customers / clients to discuss strategy or submit depositions.
Room 1 Rental Details
Size: 24' x 48'
Capacity: 44 people
Rental Cost: $150.00 per day
Overtime Surcharge: $50.00 per day
Weekend Daily Surcharge: $100.00 per day
Room 2 Rental Details
Size: 36' x 42'
Capacity: 60 people
Rental Cost: $200.00 per day
Overtime Surcharge: $50.00 per day
Weekend Daily Surcharge: $100.00 per day
Training Room Services
Coffee: $5.00 / pot
Soft Drinks: $1.00 / drink
Ice: $1.00 / container
Doughnuts: $6.50 / dozen delivered
Flipcharts: $25.00 / pad
Lunches: at delivered costs
Copies: $0.07 / page
Projector: $30.00 / day

Computer Lab
The Delta Center's computer lab is fully equipped with 17 Pentium 4, 1.70 GHz computers with 19" flat screen monitors, 512MB memory, 40GB hard drive, 64MB graphics card, speakers, CD-ROM, networked with a printer and plotter. If you would like to train using company or industry specific software, we can accommodate your needs. There will be surcharges applied to additional software downloads and if extended hours are required.
Room Rental Details
Size: 24' x 42'
Capacity: 16
Rental Cost: $350.00 / day
Internet: All computers have internet access
Computer Lab Services
Coffee: $5.00 / pot
Soft Drinks: $1.00 / drink
Ice: $1.00 / container
Doughnuts: $6.50 / dozen delivered
Flipcharts: $5.00 / pad
Lunches: at delivered costs
Copies: $0.07 / page