VoicePlay Brings Unique A Cappella Show to Fowler Center; A-State's Delta Vox to Open Concert
04/02/2013
JONESBORO – The Fowler Center will showcase a cappella music at a concert on Sunday, April 21, at 2 p.m. in Riceland Hall.
Arkansas State University's own vocal jazz ensemble, the Delta Vox, will open the concert, which features the unique "musical gymnastics" of VoicePlay, according to Dr. Wendy Hymes, director of Fowler Center.
Since 2002, the five guys of VoicePlay — founders Earl Elkins, Geoff Castellucci and Layne Stein along with Eli Jacobson and Tony Wakim — perform their own incredible version of entertaining a cappella music, or vocal music sung without instruments.
Any serious singer would say, "My voice IS my instrument!" which is certainly true for the members of VoicePlay, as they recreate the orchestrated sound of an entire musical production with nothing but their voices.
The show is a Riceland Distinguished Performance, and the sponsor is Posey Peddler.
The cast brings their talent and years of experience in singing, performing and creativity together to present a show that is "not your typical a cappella" performance, says Eli Jacobson.
"We are a show before we are an a cappella group. We use a cappella as the medium to give the audience a special experience. We don't just sing at you for the whole show. We do vignettes of storytelling as creative ways to work songs into our bits."
The group's vocal musicianship is unparalleled as is their adeptness at molding and shaping songs ranging from "classic to modern genres" into listening magic.
A modern-day barbershop quartet, VoicePlay performs a wide range of song styles including Disney favorites to traditional holiday songs to rhythm and blues, classic rock, funk and pop. They put their unique take on songs such as "When You Wish Upon a Star," as well Elvis' legendary "Hound Dog," the Bee Gees' "Stayin' Alive" and Bruno Mars' "Grenade."
VoicePlay has the hallmark of fine a cappella groups — synergy. In the case of VoicePlay, this synergy comes from touring together for long stretches across venues in the U.S. and their lifelong friendships — some of the members have known each other since grade school. More evidence of their prowess is that the newest of their three albums, "Peppermint Winter," has just received two nominations for CASA (Contemporary A cappella Society) Recording Awards.
All seating is reserved, and tickets may be purchased at the ASU Central Box Office in the Convocation Center, 217 Olympic Drive, Jonesboro, or by calling (870) 972-ASU1 (2781) or toll-free (888) ASU-FANS (278-3267). Tickets are also available online from the ASU Central Box Office, http://www2.astate.edu/tickets/, and from Fowler Center, www.yourfowlercenter.com.
Tickets are $30 and $20 for adults, and $23 and $15 for senior citizens and students, $24 and $16 for faculty and staff, and $10 and $6 for ASU students with a current ID. Group discounts are available for groups of 15 or more.
For more details, contact Dr. Hymes at Fowler Center, whymes@astate.edu or (870) 972-3471.
# # #
Message from VoicePlay to Arkansas State: http://youtu.be/Cmq2xC1xzCQ
VoicePlay's Water Bottle Drum Line: http://www.youtube.com/watch?v=pKJj7HhFQwo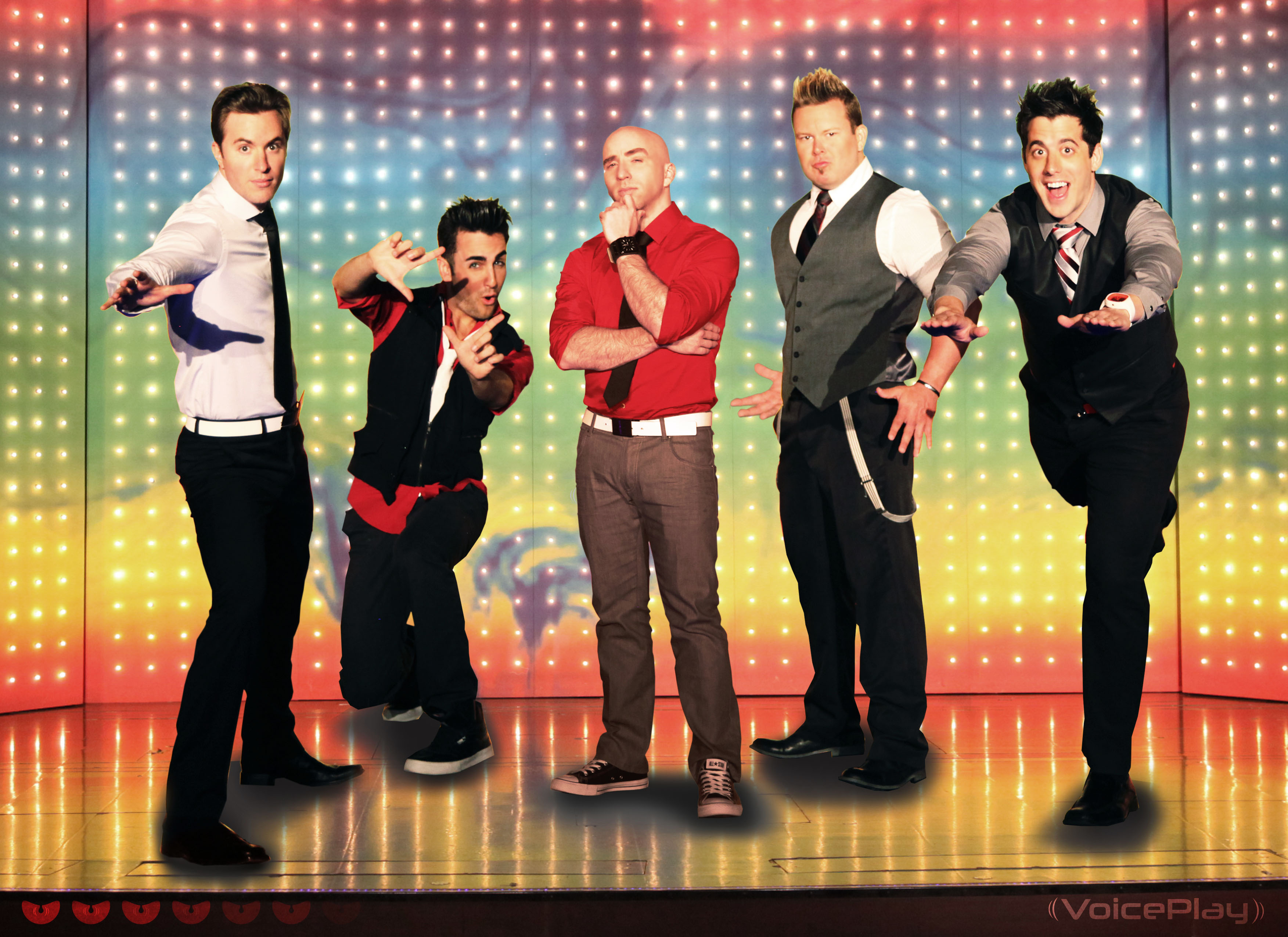 Members of VoicePlay are (from left) Geoff Castellucci, Tony Wakim, Eliezer "Eli" Jacobson, Earl Elkins, Jr., and Layne Stein