Work by Art Professor John Salvest Selected for Crystal Bridges Museum Exhibition
07/31/2014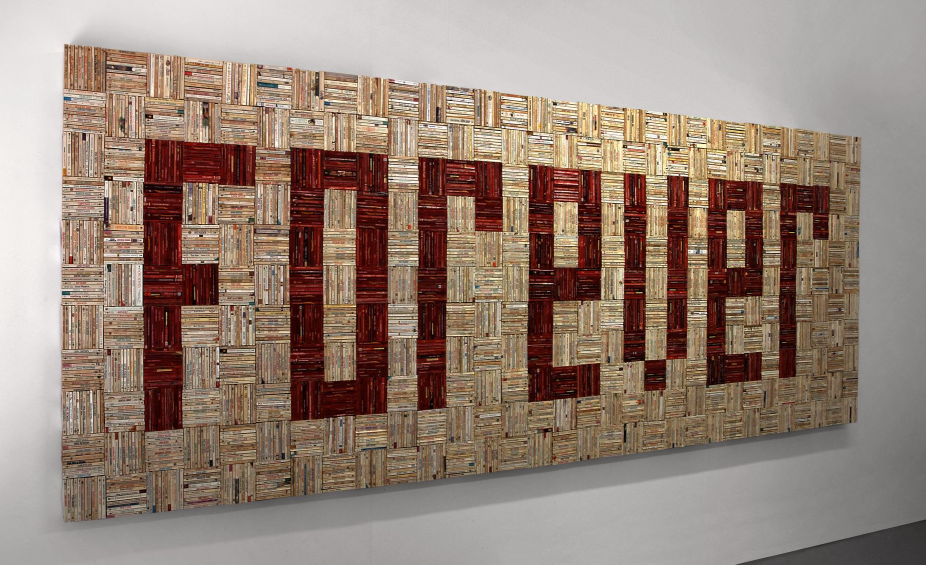 "Forever" installation by John Salvest
JONESBORO – John Salvest, professor of art at Arkansas State University, has been selected for a highly anticipated exhibition at Crystal Bridges Museum of American Art in Bentonville.
Titled "State of the Art: Discovering American Art Now," the exhibition will feature work by contemporary artists from across the United States. Salvest was chosen from a group of nearly 1,000 artists that Crystal Bridges museum president Don Bacigalupi and assistant curator Chad Alligood visited and interviewed in all regions of the country.
They began their search through their network of art professionals who helped generate a list of thousands of artists across the U.S. After narrowing the group through preliminary research, the Crystal Bridges team began making studio visits and developed their final list, which includes Salvest.
"State of the Art: Discovering American Art Now," a one-of-a-kind exhibition drawing from every region of the U.S., will open at Crystal Bridges Sept. 13 and will continue through Jan. 19, 2015.
Salvest is scheduled to present a public lecture about his work and influences in the museum's Great Hall on Friday, Nov. 7, at 7 p.m., and a teacher development workshop the following morning.
The Jonesboro resident has exhibited his sculpture and installation work extensively throughout the United States, including a recent one-person exhibition at Morgan Lehman Gallery in New York and an ambitious community-based project at the Art Museum of the University of Memphis. His work has been reviewed and featured in publications such as Art in America, The New York Times, The Village Voice, Sculpture, Art Papers and Number.
Salvest, who studied at Duke University and the University of Iowa, frequently employs large quantities of discarded ordinary materials in his artwork. At Crystal Bridges he will be exhibiting "Forever," a monumental wall work consisting of more than 4,000 secondhand romance novels the artist has collected from thrift stores, yard sales and flea markets over a period of years.
A long-time member of A-State's faculty, he is looking forward to being part of the exhibition.
"I visited the museum shortly after it opened in 2011 and was impressed by the building, the setting, the permanent collection and the first temporary exhibition, which happened to feature contemporary art. I imagined that it would be a great place to someday show my own work. Little did I know that it would actually happen, let alone so soon."
He added, "As much as I have shown throughout the United States, I honestly feel that being based in a small town in the middle of the country instead of a major metropolitan area has kept my work a bit under the radar, so the irony of a museum in Arkansas perhaps bringing greater attention to what I do is not lost on me."
In addition to exhibiting his work widely in solo and group exhibitions, Salvest is also the recipient of numerous awards and grants including two National Endowment for the Arts Fellowships and a Pollock-Krasner Foundation Grant. He has also completed public art projects for the Cannon Center for the Performing Arts in Memphis and Hartsfield-Jackson Atlanta International Airport, among others. His 2011 temporary public art project, "IOU/USA," a massive work made of shipping containers erected adjacent to the Federal Reserve Bank of Kansas City, garnered international media attention.
"State of the Art" is sponsored by the Willard and Pat Walker Charitable Foundation, Christie's, Coca-Cola, Goldman Sachs, L'Oréal Paris, Tyson Foods, Inc. and John Tyson, 21c Museum Hotels, and Crystal Bridges' Global Initiative Fund and Art Now Fund. Admission to the exhibition is sponsored by Walmart and Sam's Club.
Crystal Bridges was founded in 2011 by Walmart Family Foundation. Philanthropist and arts patron Alice Walton chairs the museum board of directors.
# # #